Have you heard something about on-page SEO? Do you know what it is? Do you know how to optimize a website to make it popular, and have a high ranking and attendance? No? Then you are in the right place! Because in this article, you will learn all the most important aspects of on-page SEO!

Moreover, you will learn:
importance of on-page SEO;
how to optimize a website of various types;
tips for on-page SEO.
In addition, you will get acquainted with the tricks of on-page SEO! And don't rush to think that it's very complicated and unclear! Rather, it is easier than you might imagine. The only thing you need is to study this article in detail to optimize your website.
Initially, I suggest you deal with the "basics". And only after that move on to the most interesting information.
On-Page SEO Importance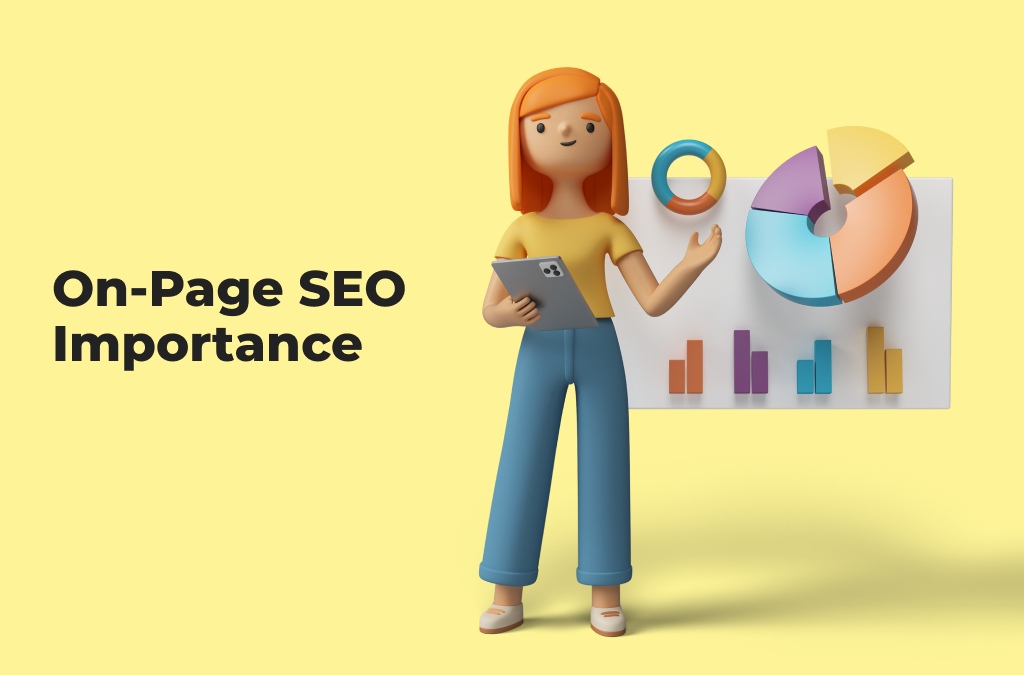 Certainly, search engine optimization includes a variety of strategies. These strategies can be divided into two main categories: off-page SEO (taking place outside of your site, which is often impossible to control) and on-page SEO.

But in this article, we're going to take apart the details of on-page SEO. And we will also learn why it is such an important part of modern web marketing.
On-page SEO (also known as "internal SEO") is the practice of promoting websites and improving their search engine ranking positions. It includes optimizing the visible content of the HTML code of the page, internal links, and metadata (meta title, meta description, and keywords). As well as posting high-quality, relevant content and images. When you combine all these aspects of a web page, you get an improved web page through on-page SEO.
Similarly, there are ranking factors for search engines that lie outside of the site owner's control, this is called off-page SEO. Things like backlinks from other sites, social media, brand mentions, and shares can all have a direct or non-direct effect on a site's rankings in the SERP.
But it is on-page SEO that is very important for your website.
Why It's Good
Since on-page SEO helps search engines analyze your website and related content to determine whether a user's query is relevant to your site. Google is constantly updating its algorithm to decipher queries and provide search results that are relevant to the needs of the particular user. Therefore, as Google's algorithm evolves, so should your site.
Moreover, regardless of whether you have a website or are planning to create a website, it is important to optimize on-page SEO. And then, your website and its content (multimedia, content, images, etc.) must be optimized according to the latest practices used by, for example, Google.
Half of all website traffic comes from search engines such as Google or Bing. It follows that nearly 37% of online revenue comes from search traffic. What's more, the first one on Google gets more than 42% of its traffic by keyword. And the first page of search results captures up to 93% of traffic.
That's why on-page SEO is important. Without it, your site could seriously miss out on ranking opportunities for search queries specific to the subject matter of your website. Without an SEO strategy, your site could be pushed out of the search results by competitors. This is the reason why many companies hire an SEO specialist.
How to Optimize Your Website? On-Page SEO Tips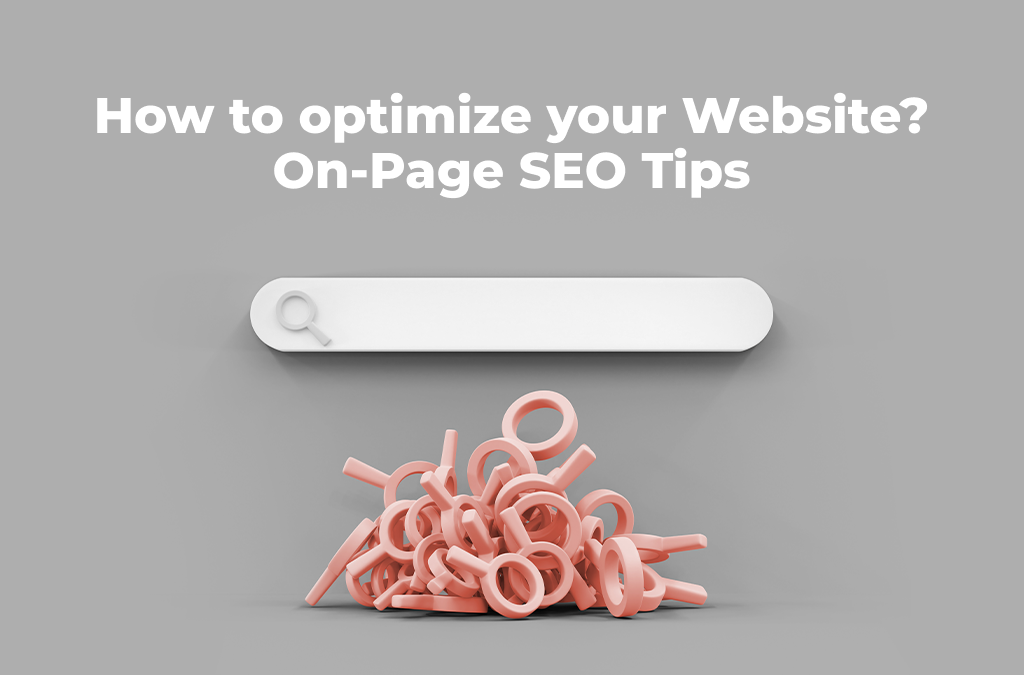 As we have already figured out, on-page SEO is an important aspect of website development. But now let's learn about the best ways to optimize a website. The tips you will learn about right now will help you optimize your website. And also with the help of the specified special actions, you can improve your already existing website.
To begin with, that on-page SEO has three main categories:
content-optimized text, photos, and other types of content;
HTML elements – parts of the source code, such as title tags, headings, and meta descriptions;
site structure – this includes structural elements such as internal links, mobile friendliness, and site speed.
Content as an Important Aspect of On-Page SEO
Content is a key feature of your website. It is also important for on-page SEO optimization. Simply put, website content tells both users and search engines about the subject matter of the web page. Which further contributes to proper search engine robotics.
Firstly, the main thing in creating high-quality content is choosing relevant keywords and topics. It is important to conduct keyword analysis and choose the best SEO strategy.
Secondly, on your website, create and publish only original text descriptions that fit the intended theme of the web page. Also, pay special attention to visual content. Make sure that all photos and videos are optimized according to SEO rules.
And most importantly, keep in mind that your content is an opportunity to add value to a website. After all, high-quality content is one of the most important factors in the SEO process.
HTML Elements and On-Page SEO
As mentioned above, HTML elements include title tags, headings, and meta descriptions. Which are very important aspects of on-page SEO.
Page titles on a website are the most important element. These title tags help search engines and users determine what they can find on your pages.
Furthermore, a few tips:
the length of title tags should not exceed 60 characters. Otherwise, your title may be cut off in search results. This can hurt CTR;
avoid too many keywords. Too many keywords can negatively affect rankings;
put your brand, company, or website topic name first in the headline.
The next important element is the meta description. This is a component of the text that appears below the clickable part of the search results. Such brief page descriptions are not ranking factors for search engines. But they do affect the click-through rate of a web page.
Check out some tips for creating the right meta description:
must not exceed 160 characters;
use a keyword;
optimize the meta description for the possible request of website visitors.
Thanks this search engine will bring your website to a high position.
Importance of On-Page SEO in Structural Elements
Structural elements include URLs. I would call URLs the highlight of a website. Page URLs should be easy to read for both users and search engines. Therefore, they must be short. If the URL of your web page is too long, Google will shorten it. It is advisable to make it short. This important point is part of op-page SEO.
Tips for creating SEO-optimized URLs:
use only the main keyword;
make sure it is HTTPS to indicate to Google that your website is secure;
separate words with hyphens;
do not use special characters or capital letters.
The next important point of optimization is the inclusion of internal links. Because these links direct users to other pages on your site. This keeps visitors on your site longer and shows Google that your content is important. Furthermore, internal links ensure that Google indexes your pages. Because search engines will crawl more of your content, that can lead to a higher ranking of your site in search engine rankings.
Other important aspects of on-page SEO include site speed and load time. Your website must load quickly, no matter what device the web page is being viewed on.
User experience is highly valued by Google. After all, it's obvious that if your website loads slowly, visitors will leave your site. This is bad for rankings from Google. Moreover, it can affect conversion rates as well.
On-Page SEO Tools and Tricks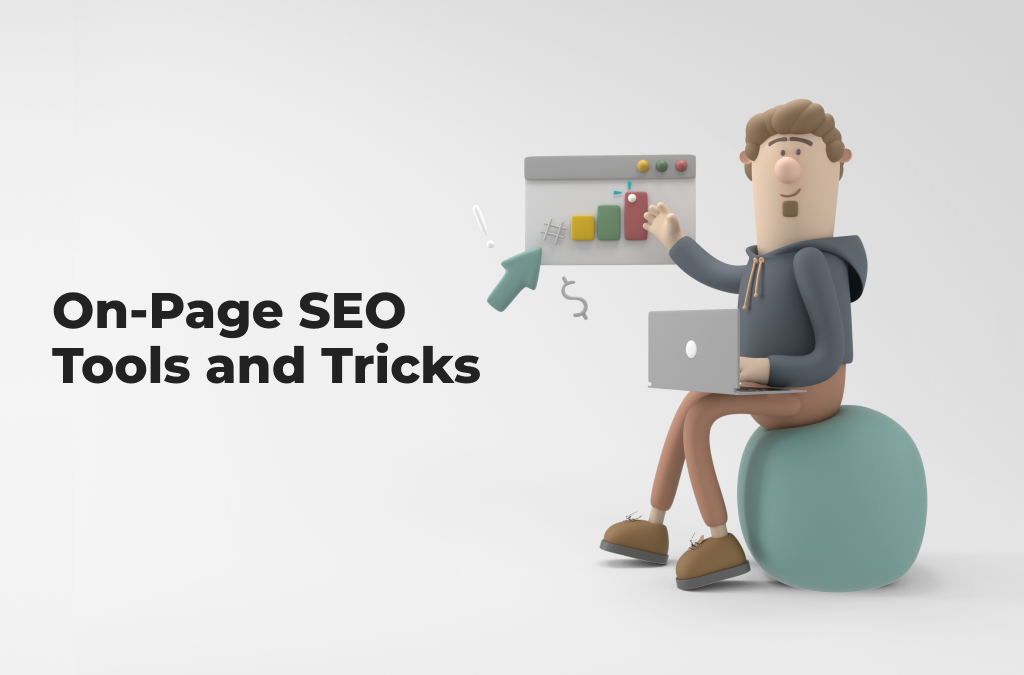 On-page SEO tools are integral to ensuring success. And also for your site to be search engine friendly. That's why you need to do a proper analysis of your site with the help of specific tools.
Using special tools to optimize your website is very important. After all, you need to make sure that your website works correctly. That is, you need to optimize user interaction and avoid simple mistakes. For example, missing pages or images, broken links, and other problems that can degrade user interaction. This is important because search engines like Google track and use user signals for ranking purposes.
Nowadays, there are a large number of such special tools. So in this article, I have collected the best tools. And right now I will tell you about them.
Surfer for SEO
The best in the business is Surfer SEO. This tool provides the ability to check a web page. And shows results through the prism of 300+ signals that Google's algorithm uses to rank in search results.
You can find out:
the average number of words you should use to place on the first page of results;
the optimal number of headings for SEO text;
the norm of the meta title and description;
the number of exact keywords to use;
words you can use to comply with Google's processing algorithm, and so on.
You can find more interesting and additional information on the official website Surfer SEO!
Multifunctional Tool – Ubersuggest
Ubersuggest is a budget version of the On-Page SEO tool. It cannot perform on-page optimization. But it does have an excellent site audit feature. This feature has the same effectiveness as other tools that cost two or three times as much.
By simply entering your domain name into the tool and running a site audit, Ubersuggest will scan all pages in real-time. What's more, it will show you the results of the site audit by SEO checklist (critical errors, warnings, and recommendations).
By using Ubersuggest, you'll know:
general website audit;
backlinks;
keyword and content options;
instructions for meta-description, meta-headings, and more.
Learn more about the good option of the Ubersuggest tool!
Free Tools for On-Page SEO 
There are free tools for on-Page SEO that are very useful. All because of their functional variety and capabilities.
I can recommend:
On-Page SEO Important Search Engine Optimization: Conclusion
I hope you are convinced that on-Page SEO is an important aspect of creating and promoting a website. After all, internal optimization of the web page is very important for the user experience, as well as for the search engine. And the main thing is that the optimization is not so difficult. Follow the above tips and your pages will be optimized better than the web pages of your competitors!
I also invite you to our blog, where you can find a lot of interesting and useful information. The specialists of the Zemez team regularly produce useful posts on various topics. Visit our website and always be aware of all the peculiarities in the web industry!