Best SEO Strategy for eCommerce Website 2022
The best SEO strategy for eCommerce website is a result of thorough analysis and research. In the world of online shopping, proper promotion and advertising are highly important. Search engine optimization plays a notable role in it, too. About 90% of global purchases are performed via eCommerce platforms. And over years their number will only increase. No matter many website owners are now looking for various ways of attracting new customers and business partners. With search engines being the #1 tool for getting information, creating a proper SEO strategy is vital for the success of online stores.

In today's post, we will discuss various SEO strategies. They can directly influence the position of your website in global search results. From keyword research to page optimization, there are multiple ways to establish an online store well-suited for SEO. We'll also describe how various optimization methods can influence your eCommerce website. Besides, you'll learn how to optimize your website for mobile devices. Additionally, we'll explain how you can encourage your customers to leave more product reviews. However, before explaining learning the details of SEO strategy, we need to understand the term first.
Why SEO is Important for eCommerce?
SEO strategy is a series of measures that organizes your website's content by a certain topic. It helps your site to achieve a higher position in search results. To put it simply, creating an SEO strategy allows you to gain more organic traffic for your website using search engines. When creating new content, having such a strategy can simplify the promotion process of your products and services. Moreover, a well-developed approach to SEO is necessary when it comes to offering your clients what they need. For the proper results, it is often necessary to pay attention to all 3 types of SEO. They include:
Off-page SEO;
Technical SEO.
Any strategy must be built around these 3 types of SEO. Still, optimizing your site for search engines may seem complicated especially if you've never dealt with it before. However, the basic techniques aren't that complex. While there are quite a lot of expert-level SEO methods, the simpler ones also give great results. Moreover, they are based on common sense and are easy to understand. Below we'll take a detailed look at diverse ways of optimizing your online store so that you could choose the best SEO strategy for your eCommerce website.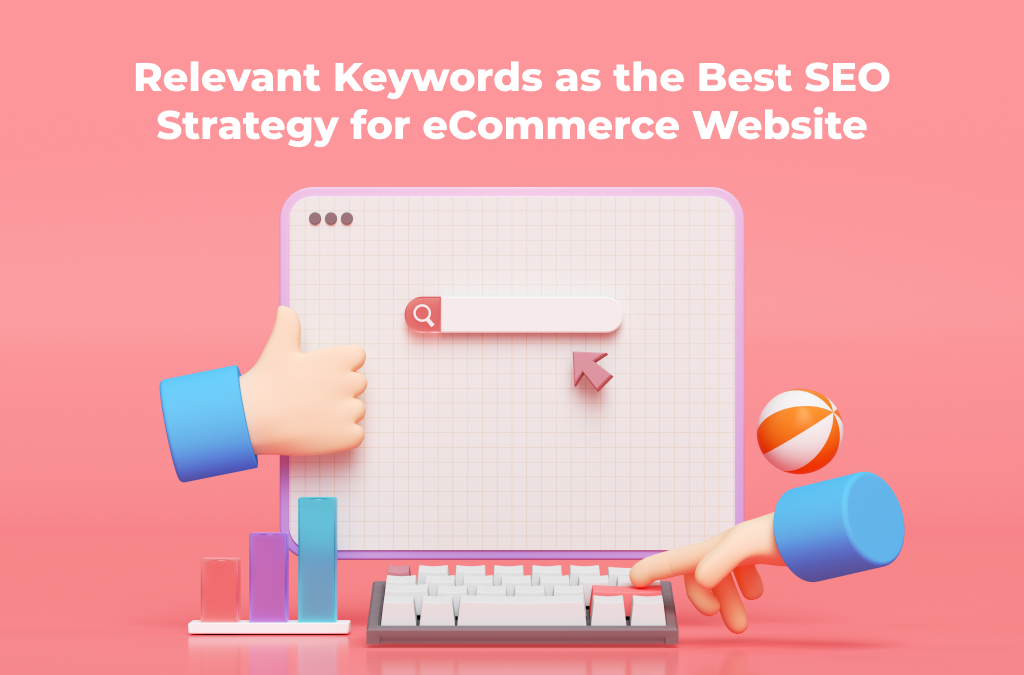 Relevant Keywords as the Best SEO Strategy for eCommerce Website
Keywords are vital for your eCommerce website's SEO strategy. Before you start adding content to your website, figuring out the proper keywords is vital. To do so, you need to understand what your customers are searching for. That's where keyword research helps a lot. These elements of SEO are often connected with the actual needs of your customers. Besides, keywords can tell a lot about your clients' age as well as social and professional background.

Related words such as synonyms are also highly important for content optimization. It helps search engines to better understand what your website is about. Finding relevant keywords is necessary when it comes to creating content on specific topics. Furthermore, you need to determine the search volume, user intent, and cost per click to know what fits your website the most. Using long-tail keywords is good for increasing the conversion rate. There is a variety of keyword research websites and apps available now. SEMrush & Ubersuggest are just a few of many. With their help, it is really simple to identify the best SEO strategy for eCommerce website.
The Role of On-Page SEO in eCommerce
Another major factor that shapes the best SEO strategy for eCommerce website is on-page SEO. This type of optimization can heavily influence your rank on search results. For online stores, it is important to optimize categories and product pages. They provide the majority of organic traffic and can help you increase the conversion rate using the proper keywords. Still, even with some differences between regular sites and online stores, there are lots of similarities when it comes to SEO. For example, you need to pay attention to the following factors:
Providing keyword-rich URLs;
Using optimized meta titles and meta descriptions;
Creating product descriptions that include LSI & main keywords;
Taking care of internal linking;
Adding schema markup.
While some of these requirements influence your content, others are usually hidden from regular website visitors. Still, for a properly optimized result, you need to work on both hidden and visible elements. Aside from keywords and descriptions, relevant and high-quality images are necessary, too. They are not just useful for your potential customers but also help search engines understand what kind of services and products can be found on your eCommerce website. Needless to say, with authentic, varied, and properly created content, you'll be able to drastically improve the quality of the user experience on your site.
Creating Unique Product Descriptions for Your Store
Aside from original and quality content, any eCommerce website requires properly written product descriptions. The majority of potential customers are visiting online stores to find specific products. Optimizing product descriptions can help your clients find just what they need. Well-described products that feature relevant keywords will increase organic traffic and attract more visitors to various pages of your website. However, each description has to be unique and original. Duplicating already written descriptions will result in lower rankings. It also isn't the best SEO strategy for eCommerce website.
Furthermore, the thought-out descriptions will not just influence your position in search results. They will also increase brand awareness. What's more important is that you can get more attention to your eCommerce platform without paying for unnecessary advertising. Don't forget that any customer is interested in informative and meaningful product descriptions. That's why every position in your store's catalog must be described in 1000+ words. It needs to have a call to action as well. Also, giving honest information about your products is beneficial for both you and your clients.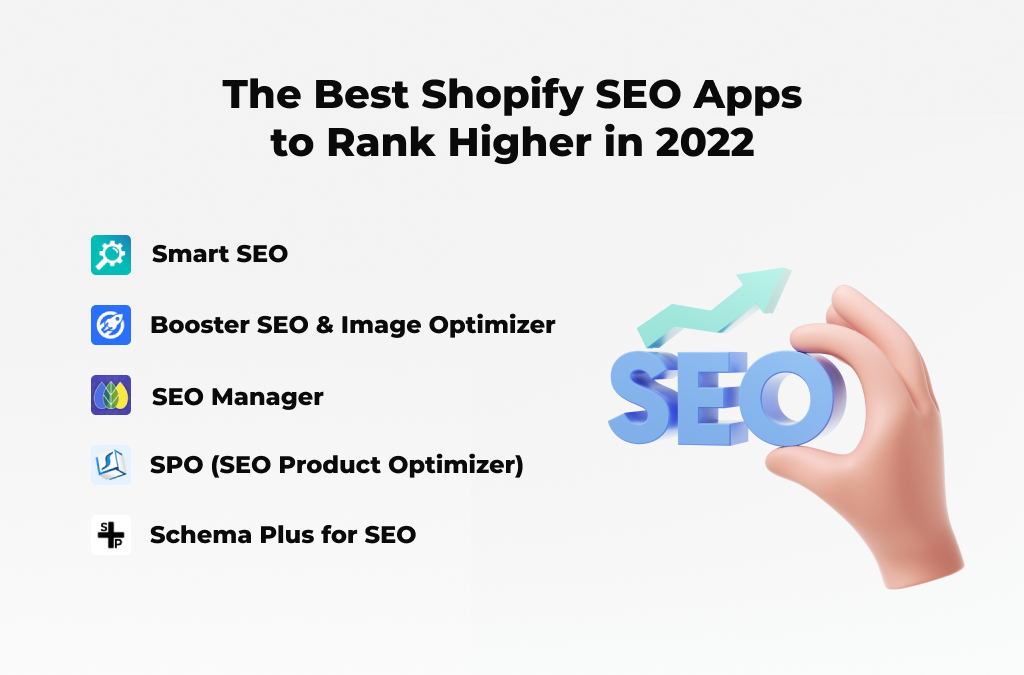 The Best Shopify SEO Apps to Rank Higher in 2022
When it comes to building a sustainable eCommerce website, the Shopify platform does it best. Let's take a closer look at various SEO apps provided by this CMS. A wide range of these applications, both paid and free, offers a great range of features. They can boost your store rankings and help you avoid common mistakes. Some apps help you choose competitive and relevant keywords. Others, in their turn, provide you with link management and on-site SEO suggestions. Here are some of the apps worth checking out if you own a store based on Shopify:
These apps provide the most frequently asked-for features. From site indexing to intuitive meta title and description editing, these and other apps provide extensive search engine optimization support. And with apps like Tiny IMG SEO & Image Optimizer, you can work on your website's images. This will help you improve your website performance as well. Choosing any of these apps is beneficial to both your online rank. It will also positively impact the common user experience. However, the best SEO strategy for eCommerce website is paying attention to the security of your website.
Improving Your eCommerce Website Security
Security of any online store is as necessary as optimizing keywords. Without proper security measures and technologies, no website can be trustworthy enough. For eCommerce sites, this is a matter of vital importance. When visiting your store, clients do not just entrust you with their personal information. They also potentially spend money on your site and perform transactions when buying your products. That's why ensuring the most secure purchasing experience is a must when we talk about the best SEO strategy for an eCommerce website.
For starters, all operations on your website need to be performed using the HTTPS protocol. It provides data encryption and a secure browsing experience. Moreover, it is recommended to install EV (Extended Validation) SSL certificates. This technology is the industry standard for modern eCommerce websites and businesses. It requires you to confirm your store's legal name and address, its trademark or logo as well as the fact of owning the eCommerce domain. using these measures ensures that customers are more likely to continue browsing your website and complete transactions. Also, don't forget about software security. With the help of various security plugins and apps, you can prevent spamming and false login attempts.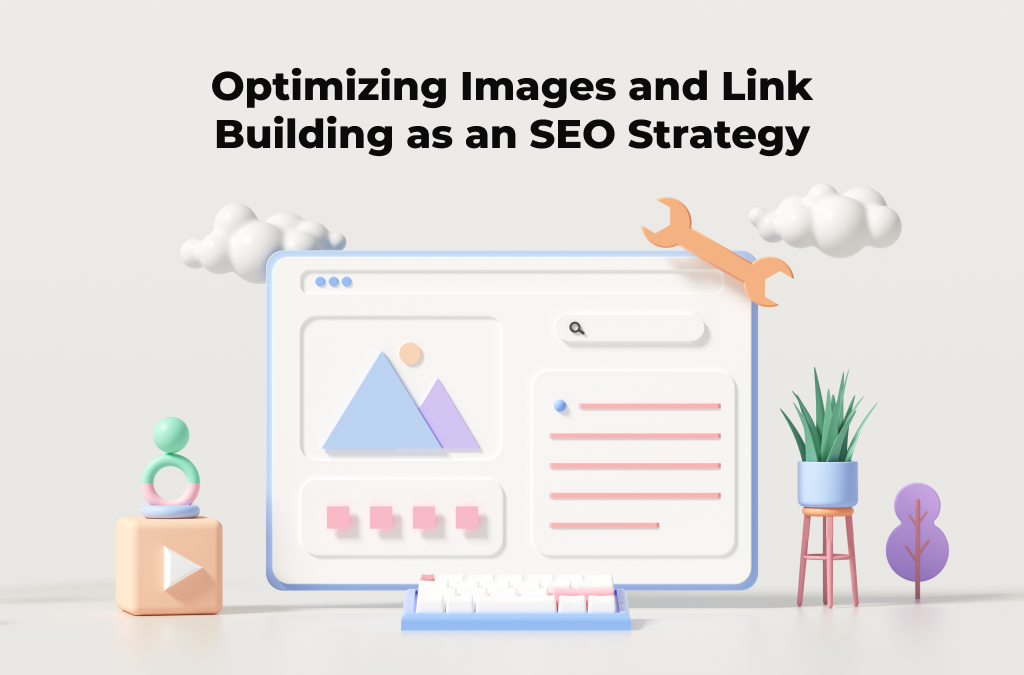 Optimizing Images and Link Building as an SEO Strategy
The website level of security is one of a few things that define off-page SEO. Another noticeable factor is the loading speed and overall page performance. This is especially important if your target audience uses mobile devices and gadgets. It means your online store needs to be not just responsive and mobile-friendly but also load quickly. There are lots of tools to measure the performance of your site (e.g. GTMetrix, Pingdom, or WebPageTest). Low loading speed is one of the key turnoffs for new customers. An easy way to improve the performance of your site is to optimize its images. Modern image editing software and online services allow you to optimize files for the Web in seconds. Here are some online services to help you get started with image optimization:
Talking about performance and off-page SEO, we must definitely note the influence of the eCommerce link building. This is highly useful for online stores, too. It is also considered the best SEO strategy for an eCommerce website. Besides, it helps to generate more organic traffic. This is especially true when other trusted resources link to your store pages. Needless to say that links you add to the website need to be relevant. They also have to connect with your content. Great examples of links you can add are your store's social pages and the reviews on related websites.
Increasing Your Search Result Ranks with Product Reviews
Reviews and comments play a decisive role when choosing products for many customers. They can heavily impact your reputation and the store's rank on Google and other search engines. However, the reviews must be posted by actual customers and not by fake accounts. The easiest way to encourage your clients to leave product reviews is to simply ask. It can be done via notification emails as well as newsletters or posts on your social pages. Another great way to get more reviews is to create calls to action on your website. Besides, you can set up a reward program for your registered customers.
Such programs may include providing discounts and promotional codes. The amount of such rewards depends on the number of purchased products and submitted reviews. Don't forget that asking for reviews has to be targeted toward your audience. If your visitors are attracted by your website, they will more likely submit a review. You can also use Trustpilot and Google Reviews to get verified testimonials. Then, they can be added to your store's homepage or a dedicated review page. It is important to not just add simple text but to design review sections appropriately. You can also add photos of your registered customers. A personalized approach to reviews can also be considered the best SEO strategy for eCommerce website.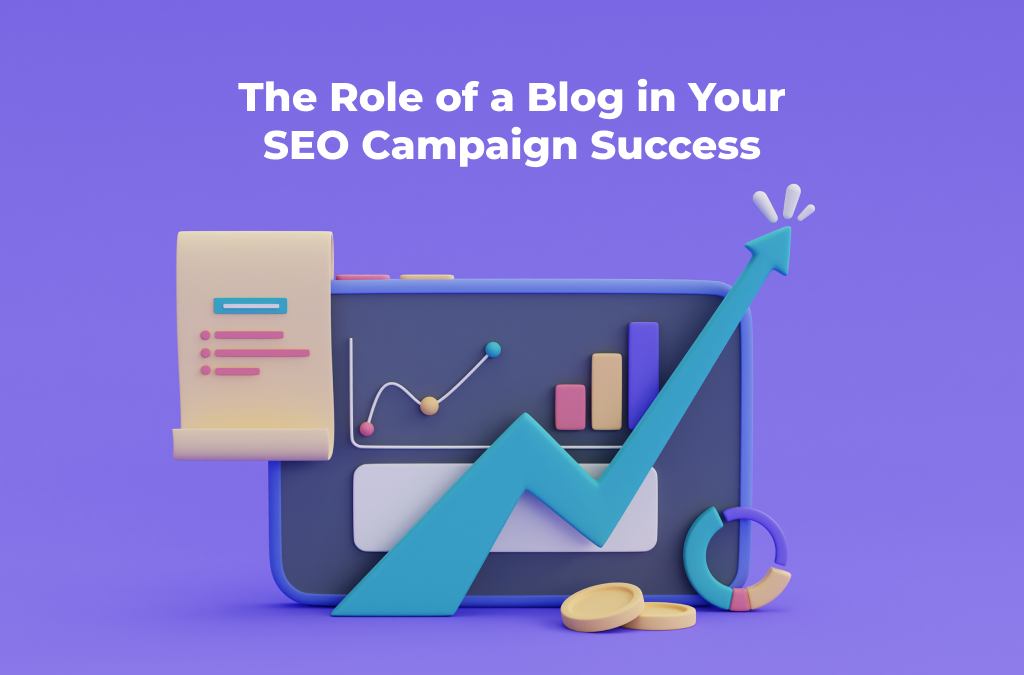 The Role of a Blog in Your SEO Campaign Success
Lastly, the best SEO strategy for eCommerce website as well as any other website is to start a blog. There's a variety of eCommerce platforms that support blogging features. From Woocommerce to Shopify, you can choose what fits your business more. A well-written blog is a primary source of unique content for your online store. Writing relevant articles with competitive keywords allows you to generate beneficial traffic. For example, you can post extensive product reviews or tips on using popular and trending products. Here are some SEO tips for creating optimized blog posts:
Don't overuse the chosen keyword in your post;
Create blog categories and tags for easy navigation between multiple posts;
Always link your posts to the parent blog page;
Work on a regular content strategy for your blog.
Remember that your blog must be closely connected with the product catalog of your store. Aside from being relevant, your eCommerce website may feature trending topics that attract visitors and generate traffic. This will help you increase the conversion rate and further promote your online shop. Also, don't forget to create new and informative posts regularly with at least 1500 words per publication. Sharing your post on the store's socials will attract your potential customer's attention, too.
The Best SEO Strategy for eCommerce Website: Conclusion
We hope this short guide helped you discover the best SEO strategy for eCommerce website. Regardless of what your store offers, these SEO measures will help you get started easily. It's also necessary to learn how these strategies influence your search engine rank. Then, you can go for more expert methods. Also, it is recommended to consult your trusted SEO agent for more detailed optimization instructions. A more tailored approach is always better than common steps to search engine optimization.
If you are interested in more posts about online marketing and web design, we invite you to our blog. There you can always read more publications on related topics. There are multiple reviews of our recent Shopify and WordPress solutions. Feel free to check out the themes and templates from our portfolio, too. You can also visit our website for more information on what we offer. In case you want to get the news from social networks, follow our pages on Instagram & Facebook. With Zemez, you can stay updated with the latest in web design and development.