For many people, music is the way to realize creative potential. After all, it is through music that a person or band can delight people with a great combination of words and melody. Moreover, the music industry is a very profitable business. Especially if you are an internationally known singer or music band. And to make your work known to many people, you need a professional website. Therefore, the Zemez team developed a creative WordPress theme – Valedictorians, especially for you. 

Let's dive together into the world of creative and feature-rich WordPress theme – Valedictorians. And you will also learn a lot of interesting information about this unique premium theme for creativity.
Premium WordPress Theme for the Music Industry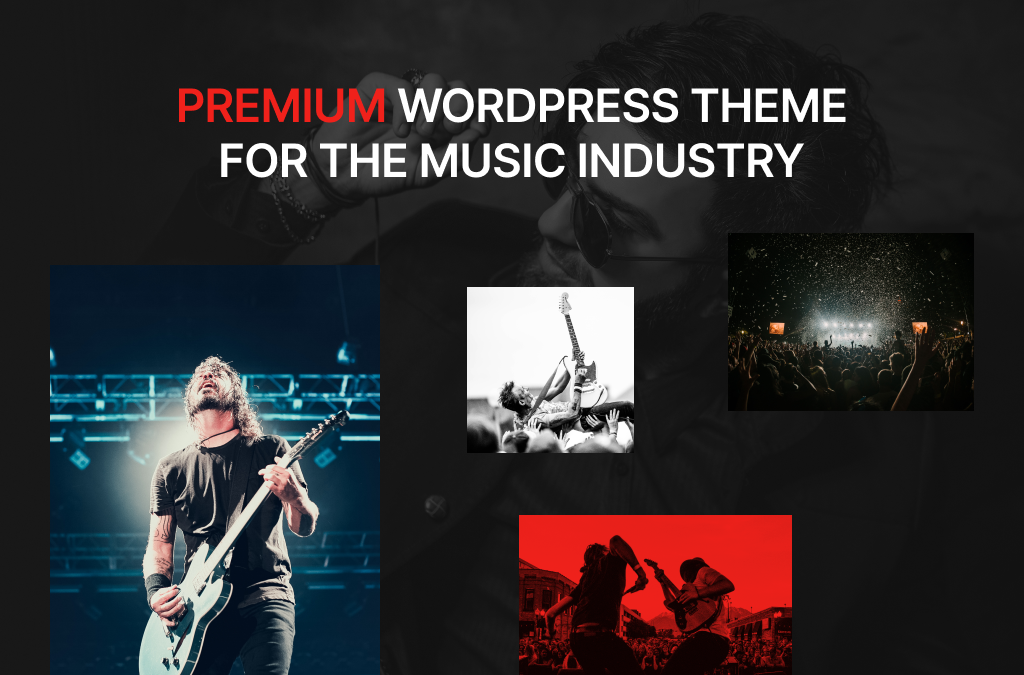 Valedictorians-creative WordPress 6.0 theme is a universal solution for creating a creative and entertainment website. This theme is a development of a Ukrainian team of professional programmers and creative designers – Zemez. Despite the war in Ukraine, our specialists are trying to create excellent premium themes to please our esteemed businessmen!
Valedictorians a perfect fit for all types of bands, labels, studios, festivals, Dj, or singer websites. Moreover, with this premium and creative WordPress theme you can:
tell the world about your music in the best way possible;
create a gallery with lots of great photos of your band;
announce concerts;
introduce new music tracks to your fans;
sell tickets to upcoming concerts and more.
Also, this theme is equipped with the latest functional technologies. Moreover, it has many advantages. For example creative design, a variety of functionality, professional page builder, and much more.

Moreover, Valedictorians are constantly in the process of updating. Therefore, it is created using the latest programming technology.
Excellent Features Entertainment & Creative WordPress Theme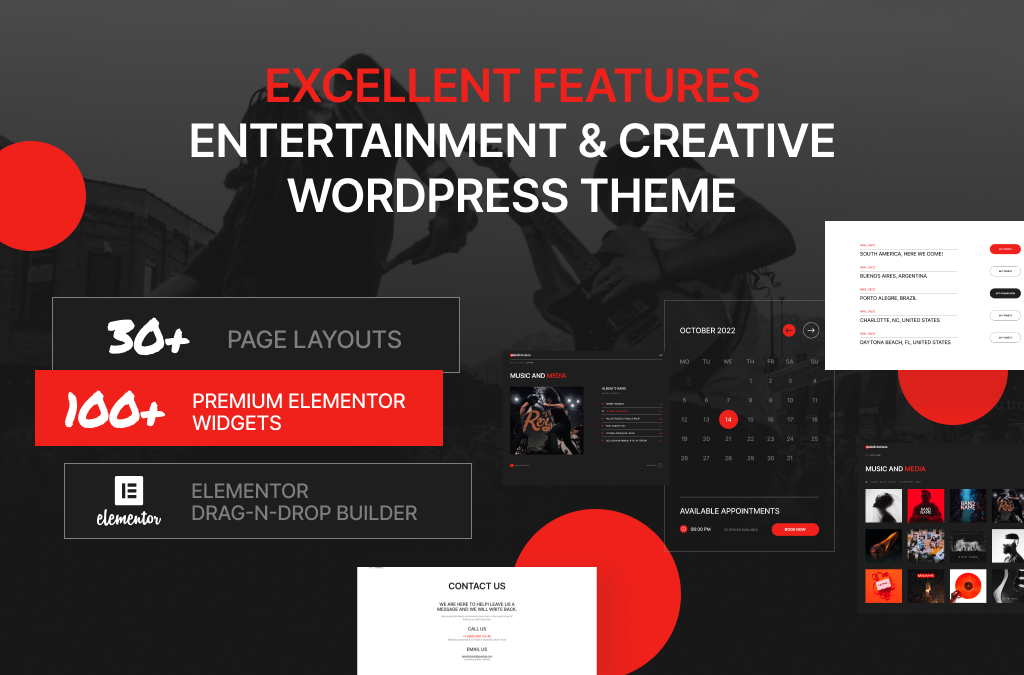 What affects the success of a website? Of course, it is the equipment of the template. That's why our experts have made every effort and created Valedictorians- features entertainment and creative WordPress theme with lots of premium features.
Firstly, one of the main functional features of this theme is the page builder. After all, this WordPress theme is based on Elementor. With this platform, you will be able to create a professional website with an intuitive visual builder. And also, with Elementor you can create a website quickly and with full control over every element.
Secondly, this entertaining and creative WordPress theme comes with a feature-packed set of Jet plugins. These plugins will expand and complement the capabilities of the Elementor page builder. Best of all, thanks to the power of Elementor, you won't have to write a single line of code! It follows that Valedictorians is suitable for both beginners and professionals in programming.
Thirdly, the Valedictorians creative WordPress theme is based on WordPress6.0 updates. This CMS has advanced functionality. At the same time, setting up a website is not complicated!
Impressive Options of WordPress6.0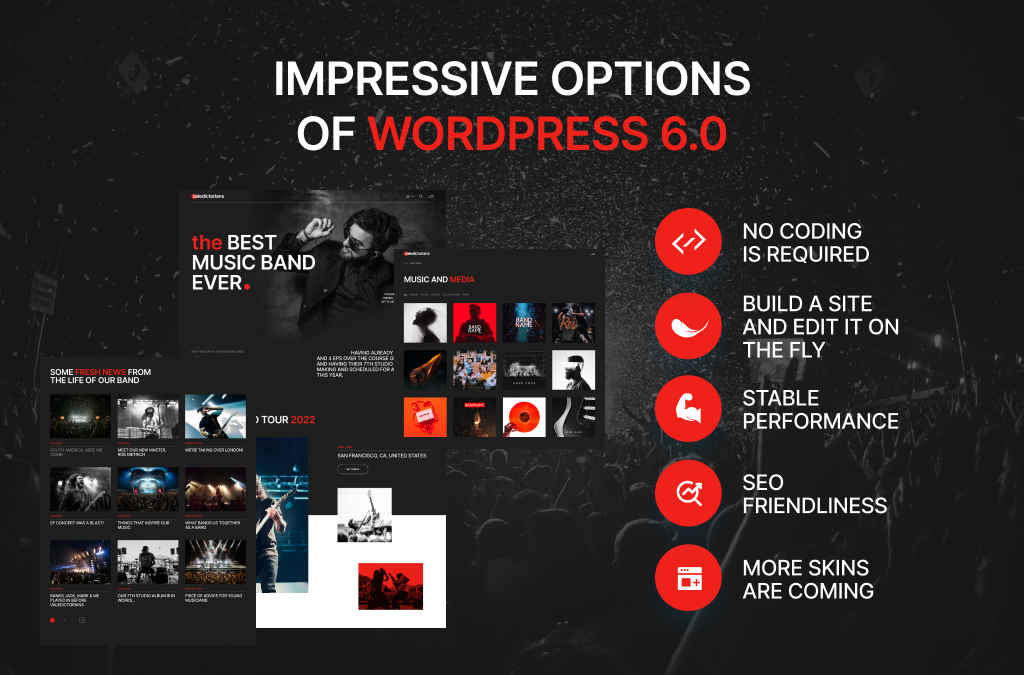 The updated version of WordPress 6.0 is a significant development for template developers and business people. After all, it means that the popular CMS has even more functionality, which will have a better impact on the website. That's why the experts at the Zemez team have taken care of that and created the Valedictorians- features entertainment and creative WordPress theme with new updates!
WordPress 6.0 updates place a great deal of emphasis on the design and content creation process. This CMS has:
many special functions for creating creative design edits;
the ability to fully edit a website without having to work with code;
extension of the list of new blocks;
the ability to switch styles and much more.
In addition, with these changes, the best CMS becomes accessible and understandable to users with different levels of programming skills. All these updates contribute to making the process of creating a website easy, fast, and understandable.
​​The Best Creative Benefits of a Creative WordPress Theme = Successful Music Website
Music is a creative sphere. Therefore, a creative business needs an unusual website. Thus, Valedictorians is a creative WordPress theme is the best theme. After all, it has a lot of creative features. Which will best highlight the uniqueness of your creativity.
The highlight of this theme is the design. The talented designers of our team have created an explosive and unique design. Rest assured that the Valedictorians theme design will best highlight the style of your creativity. What's more, your website visitors will not pass by! After all, the combination of vibrant colors will draw attention to all the details of the web page.
A further advantage of this creative WordPress theme is a large number of ready-made pages. You get 10+ pages in this template. Moreover, you will be able to customize them yourself. After all, pages are created with Elementor page builder:
A bright "home page" will give you a mini tour of the website. This page is a diverse mega-menu. Your fans will love the functionality of the site and the variety of pages.
The "Tours" page will alert your fans to upcoming music events.
Tell interesting details about your band right on the "band story" page.
"Gallery" is the best way to showcase all the photos of your band.
The "News" page will allow you to share lots of interesting and impressive facts about each member of your band.
The "Contacts" page will provide information for quick contact.
In addition, Valedictorians creative WordPress theme has integration with popular social networks:
Facebook;
Twitter;
YouTube;
Pinterest;
Soundcloud.
Share your creativity with the world!
​​Valedictorians creative WordPress6.0 theme: Conclusion
Creative individuals now have the chance to have a professional website. All thanks to the experts at the Zemez team, who have created Valedictorians creative WordPress 6.0 theme. I hope you've seen that this theme is the best solution to make your creative work known to many people. It is also a good opportunity to become popular. And in the future to make a lot of money.
So buy Valedictorians- features entertainment and creative WordPress theme today and develop your talent on a global level!
More information about other unique templates can be found on our website. I also recommend subscribing to Facebook, Twitter, and Instagram and always staying in touch with the Zemez team!