The Best Gutenberg Plugin for Your WordPress Website
The best Gutenberg plugin, ZeGuten, is a great tool for creating a content-rich website. It provides your WordPress site with unique options for creating informative posts. Developed by Zemez, this plugin improves the features of Gutenberg introduced in WordPress 5. While allowing you to create posts of any complexity, ZeGuten doesn't any specific coding skills. In this post, we will explore this WordPress plugin in detail as well as why you should vote for it in the Monster's Award 2021.

Moreover, this article will give you more information about the awards. You'll also find out how to vote and what nominations were introduced. We'll also describe the main idea of Monster's Awards including some of the notable nominations. Even if you are just interested in the best Gutenberg plugin, we hope this post will be helpful to you. However, before we explore ZeGuten, we think it's necessary to talk about Gutenberg and how it has changed WordPress.
ZeGuten: Feature-Rich Addition to a Popular WordPress Page Editor
Our team developed ZeGuten to fit the needs of WordPress who actively use Gutenberg. The latter was first introduced in December 2018. This block-based editor received a fairly cold welcome as it replaced the Classic Editor. However, the Gutenberg team has improved the editor over the years. At Zemez, we wanted to extend its functionality even further. That's how ZeGuten appeared. Our plugin offers more than you'd expect from the best Gutenberg plugin. It also provides dozens of other advantages. For example, ZeGuten provides a wide range of components for your posts, such as:
Advanced map;
Countdown timer;
Icon list;
Progress bars;
Image comparison etc.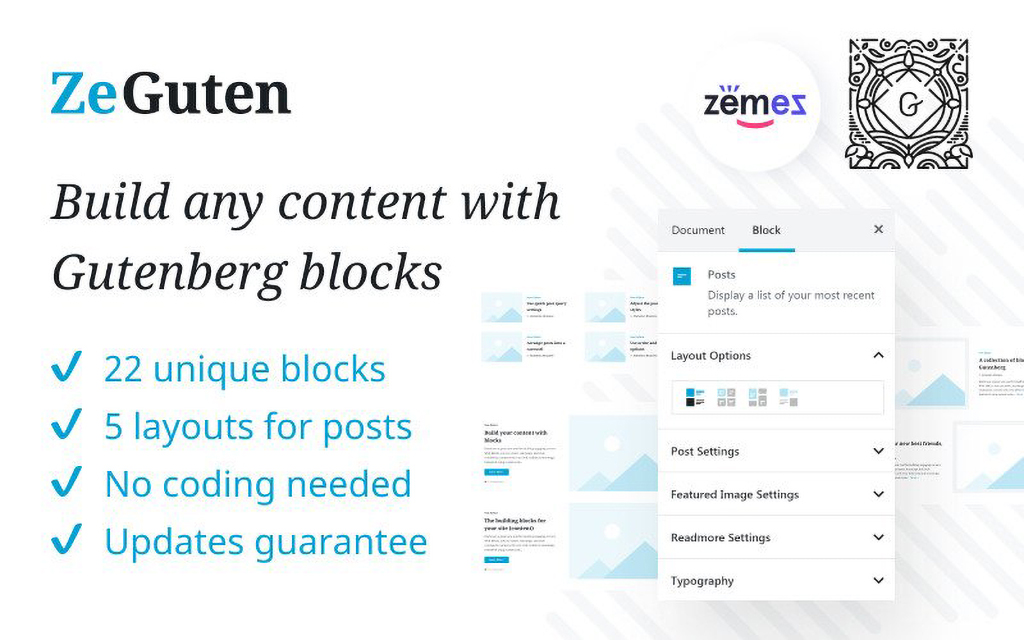 We believe these and other features make ZeGuten one of the best Gutenberg plugins for any WordPress website. Whether you are working on a personal blog or a corporate website, our plugin will help you create a content-rich & informative publication in no time. And with a wide range of integrated post layouts, managing your publications is quite simple. Moreover, our solution guarantees high responsiveness. This means your website will be running smoothly on any modern device. With such a range of benefits and advantages, we wanted to share our plugin with more WordPress users. That's why our team decided to take part in the Monster's Awards 2021.
Monster's Awards 2021: What to Expect and How to Vote
Before we explore how ZeGuten is presented in this contest, let's find out more about the awards first. Established in 2021, Monster's Awards provide space for voicing your opinion about WordPress products of your choice. These awards allow every WordPress developer to popularize their products without any paid marketing. Moreover, organizers of Monster's Awards make every effort to avoid any paid offers from potential nominees. Also, templates are not on the nominations to keep things balanced and fair. After careful consideration, the contest committee selected 13 nominations of popular WordPress solutions and media. They are dedicated to various popular categories of WordPress products:

WordPress WooCommerce Plugins;
Elementor Plugins;
Gutenberg Plugins;
WordPress Form Plugins;
WordPress Page Builders.
Of course, these are not all the nominations presented this year. For example, you can vote for your favorite WordPress hosting or YouTube channel. Nearly everything you can think of when talking about WordPress is available to vote for. From security plugins to migration solutions, there are lots of nominations and nominees. Being designed by industry professionals, the awards' website also provides a leaderboard where you can find out current results.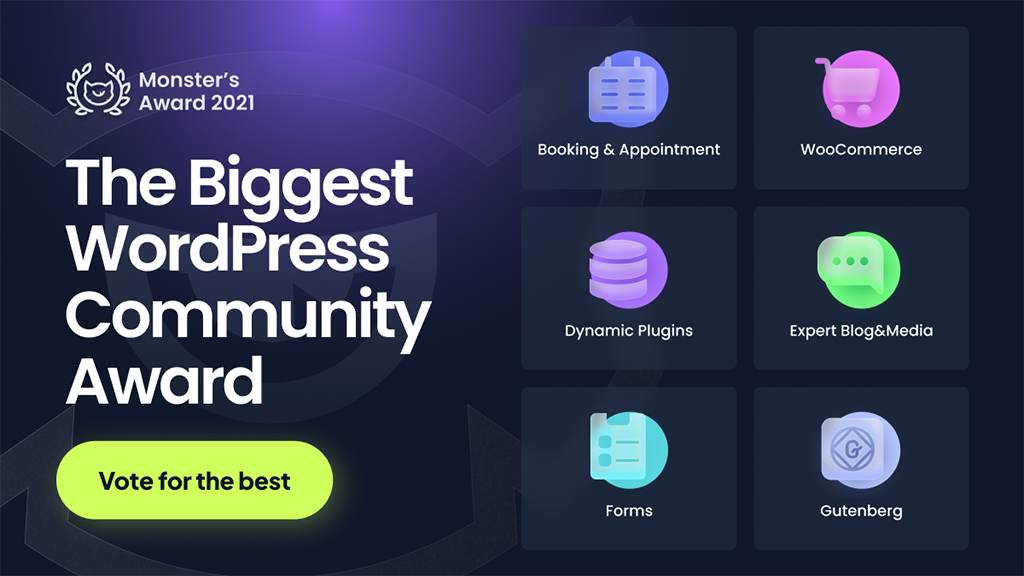 Choosing the Best Gutenberg Plugins with Monster's Awards
As we mentioned above, our solution is an easy-to-use and highly popular WordPress tool. No wonder ZeGuten was nominated for the best Gutenberg plugin. If you want to know how to vote for this or any other nomination, it's really simple. Just register on the Monster's Choice website or authorize using Google or Facebook. After that just choose any or all nominations that interest you. You can always browse the website or a social media page of a nominee before voting. If you think your favorite WordPress plugin/developer isn't present among the nominees, you can always contact the contest organizer.
We also invite you to cast a vote for the ZeGuten plugin. We believe that your support in the Best Gutenberg Plugin nomination will help us improve and strive for new heights in all aspects of our work. Besides, thanks to this contest, our team will be able to promote all our WordPress solutions even further. Here at Zemez, we highly appreciate all your votes and comments. They help us move forward and develop new awesome WordPress products for your websites. So feel free to take your time and vote for us in Monster's Award 2021!