From this tutorial you'll learn about WordPress log in, and how it gives you access to the main website's settings.
Administration panel (Dashboard) is a panel, from where you can manage your current website. From the Dashboard you can start introducing changes to your WordPress website, change themes, activate plugins, customize appearance, etc.

Log In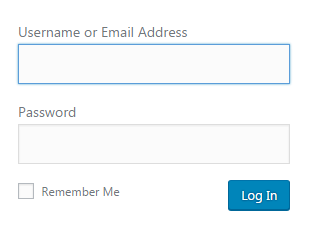 Open your website in any browser.
In the browser address bar input

/wp-admin

after you website's address.
You will see WordPress  login page, where you'll be able to enter your username and password.
If everything is done correctly, Administration panel (Dashboard) will open.
Let's take a closer look at what Administration panel is. To cut it short, it is the underside of your website's appearance and functionality. Here you can add posts and pages, edit and delete them, create new users and give them specific rights to assist you.
Administration Panel Settings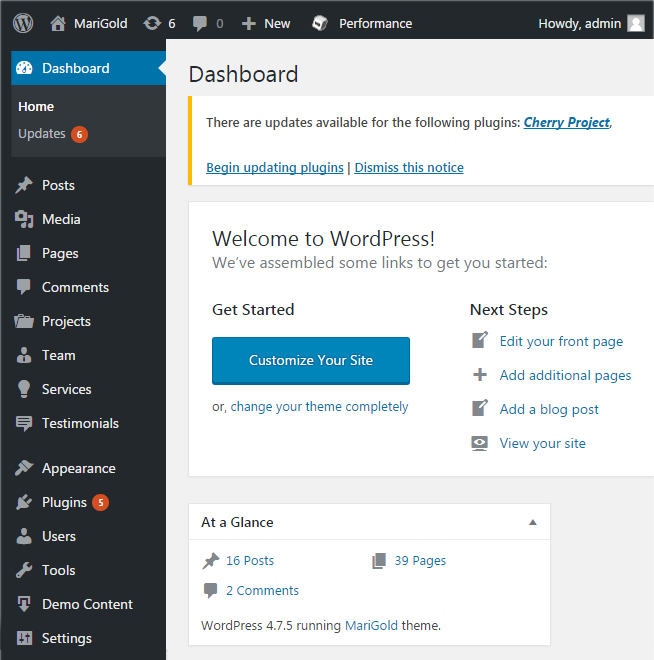 Now let's see what blocks are included into Administration panel.
The top panel of Administration panel (which can be found at the top of the page) includes different settings (from left to right).
Information about WordPress — put your mouse cursor to WordPress icon to view the links to documentation and support forums about WordPress engine.
Visit site — here you can quickly switch to viewing the website.
Plugin updates — here you can see if your theme or plugins need to be updated.
Comments — here you can view comments, that were published, or await for moderation.
New — put a mouse cursor to the

New

area to learn what new blocks you can add; you can choose one of them from the dropdown list, and proceed to creating a new post, page, media file, user, etc.
Performance — here you can upgrade your website's performance by cleaning cache, changing general settings, etc.

In the top right corner, you can view your profile and start editing it.
When you're viewing Administration panel (Dashboard), you can also see the column on the left, that contains different tabs.
Here you as well add and edit content to your website, change settings, install and activate plugins, customize website's appearance, etc.