Do you need to have a fast access to one of your website's editing blocks, such as Posts, Comments, or Customizer? You can begin editing them right from the Dashboard tab.
From this tutorial you'll learn about managing Dashboard.
Dashboard is the first tab, that opens automatically when you enter Administration panel (it can also be called Dashboard), and here you can get all the information about recently made changes and activities. Here you can view the statistics, view the number of posts, comments and pages of your website, create a quick draft, and have access to Customizer.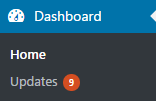 Dashboard Options
Here you can view the most needed options and have an express access to each one of them.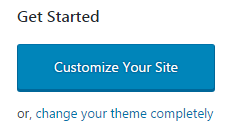 Customize your site — the option allows you to quickly enter Customizer, where you can change your website's appearance.

Edit your front page — by using this link you can proceed to editing the front page of your website.
Add additional pages — here you can add new custom pages to your website.
Add a blog post — this link provides you with the fast access to post editing form.
View your site — here you can proceed to your website's front-end appearance.

Manage widgets or menus — use these links provided in the Dashboard to edit widgets, or proceed to editing menus.
Turn comments on or off — here you can allow or restrict comments for your blog posts.
Learn more about getting started — here you can proceed to WordPress tutorials, which are provided by official WordPress website.

At a Glance — this option allows you to view the number of posts, comments and pages of your website.

Quick Draft — this option enables you to create fast drafts with title and content. The draft is similar to statuses or Twitter publications. However, if the publication  is saved as a draft, it won't be published immediately.

Recent Comments — here you can view the recently published, pending and moved to trash comments to your blog posts.