From this tutorial you'll learn about creating and managing facilities using Hotel Booking plugin. Adding facilities is necessary to provide the visitors with information about the room.

Creating and Managing Facilities
In this block you can add and manage the facilities available at your hotel.
To access Facilities navigate to Accommodation > Facilities tab on the left of the Dashboard.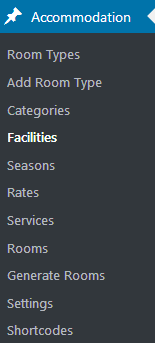 On the Facilities page you can see the Add New Facility block.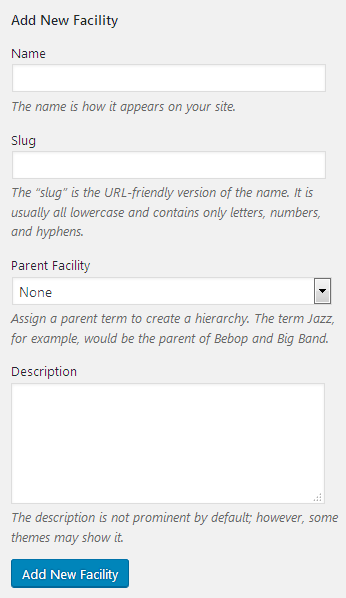 Name – here you can fill in the title for the facility.
Slug – here you should enter the short name for the facility to show up in the browser address bar.
Parent Facility – here you can select the parent facility if you want to create a child one (the child facility will be related to another major facility).
Description – in this block you can add the description of the facility.
After everything is ready click Add New Facility button.
You can also view the list of existing facilities on this page. Hover on one of them and click Edit option to change it.