From this tutorial you'll learn about adding categories to rooms using Hotel Booking plugin.

Adding Categories to Rooms
In this block you can add the room categories to assign them to the rooms. To add a new category or view the list of existing ones navigate to Accommodation > Categories tab.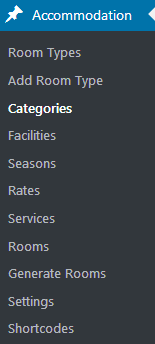 Input the name of the new category in the Add New Room Category block. 
Specify the slug for the new category in order to show it in the browser address bar.
Select the Parent category if you want to create a minor Child category that will be assigned to a higher one. Leave None value if you need the new category to become a Parent one.
Add the category description in the required field.
When everything is ready click Add New Room Category button.
In order to edit one of the categories hover on one of them from the list of room categories and click Edit option.