If you need your theme to look unique, you might need to apply custom settings to its appearance. You can apply all the changes from Administration panel.
From this tutorial you'll find out about changing appearance using Administration Panel (Dashboard).
"Appearance" tab is located in the left column of Administration panel. It contains Themes, Customize, Widgets, Menus, Background and Editor sub menus.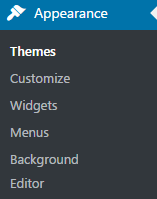 In this overview we'll learn more about each one of these Dashboard sections.

Themes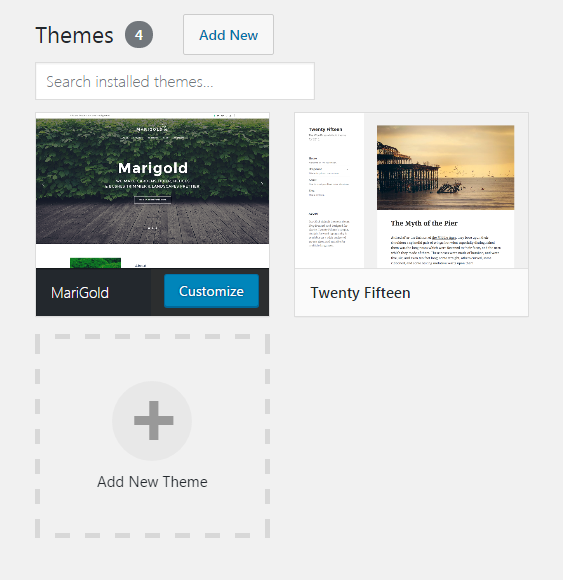 Themes menu gives you access to the following features.
Add New — click the button to upload and install a new theme for your website.
Activate — this button activates one of the uploaded themes.

Live Preview — the button allows you to preview the theme before activating it.
Customize — the button is usually shown when the theme is active, it brings you to Customizer block.
Add New Theme — when clicking on the block you'll be able to view the featured themes, filter through them, and install one of them.
Customize Options
Customize menu opens Customizer window, where one can change site identity, tune up general site settings, apply custom settings to header, footer and content blocks.
Learn more about Customizer here.
Widgets

Manage with Live Preview  block opens Customizer page, where you can view how the widgets looks on your website's page.

Available widgets — in this block you can view the list of widgets, that are available for your theme, and add them to the widget areas.

Default sidebars — this blocks display the widget areas available for your theme, each one of them contains the widgets.
Menus

Edit menus — here you can edit existing menus and create new menus.
Select a menu to edit — select a menu you need to edit from the drop-down list and proceed to editing it.
Create a new menu — this link provides you with the opportunity to create a new menu.
Save menu — the button saves all the changes applied to menu.

Menu structure — here you can drag each item up and down to create the needed order.

Display location — here you can set the location for a menu you're currently editing.
Auto add pages — the option enables you to add pages to the menu structure automatically when a new page is created.
Background
Background is the element of your website's appearance, which can be customized. You can set a different color or image, define image position and alignment.
Background menu will redirect you to customizing your website's background by means of Live Customizer. To learn more about how to apply different backgrounds view this tutorial.
Editor
Editor is the menu, that you can use if you have the basic knowledge of CSS and PHP. Here you can edit your website by adding, editing or removing lines of code.