If you need to add extra functionality to your website, you can install plugins, that can provide all the necessary features to your theme. Plugins can become different useful website management tools, from third-party content editors to various widgets.
From this tutorial you'll learn how to manage plugins using Administration Panel (Dashboard).
A plugin is a component, that adds extra features to the existing ones.
You can manage existing plugins and add new ones, activate and deactivate them from Administration panel, Plugins tab, which is located in the left column of the Dashboard.

Plugins Options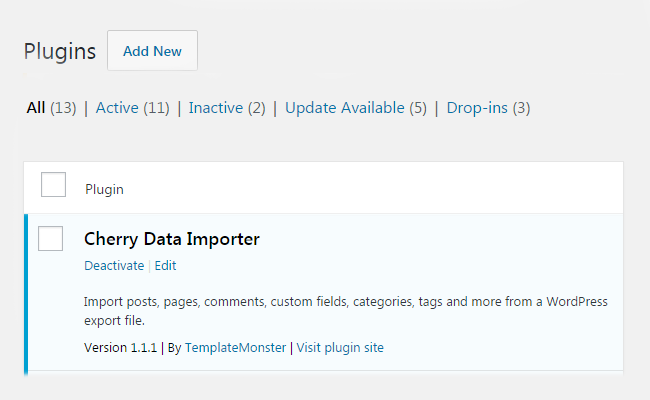 Add New — this option enables you to upload new plugins to your website.
Search installed plugins — here you can input in the search field the name of a plugin you're looking for, and click

Enter

to start the search.
Activate — this option activates a plugin. You always need to activate a plugin before you start using it.
Deactivate — this option deactivates a plugin if you don't want to use it now.
Edit — here you can apply changes to the code by adding your own lines of code.
Delete — this option allows you to delete a plugin if you no longer need to use it.

Bulk Actions — here you can select the action you want to apply to the bunch of plugins (you can activate,  deactivate, update and delete several plugins at one time).