When you visit your website's page where products from one category are placed, you might notice that the products are displayed in a certain order (they can be sorted by popularity, average rating or a default WooCommerce order).
If you want to change WooCoomerce default product sorting, then you may be interested in reading this tutorial.

Intro
WooCommerce is a robust plugin developed to create online stores based on the WordPress engine. However, there are no restrictions within this niche: you can assemble a site of any type, sell goods, and/or services. The plugin is especially popular among business owners. One of the main reasons is the free distribution, which allows you to create an online store on WooCommerce without big financial investments. One more important benefit is the simplicity of management ‒ no special skills are required to work with this tool.
Large companies also use WooCommerce to create online platforms. If you look at the statistics of using the plugin, every tenth large online store is made on WooCommerce.
Anyway, the target audience of the WooCommerce plugin is entrepreneurs, small businesses that seek to minimize investments at the initial stage of creating an online store. With the growth of the company and the increase of its clients, WooCommerce can also cover the needs of large platforms.
The main advantages of the WooCommercre:
it's open-source;
the possibility of unlimited editing with this plugin;
a reliable core, which is also used to create large stores with thousands of products;
tons of cool add-ons;
support for the latest versions of WordPress due to constant updates;
high level of security;
automatic mobile-optimization.
Changing WooCommerce Default Product Sorting
Log in to WordPress Dashboard and select

WooCommerce

tab in the left column. Here you'll see the

Settings

submenu, which you need to use.
When

Settings

menu opens you will notice the tabs at the top of the page. You need to navigate to

Products

tab.
Now open

Display

options and view the available sorting options (there are 6 of them):

default product sorting option — enable it to sort products by name, or apply a custom order;
popularity — you can choose this option if you want products to be sorted from most popular to the least popular ones;
average rating — here you can set the sorting which will depend on the average rating of products;
sort by most recent — apply this type of sorting if you want the recently added products to be shown first;
sort by price — the option enables product order by price (the order can be ascending or descending, depending on what option you choose).

If you want to apply a custom sorting, then you need to choose the first option (default sorting) and save the changes.
Now you should navigate to

Products

tab, which can also be found in the left column of WordPress Dashboard.

Products

page will open, and you'll see the

Sort products

link. It will allow you to sort the products as you want to.

Manual Products Sorting
Default sorting has alphabetical order, but you can change products order manually.
The first way to do it is to drag and drop the products to the places you want them to be. But you need to be aware that this way of sorting will make changes in menu order. To set alphabetical order for products once again you'll need to set the menu order to
"0"
with each one of the products from the list.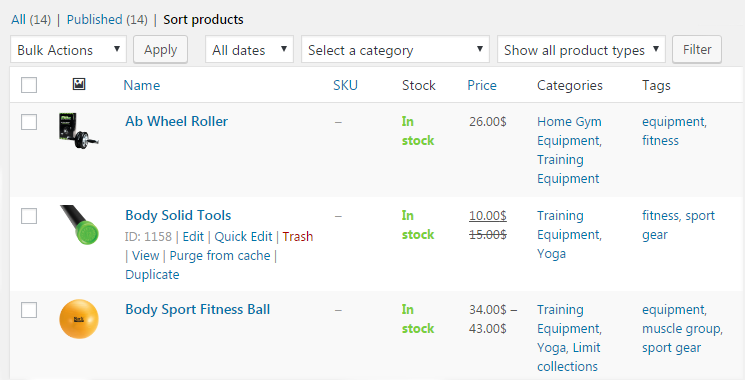 The second way to change products order is to set it manually when editing the product.
Click on one of the products, choose

Edit

option and select

Advanced

tab in the

Product Data

  section. Here you'll see

Menu Order

field, where you can manually input the preferable order position for this product.

If you want a group of products to be shown after another group, and you also need them to be sorted in alphabetical order, then choose

Grouped

product from the dropdown list, and change the order manually in the

Product Data

   section.
The products that have menu order

"1"

, will be shown after those products, that have menu order

"0"

. Both groups will be sorted in alphabetical order.

Don't forget to save the changes and click on

Update

button in order to make your changes take place.
From this moment, you can be sure while changing WooCoomerce default product sorting. As well, it would be nice of you to share this post with your friends.