In case you read this tutorial, you have purchased the CherryFramework5 theme that contains a lot of useful widgets. Let's pretend you are looking for a one that would allow you to create various custom menus anywhere on your website. Not a problem! To your attention, there is one very convenient widget named TM Custom Menu with Background that will help you to gain the aim.
We are more than happy to present you the quick and easy way to get a particular menu in a particular area on the site just following our tips step by step.
First of all, you should make sure you do have menus in Appearance > Menus to select the needed one. Here you can also create a new custom menu. Please, have a look at the screenshot below: 
This step presupposes that the needed custom menu is created and we can go ahead and add the widget to the preferable area. Please, go to Appearance > Widgets and locate TM Custom Menu with Background widget within the available widgets on the left. Check the screenshot below to know how it looks like in the admin panel: 
Please, drag and drop it to the area you prefer to see the widget in so the widget is placed into the section required. As a sample, we have added it to the 'Before Content Area'.
Then we will fill out the fields the widget has.

title – this property specifies the title of the widget;
select menu – here you can select any of the predesigned menus (one of those we have in Appearance > Menus):
choose background image – choose the image you want to use as a background for your menu. 

It is better to see once than to read several times. So, we have prepared one more sample screenshot for you to take a look: 
Just for your information, you can also manage your widgets in Appearance > Customize > Widgets. So, you can see all changes on the page simultaneously, before saving. Check, please, one more example screenshot to see this way: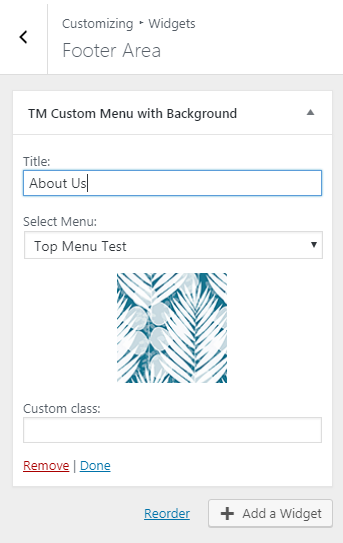 Thus, you can get acquainted with the way on to work with TM Custom Menu with Background widget. We hope this article was helpful for you.
Your attention is highly appreciated! Stay tuned for our pieces of advice to best suit your preferences in the process of the theme customization.