From this tutorial you'll learn how to edit order emails for WooCommerce themes.
Editing Order Emails
First, to access the order emails you need to navigate to WooCommerce > Settings tab in the left column of the Dashboard.
Here switch to Emails tab in the top of the page. Here you can view the list of emails to be sent to the customers, such as New Order, Cancelled Order, Order on-hold, etc.
Scroll the page down to see the email sender options and email template blocks.
In the Email template block you can preview the email template. To do it click on Click here to preview your email template option. You'll see the basic layout of the email template.
Let's create a new email template. Fill in the required fields, such as From name, From address, Header image, etc.
Making Changes in Email Appearance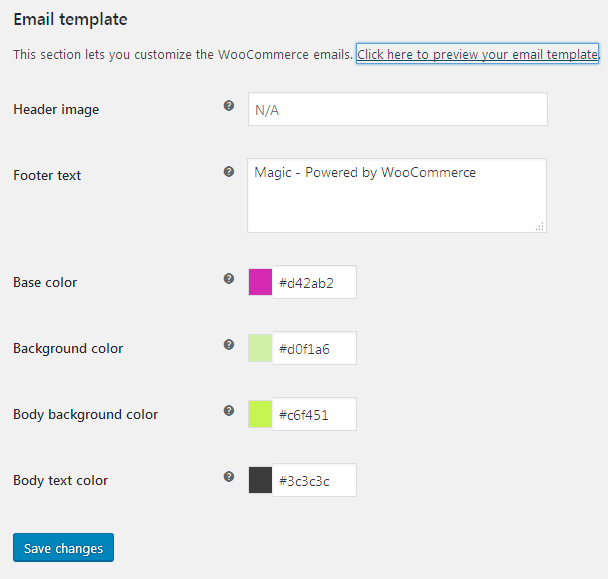 You can see the list of the fields you need to fill in below.
"From" Name — here you need to input the sender name, that will be visible to the customer.
"From" Email Address — fill in the email address to be shown to the customers as a sender's email.
Header Image — here you need to paste the URL address to the image to display it in the email header.
Footer Text — here you need to paste the text that will show up in the footer of your custom email.
Base Color — choose the color to use it for the email header and titles using color picker tool.
Background Color — choose the color to use as the background for an email block.
Body Background Color — here you can select the color for the email body background (it will become the background for the email text).
Body Text Color — here you can choose the color of the email text.
Click on Save changes button to save the template.
If you need to apply changes to one of the emails, click on Configure button to the right of the email.
Click on Copy file to theme to override and edit this email, and then open View Template and make changes in the email structure and content manually using PHP.