In case you read this tutorial, you have purchased the CherryFramework5-based theme that uses Power Builder plugin for building the content. There is one very convenient function of the module that allows your clients and site visitors to book appointments online.
To your attention is the Booked Power Builder module. In the process of the theme layout customization, you will definitely prefer to use this awesome feature. Once you try to add it into the block, it will require the ID of the calendar to be used in the module.
We are more than happy to show you the easy and quick way to gain the aim. Just keep following the tips presented below:

If you have not logged in to your WordPress admin panel yet, please, make sure to log in since we will need to check the Appointments section.
Once you get into the dashboard, there will be the left sidebar with all the WordPress engine and theme sections. Locate the Appointments > Calendars to see the list of the calendars available.
Please, just locate your cursor on one of the calendars. At the bottom of WordPress panel, you should see the line with the information about this object. And right within this line, there is the ID of the calendar you have just hovered.
Sure thing it is better to see the sample in the screenshot and we provide it for you below for the convenience.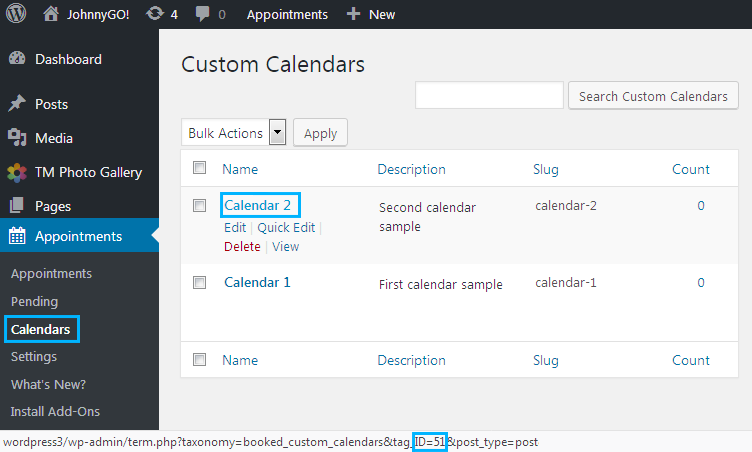 Thus, you can get acquainted with the way on where to find the ID of the calendar (to be used in module).
We hope this article helped you to learn where to find the ID of the calendar to be used in the Booked module.
Your attention is highly appreciated! Stay tuned for our pieces of advice to best suit your preferences in the process of the theme customization.