We are happy to show you how to remove
Olark Live
chat feature from your Shopify store.
It will take you up to 2-3 minutes to do that, all you need to do is to open the Admin panel by adding /admin to your Shopify website URL and navigate to Online Store > Themes >  Customize.


Theme Customization page opens, to the left you can see Olark Chat tab, click it and you will see the Enable widget checkbox. Please, uncheck it and save changes.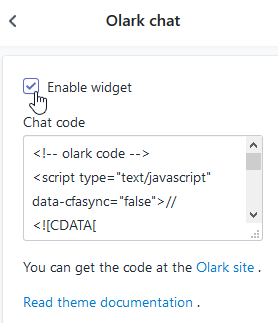 In case there is no such tab, open the  Online Store > Themes > Actions > Edit code, choose the theme.liquid file for editing and take out the code, similar to the one below: 

We hope this guide was useful and clear!