Shopify Products vs Shopify Collection: Comparison and Benefits
Shopify products vs Shopify collection are two important concepts of a modern online store. While being two different elements of an eCommerce website, they are often confused. Undoubtedly, applying all crucial elements of a Shopify storefront is necessary. Collections and products are fundamental when it comes to making your store both content-rich and easy to use. They help your customers to not just easily find what they need. Both products and collections can make your store attractive to potential customers if set up properly. Moreover, well-performed categories, products, and collections are often the reason for customers to come back to an online store for another purchase.

In today's post, we will take a detailed look at Shopify collections and products. Moreover, we'll discuss the benefits of each mentioned Shopify storefront component. It involves using collections and making your products stand out. Either way, you'll learn a lot about managing your store. Rest assured, our tips will prove useful to your eCommerce business. Eventually, you'll be able to effectively organize your store's catalog to make it more appealing to your customers.
Difference between Shopify Collections and Products
Before we dive into the benefits of Shopify products vs Shopify collection, it is necessary to understand the differences between both. Let's start with the definition of a product in terms of the Shopify platform. Products are the basis of any online shop. They are presented as items with unique characteristics that the merchant can assign individually. Each product must have a detailed description and images that demonstrate the product and its advantages. A properly completed product page can be a great source of information for any client. Moreover, it provides your website visitor with an understanding of how they can benefit from using the product. In return, it allows you to better differentiate your website from competitors.
Collections, in their turn, allow you to properly organize already existing products for the comfort of your potential clients. They are usually made of related products that may have similar characteristics. Unlike categories that usually have a single matching criterion, collections can be based on nearly anything. From sizes and colors to prices and themes, it is up to you to decide what to base the collection on. Furthermore, they can be presented as an image gallery to make them more noticeable and attractive to your customers. you can also easily edit any collection using the Shopify admin page.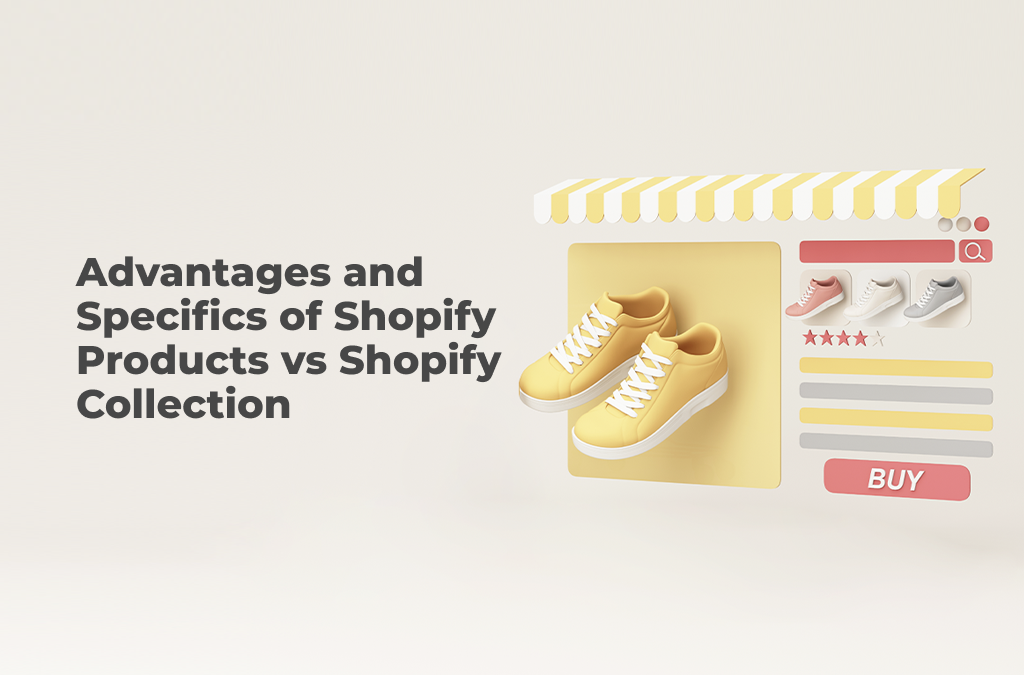 Advantages and Specifics of Shopify Products vs Shopify Collection
Now that we know the differences between Shopify products vs Shopify collection, let's take a look at the benefits of each mentioned component. Collections are dependent on the products you add to your store. That's why it's necessary to understand how products work. Being an essential part of any online store, products need to provide information dependent on the item type. Due to an easy-to-use Shopify admin panel, a merchant can quickly add a varied amount of products. This helps you add necessary content for the product page, such as:

Product title;
Description;
Category;
Price;
Images;
Item dimensions, size, weight, etc.
Still, just putting all information about the product is not enough to make it appealing. You'll also need to use a proper layout for diverse product-related content. Your clients may benefit from a review section as well as videos and FAQs. When it comes to choosing an item to purchase, many store visitors will look at how your product page is designed. Your task as a merchant is to make sure it not just promotes the product's advantages. You'll also need to ensure that a potential client knows how a product you're selling can help them solve everyday tasks. Thus, proper product presentation creates half of the purchasing process. Additionally, you may use diverse product types to diversify your store's catalog.
Using Product Types and Categories in Shopify
When comparing Shopify products vs Shopify collection, it is important to understand how product types and categories work. The owner of an online store defines what products to add. Depending on what you sell, there can be a unique variety of items and related types for each store. For that reason, Shopify provides custom product types. You can easily make any digital labels that appear on a product page to match your business ideas. However, there are some basic types to remember when working on a catalog of products. They include:
Digital products;
Physical products;
Gift cards;
Services.
When it comes to organizing products, it is recommended to use product categories. They can help you make your catalog more structured and easy to use. Categories are predefined and serve several purposes. They allow you to choose the most accurate tax rate for the products you sell. Additionally, well-categorized products are sold better on other media. This can help if you decide to promote your items on social networks, for example. Categories are also used for comfortable navigation on your website. Using this element for your storefront will ensure the best user experience for your clients.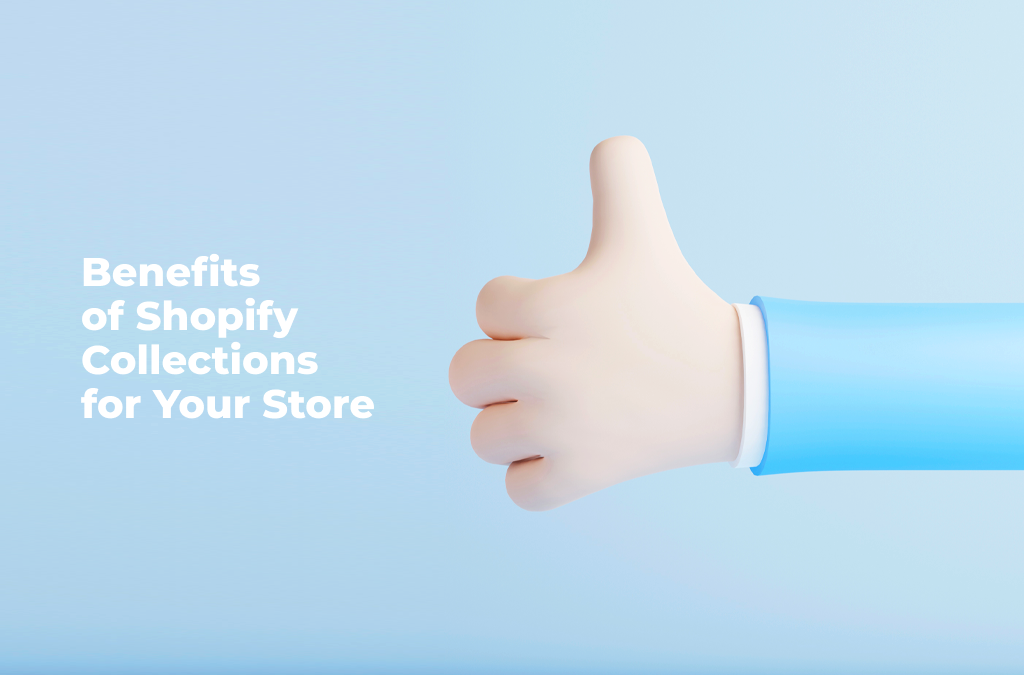 Benefits of Shopify Collections for Your Store
Products are the basis of any online shop. When comparing Shopify products vs Shopify collection, the latter has a variety of benefits. Properly designed collections can help your clients easily find the items they are looking for. Depending on the most popular search criteria, you can create collections that will meet the needs of your buyers. This will help you better organize your store as well as advertise diverse products to a wider number of potential buyers.
One of the main advantages of collections is the better discoverability of the products it includes. Additionally, using this Shopify element is an optimal strategy for improving the looks of your store. If a product is part of a collection page, a customer will undoubtedly notice it. Moreover, you can use any kind of layout to make your collections stand out. Many modern Shopify themes include several pre-designed collection pages for you to choose from. For any modern online store, it is essential to focus on the product you're selling. One of Zemez's solutions, Vendy Pro is a good example of how it needs to be performed. In this theme, we emphasized the integrated product pages and collections. They provide a wide range of functional benefits, such as:
Dynamic checkout buttons;
Expanded product filter option;
Custom tabs on the product page;
Product tabs with content sections;
Wishlist and popup compare;
Drawer option with product comparison;
Diverse product variant views etc.
With diverse layouts and designs, this Shopify theme is an affordable yet powerful solution. It is a great choice for any modern eCommerce website.
Types of Collections and Supported Conditions
Collections used in Shopify stores vary greatly. This makes them a great choice for any kind of online shop. You may be selling clothes, organic products, or digital services. Whatever it is, collections can help you present your items properly with just a few pages. Every store has its take on how these parts of a store need to look. This is mostly driven by the differences between Shopify products vs Shopify collection. Merchants using this platform usually can choose between manual and automated collections. Their differences describe what a store owner can use to create such collections. Automated ones are easier to work with as they use pre-defined criteria supplied with each product within your store. However, there are other collection types that depend on:
Discounts and prices;
Item type (food, drinks, accessories, etc);
Size or color;
Seasonal events (such as sales);
Gender (applicable to clothes and shoewear).
Don't know what to choose for your collection? Start with what's popular among your clients. What goods do your store visitors prefer browsing the most? Try to find a common feature for diverse products that are asked for. You can select several different traits of each product. Then, create a collection with more than one condition. Shopify can automatically track each criterion of any product that matches the collection. This will not only help you make your collections varied. Such an approach also saves time in updating the collection pages regularly.
Automating Options for Shopify Products vs Shopify Collection
As mentioned above, Shopify collections are available in manual and automated options. The latter is one of the most useful features that the platform offers. When comparing Shopify products vs Shopify collection, automation becomes one of the primary advantages. This is useful if you deal with a wide range of products. When planning sales for your eCommerce website, editing collections manually may be tiring. Moreover, it is unnecessary when Shopify can do it automatically. All you need to set up an automated collection is to choose several conditions. This way your store will be able to update every collection following the predefined rules.
Furthermore, automated collections allow you to add diverse criteria. They can match a certain sale or seasonal event at your store. Moreover, when displaying collections, Shopify allows you to choose a specific sales channel. This will make the selected collection available on a specific sale. The platform also provides instruments for editing your collection's design. For example, you can choose a custom image of a certain size that reflects your collection's content the best way. Finally, you can edit how your collection will be displayed in search results. With the "Edit website SEO" option a merchant can change the collection's description. This way it can fit their eCommerce website better. Besides, it helps you rank higher on Google.
What to Choose: Manual or Automated Collections?
Still, you don't have to always use automated collections. While they are easy to use, sometimes a manual collection is more fitting. As a Shopify merchant, you may sometimes want to create curated collections with specific products. In this case, manual collections can be more than useful. Especially if we take into account that they can be edited, unlike automated collections. The latter change only by the criteria you set up. And if you create a collection manually, you can work on it how you prefer.
When comparing Shopify products vs Shopify collection, you need to know the differences & purposes of both. Also, pick the right type of collection when adding them to your website. So if you need to add a specialized and unique product selection, a manual collection is the way to go. Besides, it provides the same functionality as automated collections. For example, you can easily edit its description and cover image. So if you need a personalized touch for your collection, creating them manually may be a decision your regular clients will appreciate.
Conclusion
Undoubtedly, collections are a powerful tool that allows you to make your store more organized. You don't have to be a seasoned Shopify expert to know how to use them. It helps with improving the user experience for your customers, too. When comparing Shopify products vs Shopify collection, it is important to remember that they both complement each other. So if you have a range of products to present, collections can help. With the simplicity and powerful functionality of Shopify, using this element of the platform is easy for any merchant. Additionally, the more you organize your store, the better the buying experience for your clients will be. This directly influences your sales and reputation as well as potential partnerships with other eCommerce businesses.
For more interesting tips and tricks about Shopify, feel free to visit our blog. There you can find more information about the latest eCommerce trends, such as dropshipping and point-of-sale software. For impressive and multifunctional Shopify solutions, we invite you to check out our website. There you can find not just well-designed themes but also a range of services to suit any online store. And if you get updates via socials, follow us on Instagram and Facebook. With Zemez, you can always get the best from the world of eCommerce.