Announcing the Searchanise & Zemez Partnership
The Searchanise & Zemez partnership provides a great opportunity for all eCommerce website owners. Having a well-developed search system is important for any online store. It helps both users and website owners with the search for information. That's why our team decided to partner with Searchanise. It is one of the most reliable search engines for eCommerce. Whether you are new to web development for eCommerce or not, having a properly built and thought-out search system can help you a lot.

As you may have guessed, today we are going to talk about the partnership between Searchanise and Zemez. Moreover, we'll discuss how it can help owners of eCommerce websites and stores. You'll learn more about this search extension, where it can be found, and how it works. Besides, we'll describe its varied features in detail to help you decide how helpful it can be. And of course, we'll take a look at the first Zemez theme that includes the preconfigured Searchanise extension for our customers.
Searchanise: Benefits and Features
Searchanise is an advanced search engine for eCommerce websites and online projects. While it may seem that its primary feature is to provide a better search experience for users, it can do much more. Obviously, this extension provides relevant search results extremely fast – in 0.2 seconds according to developers. However, the Searhcnaise & Zemez partnership can give you a lot more than just a result-oriented search. Here's what this extension also provides:
Easy navigation & powerful filters;
All-time analytics for search data;
Customizable and personalized search results;
Additional benefits for enterprise eCommerce businesses.
This extension is available on various platforms, including top-rated eCommerce CMS. From Shopify and WooCommerce to WiX and Magento, you can easily install and use Searchanise anywhere. Furthermore, it allows you to make the browsing experience of your customers more pleasant. With additional search features, finding the right information on your store's website will be simple. These features include spellcheck, autocomplete, and stopwords. Besides, you can customize search results to make them look appropriate for your site's design.
This is only a part of the features that Searchanise provides. It comes with more great benefits and solutions. For example, you can use search result synonyms. This can be done to give more related content to your customers. Besides, you can add redirects that work according to specific keywords and queries. And with a custom-made No Results page, it's easy to provide more interesting products and offers to the clients browsing your website.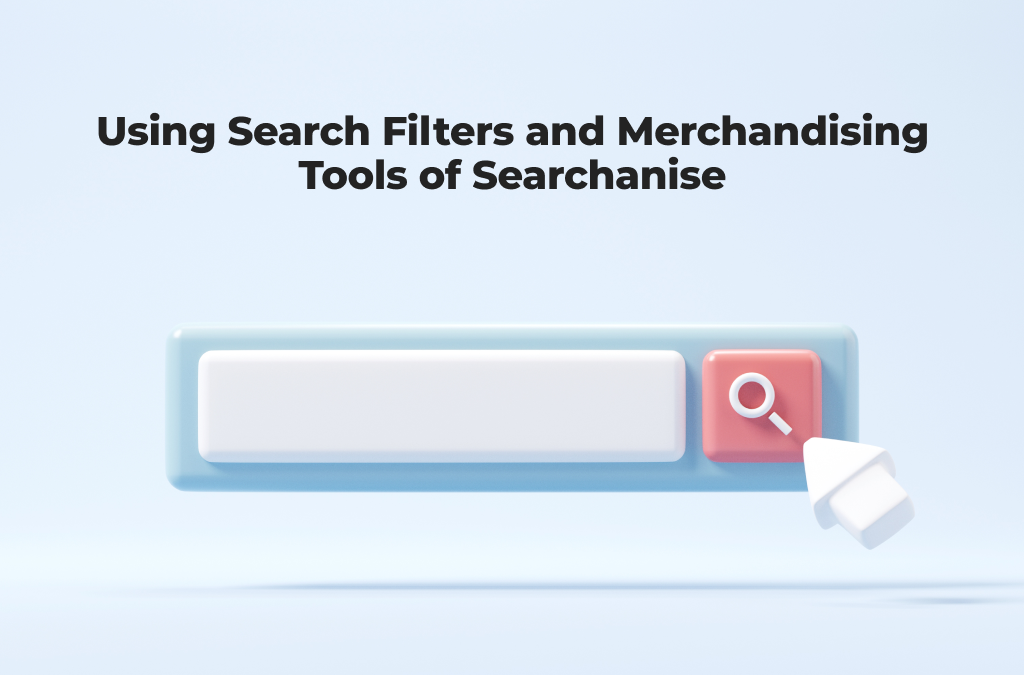 Using Search Filters and Merchandising Tools of Searchanise
While the abovementioned benefits are a must for almost any modern eCommerce search system, the Searchanise & Zemez partnership doesn't stop there. The developers offer you full control over the content you display to your clients. This is done not just through customization, but also via powerful filters. Using varied criteria, Searchanise shapes the search results just how your customers need. Moreover, it can be a color filter for shoes or the size selector of the desired outfit. Whatever your customers require, this extension can provide them with any necessary information for making a decision.
Aside from offering smart filters, Searchanise also provides diverse merchandising tools. They allow you to pick the products you want to promote depending on various search terms. The marketing priorities can be customized according to your current strategy. This gives the following advantages:
Keyword matching;
Adding custom labels;
Displaying related reviews and product ratings;
Quick view of product details.
Besides, the extension takes your customers' behavior into account. Based on their latest actions and requests, Searchanise displays the items they may want to buy next. This is a great opportunity for you to promote the collections or featured products to the right clients.
Making Use of Search Analytics and Personalization
It is obvious that no marketing campaign can be done without analytics. The Searchanise & Zemez partnership provides just what any store owner needs – powerful tools for this purpose. With detailed reports on popular search requests, you can tweak your product strategy. Also, said tools allow you to get important data and adjust the settings of Searchanise for better sales and conversion. The latter can also be tracked using the analysis of purchases made through search.
One of the great benefits that Searchanise provides is its search personalization. And we are talking not just about visual customization described earlier. Using machine learning and AI technologies, the provided extension tracks your clients' actions. This helps with providing the right product suggestions to the right customers. They can find what's necessary for them quickly without browsing unwanted pages or products. This will help you to convert potential customers into regular buyers just by satisfying their needs.
Vendy Shopify Theme and Searchanise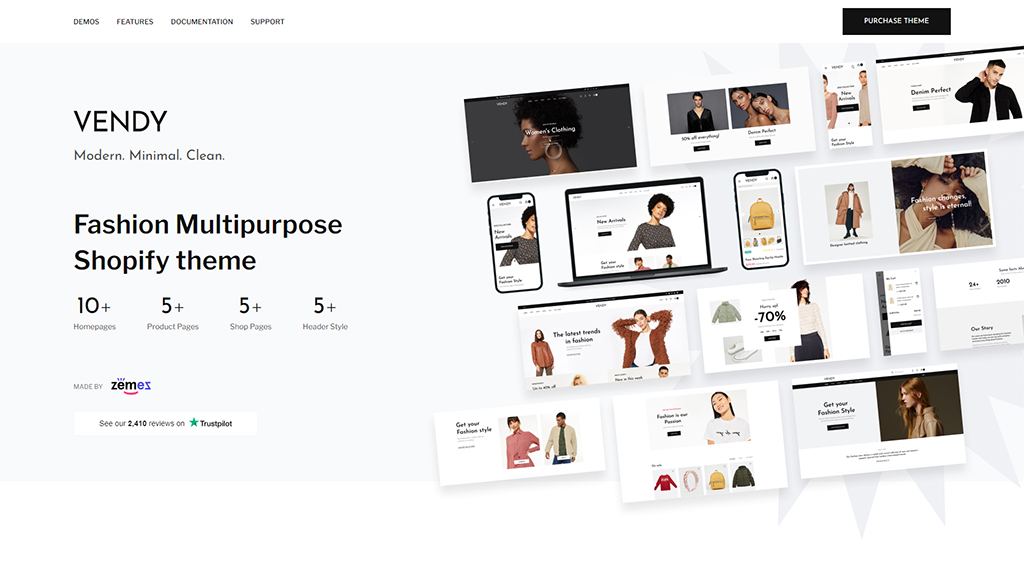 With the Searchanise & Zemez partnership, there are lots of new opportunities for our clients. This includes getting a variety of new themes with an optimized search system. One of them is Vendy multipurpose Shopify theme for fashion stores. Recently, it has been updated to include Searchanise and all of its powerful functionality. Choosing the Vendi theme will help you build an attractive website. Moreover, your clients will regularly return to it for exciting content and products. This solution comes with a wide range of benefits for your store:
Clean and responsive design;
14+ Homepage layouts;
10+ Product and Shop pages;
Optimized performance;
Integrated mega menu;
Size guide & Product Quickview;
Lots of headers and footers;
Shopify visual builder.
As we mentioned above, Vendy also comes with the Searchnaise extension. It improves searching and user experience on your website. Besides, it gives your customers better control over search results. This theme also officially supports various popular apps for your eCommerce website. They are available at the Shopify App Store. It is also SEO-friendly and LTR/RTL-ready. Its responsive design and cross-browser support allow your website to run smoothly on any gadget or device. And with top-notch & professional support from our team, building an online store of your dream will be easy.
The Searchanise & Zemez Partnership: Conclusion
We hope this short post about the Searchanise & Zemez partnership helped you to find out more about this great extension. With this tool, you can use the search requests of your clients to increase sales. Besides, it will help stores to make products available for a result-oriented search. And with cutting-edge filers and instruments, Searhanise can easily change your approach to dealing with search data on your website.
If you are interested in online marketing tips and web development trends, we invite you to take a look at our blog. Our authors regularly publish new engaging articles for you to read on our website. Also, in our theme portfolio, you can find a variety of solutions for any of your future projects. To get updates from us via social media, feel free to follow us on Facebook & Instagram. With Zemez, you can stay in the know with the recent news from the world of web design.