Sometimes it's really difficult to start work looking at an empty page. Mostly everyone feels it from time to time when it comes to the creation of something from scratch. As for me, blank pages are one of my biggest professional triggers. Luckily, this post is not about a daily routine of writers but about useful tips on starting with WordPress Elementor templates.

5 WordPress Elementor Templates Tips You Need to Know
Many supporters of Elementor prove that it's one of the handiest WordPress builders. Using it anyone can create a modern website just by dragging and dropping. While this is clear, we wanted to explore if there was something that could ease the work in Elementor even more. The answer we've found was – templates.
So, we've prepared 5 tips on how to start with WordPress Elementor templates. Let's look at them!
#1. Have you already installed Elementor?
Before you'll start installing Elementor, you should obviously have a WordPress website. Luckily, you can create it for free on WordPress.com (if you haven't done this earlier). In addition, in case you plan a non-commercial project, you don't have to pay for hosting. You can share photos, keep a blog diary, for example, not paying extra.

Also, here is the link to download the Elementor page builder. It's available in two versions, free and PRO.
Or, open the WordPress admin panel, go to the Plugins tab. Then, tap into "Add New" and type Elementor into the search bar. To finish, click on the "Install Now" button and activate it.
Moreover, some WP themes come with the Elementor editor by default.
#2. Inserting a ready-made Elementor template
There are two ways to find WordPress Elementor templates. You can rely on official layouts from the library in the admin panel. Or, download a template from the Web. Yet, make sure that you get a product from a certified provider. Otherwise, it can cause varied troubles and even damage your site protection.
To add a template to a page, click on the "Add template" button in the content area of ​​the Elementor editor. Also, select the required template. And, that's all. See? It's very easy.
#3. Saving your page as a template
In the library of Elementor templates, there is the "My templates" tab. It includes all the page layouts, sections, and widgets you may ever save.
This is very useful. For example, once you've finished creating your page, there is a possibility to use it as a template for other projects.
To save a page as a template, you need to follow the next steps. Click on the cursor of the drop-down menu (small arrow) located on the green "Update" button. After, choose "Save as a template". In the window that opens, enter a name for the template and click "Save".
#4. Saving your section as a template
The ability to save sections as templates is a great feature of the Elementor library. It allows users to mix and match different sections to create completely new pages. Plus, this process is exciting.
In brief, to save a section to the library, click on the purposed icon on a section. And, give a name to your template.
#5. How to export a template and import it to another site?
You can export or import the template you need in a JSON file directly from the library in the pop-up:
For export – Click on the "Add template" button and on the "My templates" tab opposite the required template, select the 3-dot icon. Then, you'll see a drop-down menu for deleting or exporting a template.
For import – Click on the mentioned "Add template" icon. After, in the pop-up window choose the template import button. You can import JSON or ZIP archive containing several templates as one file.
Choose the Best Ready-Made WordPress Elementor Templates. Build a Website in One Click!
Even though the well-known Elementor Website Builder allows you to add new pages and customize them extremely quickly, we may need a base to start on.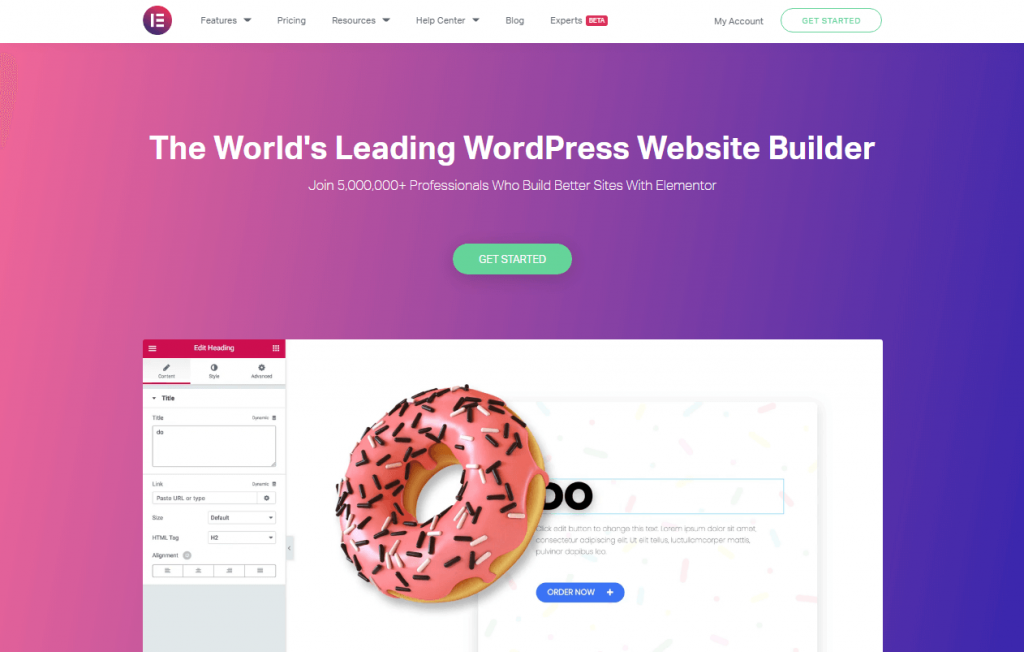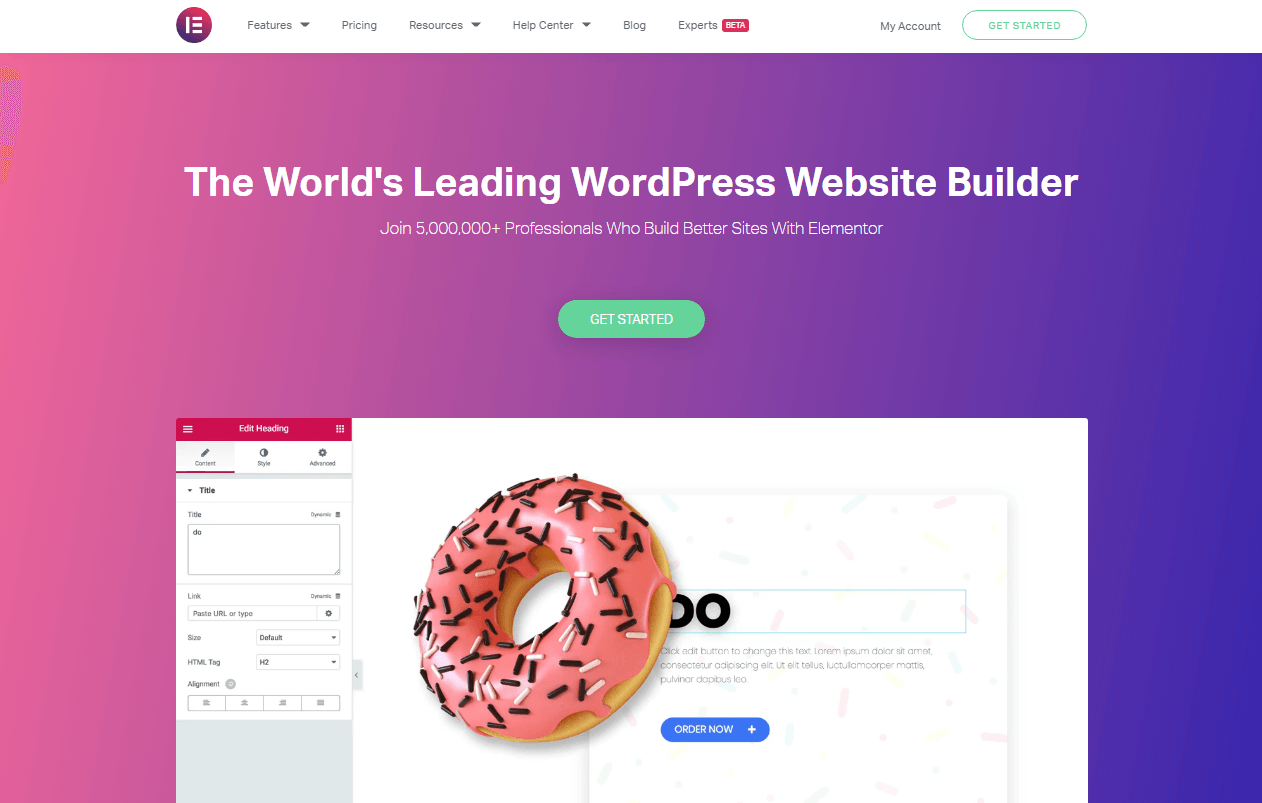 And, what about you? Would like to go beyond the boundaries of the basic version of the editor? Then, our Elementor templates are the best for this.
First of all, by using them you can easily increase the number of your web projects for multiple clients. For example, when you rely on ready-made layouts, it saves your time notably. To clarify, every time you apply an Elementor template there is no need to spend hours on coding. The only thing you have to do is to adjust page mock-ups to your ideas.
Secondly, modern templates for Elementor are advantageous for beginners, as they are straightforward. Accordingly, it's not a problem to start your own blog even if you don't know how. The mentioned kind of WordPress templates provides code-free website creation.
Moreover, such templates can be set for varied topics. For example, do you want to make a site for your restaurant and invite new visitors? Then, hurry to do this, as you shouldn't be tech-savvy to start with one of our WordPress themes. They are fully compatible with the Elementor editor and packed with pre-styled page templates. And, this lets you maintain your content, and add new pages and sections like a pro.
Likewise, by clicking here you can find powerful Elementor kits for your purpose. We do believe that one of them will save your money significantly in case you want a big site for your business. The same, if you're a developer these WordPress Elementor templates will help you boost your professional activity. Each kit goes with 5 pre-designed pages for your comfortable use. They also suit any WordPress theme.
Additionally, pay attention that these Elememtor kits work on Elementor PRO only. Up to this, don't forget to update the page builder to the relevant version.
Monstroid2 – Multipurpose Modular Elementor WordPress Theme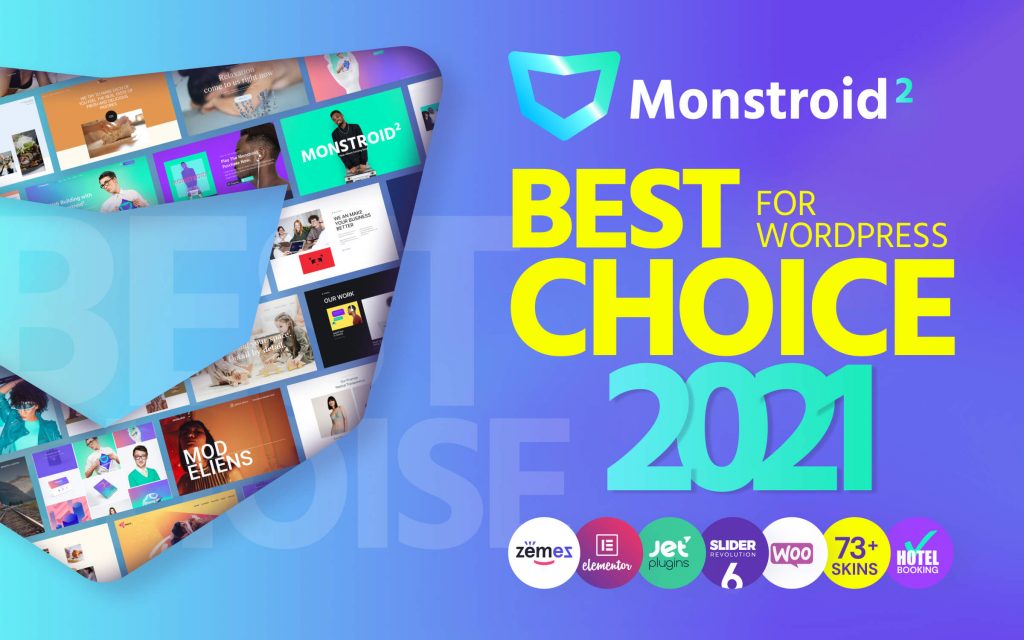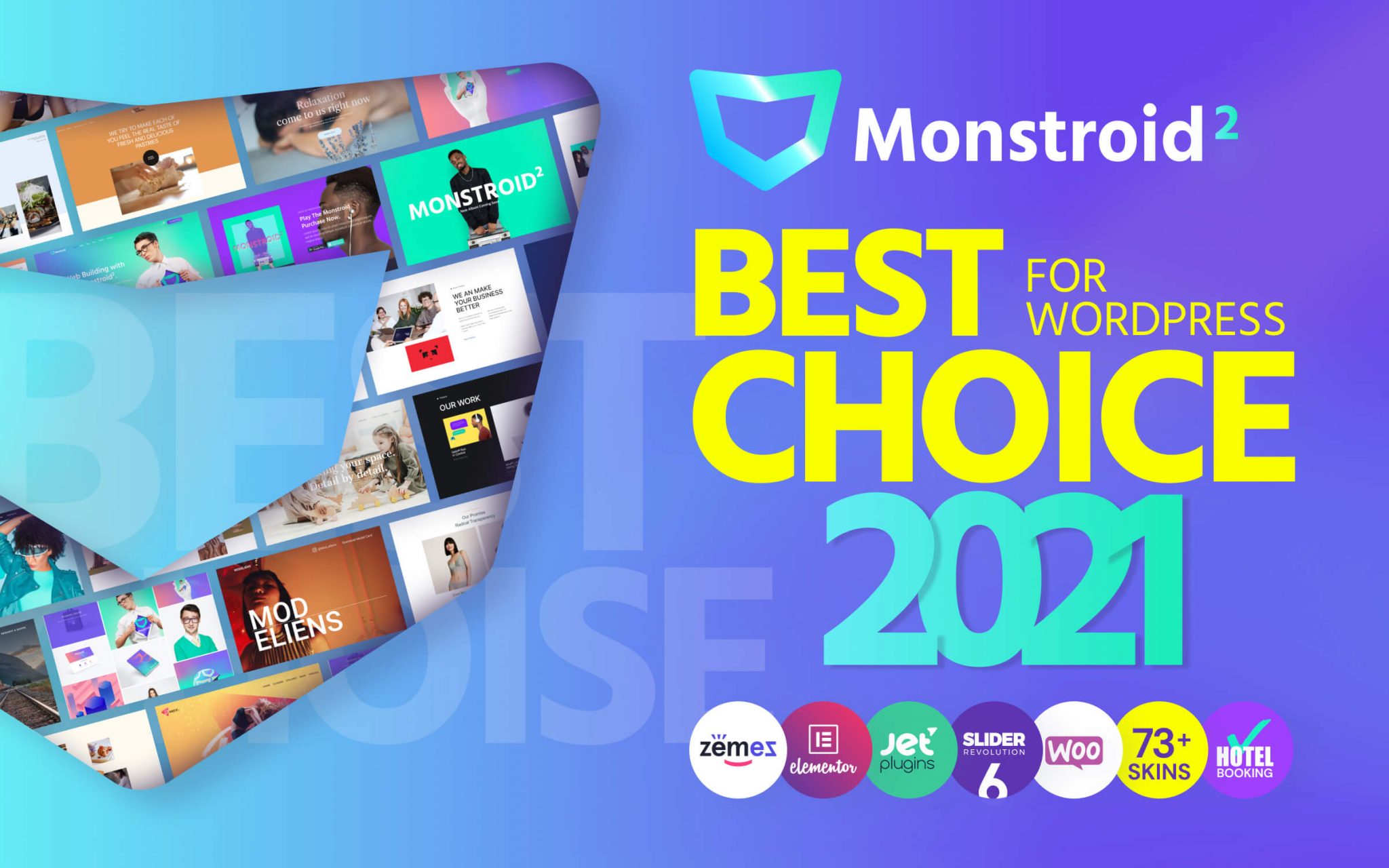 Do you want more pre-designed pages to get the most comfort while working with Elementor? And, what about numerous skins that match any possible topic? Well, here is to your attention Monstroid2.
It's a multipurpose modular Elementor WordPress theme carefully packed with 73+ skins. Each of them corresponds to the best and latest traditions of web design. Plus, with them, you can create any website, for your business or personal needs.
As well, this theme goes with the WooCommerce plugin and forms for hotel booking. Due to them, you can build a real online store with shopping carts, wishlists, and more.
Yet, the mentioned details aren't the coolest that argue in favor of Elementor. Stay assured that using Monstroid2, you'll see that the favorite editor can be even more flexible and convenient. How?
The Monstroid2 WordPress theme is enhanced with extra Jet extensions for Elementor. There's also the Magic Button library that gathers all page templates and UI elements. More than this, it allows you to save the results of your work as new custom templates. So, you'll know that everything is at hand while launching new web projects.
And, as with other themes by Zemez, Monstroid2 is fully responsive, retina-ready, multilingual, and SEO-friendly. It's provided with comprehensive instructions and the best support. Now, enjoy its vast potential!
Thank you kindly for your time!