Creativity is one of the most important ways in a photographer's profession. That's why each step of the work should be unique and breathtaking. So the clients and willing will be excited by the projects. Today building a website as a personal portfolio is a must-have, so in this post, we will talk about the Graphitona photography WordPress themes. 

This portfolio photo gallery WordPress theme is a powerful base for website building. We will share with you the main features and options Graphitona includes, and learn why it's the best choice for any photographer (frankly, not only for them). Stay tuned, and let's explore it together. 
You can find the Graphitona photography WordPress theme on the ThemeForest marketplace. 
Main Features When Choosing Photography WordPress Themes
Surely, when you are focused on cherry-picking the portfolio WordPress theme, you should be aware of the most essential options to look through. Here we will explore some features that are critical and come with the Graphitona WordPress theme. 
Firstly, you need to draw attention to the page builder the WordPress theme is based on. Graphitona includes Elementor editor, which has caught on and is one of the leaders today among the other WordPress page builders. It can empower the website with dozens of elements from its collections. Such as count-down timers, carousels, price tables, background videos, etc. All of them are able to make the pages more functional and satisfy the clients with their variety. 

Also, the Elementor plugin is the reason why you won't use any line of code. Everything on the page you will add via the drag-n-drop technology, and that's all. So, if you're an amateur don't close this page, the Graphitona suits you, too.
Secondly, make sure the design of the photography WordPress theme is fully in vogue and fulfills the conditions your company has. Do short research on what types of website designs are popular today, and choose the WordPress theme according to these points. As for the Graphitona, you can see that our designers made it highly creative and flexible for your needs. 
And thirdly, it's important to look at the responsiveness of the WordPress theme, as it's a perfect way to gain and keep the customers with your company. Graphitona comes with an adaptive design and looks outstanding on any screen type. This fact can rest assured you in the stable performance of each element on the web page and simple usability for any user. 
These three points are essential for clients, so they're essential for us. However, it's not over.
Check Out a Wide Range of Graphitona Pages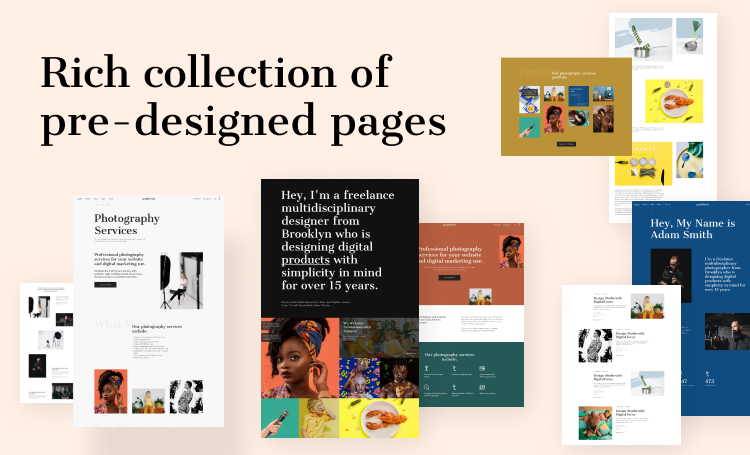 When purchasing the Graphitona creative photography WordPress theme, you will receive an extremely rich collection of pages.  For instance, there is a diversity of gallery pages such as pages for projects in different layouts and a limitless number of gallery layouts to any taste. 
Also, if you need to build an online shop, there you will find a products page, shopping cart, pop-ups, and single product page. What else is necessary for a powerful store? Our designers keep in mind the website needs a blog page with a rich number of layout patterns. So, Graphitons is full of opportunities to help you to make your ideas real. 
Showcase Your Projects with Jaw-Dropping Galleries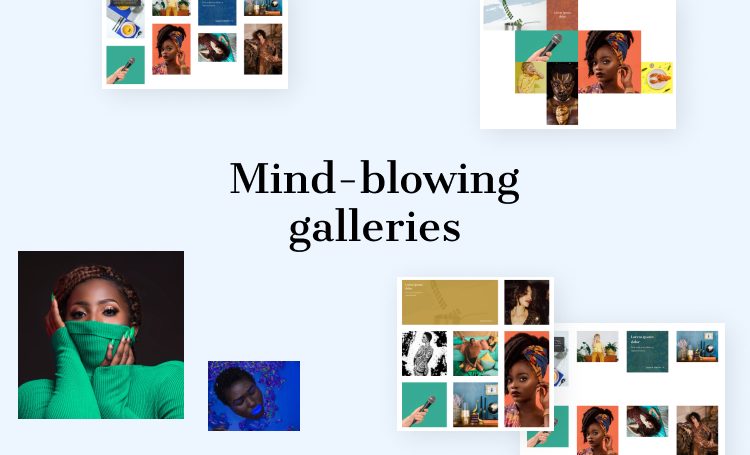 We have already talked about gallery page collections. However, it does matter to go deeper and look through the all templates you will get to introduce your photo works. At your services, there a great diversity of gallery layouts:
Masonry gallery is a marvelous solution for those who don't want to crop the images and just place them in optimal space. Also, it's possible to add a different number of columns. 
The grid gallery will showcase all your images according to the page grid. This type will suit you if all the images are the same size. The same as in a masonry gallery, you can add 2-4 columns. 
Packery gallery is like a  board for the images, which are displayed in different ways. 
A creative gallery was made to place the pictures in the most unusual way and to get creative. 
A justified gallery may be the best choice for photography as all the images are structured well.
Feel the Power of Multiple Pre-Designed Templates
Finally, we are here and will learn which skins come with the Graphitona. In case, you thought the photography WordPress themes should contain only the templates connected with the photo galleries, personal portfolios, etc. Graphitona isn't about it. In its collection of templates you will find such topics to build a website: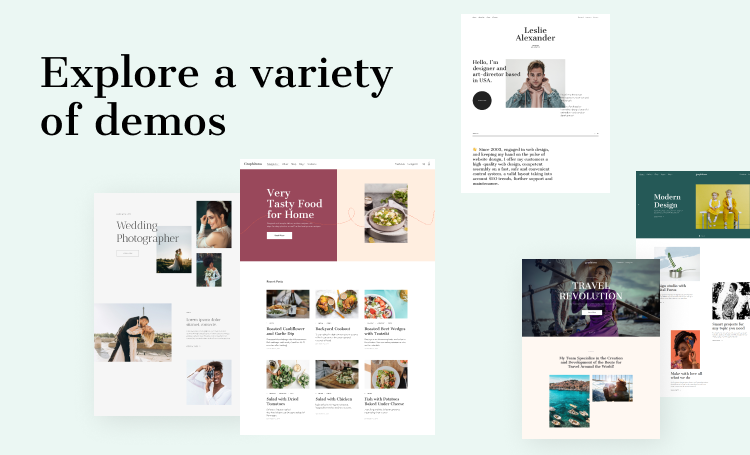 What does it mean for you? It's simple as ABC. Purchasing the Graphitona portfolio photo gallery WordPress theme, you get a package of other demos, which are suitable for different topics and allow you to create the website for wedding or travel portfolios. It's extremely beneficial as you win time and money just buying an all-in-one WordPress theme. What can be better? 
Awesome Plugins For Photography WordPress Themes
Surely, it's difficult to build a really worthwhile website on the base of only WordPress and Elementor plugin. So that Graphitona portfolio photo gallery WordPress theme comes with an enormous package of add-ons. They will add powerful functionality to your website, and open up new possibilities for you. That is a shortlist of the plugins you will get purchasing the Graphitona:
Revolution slider will provide your website with a multifunctional slider, which contains different animations and is easy-to-build
The essential grid plugin makes the galleries look as we have described above. 
JetElements adds to Elementor page builder more than 100 widgets to vary the content of the pages.
JetBlog will help you to create a cutting-edge blog full of posts sharing new ideas and experiences.  
Contact Form 7 is a comfy plugin to build the forms. They will assist you to stay in touch with the clients and answer their questions the fastest way.
WooCommerce plugin builds an online shop with all the necessary elements. For example, you will also receive such add-ons as Jet Compare Wish List for saving your favorite product to the list. Also, Jet Smart Filters to make the search process convenient and accurate. And finally, the JetMenu plugin is a perfect method to add a MegaMenu to the website and make the website highly attractive.