In this article, we'll review the best beauty and cosmetics Shopify themes from the experts that are featured on popular marketplaces.
Collection of health and beauty Shopify themes
Probably for everyone the question of health is in the first place. Everyone worries about how to be healthy? Where can I buy good cosmetics? What is the best beauty salon? At the same time, everyone goes to the stores en masse and buys miracle products to maintain health and beauty. Therefore the health and beauty business makes a lot of profit. If you want to take your business to the next level, you need a quality and feature-rich website! And that's why I suggest you consider the best beauty and cosmetics Shopify themes.
Statistics show fashion and beauty templates are the best-selling themes of this year! So let's already start reviewing the best beauty and cosmetics Shopify themes!
Shopify themes – the best tool for creating the perfect website
A quality website is a key to the success of an online store. After all, most buyers are very responsible for choosing an online store where they will make purchases. Especially if it is health and beauty products. Since business in health and beauty is very profitable, the professional experts of various successful companies have created the best beauty and cosmetics Shopify themes.
Why exactly Shopify themes are popular and in demand? It's all about the fact that it is the Shopify eCommerce platform equipped with many unique advantages. Surely, Shopify is a fully versatile solution. It also simplifies the launch and operation of the online store, and allows you to create complex websites according to your preferences and requirements. Moreover, you can create a website on your own. And you do not need to be a specialist in the field of programming!
The functional advantages that the best beauty and cosmetics Shopify themes are equipped with will help to create a high-tech website. Creating a mega convenient and multifunctional online store will help to create such features:
Mega Menu;
Search;
Wishlist;
Shopping Cart;
Collection Filter;
Contact Form;
Login Drop Down & Social Login;
Multilingual/Multi-currency Support;
Product Quick View etc.
I would also like to point out that Shopify-based themes are considered the best because they:
100% Responsive Theme;
Retina Ready;
SEO friendly;
Optimized for Quick Load Time;
Parallax Scrolling;
Fully Documented.
Certainly, you can find a lot of good beauty and cosmetics themes on various marketplaces. But I decided to highlight and tell you about the seven best beauty and cosmetics Shopify themes. To help you make the best choice for your business!
Roxxe – Responsive Multipurpose Shopify Theme from Zemez!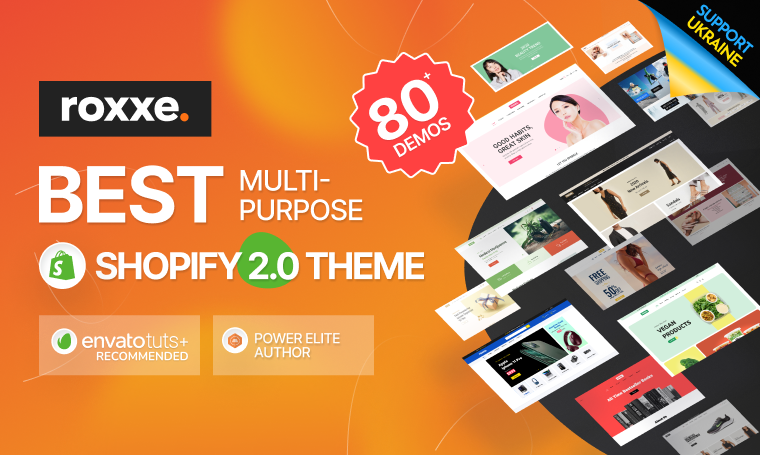 At the top of the list of best beauty and cosmetics Shopify themes is the unique and versatile Roxxe theme. The developers of this Shopify Theme are professional coders and talented designers from the Zemez team. Zemez is well known as one of the leading Shopify theme developers. Every product from the company is truly versatile!
Roxxe is a premium adaptive Shopify theme that will be a great web solution for online health and beauty businesses. Furthermore, this template is a versatile solution to create the perfect online store suitable for selling various products. For example:
clothing, shoes, and accessories;
home and office decor;
medical products;
cosmetic products;
home appliances, gadgets, and much more.
Roxxe theme is ideal for beginners businessmen as well as for advanced users!
Roxxe is considered the best in the list of best beauty and cosmetics Shopify themes because it has a huge number of advantages. Firstly, this theme includes:
more than 70 pre-designed homepages;
50 pre-designed layouts;
many pre-designed sections.
Secondly, the Shopify Roxxe theme was designed with modern web design trends in mind. Therefore, it has a modern sophisticated style. Moreover, the design of the theme is designed to present all the benefits of your online store. Thereby provides an opportunity to create a unique online store and attract many customers.
With Shopify Visual Builder, you can create as many homepage layouts as you want, simply by rearranging the order of the sections according to your preferences.
Right now learn a lot of interesting information about one of the best beauty and cosmetics Shopify themes – Roxxe! Surely, you will be pleasantly surprised!
Premium Multipurpose Designs Shopify Theme- KarDone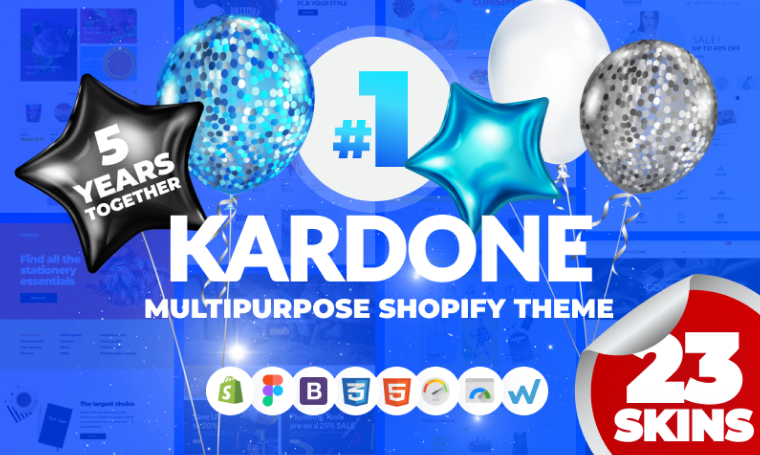 Continues the list of the best beauty and cosmetics Shopify themes premium theme from Zemez- KarDone – Multipurpose Designs Shopify Theme.
This theme has been the best theme on TemplateMonster.com for more than 5 years. Moreover, KarDone all this time is the absolute best-selling theme!
Universal Shopify theme KarDone has a wide variety of skins to meet the needs of a variety of industries, for example:
Cosmetics;
Beauty Salon;
Fashion;
Sports equipment;
Medical instruments and equipment;
Furniture;
Flowers;
Auto parts;
Healthy Food and much more.
All the skins of this theme are fully ready for use. You will also be able to further customize and redesign all pages of this template according to your needs. Moreover, the Shopify theme KarDone is fully adaptive. This means that your online store will look great on any device.
A further reason why KarDone is on the list of best beauty and cosmetics Shopify themes is the integration of the theme with Growave.
Growave is a one-stop marketing platform that extends the capabilities of your Shopify store
Therefore, it gives customers a lot of opportunities. For example, to make product reviews, create wishlists, sign up for loyalty programs, participate in referral schemes, share information on social networks, etc.
Finally, I want to mention that with Shopify theme KarDone you get professional technical support. All requests are handled by professional staff members of the Zemez team, who strive to solve technical problems as soon as possible.
Many businessmen have already appreciated all the benefits of one of the best beauty and cosmetics Shopify themes-KarDone, you will too!
Multipurpose Sections Shopify Theme – Oworganic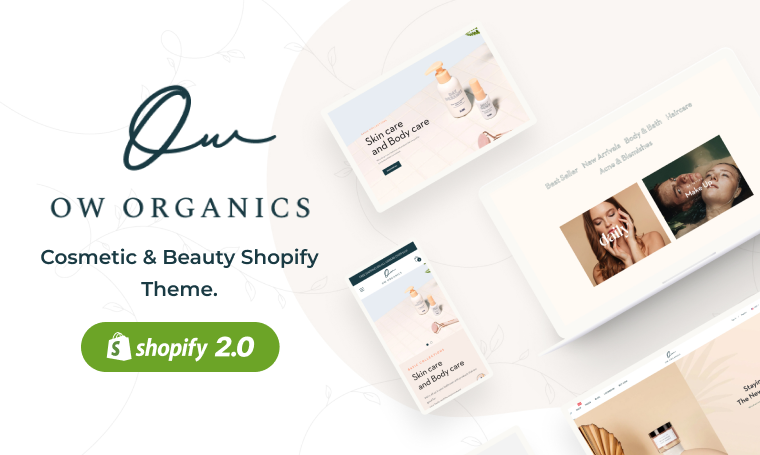 Oworganic is a great one of the best beauty and cosmetics Shopify themes, built on the Bootstrap 4.3.1 version, this theme has a lot of unique features, and stylish and fashionable design.
Shopify Theme Oworganic is a perfect template that has more than 10 beautiful homepage layouts. And in turn, these pages are perfect for any niche of your business. For example:
fashion;
beauty and Spa;
art and culture;
furniture;
home decor, etc.
Besides this, Oworganic theme is built using new web technologies: Bootstrap 4, HTML5, CSS3, Font Awesome 4, Svg, shortcodes, multilingual, multicurrency, liquidity, etc. And then, this theme is on the list of best beauty and cosmetics Shopify themes as it is equipped with lots of features, for example:
Multiple languages support;
Multiple currencies;
Smart Megamenu;
Quickview;
Lookbook;
Testimonial;
Team member;
Timeline.
All of these features are the best way to fulfill your desires for a quality e-commerce website.
You can get more details about Oworganic on ThemeForest website.
Multipurpose Shopify Theme – Beauty Store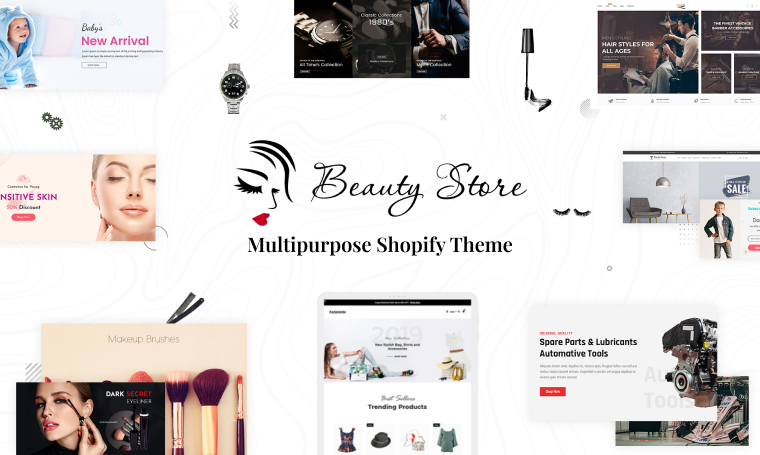 Next on the list of the best beauty and cosmetics Shopify themes is the wonderful, versatile Beauty Store theme.
Multipurpose fashion Shopify Beauty Store theme is a responsive theme thanks to which you can create your online store. This theme is best suited for different businesses. For example cosmetics stores, beauty salons, gift stores, and any store in the fashion industry. Moreover, you can use this theme to create a makeup artist website or other beauty services.
The professionals of BuddhaThemes team tried their best to create a high-tech Shopify theme and offer great technologies like Sass CSS, Owl Carousel, Font Awesome, and Animation. A key feature of the theme is the adaptive and stylish design. Moreover, there are:
5 different Mega Menu styles;
8 types of headers;
8 types of footers;
drag and drop sections;
search options;
ajax sidebar filters;
customizable About Us page and Contact Page.
I would also like to mention that one of the best beauty and cosmetics Shopify themes- Beauty Store supports multicurrency. So you can easily process online transactions. And this is undoubtedly a big advantage!
Clean Multipurpose Shopify Theme – Apparelix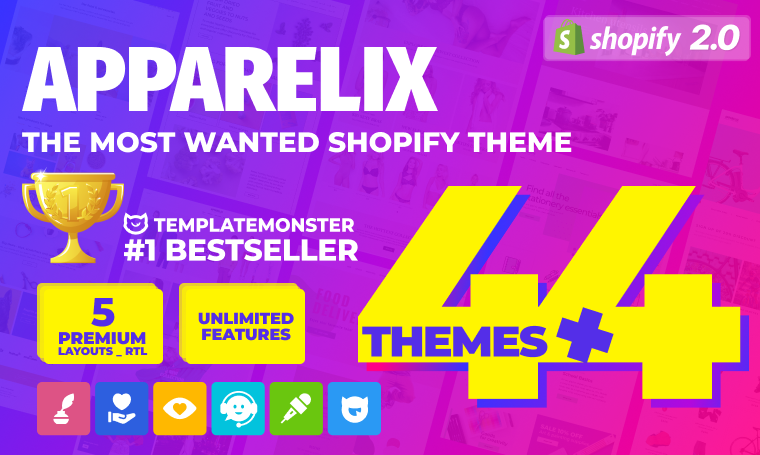 Apparelix Shopify theme takes pride of place in the list of best beauty and cosmetics Shopify themes for a reason. This theme is equipped with all the necessary best functionality for the successful operation of the beauty and cosmetics online store. And also this theme is well suited for many areas of online business.
First of all, Apparelix has:
5+stunning home page layouts;
30+ pre-made demos to use;
4 layout options for shop pages;
Layout options for product pages;
Variants of the header and footer.
Also most importantly, Apparelix has the latest Shopify 2.0 update. Online stores based on Shopify 2.0 have even more features for users. Firstly, these are new editing capabilities (creating storefronts from scratch, adding and expanding applications). Secondly, a faster loading speed of the website. Thirdly, you will be able to add sections on every page. And finally, the modularity of the application. You can make any changes through the designer.
We're confident that these incredible features will increase your website's reach. And it will also attract the attention of your potential customers. And most importantly, it will make your website unique!
You can also be sure that you won't have any problems creating an online store. After all, every function is easy to set up. But if you have any questions, don't hesitate to contact the Zemez team support specialists!
Want to get to know Apparelix – Clean Multipurpose Shopify Theme? Go to the website and get started now!
One of the best beauty and cosmetics Shopify themes – Wellnest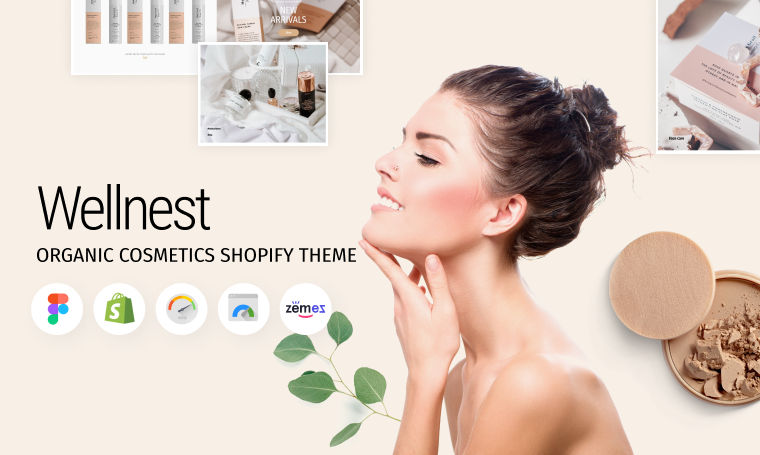 Wellnest is a fully adaptive theme from the Zemez team. The format of this Shopify theme is great for beginners and experienced entrepreneurs. You will be able to launch a website quickly and with minimal investment. In addition, Wellnest is one of the best beauty and cosmetics Shopify themes.
This theme has multiple sets of amazing features and functions. For example:
fast page loading;
easy optimized code;
exquisite design and simple style;
slider and simple settings that even a beginner can cope with.
Besides, the theme is flexible and user-friendly. You can adapt the website so that it is fully consistent with the needs of your business.
Why is Organic Cosmetics Shopify Theme – Wellnest on the list of the best beauty and cosmetics Shopify themes? All because:
premium Shopify template;
dropshipping ready;
no coding skills are required;
professional support from experienced professionals;
perfect on any device;
better performance and speed.
You have a unique opportunity to create a better beauty and cosmetics website today. Check out Wellnest now!
Karl – Best Beauty and Cosmetics Shopify Theme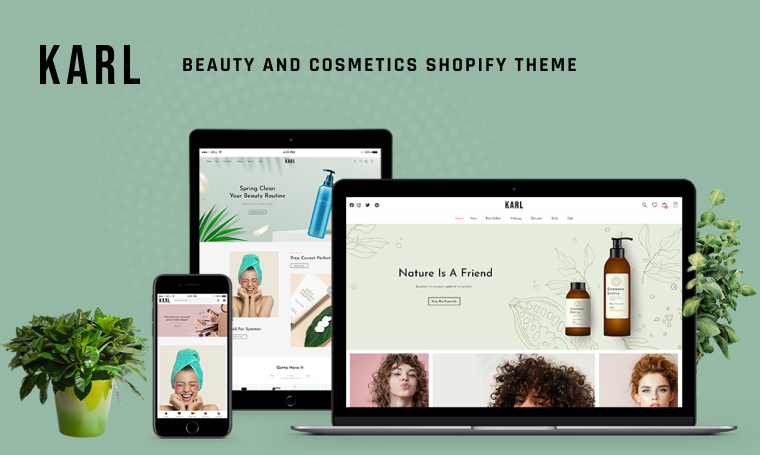 Karl is a stylish and versatile Shopify theme that proudly completes the list of the 7 best beauty and cosmetics Shopify themes. This theme is ideal for creating an online store selling various cosmetics or a website such as a spa or beauty salon.
The main features of this Shopify theme are:
6 layout options for product pages detail;
4 layout options for the collection page;
fully responsive;
header mobile (more space on your mobile screen, better access to the options);
dynamic checkout buttons (customers can use the dynamic checkout button to quickly buy the product they're viewing).
Moreover, this simple theme is equipped with extraordinary functionality. Such as:
Ajax Cart Pop Up (You can easily add several products to the cart. Prices will be updated automatically);
Ajax Cart Page (all will be automatically updated You do not need to click on the "Update" button every time you add the product quantity.);
search auto-suggestion (this module implements the auto-suggest search feature in your Shopify store. As soon as a customer enters text into the search box, the module shows search results in the form of suggestions);
quick select options (customers can select variations of the product on the homepage and add them to the cart without going to the product details page).
You can purchase Karl – the best Beauty and Cosmetics Shopify Theme from Nova-Creative on ThemeForest.
Sum Up the Best Beauty and Cosmetics Shopify Themes
Selling cosmetics today is very popular. Cosmetics are always in demand. Moreover, business in the beauty industry is reaching a new level. The demands of customers are constantly increasing. Therefore it is quite realistic to organize your own profitable online business, creating a unique website. And the best beauty and cosmetics Shopify themes will help you in this.
All seven Shopify themes that you learned about in this article have many benefits that will help you create the perfect website. And also, these themes have been tested by many business people. Moreover, all Shopify themes have been very highly rated!
Choose the best beauty and cosmetics Shopify themes right now and the success of your online business is guaranteed!