Christmas Landing Page: The Best Solution for Your Event Website
A Christmas landing page offers a spectacular design for your holiday event website. With winter holidays approaching, having a well-designed website for a Christmas event is necessary. It can help you attract more potential clients. Also, it helps with the promotion of your event. Most importantly, using a properly built landing page allows your website visitors to easily get any information about your Christmas event.

In this post, we will talk about HTML5 landing pages. To be more specific, we'll cover the usage of landing pages when building a Christmas event website. From design to popular features, we'll review what is necessary for a modern landing page. Moreover, we'll talk about one of our landing page templates. It was designed to help you build a responsive website for any kind of Christmas event. We'll explain why many website owners prefer landing pages when promoting events, too.
If you are new to web design or HTML, we recommend visiting our blog. There you'll find more posts on everything concerning web development. Also, feel free to read other posts of our authors. These articles cover various topics, including new web design trends. Besides, in our blog, you can find out more about our new products for Shopify, WordPress, and other platforms. Template updates and reviews are also posted regularly so there's always something interesting to read on our website.
What to Expect from a Christmas-Themed Website
Christmas is a highly anticipated event for both kids and adults. No wonder that annual events devoted to Christmas and New Year are highly popular. This time of year is also a perfect opportunity for businesses and event planners to increase the benefit they get from their products and services. That's why more and more companies decide to establish a website to promote their Christmas events. However, if you want to save on web development while controlling the process, using an HTML website template may be a better idea than hiring a web developer.
When preparing for Christmas celebrations, many people usually search for a place to buy presents. An equal amount of website users also plan their holiday entertainment. And that's why event templates and landing pages are highly popular. They can help you build a noticeable website in a few clicks. Moreover, such templates are highly responsive due to the included Bootstrap 5 framework. It helps your website run smoothly on any modern device including, PCs, smartphones, and gadgets. Also, with professionally designed landing pages you don't have to worry about your website's performance and look.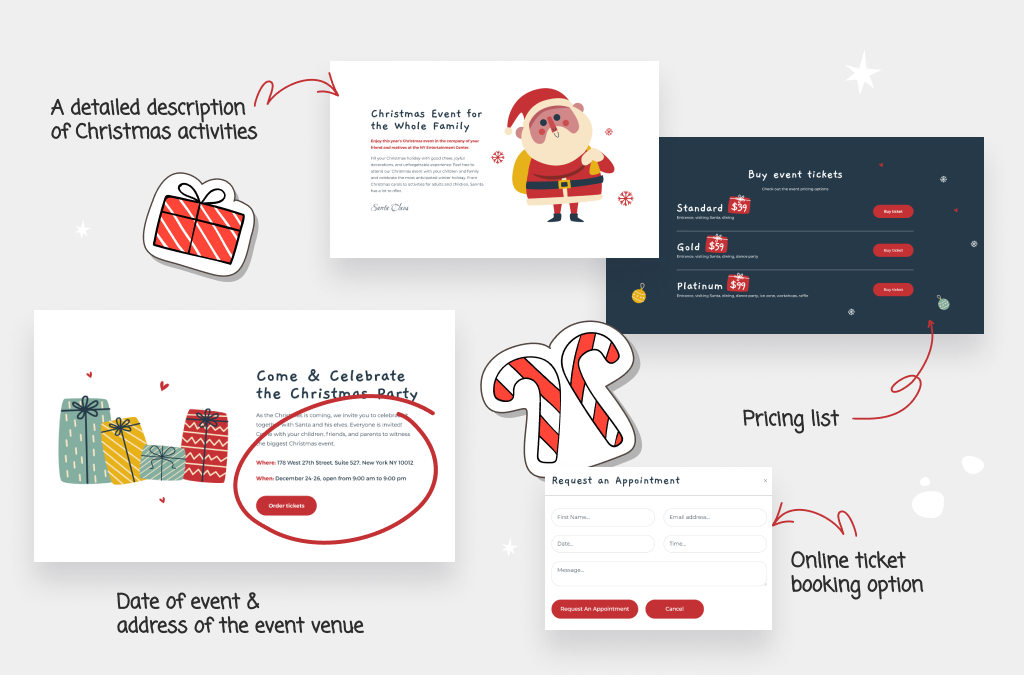 Why Use Landing Page for a Christmas Event Website
A landing page is usually a better choice for an event website than a multipage template as we stated above. It provides all the necessary information your visitors are looking for on a single page. For example, here's what your first-time website visitors may be looking for:
A detailed description of Christmas activities;
Date of event;
Address of the event venue;
Pricing list;
Online ticket booking option etc.
This is also true for Christmas landing pages. Designed to attract visitors to your events, such pages give information on the event schedule, activities, pricing, etc. Besides, these templates are designed to help you promote any kind of New Year event as well. From concerts to sales and Christmas parties, such landing pages will easily meet your website's goals.
Due to its simple yet effective structure, a landing page allows you to post any kind of information regarding Christmas activities. Whether you are planning something small or big, using a landing page for a single event will be quite beneficial. Such an approach is also true if you want to share not just event information but reviews and special guests too. A thought-out landing page can provide your visitors with every bit of information they need to decide whether they want to take part in it or not. Furthermore, a properly designed template will convey your message and make it quite convincing for your target audience.
The Advantages of Sannta Christmas Landing Page Template
All of the abovementioned requirements were considered when we developed the Sannta Christmas landing page. From colorful and content-rich blocks to easy-to-use navigation, this template offers everything you'd expect from a Christmas website. Moreover, its smooth CSS3 animations and effects create a winter holiday atmosphere while also offering a pleasant user experience. And simple yet powerful customization allows any website owner to create a fully unique design even without extensive coding knowledge. Here is just a glimpse of what our template offers:
Responsive & SEO-ready layout;
W3C valid and well-commented code;
SCSS & Pug source files;
Cross-browser support;
Fully configurable and working booking forms.
These and other features can be easily used as an advantage for your website. Whether you are planning to build a new site or upgrade an existing one, a variety of supplied features will help you achieve a set goal. Moreover, due to simple customization, this landing page allows you to create nearly anything for your Christmas event. This is especially true if you know your way with HTML coding. With the Sannta template you can also make an established website more responsive thanks to the integrated technologies.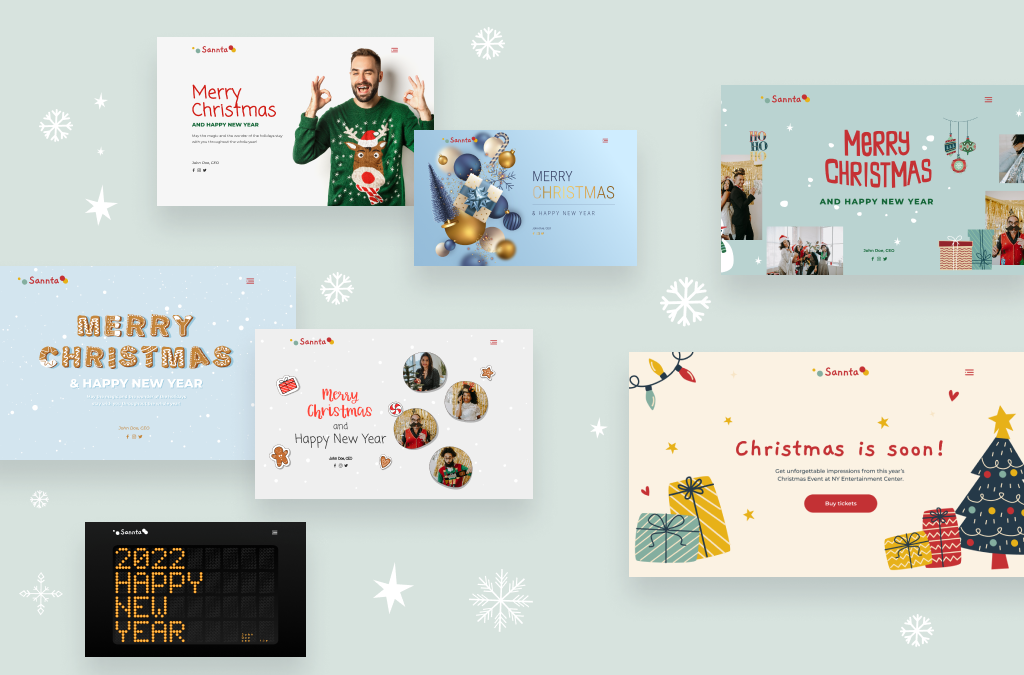 HTML5 Solution with Impressive and Colorful Design
The Sannta HTML template's design can add lots of colors to your website. It can easily transform an average site into an attractive one. From well-built elements to informative blocks with a stunning design, this landing page has various benefits for your website. The template is performed in traditional Christmas colors. They will help you create a proper atmosphere on your website. Also, it uses smooth CSS3 animations. This is done to make the user experience more immersive. These small yet important details can be freely used to decorate and improve your landing page's look.
The layout of this Christmas HTML5 template is built with the widely used UI elements. When combined, they create a user experience your visitors and event attendees will appreciate. Whether it's about sharing information or helping with event details, Sannta creates a long-lasting impression. Also, a well-established website built with such a template will help you find long-term sponsors and partners for your forthcoming projects.
Functional Advantages and Features of Sannta HTML5 Landing Page Template
However, the advantages that Santa HTML template offers don't end with design. Its numerous features also spread towards the functionality this solution has. For example, it uses a flexible and detailed header and footer. These sections will help your clients navigate the landing page. Also, they will be able to find more event information on the linked social accounts. The integrated sliders can be used to add more details about your event. Also, they are great for posting testimonials submitted by your visitors.
As we stated above, the template also provides configurable forms. They are built-in the sections of newsletter signup and ticket booking. You can freely configure them and even add database functionality through additional coding. Also, with animated buttons and smooth scrolling, using your website will be quite satisfying. Furthermore, this solution uses accordions to help you add more content in a single section. For example, you can add answers to frequently asked questions. This will help your first-time visitors and even regular clients.
Content-Rich Layout for Your Christmas Landing Page
Aside from its various benefits, our template provides various written and visual content. The included texts, images, and animations can be used for describing your Christmas event. Moreover, adding your content is also possible. It is simple and requires no extra knowledge of web development. However, web developers can use this template as a basis for a custom Christmas website. Besides, various pre-developed content blocks allow you to:
Describe your event in detail;
Sell event tickets online & post pricing packages;
Add information about Christmas activities;
Answer frequently asked questions;
Showcase your sponsors;
Post the submitted testimonials.
The provided content sections have a clean and detailed structure. They can be used to fully transform your website. From adding more text blocks to providing pricing packages, the options are endless. Also, with proper knowledge, you can create new sections based on their included UI elements. Buttons, tabs, and other components will help you decorate your website without any complexities.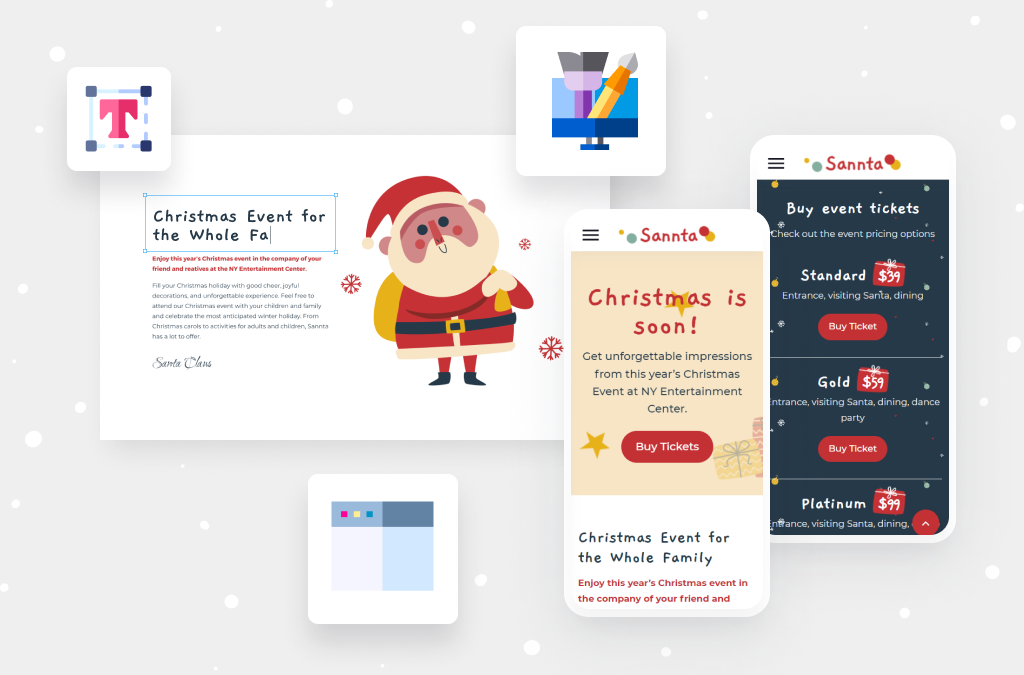 Customizing a Christmas Event Website with Sannta HTML5 Template
The incredible customization potential makes this template even more fitting for your Christmas event website. The included framework is the cornerstone of this Christmas landing page. It allows tweaking and modifying this solution according to your wishes. Such an approach helps in increasing performance and extending your website functionality. Whether you need to add more custom-designed elements or additional pages, the Sannta HTML5 template can meet your every need.
This Christmas landing page can become your #1 solution for creating your winter holiday event website. And it's possible not only because of the high amount of available advantages. The template also allows to freely experiment with content and design. Thus, it offers a reliable basis to create what your visitors will like the most. From something informative to visually stunning, there's a lot of possibilities our landing page offers. And for web developers, it has even more in store. Due to the Bootstrap framework, your website can be flexible & user-friendly like never before. To take a more detailed look at this template, you can always view its live demo.
Sannta Christmas Landing Page Template: Conclusion
We hope that this review of the Sannta Christmas landing page helped you decide how to quickly establish your website. No matter what activities you are planning for your Christmas event, our solution can help you promote them. Besides, as a responsive HTML5 template, it is a great solution for mobile-oriented websites. As we've already mentioned, it has outstanding performance and a variety of included benefits. Thanks to this, choosing our template may be your first step to a successful Christmas website. And if you still hesitate, feel free to get in touch with us via comments or our website. We'll help you make the right decision depending on what you prefer.
Our team at Zemez always produces client-oriented web design products. This template is no exception. Even if you are just getting started, you can always get support from us. Our experts will be glad to help you create an event website you need. For more templates and themes from Zemez, we recommend viewing our portfolio. It has dozens of new solutions added regularly for various platforms. Don't forget to follow us on Facebook and subscribe to the Instagram account of Zemez. There you can get instant updates about our team's templates.