A car is more than just a means of transport. For many speed and travel enthusiasts, the car is their life's work. Some travel around many countries by car. Others simply drive around the local area. And others make money with the help of a car. Statistics show that the business of selling cars and car parts is very profitable. After all, it is influenced by many factors. And chief among them is that people change cars more often. And also many people choose the best spare parts for their cars. Following this, the experts from the Zemez team created the Shopify spare parts store theme- TurboJet. This Shopify theme will elevate your automotive business!

Shopify Spare Parts Store Theme-TurboJet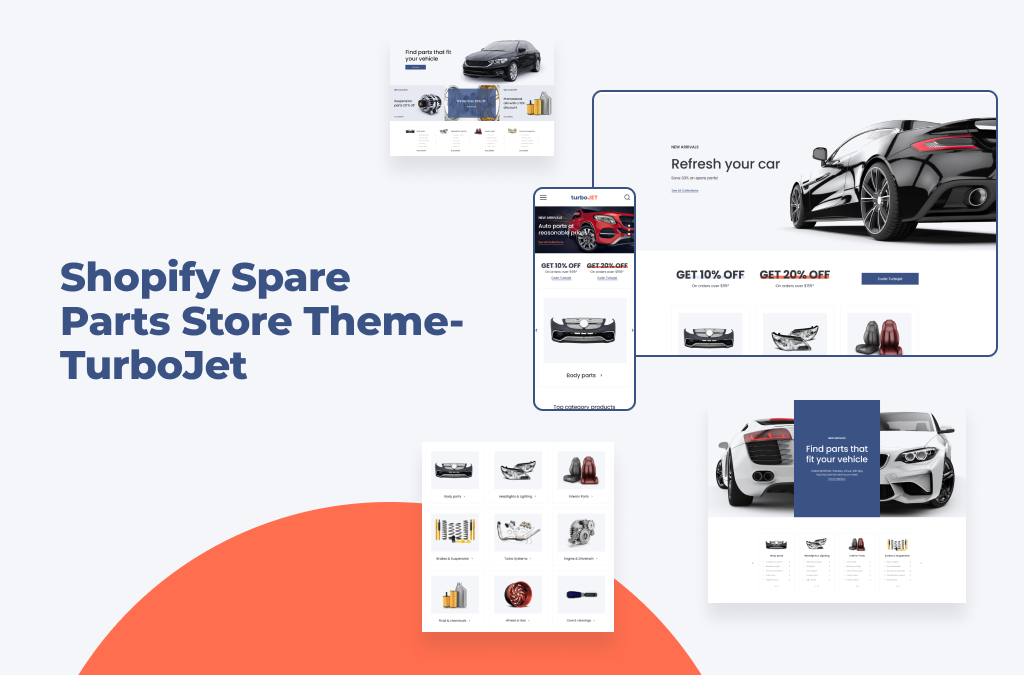 TurboJet– Shopify spare parts store theme is a unique development by the Ukrainian team Zemez. Despite the war in Ukraine, professional coders and talented designers of our team created an exclusive theme for automotive products. Moreover, this theme is specially designed for:
auto stores;
car repair shops;
car dealers;
auto agents;
automobile companies.
Furthermore, TurboJet is ideal for your automotive accessories website. After all, it's packed with features that will present the product in the best possible way.
A concise and memorable design is a feature of this Shopify spare parts store theme. After all, agree that the design of the website is of great importance. Obviously, a beautifully designed website, easy to navigate, a well-located menu, and an unconventional product presentation will interest many potential customers!
Moreover,TurboJet Shopify theme provides unlimited product presentation options. In other words, this theme presents:

3+ awesome homepage;
4+ product pages;
5+ shop pages;
3+ header style.
With such a variety of ready-made pages, your automotive product website will be a success.
And best of all, you can customise absolutely everything yourself. After all, everything is provided for in advance! If you have any questions or problems, you can always contact the support team at Zemez. They will help you understand all the details of website setup.
Features of the Multifunctional Shopify Spare Parts Store Theme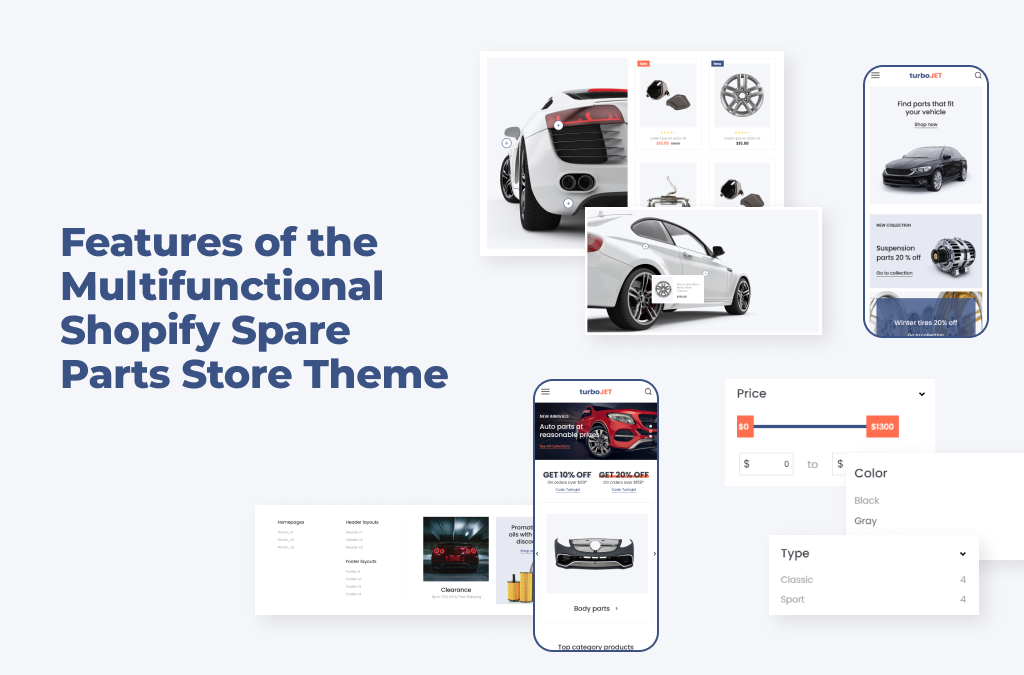 Of course, a quality website is the key to a successful business. That's why TurboJet- Shopify spare parts store theme is built on the best features with which you will create the perfect website.
The functional features that are built into this theme are well thought out in detail.
Firstly, an eCommerce website must attract customers, and be user and business-friendly. And it should also have a variety of functionalities. And this Shopify spare parts store theme has everything to make your website just that!
A few functional features to help you create a successful online car parts shop:
Convenient Mega Menu. This feature will help you give your online shop visitors access to different pages in an instant. Moreover, you will be able to define the location of the menu yourself on the website.
Shopify Visual Builder is one of the best features of this theme that allows you to create a visually interesting website.
Favorite products – allow your customers to create a list of products they like.
LookBook is an amazing module that presents the product in the best possible way.
Multilingual/Multi-currency support is a unique feature that will take your business internationally. These options are important factors that can attract customers from all over the world. This will make your online shop popular and successful worldwide.
Secondly, since 80% of the customers of an online car shop are men, a well-structured and organised template should be implemented. That's why TurboJet has a user-friendly structure. Website content is arranged in pages by category. That way your customers don't have to spend a lot of time searching for the right product. And the "Search" feature is a help in this regard.
Benefits of the Updated Shopify 2.0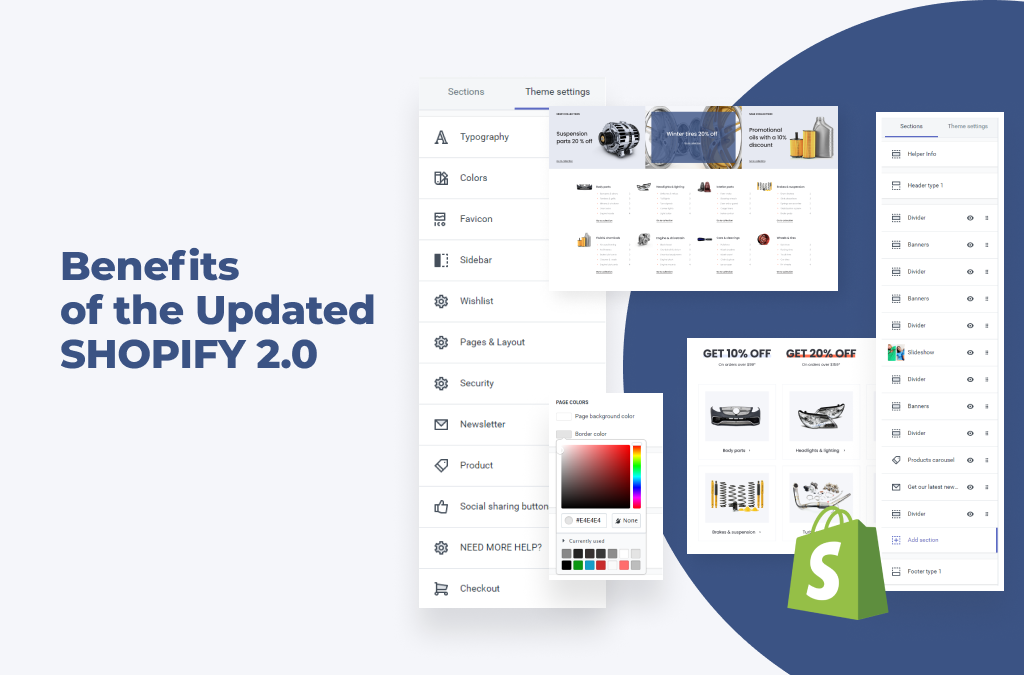 This Shopify spare parts store theme is based on the latest version of Shopify 2.0. This is certainly a great advantage for the theme. After all, thanks to the update of this eCommerce platform, the functionality of the theme have increased considerably.
Firstly, the Shopify 2.0 updates provide advanced editing capabilities. That is, the new editor makes it easier to set up shopfronts from scratch, add various theme extensions, and manage applications within the theme. The idea behind the new editor was to centralise all available functions and features.
Secondly, the new Shopify2.0 features make the platform more developer-friendly and easier for customers. Also, Shopify 2.0 is versatile. After all, everyone will get the opportunity to create, customise, scale and monetise in the new version. Moreover, every user of the updated version will find the perfect functional tool for themselves. After all, Shopify2.0 presents:
Upgraded theme architecture;
Sections on every page;
Built-in modularity;
Improvements to meta fields;
Files API;
Enhancements to the theme editor;
Shopify Github integration and more!
A theme that is based on Shopify2.0 is an improved end-to-end solution for your business. With sections on every page, app-based blocks, flexible data storage, and robust developer tools, the process of creating a theme on Shopify is easier than ever before. The extensibility offered to developers means more options for creating integrations for merchants and presenting your solution directly to the online shop.
Shopify Spare Parts Store Theme: Conclusion
The feature set of this TurboJet Shopify spare parts store theme opens up great possibilities for the creation of a successful online shop. Moreover, thanks to the aforementioned features of the theme, you will get full control over your website and the ability to add an unlimited number of pages, sections, or products. And then, page load speed will be high!
With TurboJet theme, you will be able to create a website for a car parts shop on your own in a short period. After all, the solution is easy to manage and user-friendly.
Be sure that TurboJet– Shopify spare parts store theme is the best solution for your business!
More information about other unique templates can be found on our website. I also recommend subscribing to Facebook, Twitter, and Instagram and always staying in touch with the Zemez team!