Sports, training, sports nutrition – these areas are very popular today. The number of fans of a healthy lifestyle is growing every day. New sports and physical activities appear and immediately find their followers. Going in for sports and leading an active lifestyle has become fashionable: according to statistics, every fifth Internet user types in search engine queries related to getting in shape, contacts of fitness centers, and the purchase of sports goods. Accordingly, the demand for them is growing. You can buy sports goods both in a regular and online store. Considering that the majority of potential buyers are relatively young people, it is logical to bet on eCommerce. So, how to create and promote an online sporting goods store? Now this task has become much easier: you can use the sports nutrition eCommerce theme. Its advantage is that such a template consists of ready-made blocks. You do not need to know and use a programming language, you just need to download a theme and fill it with your content.

Without a doubt, the number of online stores can be called more than impressive. And every day there are more and more of them. It may even seem that creating an online store is the same as registering on some social network. Yes, it is quite possible that we are exaggerating slightly, but still, the fact remains. Online shopping is the clear winner of online shopping vs in store shopping debate.
When it comes to choosing the best platform for creating an online store, each of us can face a very difficult choice. Each of them includes various features that can help you create and manage your future online store. You can see other Shopify themes here.
The Best Choice for Your Store – Sports Nutrition eCommerce Theme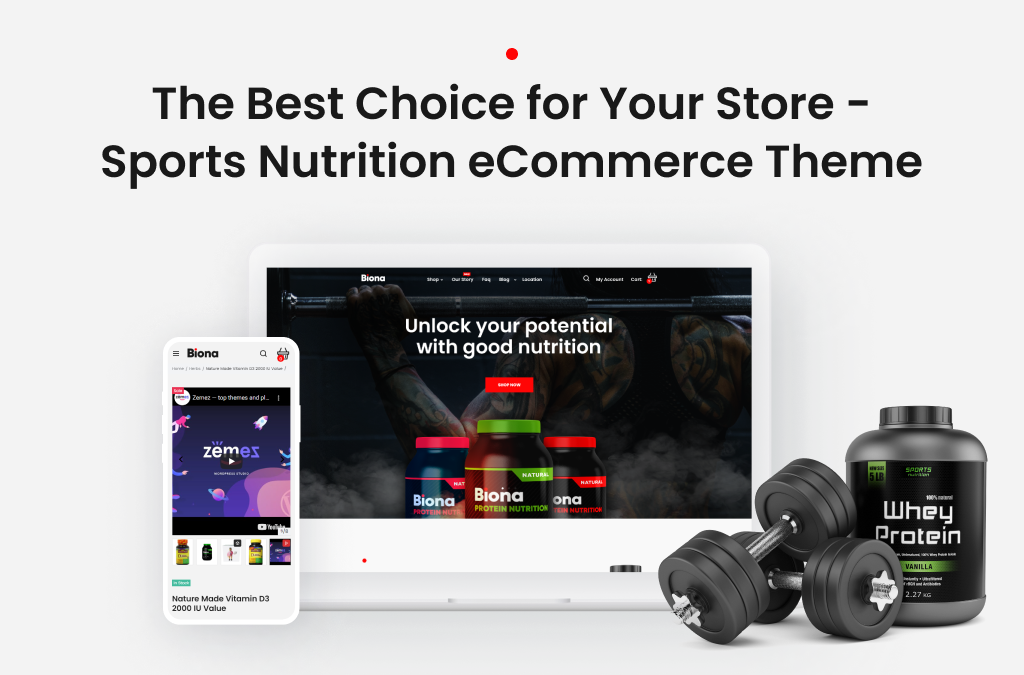 Today we want to pay attention to the sports nutrition eCommerce theme. Shopify is an ideal platform for several main reasons. Let's start with the fact that it is very easy to use. Even those who have no idea what programming is and what it is eaten with will be able to work with Shopify in peace. This platform comes with a range of options that allow you to control sales and everything related to it. And also it allows you not to spend a huge amount of time on personalizing an online store. And things get even easier if you have one of the Shopify templates on hand.
Biona is the best Shopify builder with best-in-class features and a powerful design engine. It gives you full control over the appearance of the store at any screen resolution. Your store can be simple and minimalistic or complex and colorful – everything is in your hands!

The modern design of the theme will not leave anyone indifferent. Beautifully saturated colors, and comfortable fonts – will not only attract attention but also keep your visitors on the site. Everything here can be built in such a way that your visitors can find the product they need and make a quick purchase. You can implement here any strategy for the development of your site. A simple landing page or a multi-page site, a business card site, an online store – work in the format that suits you best.
Explore the Excellence of the Sports Nutrition eCommerce Theme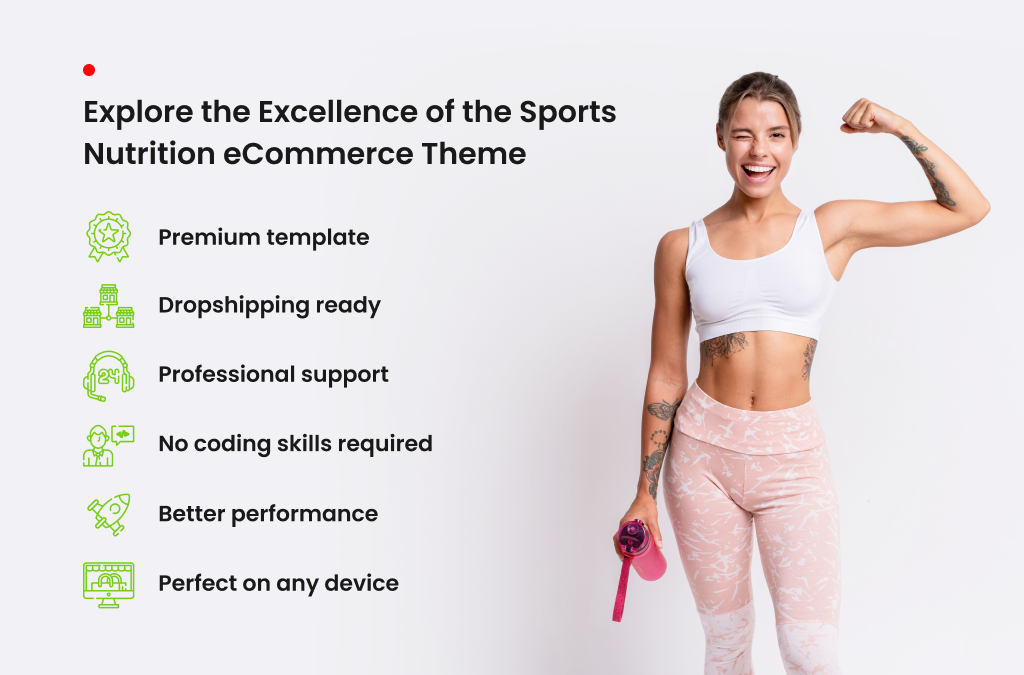 If you are a beginner and have not worked with sites before, you should definitely pay attention to the eCommerce theme. This is a stunningly simple and effective template that is suitable for selling any product: sports nutrition, sporting goods, accessories. Based on this template, you can also make a website for a sports club or fitness room. As you can see, its scope is quite wide and can be adapted in any direction.
The administrative panel seems minimalistic, but when you start to open each section, you understand how functional the constructor is: products, customer information, attendance and turnover statistics, information about traffic sources, and adding product distribution channels to social networks. A large app store is available to you, where you can add new features to increase sales, improve marketing and customer service, and more. The constructor has many tools to work with, but it can not be called complex. Even a beginner can easily handle the store settings.
Markedly, as a store owner, you can manage orders, shipments, and stock balances. To make your marketing effective, you can track conversion, and set up advertising campaigns. Additional features – restoring the basket and working with abandoned orders.
Another great option for stores in the news section or blog. This is an opportunity to drive organic traffic to your site. Individual posts can be added to the main page. A simple editor allows you to work with texts and lists, and add photos and videos. The control panel works quickly, you won't have to download updates for a long time. A simple clean interface does not distract from work and makes it easier to perceive a large number of options. In general, you will certainly be pleased with the ergonomics of the theme.
What do you get with the sports nutrition eCommerce theme:
1. 3 homepage design options.
2. Premium quality.
3. Fast page loading.
4. Professional support.
5. Design takes into account all modern trends.
The sports nutrition eCommerce theme is ideal for those who want to develop drop shipping. You get a ready store quickly and for a good price. Markedly, all our users have already rated this template highly.
Biona – Design and SEO Optimization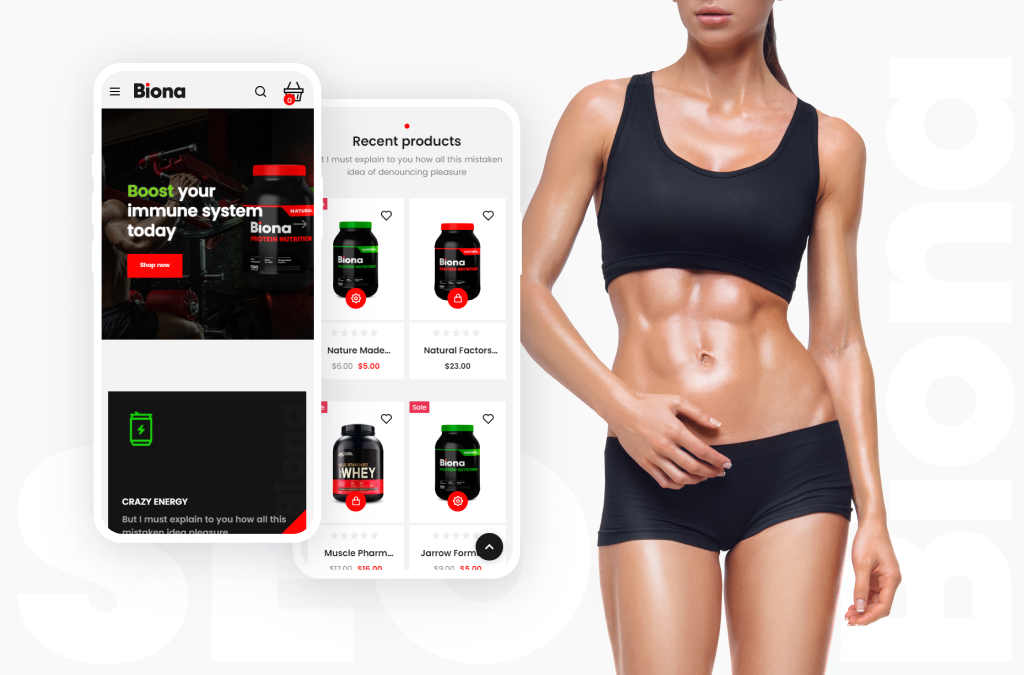 The sports nutrition eCommerce theme allows you not only to work with content efficiently but also to choose the design yourself. When choosing a theme, you can immediately choose a design style, see examples, and read reviews. You can install several layouts at the same time and change them if necessary. Biona is flexibly customizable: you can change the order of the blocks, add new elements, and customize the color scheme, typography, favicon, and social bar.
You can translate the template into any language, and use the currency that you need. In general, it is possible to customize the design of the store quite well without interfering with the code. Don't want to go so deep into working with the store? No problem, you can use the design suggested by the developers. Your site, even in the basic version, has everything you need for quality work.
Don't forget about adaptability too. The site will look great on any device. You do not need to perform additional settings and do it manually. Considering the fact that most users today use smartphones for online shopping, this is an extremely important criterion for choosing a site today.
The set of tools for SEO optimization and promotion of your site is also impressive. Everything is done to a high standard and is ready for use. The tools that you will find in the template will allow you to set up effective marketing and work on constantly improving your sales. Of course, we wrote a lot about the merits of Shopify. It is also worth mentioning that you can choose the tariff plan that is convenient for you. In this way, the store can be perfectly adapted to any business, and you get complete freedom of action.
Conclusions
Sports nutrition eCommerce theme has many benefits. The advantage of a ready-made template is obvious – saving time and money for development. Before you get started, you can check out the demo. This will allow you to accurately determine that the theme fully meets your requirements and will be convenient for working with the store. The Shopify website builder follows the Lego concept. It allows you to combine different "parts" of a site to make it work the way you want it to. Everything is visual, so you can see your site take shape as you build it. It used to take many hours to set up an e-commerce store, as well as a lot of know-how. However, today everything has changed, and creating an online store takes only a few minutes. With a few clicks and a little typing, you can set up your own online store on the web. You can also choose the tariff plan that suits you best. This is a super popular platform. Don't worry about technical details, work easily and with pleasure. Accept payments from all over the world and grow your business!
If you are planning to do any kind of online sales, Shopify is the right solution for you surely. Whether you're selling physical or digital products, Shopify has you covered. The best part is that you can build and run a professional-looking eCommerce store without learning a single line of code.
Because of its popularity, Shopify also has a large online community. If you want to know something, just ask and you will most likely find someone who knows the answer.