Best Website Gaming Template for eSports Organizations
The best website gaming template offers great opportunities when building a gaming website. The industry of PC and console gaming is rapidly developing these days. It is experiencing the increasing popularity of gaming tournaments. There is a growing need for quality websites to popularize this sphere even further. No wonder leading eSports organizations and game developers often rely on their websites when promoting new games and tournaments. Many global teams may go for hiring a web design studio to build a one-of-a-kind website. However, there is an easier and more affordable solution.

We are talking about HTML website templates. They are reliable and reasonably priced. Also, such templates are a great starting point for custom and unique websites. In this post, we will explore how to create a memorable HTML5 website for an esports organization. Moreover, we will review one of our new website templates created specifically for the competitive gaming sphere. We'll describe what a website for gamers must look like, too. And of course, we'll take a closer look at our new solution – Gamega esports and cyber gaming HTML template.
If you are new to our blog and want to know more about web design and development, we invite you to read other posts written by Zemez 's authors. From reviews of our new and updated templates to web design trends, there's always something interesting to read on our website. Moreover, we publish articles and guides not only about HTML but also about WordPress and Shopify. So if you want to know more about top-notch web design solutions and web development techniques, the Zemez blog is your #1 place for new and interesting posts.
Why Games & eSports Teams Need a Well-Designed Website
As one of the most popular industries, the gaming industry requires a specific approach to website development. However, this sphere unites not just people who create games. The competitive side of gaming also attracts hundreds and thousands of gamers and fans all over the world. And there is no better way to promote a tournament or an esports team than to create a well-designed website. One of the ways to do it is to use the best website gaming template. This will help in increasing engagement and advertising not just certain games. For example, such a site can help in advertising:
game franchises;
tournaments;
event series;
publishers;
esports disciplines etc.
Using a properly designed website is a good start for any business or organization. Still, in the gaming industry, website developers must take certain factors into account to make a website attractive. A correct approach to UX design often defines the success of a website. That's why it's important to make an esports website engaging for gamers in the first place. While some gaming fans may be looking for results or streams of certain gaming events, others often aim to connect with their favorite players. That's why one of the most important factors of a gaming website's success is its level of interactivity.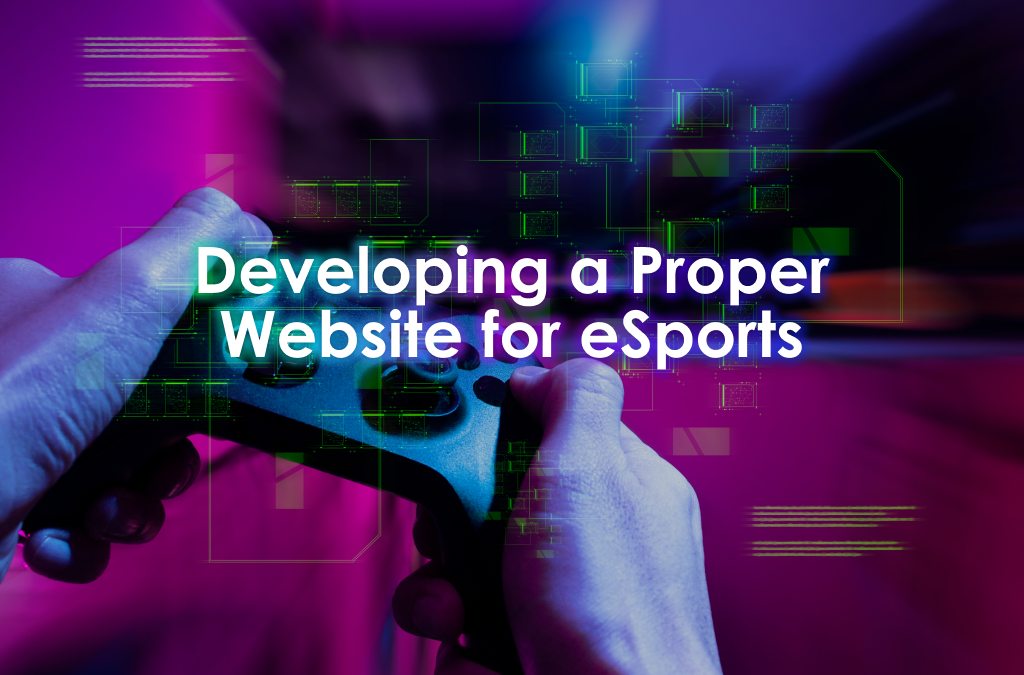 Developing a Proper Website for eSports
Still, an esports website requires not just an interactive and functional UI. It also needs to look impressive and attractive. Furthermore, deciding how exactly your website will look is as important as ensuring it's secure and well-optimized. Firstly, you need to understand what you want people to see when they visit your site. Depending on your target audience and its needs, the design may vary. To promote your esports team or organization means to showcase its achievements. This includes publishing the story of your team and its members. Posting the results of the recent tournaments in which your organization took part can also be useful.
A well-designed esports website needs to provide all the necessary information about your team in one place. From fresh news and interviews with your players to game videos and related Twitch streams, there's a lot to share with your fans. And with a modern and well-styled design, you can shape the content the way you need. Gamega, our best website gaming template for esports, meets all these goals. Based on Bootstrap 5, this template offers incredible responsiveness and customization. It is combined with a professionally designed layout and feature-rich pages to meet all your goals.
Gamega – HTML5 Best Website Gaming Template
The Gamega esports and cyber gaming HTML template offers a variety of advantages. For example, it provides your website with a modern and colorful design. Performed according to the industry standards, the look of this HTML5 template introduces an impressive visual solution. From its UI to a diverse selection of content sections, Gamega has a lot to offer. If you are looking for a creative and memorable look with lots of space for your content, our template has what's needed.
Aside from its design advantages, our best website gaming template can also boast various functional features. They are designed to make your gaming website more reliable than ever before. Also, these features add a lot to the visual side of the template. Forms, tabs, sliders, and lots of other benefits make Gamega suitable for information-based websites. However, our solution can help you build an attractive & powerful website. It can be what your fans want to see. Here are just a few of the functional benefits our template provides:
W3C valid coding;
Responsive and SEO-ready layout;
Cross-browser support;
Sass & Pug source files;
Smooth CSS3 animations and transitions etc.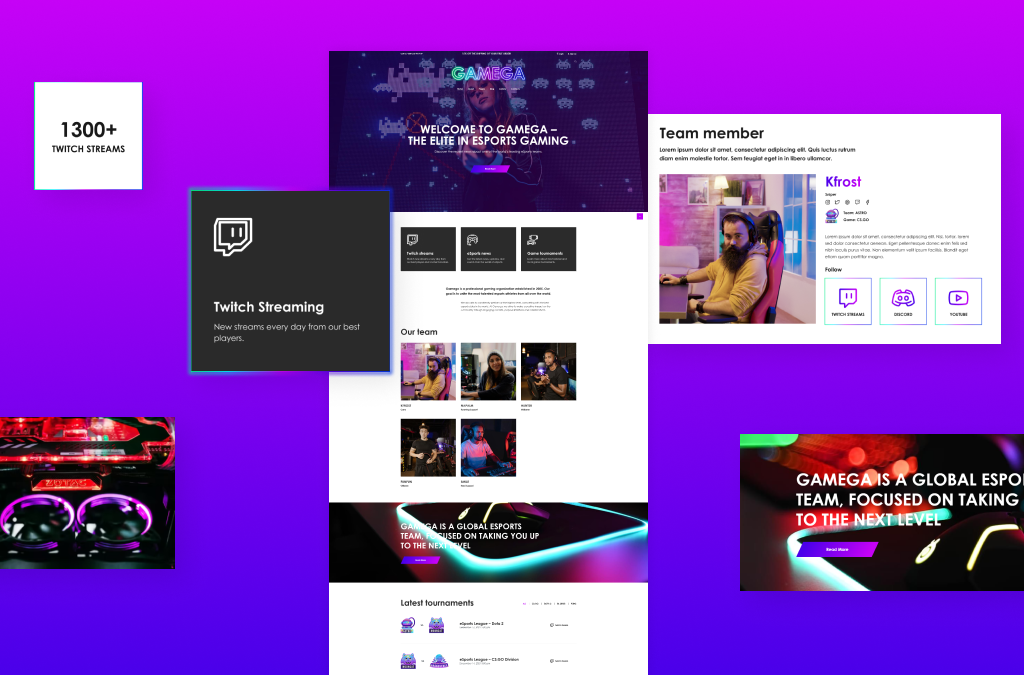 Responsive & eSports-Oriented Design for Your Gaming Website
Now let's take a closer look at all the benefits Gamega has to offer. No matter what gaming website you need, this template can be a great start. Its design is built using a clean and detailed layout. With a variety of carefully combined elements & blocks, this template creates unique user experiences. Also, every section of this HTML5 solution is fully customizable. You can easily edit every part of the best website gaming template. This is highly useful if you want it to meet the needs of your website. Such an approach to design allowed our team to create a solution suitable for many gaming communities.
The layout of our HTML5 solution for gaming websites is fully editable. It consists of various blocks and sections. They offer loads of icons, text blocks, photos, and other visual elements. Furthermore, every part of the design coexists perfectly with the functional features and other advantages. Gamega was crafted by our experienced team of designers. The template provides more than any average esports website has. Whether it's information about matches and tournaments or a gallery with quality photos, your fans will be amazed.
HTML5 Gaming Solution with a Wide Range of Advantages
As for the features, they provide more than just easy maintenance for your website. Firstly, with the best website gaming template, you get improved navigation. It also includes a well-designed header and footer. Thanks to them, finding necessary information about your esports team is a lot easier. Also, our template includes a variety of working forms. They are perfect for the contact page and newsletter signup section. A full-width header section can help you create a proper first impression. It is the first thing people see when entering your site. This part of the homepage conveys a message describing the strengths of your team.
Alongside these advantages, there are other benefits our template provides. For example, you can promote what your esports organization offers with an informative icon section. Also, our solution provides space for posting your latest achievements. From the number of streams to won tournaments, there's a lot to share with your fans. But nothing describes the skill of your players better than the team's best moments. They can be captured in photos or videos. That's why we added a smoothly animated gallery to this template. Also, you can link the Twitch page of your esports team to the website.
Multipage Gaming Website Template with Lots of Content
However, the benefits that Gamega offers don't end with features and design. Our solution provides a wide selection of ready-made pages. They were designed to meet the needs of modern gaming organizations and communities. First of all, the template is aimed to help in promoting esports organizations. That's why we made every effort in crafting content-rich pages. They can be used to describe your team members and the story of your team. When developing the best website gaming template, we also focused on game-related media. Various pages of this HTML5 template support social integration. However, they can connect game-related media to your website, too. Whether it's tournament photos, streams, or videos, the template has space for what you need. Here are the most notable pages you may find useful for your website:
About us;
Our Team;
Team member page;
Contacts.
Still, without proper content, no website page can be complete and interesting. For that reason, we supplied this gaming template with quality texts. Top-notch images and related videos were also added. Moreover, you can freely add your content if you find it necessary. This is possible due to the template structure. Also, feel free to edit the existing content or replace images. Even if you have little experience in coding, working with this template will be trouble-free.
100% Customizable & Well-Documented HTML5 Gaming Template
One of the highly demanded features of the best website gaming template is customization. With Gamega, we decided to offer all the tools to make your website 100% original. With lots of UI elements and blocks, creating a memorable website won't be a problem. Buttons, progress bars, tabs, and other elements can spice up even an average website. Moreover, they can be stylized and modified according to your ideas. Such components will be highly useful for web developers, too. Such advantages will help in creating a site that your clients will love.
Detailed documentation of Gamega is another great addition to this template. It will help you a lot especially if you've just started building your gaming website. Being easy to understand, it answers a variety of common questions about this template. Most importantly, it explains how to install and operate this template. Moreover, you can freely get professional support from experts at Zemez. We're always ready to answer any questions regarding Gamega. Even if you have a specific question, our support team will gladly help you.
Best Website Gaming Template: Conclusion
We hope this review article helped you decide what you want to get from the best website gaming template. Regardless of what you're planning to create, Gamega will help you build an appealing gaming website. This HTML5 solution is perfect for both beginners and pros in web development. It has huge potential for any game-related website. And with impressive performance and lots of supplied content, it can help you create the website your esports organization needs. Also, don't forget to view the live demo of Gamega as well as its detailed description if you want to know more about this HTML5 solution. And in case you still have questions, we will be happy to answer them in the comments.
Also, we are always available via the contact page on the Zemez website. Or if you use socials, we invite you to follow us on Facebook and Instagram. There we post regular updates and news about our products for HTML, WordPress, Shopify, and other platforms. Furthermore, on our social pages, you can find out about various special offers that we regularly provide. We also recommend viewing our template portfolio. There you will find more premium solutions for your future websites. With our solutions, you can easily create an immersive and attractive esports website. And our qualified team will help you with it.