Through Administration panel, you can manage not only users and plugins but also export and import your website's content. Tools tab, which is located in the left column, can be helpful for you in this case.
From this tutorial you'll learn how to use Administration Panel tools (Dashboard tools).

Tools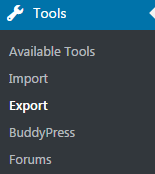 Available tools — here you can view the list of tools, that can help you import content to the website.
Import — this option allows you to import different kinds of content from various sources.
Export — this option can help you to download the export file, containing certain types of your website's content.