To change your website's title, address, email, time zone and date format, manage reading and writing settings, you need to use Settings tab.
From this tutorial you'll learn about changing website's settings through Administration panel (Dashboard).
In the Settings block, you can find all the necessary tools, that will help you change your general website's information and appearance. As a result, you'll be able to change your website address, set reading and writing settings, etc.
Settings List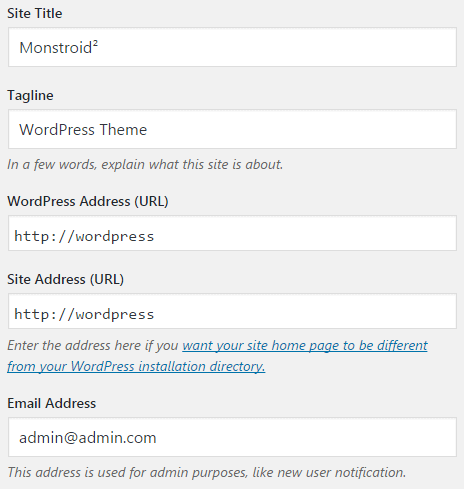 General — the settings, which allow changing site title, tagline, website's address, email, new user default role, etc.
Writing —  the settings, which allow the administrator to set a default post category, post format, and publish posts via email address.
Reading —  the settings you should use to set your website's front page and posts page. You can also set the number of posts to show per one page, set the feeds, and apply search engine visibility.
Discussion —  here you can manage different discussion settings. They are default article settings, comments settings, email notifications and comment moderation settings.
Media —  the settings will allow you to manage the size of the image thumbnail, medium and large size. Here you can change media files organization in the folders, as well as name them by month and year.
Permalinks —  here you can change the permalinks structure.