Let's see how you can manage orders using Restaurant Menu plugin.
To access orders, please, navigate to Restaurant Menu > Orders tab on the left of the Dashboard.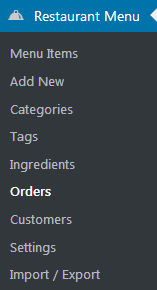 Here you can see the list of the existing orders, the status (pending, complete, etc.), order notes, the number of purchased items, the date when the order is made and the total amount of money. 

Order Status
Pending – the status means that the order is waiting to be confirmed.
Complete – the order is confirmed and completed.
Refunded – the client got a refund for this order.
Failed – the order failed to be completed.
Cooking – the item is being cooked.
Shipping – the order is on its way to the client.
Shipped – the shipping is complete.
Hover on one of the orders to see Edit and Trash options. Click on Edit to proceed to editing this order.
Now you can see the Purchased Menu Items block, where you can view the items ordered by a client. You can remove and add a menu item to Payment and set the item price and item quantity.  

In the Order Notes block you can set your own notes for this order.   


Customer Details block provides information about the person who bought the menu items (email address, phone number). You can also add a new customer to the list.  


Delivery Details block will help you learn the details of the order. You can also specify ones yourself.  


In the Billing Address block you can define the billing address details, such as street address, city, zip code, country and state.  


You can as well view the order meta information, which includes the cash gateway, the key, IP address, transaction ID and contact phone number.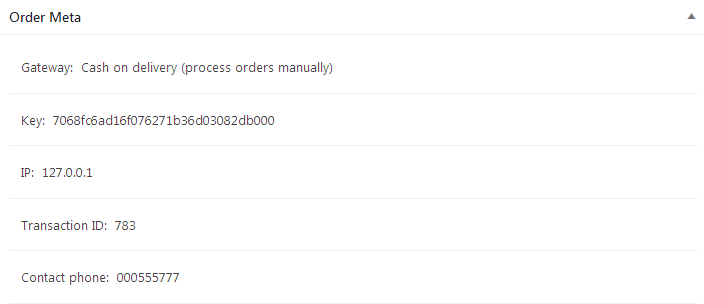 In the top right corner you can see Update order block, where you can change the order status, date, time, the delivery price and the total price.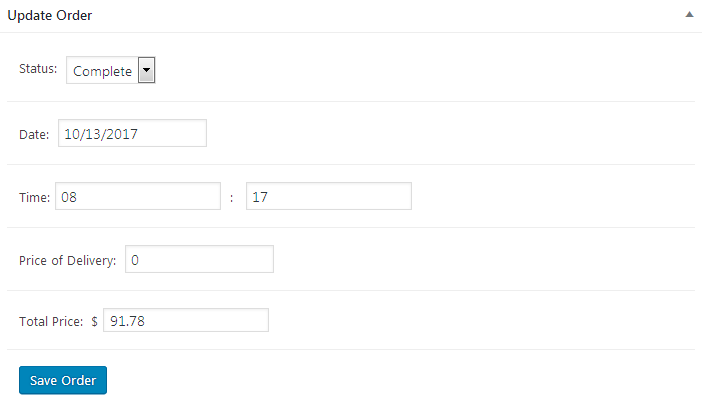 Click Save Order button to save all the changes.