Reading settings give your visitors an opportunity to feel more comfortable while reading your blog posts and navigating through your website's pages. It is also used to define website's front page content.
This article uncovers how to manage reading settings of your website.
Reading Settings Location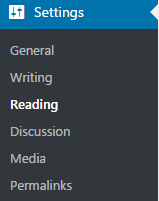 To enter your website reading settings log in to your Administration panel (Dashboard). In the left column navigate to

Settings

tab.
Open

Reading Settings

sub menu. You will be redirected to your website's reading settings.
Reading Settings
Front page displays — this option helps you to define if your front page displays your latest posts (the option is usually used for different blogging websites, news portals etc.). You can also set a static page to be displayed as your front page. You can click on

Static

page link to proceed to its editing. You'll need to choose the page you want to use as a front page and a posts page from the drop-down list of pages.
Blog pages show at most — here you can define the number of posts you want to be shown per one page. Type in the number of posts in the required field.
Syndication feeds show the most recent — here you can define how many recent items are shown in feeds.
For each article in a feed show — here you can set if it is a full article text or only a summary you want to display.
Search engine visibility — here you can switch off your website's visibility for the search engines, such as Google, Yahoo, etc. Keep in mind, that you'll have to change this setting as soon as the website is ready.
When you've finished working on reading settings, click
Save Changes
button.
Manage your website reading settings whenever you have a need to do it!