From this tutorial you'll learn how to add media using Administration Panel (Dashboard).
Media files are the constituent parts of content, which make it more vivid and detailed. You can't go without media content if you want your website to stand out among the others.
The Media tab, which is located on the left of Administration panel, is responsible for different kinds of media, such as images, audio and video files.
Media Options
Usually you can upload and use media when you're creating a post, but if you want to view the items, that are stored in the media library, or if you need to delete media files (a single file, or all of them, using bulk actions), then you can proceed to Media tab.
Here you can see two sub menus.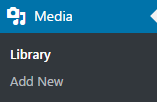 Library — here we store all the media files uploaded to the website.

Add new media — here you can upload media files into the media library.