If you are running an e-commerce store on Shopify, you will definitely need to know how to manage currencies and set up a default one. We are more than happy to present you the easy and quick way to achieve the aim in your Shopify store just following our tips step by step.

Step 1. This step presupposes that you have already logged into your Shopify admin panel. Please, click the Settings options at the bottom of the left sidebar. You will be forwarded to the page with the store settings. We need a General tab. Here is the screenshot to see the correct place: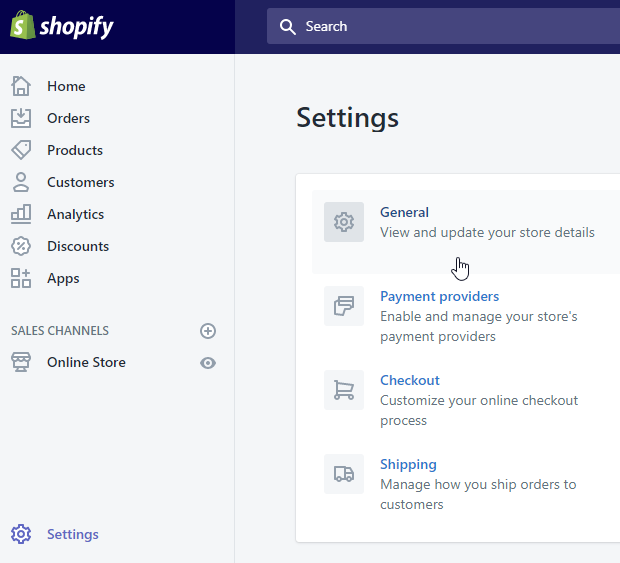 Step 2. Click General tab and then scroll down to Standards and formats selection. By the way, standards and formats are used to calculate product prices, shipping weights, and order times.
Step 3. Here you can see the field that allows selecting the default currency for your store. Please take a look at the screenshot: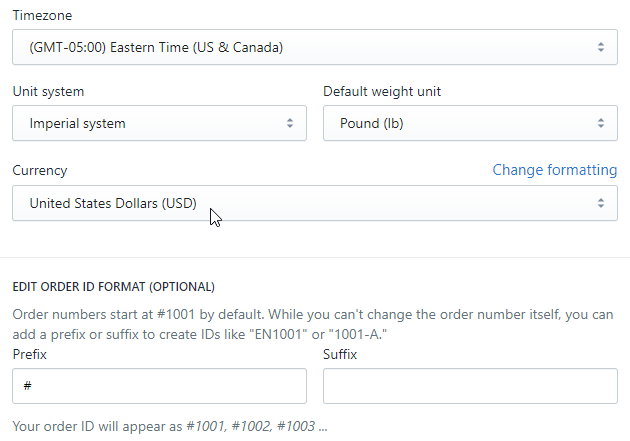 So, once you click the field, you will see the drop down of the available currencies list to set the default one. Select the required currency and save the changes.
 Shopify frontend allows your customers to select the currency according to their preferences: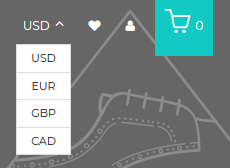 This field and its options are configurable in Customize section of your theme. Thus, in order to point out the currencies available for your site visitors, please, do the following steps:
Step 1. Go to Customize theme via Shopify admin in Online Store>Customize theme or click Customize theme available in the Top panel, available for an administrator from the frontend.  

Step 2. You will see the left sidebar with sections. We need Header one. Click it.    
Step3. Make sure to scroll down to Currency selector. Separate your currency codes with spaces.  The ISO 4217 3-letter currency code should be used here. By the way, here is also the link to the complete list of currency codes.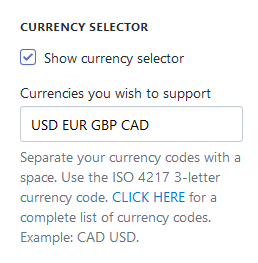 Step 4. Save changes to apply modifications.
           When you need to edit the currency format, please, perform the steps below:
Step 1. You can work on the currency view in Change formatting option. Go ahead and click it right here: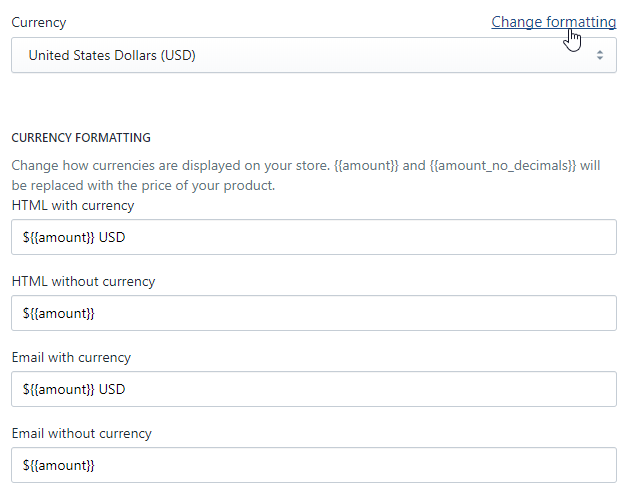 Step 2. You will see the fields to manage currency formatting. Here you can change how currencies are displayed in your store.  
           Our congrats. You have just learned how to manage currencies and set up a default one in your Shopify store. Your attention is highly appreciated!  Stay tuned for our pieces of advice to best suit your preferences in the process of the theme customization.