In order to install any CMS or an eCommerce platform, you will need to use
database
information and
user
to perform one of the engine installation steps. Of course, you will ask yourself, "How can I manage it and create a database". In this case, it is time to learn and try the tips below. We are more than happy to present you the easy and quick way to achieve the target.
  So, let's start learning today on how you can create a user and a  database using hosting control panel. First of all, please pay attention that you should work in MySQL Databases panel.  It is the point we will start from.
Please, login to your hosting control panel and click

MySQL Databases. You can check the screenshot to see how it will look like approximately:


Scroll down to the

Add New User section. Specify the name and insert password twice. Make sure it coincides. Here is the screenshot for your attention:

Next point is to create a

new database. In your  MySQL Databases panel locate similar option: 

And once we have the user and the database created, we should

assign the database to the user

using

Add User To Database

section now. 

Select your new database in the drop down and your user in the below tab. Seeing's better than reading, so we are glad to show it for better understanding:
Please, note that one of the most important things is to set all privileges for the database user. All the options should be marked, then you should click on Save or Make changes. Just like here: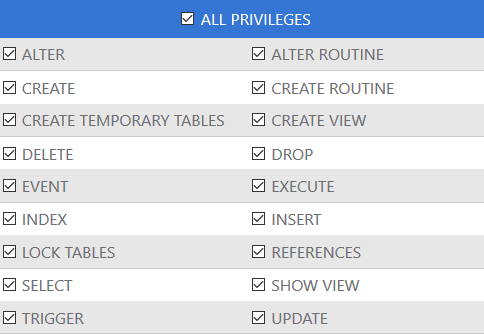 At the very moment, we have performed all the required steps to go ahead and access database. You should just open phpMyAdmin database management tool and select the database required in the left sidebar to work with your database.
  We hope this article helped you to learn how to create a database, your attention is highly appreciated! Stay tuned for our pieces of advice to best suit your preferences in the process of the theme customization.