According to statistics, the food delivery market is growing at a huge pace: online services are ahead of offline services. More and more people prefer to order food over the Internet, with minimal distraction from other activities and maximum time savings. Business inspires the creation of food delivery sites.

Consumers prefer the traditional food delivery model. By normal model, we mean a process where a customer places an order in a local restaurant or store and waits for a home order to be delivered. Such a model accounts for up to 90% of the share of the online food market, where three-quarters of orders are made by phone.
If you decide to create a water or food delivery website, you should be aware of current industry leaders. This knowledge will help your delivery service to be competitive in the market. This information is also a great way to get an idea of the most useful features for your future website. Below, we will tell you about the premium water delivery theme and how it works. Thanks to this theme, you can easily create your own online resource, even if you do not have enough experience, or you do not have the opportunity to invite a specialist.
Water delivery is a service that is relevant at any time of the year. In the summer heat, the contents of coolers diverge in cold form, in winter hot tea and coffee are made from it. The service applies to B2B business at the same time, since the bulk of customers are companies and offices, but some people use home delivery.
Why do you need a water delivery site?
A restaurant or café today should have a site with the ability to order food with home delivery. This is not just a fashion trend, but a real and powerful tool for advertising an institution on the Internet and attracting online and offline visitors. It will help you solve several problems that any business faces at once. Create a site today with a premium water delivery theme, you will be surprised how great it works.

Bypass competitors in the fight for representation on the Internet. A lot of people look for information on the Internet every month. At the same time, only half of the local stores, restaurants, or other businesses have their own website. Ideal if you can see current prices, assortment, and other information on this site.
Get free advertising and tell potential customers about the establishment on the Internet.
There is often a situation when a good café or store opens in the city, which no one else will know about except the residents of the district. Having a page on the Internet and using advertising tools, you can communicate information about a new place to a wide range of potential customers.
Automate the acceptance of orders, establish work with the customer base. Agree, this is very important for the efficient operation of any business.
Use the site as a business card on the Internet. You can post information on maps, publish novelties and price changes, work schedules. If you constantly work on the content and promotion of the site, you will be pleased with the result.
A well-configured site will spare you the need to constantly search for new customers. It is also convenient that you can independently create a full-fledged and functional site without the involvement of technical specialists.
Advantages of Premium Water Delivery Theme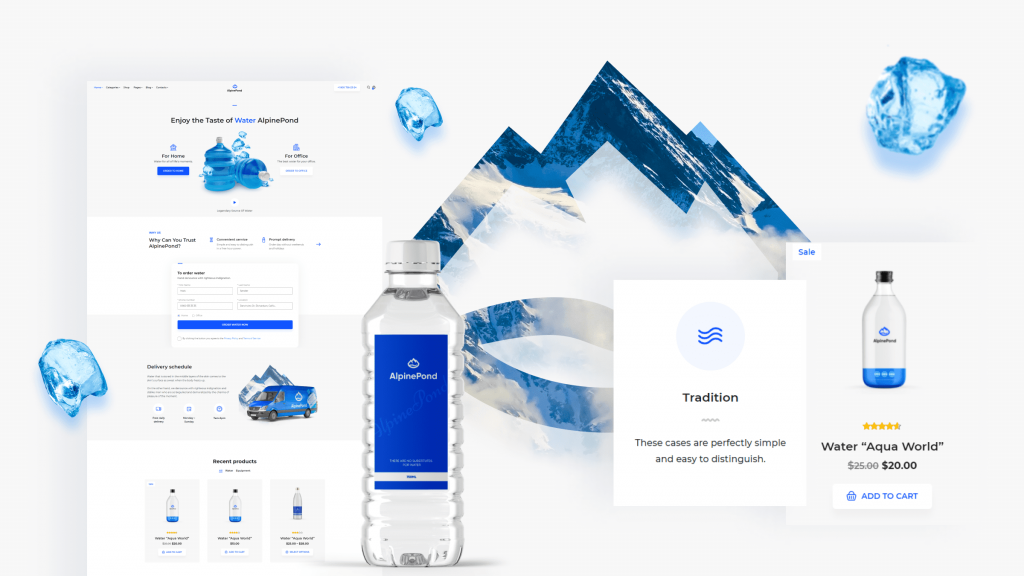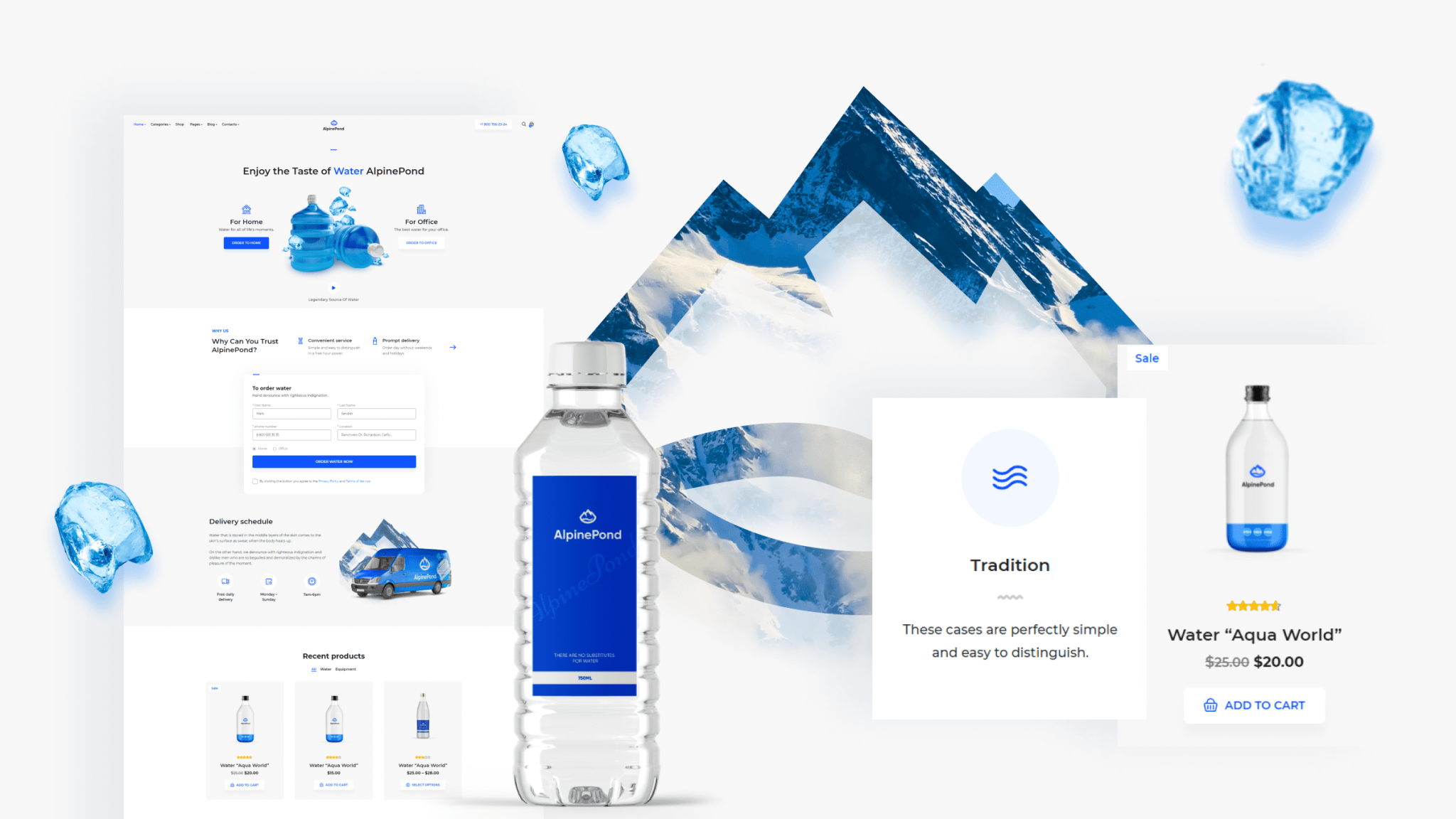 Everyone knows that the audience is becoming more demanding. No one has been paying attention to low-quality sites for a long time, and their promotion is much more expensive. The premium water delivery theme allows you to use all the chips of modern web design. The main page can be designed under the Landing page. The main advantage of the premium water delivery theme is the ability to adapt to any mobile device. The design is made in such a way as to immediately cause associations with cool, clean freshness, this effect is achieved thanks to a competent design with a combination of white and blue colors. At the same time, the authors offer three options: with basic blue, basic white, and mixed, where the blocks alternate. In terms of the admin panel:
– constructor Elementor in the set;
– built-in functionality of the store due to WooCommerce;
– ready-made internal pages. You can use them not only as a landing page but also as a larger resource.
In the format for smartphones, the premium water delivery theme is very simple, you can bring to the forefront the form for ordering, which is especially convenient because on phones people do not so much view the content as they want to quickly leave the application and get the desired service.
Due to the functionality of the theme, it can be used for the delivery service of products or other types of services. You can customize the theme yourself, make all the necessary changes here and add an unlimited number of items.
Additional benefits of the topic:
Convenient filter and sorting of items. You can customize filters not only by brand, name, or price but also by individual characteristics of the goods. For example, it can be the PH of water or the calorie content of foods.
Beautiful content. It is no secret that images on the site should demonstrate your products in high quality. Ideal if they will arouse desire or appetite among visitors to the site.
Online consultant. You can set up an online chat on the site to take orders on time or answer questions from visitors. This will give you a significant advantage over other competitors.
Accurate shipping information. Another undeniable advantage that you definitely have to take advantage of. Post all the information with your contacts, terms, and terms of delivery.
Pre-sale at checkout. You can easily set up recommendations. Link additional goods, accessories. Another excellent option is to group goods by thematic sets.
Loyalty program. It is also easy to customize with a theme. Each visitor has the opportunity to create their own personal account. Thus, you can accrue purchase bonuses, inform about new products or promotions, and interact with buyers.
You can be sure that in the premium water delivery theme, there are all the features that are so important for any online store. This theme can be expanded indefinitely. In the beginning, you can use it as a regular landing, but even a large water plant can create its own site with a premium water delivery theme. Internal pages are included here: service, products, about the company, contacts, additional information. When you get a site with a registered finished structure, your work is reduced several times. Just think through the catalog, add goods, and you can start promoting the resource.
How to make a food or water delivery site more efficient?
The development of a food delivery website involves many stages. This can be order determination, feature selection, design selection, and platform selection. Let's delve into each stage so you can better understand the process of developing a premium water delivery theme.
Determine how the customer will order
To make your future water delivery site successful, you must determine how users will place orders. The most common method includes the following steps:
1. When a user visits the site to order delivery, they use the site search to select a product, compare prices and ratings. He then selects a list of products and places an order.
2. Once the order is confirmed, the user logs in or creates a new account, providing contact and bank account information.
3. When the payment process is complete, if the payment is successful, it is notified that the order has been processed.
4. Receiving notification that the order has been processed is the final step in the online scenario of the standard food ordering site. Other steps, including order generation, packaging, and delivery, take place offline.
You can use this food ordering process for your future site. So let's move on to the next phase.
Select the required features for your food or water delivery site
The selection of features for your future site is very important, as it will have a significant impact on usability. In most cases, three levels of access must be configured on the site: user, administrator, and manager. All three roles you can connect to the website will greatly facilitate the work of your employees.
Each of these roles has its own characteristics and access levels. It is important for the customer to have a convenient navigation menu, register, quickly place an order, detailed information about the store, delivery methods, current offers, and information about the loyalty program.
The administrator, for his part, should have access to the management of the store and site, the management of orders, payments, and technical data. The store manager needs access to orders, the ability to quickly find items, choose a payment and delivery method, track the status of the order, and help and support customers. All this you can implement with the theme of water delivery.
Your site should inform managers of new orders and notify customers in case the store rejected the order and then offer alternatives.
Customize Premium Water Delivery Theme Design
Everything here has already been thought out and created for your convenience. Thus, you simply use the ready-made solution and adapt it as much as possible for your store. The premium water delivery theme includes several preset color themes. You can customize it to suit your business and display the menu most attractive. This template comes with detailed documentation that will make your work much easier. In the Design section, you can install and delete site design themes, go to the theme editor, or go to its source code. Through the settings panel, you can change the general data for the entire site: colors and fonts, the logo and icon, the display and behavior of various elements of the site, and side settings.
You can change the location of blocks and edit texts through the Elementor visual editor. For your work, there are ready-made instructions that will help you quickly complete all settings.
In general, working with the premium water delivery theme includes several stages. You need to register, work out the design, add blocks or swap them, fill the site with content and connect ads. That's it, your resource is ready for promotion. Next, only work on updating content and optimizing the resource.
Conclusions
Of course, you will not argue that working with a finished premium water delivery theme has many advantages. If you're an online business owner, you certainly understand the importance of having high-quality SEO content and tools, especially taking into account changes in search engine algorithms.
Previously, to make the site more friendly for search engines, you would face tedious work – you would have to completely change the content, but in this case, the chances of success would not exceed 50%.
In the subject of water delivery, there are excellent tools that make it easier to search your site on Google and other search engines. Creating a site using a ready-made template makes it extremely easy to promote the site. The theme of water delivery contains modern and advanced functions and is already integrated with the main SEO methods.
Thus, the premium water delivery theme will be your best tool for creating an online resource. Especially if you need to create a site in a short time and with a limited budget. By taking advantage of our recommendations, you can easily create your own web resource without resorting to outside help.