Do you have an idea or a plan you want to follow? If you plan to create your own online store and attract as many customers as possible, or you have it, but things are not going well, we recommend choosing one of the best multipurpose eCommerce magento2 theme for your store. Among the multifunctional templates for sites, choosing the most suitable for you is not a problem. When choosing, we recommend that you first focus on the specifics, tasks, and functions of the future web project, and then evaluate the topics available to you. Only then you will be definitely satisfied.
The Magento download package contains files, images, modules, and documentation that will help you create an online store. Magento themes allow you to make changes to the appearance of the electronic store and maintain multilingualism.
Magento is an open source platform for eCommerce enterprises. This means that you are free to use all basic functions and capabilities. This option is ideal for small and medium-sized stores. Maxima is also ideal for large stores, with more than 10,000 units in its range.
As you know, Magento is one of the most popular CMS, Magento operates many online stores. Despite the growth of other CMS, Magento is known as the most powerful CMS for online commerce worldwide, thanks to a large assortment of promotion tools and analytics for the online store. In our review, you will find the best-to-date Magento Templates.
Multipurpose eCommerce magento2 themes are very simple and their design is very soft. This is why Maxsima is a great investment, that offers many features, visual capabilities, and design layouts.
eCommerce Magento2 Themes is your One-box Solution
Maxsima has important features to pay attention to. Especially if you have not yet decided that this topic is exactly suitable for you.
• Responsive design – your store will be great on any screen of any size and on any device. Responsive page items provide a fresh and enjoyable overview for the entire range of devices your audience uses.
• Simplified installation process – Literally anyone can install, configure, and use Maxsima themes with explicit and detailed documentation that comes with each layout. Feel like a technical guru with our detailed step-by-step installation instructions!
• Multilingual support – you can serve a wider international audience.
Thus, if you are looking for the best design and functionality in finished templates, you should definitely pay attention to Maxim's topics. Be sure to review our professional multipurpose ecommerce magento2 theme to make the best choice for your resource.
We give you the maximum opportunity to promote the site. All topics not only meet the requirements of search engines today, but also have prospects for development. And in case this CMS does not meet your needs in full, you always have the opportunity to add any extensions.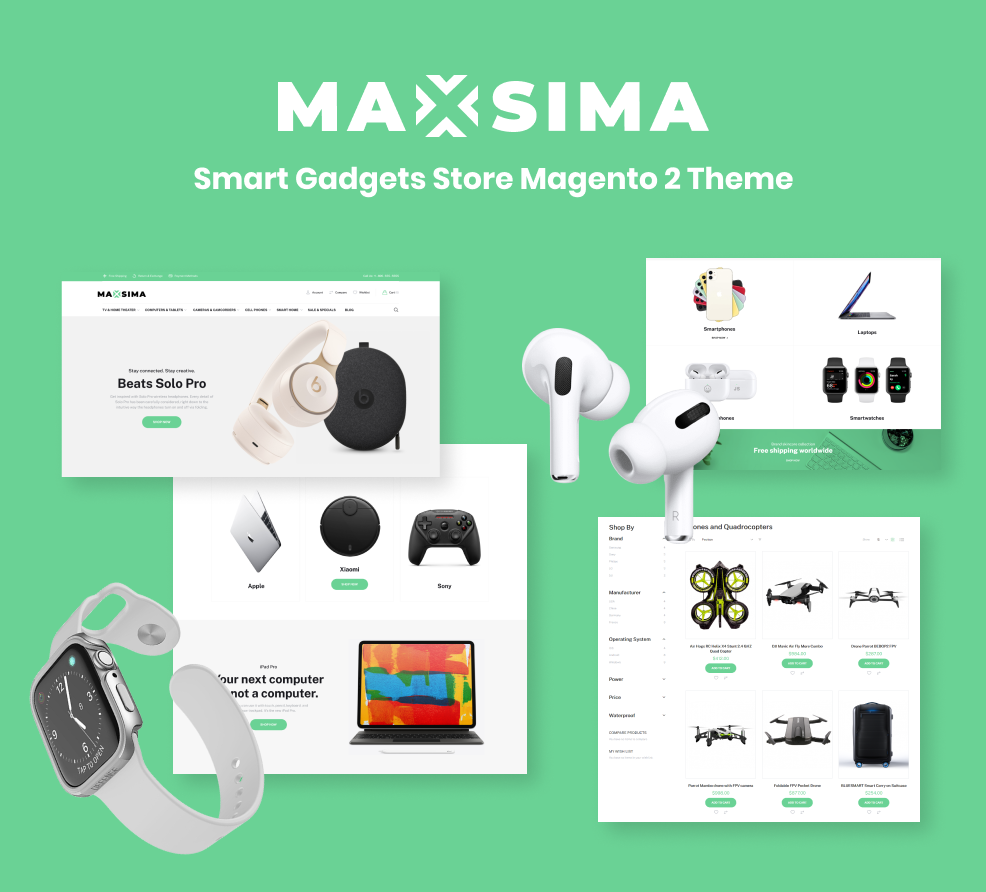 This is a stunning multipurpose eCommerce magento2 theme with a modern, clean, and fully adaptive design, thanks to which it looks great on any device and screen resolutions. It is easy to customize, it is very flexible and suitable for many online stores, such as gadgets, appliances and accessories, home appliances, electronics, smartphones, and laptops. The design of this theme does not distract from the demonstration of your products. The template has an elegant design and can give your store a fresh look. It is the design that often pushes site visitors to make a purchase. You can be sure that your visitors will see the most beautiful picture.
This is also a responsive technological topic, that is great for any type of store. It is also fully ready for e-commerce. All theme pages are already set up and ready to work. Here you can definitely create a specialized online store. A functional theme will provide your store with all the tools you need. So you can easily attract customers and increase your sales.
A ready-made multipurpose ecommerce magento2 theme will help you when you urgently need to start an online store, information portal or business card. This will not only speed up and simplify the process of creating the necessary Internet project for any taste, but also will significantly save your own funds.
Among the advantages of the topic are: ajax catalog; featured product; ajax search; megamenu; layout switcher; newsletter popup; sample data installer; shop by brand; theme options.
A really powerful theme is very easy to install. In just a few steps, you can set up and run your site. Such a theme will be a great start if you want to attract the attention of visitors and overtake your competitors.
Sports multipurpose eCommerce Magento 2 Theme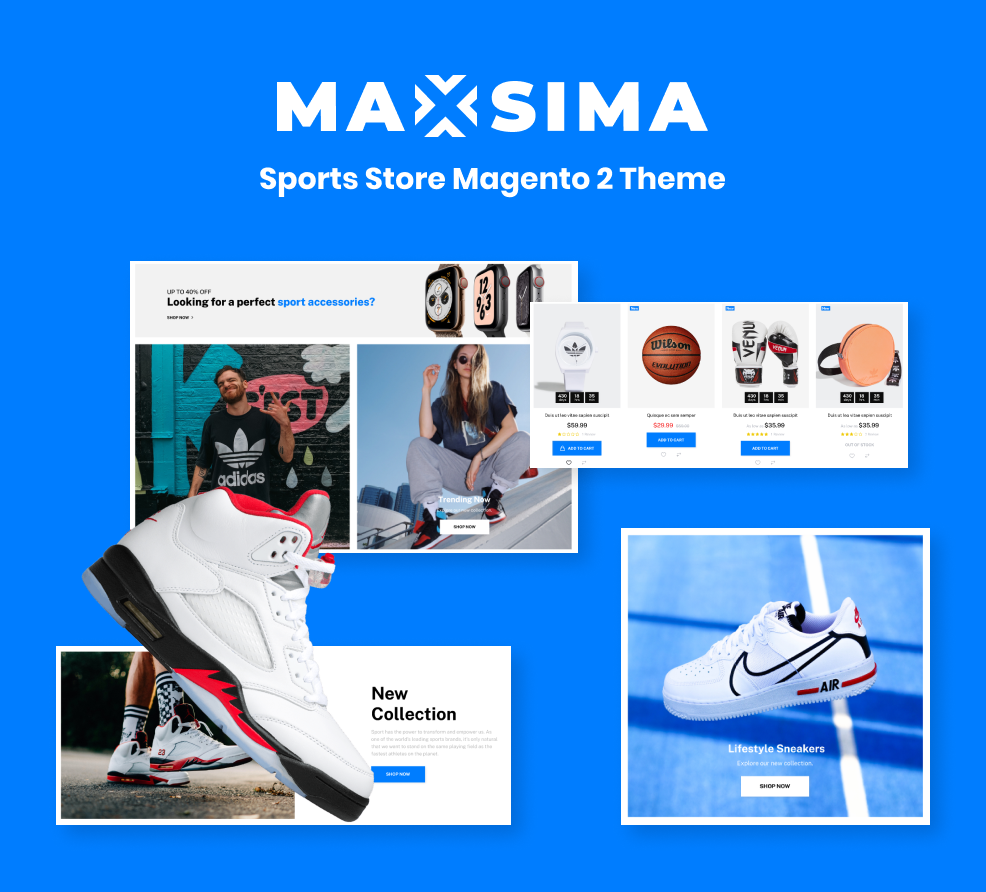 If your site is on sports topics, then an adaptive and modern template from the Sports category is great for developing a resource and attracting new users. The multipurpose eCommerce magento2 theme is suitable for creating an online store of sportswear and shoes, sites of sports sections, a gym, an online store of sports equipment and accessories. Sport is life. Therefore, the correct design and appearance of the site are very important to draw the attention of users to this topic. This topic is also fully adaptive and relevant for the creation of the site in 2021.
Maxsima is a universal creative multipurpose eCommerce magento2 theme, that can provide high-performance web resources. It uses modern scrolling effects, convenient switching of sections, slide menu, pop-up window for a subscription. The finished pages contain sections that will help you with your sales organization: catalog, product page, about us, contacts, and delivery.
For your visitors, will be organized the most convenient shopping process. On the home page, you can present novelties and the most popular products. Items can be sorted by the different settings you set up yourself. A comparison of different items is also available. Each item opens on a separate page, where you can post photos, ratings, and buyer reviews. Here you can use a quick purchase, a wish list, in the item card it is displayed in the warehouse. You can link additional accessories to any item to increase the check.
For those who use the topic, all functions are available for commodity management and inventory. It allows you to manage products and their number from several sources: store, warehouse, distribution center, third-party suppliers.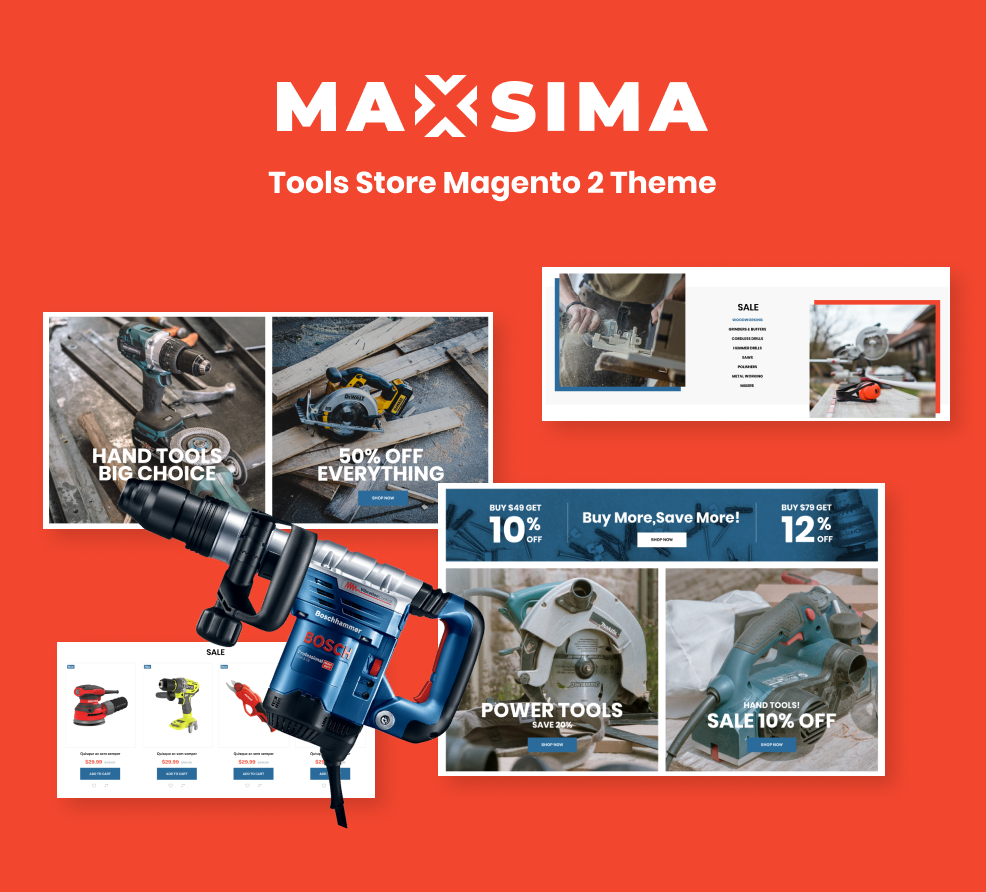 Do you want to create a tool or professional equipment site? You'll find the tool store theme useful. In order to advertise, sell and give useful advice about various equipment and tools, you just need to create a site and fill it with useful information that is interesting for readers. But, in order for the site to also attract many people, it is necessary to install on it a beautiful and attractive multipurpose eCommerce magento2 theme of tools and equipment.
The site for tools should be easy to manage, understandable, with high-quality images and descriptions of goods. The tool theme will allow you to sell your products efficiently. It is already optimized for search engine requirements. There are built-in marketing tools to increase sales and the attractiveness of the site. It supports different payment systems and offers a convenient personal account for each buyer. You can manage orders and track delivery, view statistics, manages discounts and promotions. Here you can select users with different access rights, which is very convenient when you have a large online store and several administrators. Otherwise, you will easily manage and work on your resource.
The multipurpose eCommerce magento2 theme includes a convenient catalog of products. Items are categorized as filtered. There can be an unlimited number of categories and items in the catalog. Modern fonts, bright photos will definitely attract the attention of visitors to your site. Editing the template will also be convenient, since the code is commented on, tabbed. Editing many blocks is described in the template documentation.
Template forms are sent using ajax technology without restarting the page using a js and php script with convenient configuration.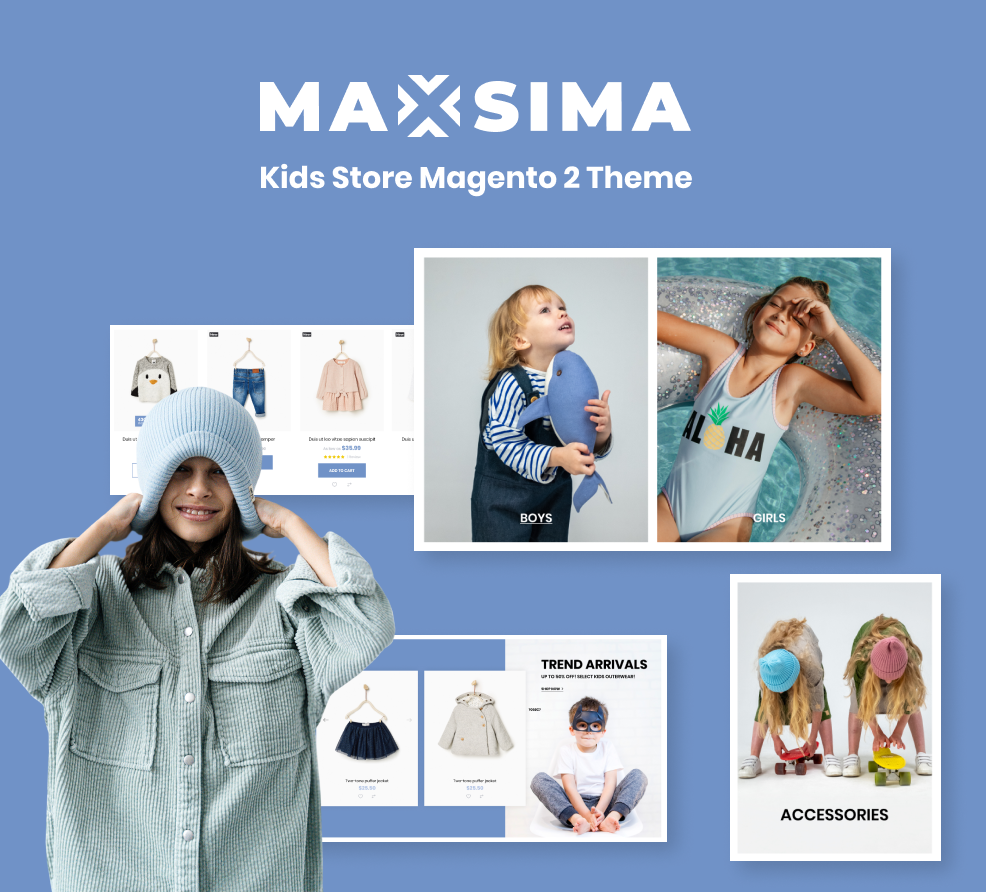 Beautiful and stylish multipurpose eCommerce magento2 theme for the sale of any children's goods. These can be clothes, toys, newborn goods, children's transport. Children's goods are a profitable and fast-paying business. Online sales are the best way to reach this target audience, and templates for a children's online store on Magento will help promote the site, even if the owner is not familiar with the intricacies of web programming.
This new multipurpose eCommerce magento2 theme is designed specifically for creating an online store. Advantages of the topic:
– light optimized code;
– fast download speed;
– pleasant design in modern style, nothing superfluous;
– Master Page Designer;
– convenient settings.
This theme will help you create a full-fledged multifunctional online store. Here you can place a large number of items and it is convenient to sort them in a simple catalog. This theme is fully compatible with any modern gadgets.
An important emphasis in the topic is that feedback forms are included here, which will not only make an application but also just ask questions – this is very important for many parents because they are worried about children. Your visitors can also subscribe to the newsletter, for you it is an additional tool for retaining customers.
In addition to the ability to connect various payment systems, you also receive multilingual support. You can use this theme in any city or country – these are great opportunities for your business!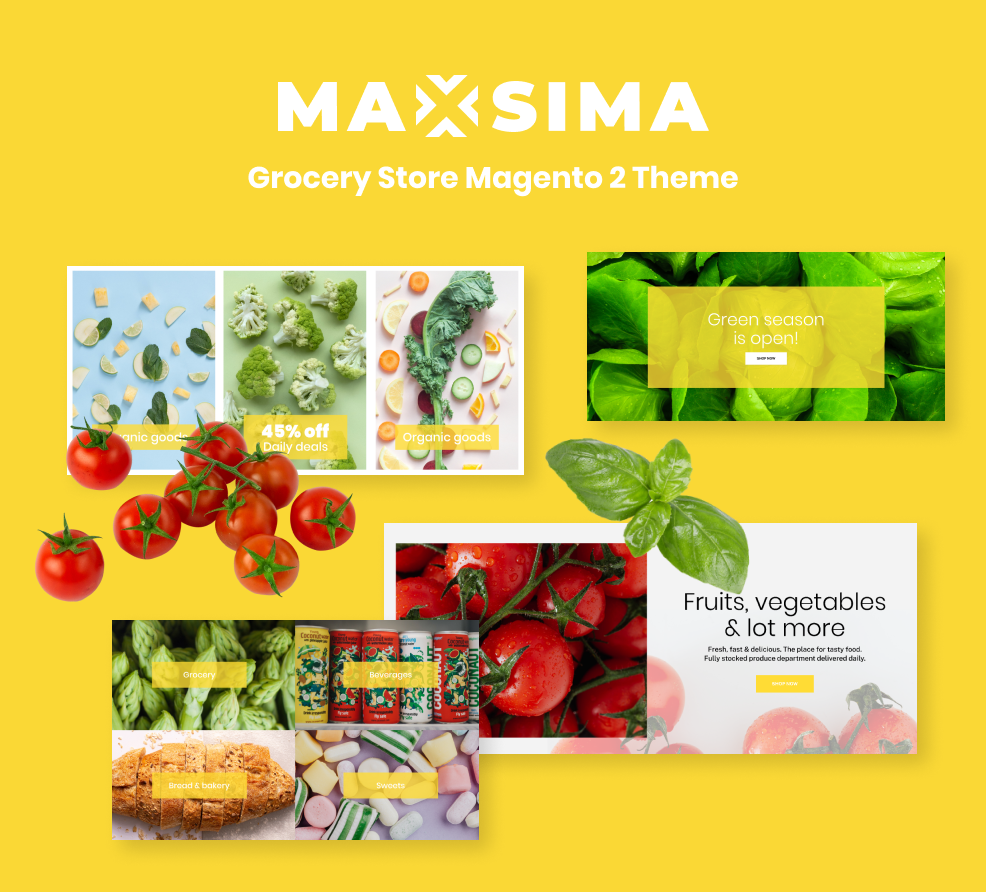 This is a multifunctional, convenient and responsive food store theme. It will help small and medium-sized businesses demonstrate their useful and healthy products. The multipurpose eCommerce magento2 theme can increase conversion on your site thanks to a simple but efficient design. This e-commerce theme will allow you to create your own full-fledged website with flexible settings. The built-in theme options bar helps you get your store up and running for days with a variety of demo layouts and instant import.
The theme is ideal for the agricultural business, healthy food blog, and natural food store. By importing one of the demonstrations with a single click, you can quickly make your site similar to any of the demo layouts, or create everything from scratch. You can easily integrate any plugins into the theme to create a universal and easily customizable store. This theme supports multilingualism, RTL functions, as well as popular plugins to provide maximum convenience when creating a stunning online store of organic products.
The theme is very fresh, as is its design. You can use the already finished design or edit the template yourself. On the home page, you can post information about your special offers, publish here your novelties and popular products. In the catalog section, you can view items with a grid or list, filter, and quick view. You can compare your favorite items with each other or add them to the desired list. If the buyer accidentally closes the item page, they can find it in the Recently Viewed special list.
To promote items, you can mark them with icons and use pop-up windows for promotions and special offers. The SEO theme is optimized and downloads quickly. This will provide quick access to the top in search engines.
Design and work with multipurpose ecommerce magento2 theme themes
Check here the landing page for Maxsima multipurpose eCommerce magento2 themes and choose the one that suits you.
With the release of version 2.3, the process of editing pages became slightly easier due to the appearance of the designer. Its functionality is now enough to make cosmetic changes: add blocks, change their location on the page, quickly edit content from the user part of the site. However, introducing a visual editor is a big step towards simplifying CMS. You can use multiple templates in the store interface. This is especially useful when creating a multilingual site. You can customize templates so that the display of content will vary depending on the location of users.
Any search engines will interact well with the topic. The following features are available in the basic CMS functionality: filling of meta-tags of pages; NC Setup; add alt and title for images; automatically generate a site map in XML format with page limits and file size and priority setting; built-in caching; short and long description for each item.
You can use additional modules to extend the functionality. This may be: a callback, a panel with social networks buttons, automatic sorting of similar goods, an order button in one click.
Thus, the main advantages of Magento are its functionality and flexibility, which can be achieved due to open source code and many extensions. Based on each of these topics, you can create a truly powerful and functional online store and sell it worldwide. Join any of the topics today. These topics are the perfect choice to create a successful eСommerce website. This is a powerful system with which you can raise an online store with an incredible assortment.