Responsive Creative Shopify Themes by Zemez for Creative Business
Hello, dear businessman! If you have come to this website, then, perhaps, you are interested in how to make your business successful? I hasten to congratulate you because you are on the right track.

The Internet has flooded our world. You can do many things through the Internet. For example, you can book plane or train tickets, you can find out where to go on vacation or what country to travel to, buy an apartment or a car, buy things, various tools, and even buy food. In other words, it is the sphere of commerce that is developing very rapidly on the Internet. Therefore, if you decide to create your own online store, then you will definitely increase your income. And in order for your online store to become popular, you need to choose a simple and responsive creative Shopify theme from Zemez!
Our professional team of highly skilled developers, creative and talented designers brings you some of the best templates from Zemez – multifaceted creative Shopify themes with sections. Let's explore all the benefits of this theme together!
What this Creative Shopify Themes package is made up for?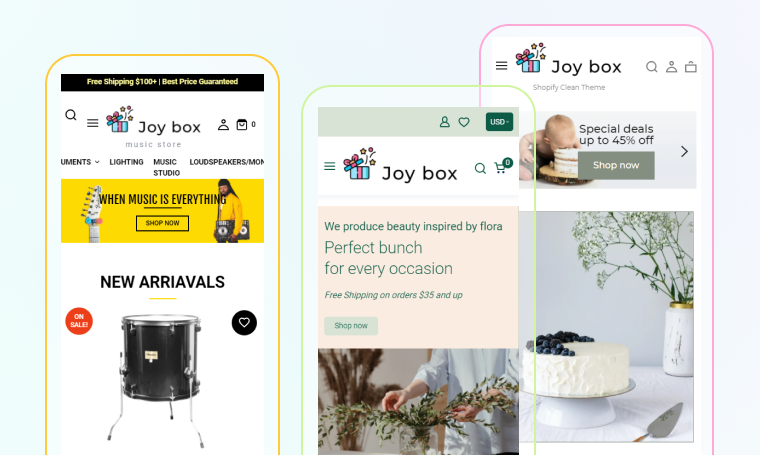 Multifaceted creative Shopify themes with sections is a unique and original template that has 3 skins in one template, many convenient features, and suggestions. In other words, this theme is an easy-to-use template, but unique in its functionality.
Why do you need JoyBox – creative Shopify themes? In order for you to sell on your website:

musical instruments from popular manufacturers;
individual handmade confectionery products;
exclusive bouquets and compositions of any complexity.
This theme from Zemez is the best way to unleash your creativity, present your unique product in an original and creative way. With a simple functional set, you will be able to make your own website according to your preferences. In other words, you will not have to additionally apply to specialists to set up the site or acquire special programming skills.
Cross-Functional Multi-Concept Shopify Theme
It is common knowledge that consumers are becoming more demanding not only on the quality of goods but also on the site where they place orders. First of all, customers pay attention to high-quality sites. But many businessmen think that it is too expensive and technically difficult to create and maintain such a website. Our team is ready to break this stereotype. With creative Shopify themes, it's easy and simple!
Beat your competitors on the Internet and create the best website, which will always be on the first pages of search engines. And our multi-concept creative Shopify themes will help you in this! This theme is equipped with the best features, which we are going to look at now:
The menu is the most important advantage of the site. First of all, it is convenient for customers. And with our theme, you have an opportunity to create a Mega Menu in the header of the site. Create a Mega Menu with creative Shopify themes and it will become the perfect site navigation.
An easy online store search can provide potential customers with an optimized user interface, showing the exact product they are looking for. In fact, allow customers to search for the right products with ease.
Product Image Pop-up-this feature allows customers to view product images without going to the product page.
Wishlist—a universal and mega convenient feature that will definitely increase sales. With this functionality, customers can add desired products to the list and buy them in the future.
With "Favorite products" your potential customers can mark the products they like and make a purchase for the next time. In doing so, encouraging them to visit your store again and again.
Additional features of Creative Shopify Themes from Zemez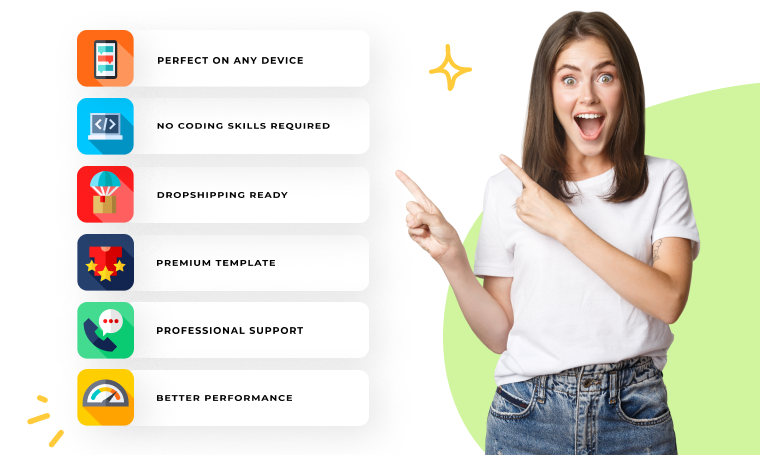 When it comes to creating a website, you need to create convenience for customers and get them interested. Many additional benefits of creative Shopify themes will help with this!
For example, to save your customers and your time, you can create functional page navigation so that customers are sure to find answers to each of their requests.
With Shopify themes you will be able to:
sort products by category and highlight:

novelties;
sales;
the best products;

create visually beautiful content with lots of products photos;
setting up a Contact Form is the best way to introduce yourself to your customers and site visitors. It also helps reassure customers that someone is responding to their complaints and looking at reviews;
take your business to a global level:
set up a multilingual eCommerce site and customers from all over the world can easily buy goods.
multi-currency will also provide a high ranking for your website.
Adaptive design Creative Shopify Themes for real connoisseurs!
Design is the calling card of any website. To interest customers, to increase sales firstly, it is necessary to set up a competent site, using high-functioning features. Secondly, you need to have a beautiful design. Modern design creative Shopify themes created for you!
The bright and stylish colors of a musical instrument store will surely appeal to your music buyers. Delicate shades of beige, which you can customize for the website where you will sell cakes, will accurately convey the exquisite taste of your masterpieces. And an elegant white for a flower store will accentuate the uniqueness of your bouquets.
Place creative and beautiful photos that will attract the attention of buyers. And features like:
Product Image Pop-up;
Grid/List view to attract attention;
product filtering on collection page;
parallax animation effects.
The original function "Blog" will be a bright addition to your online store certainly. Start a blog and your customers will know about interesting novelties, useful tips, and news of the store. In such a way you can interest the client each time to come on a site and read interesting information.
Also, we want to point out that these Creative Shopify themes feature:
SEO friendliness for customer engagement and sales growing;
cross-functionality for multipurpose eCommerce projects;
LTR & RTL for support of all worldwide languages;
Dropshipping ready;
mobile compatibility for shopping from any device.
Create a website suitable for any device and screen size, whether it's big or small, mobile or desktop. Desktop or mobile users will benefit from responsive online shopping.
Professional technical support is always in touch!
If you have any questions or problems, then always contact our experts. Our professional staff at any time will help you make the truly best website.
And don't doubt your choice! After all, this creative Shopify themes package is the best theme for eCommerce in the opinion of many businessmen, who have already tried out the theme from Zemez.