HTML5 The Future of The Web Technology
What makes HTML5 the future of the Web? It is undoubtedly a new standard of web development that revolutionized how websites look and function. As a hypertext markup language, HTML became the foundation of the Internet as we know it. The fifth version of this constantly evolving Web standard introduced more possibilities for both users and web developers. This is just one of the reasons why HTML5 has been implemented globally. Also, it introduced better adaptability and improved the core functionality of HTML. This allowed developers to improve the responsiveness and stability of their websites.
As you might have guessed, in today's article we are going to talk about HTML5. First and foremost, we will discuss why it is considered the future of web technology. Also, you'll learn how the latest version of HTML helps developers in creating complex and feature-rich websites. We'll also describe in detail the advantages offered by this markup language. Furthermore, additional information about the usage of HTML5 in web development will be provided. And for those of our readers looking for reliable & modern HTML5 website templates, we have also prepared a top-3 list of multipurpose web design solutions. But first, let's learn what HTML5 is and what it includes.
HTML5: A New Version of Well-Known Markup Language
HTML5 is the latest version of Hypertext Markup Language, as we mentioned above. It helps to make any website well-structured and easy to comprehend. This version of HTML was initially developed to provide necessary functionality without using plugins. This includes animation, support of images, and video/audio files. Also, HTML5 is widely used to develop complex web applications for various purposes. The standard of HTML5 is constantly evolving introducing more & more advantages for developers, designers, and regular users. From providing websites with geolocation data to optimizing loading times, there's a lot you can do with this web technology. This alone makes HTML5 the future of web design & development.
However, modern websites don't rely solely on HTML5. Without such technologies as JavaScript and CSS, it would be impossible to imagine any modern website. While HTML plays an important role in shaping the layout of a site, CSS, for example, can make it look attractive. The third version of Cascading Style Sheets provided more possibilities for developers. In combination with the HTML5 benefits, creating even a complex website is a lot easier than before. Lastly, JavaScript provides extra functionality. From customizable forms to interactive sliders, adding it is extremely beneficial even to a simple landing page.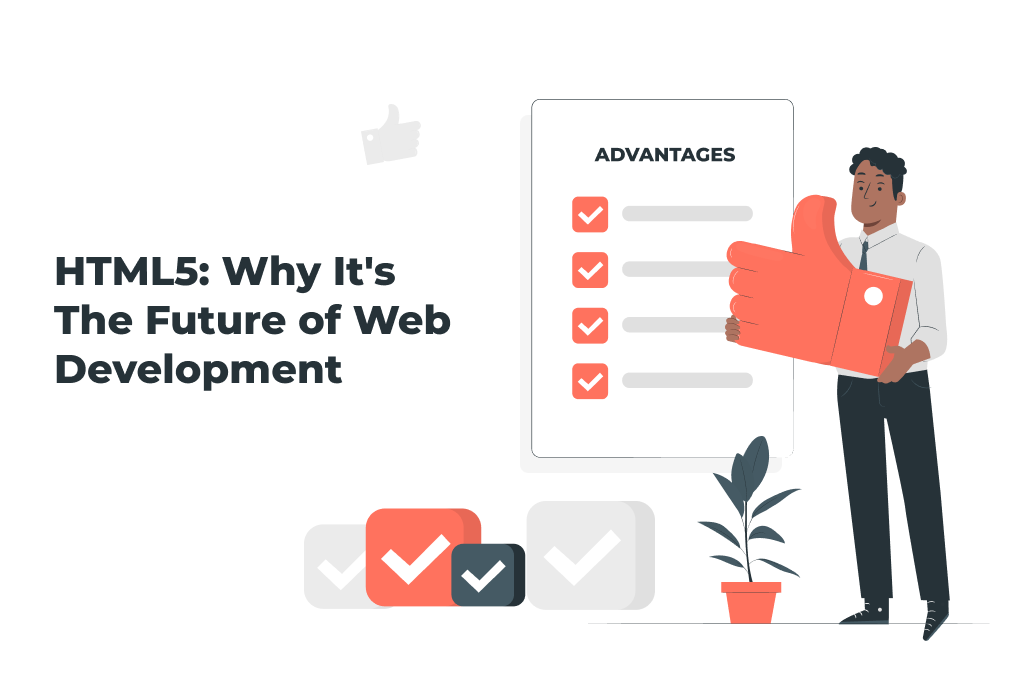 HTML5: Why It's The Future of Web Development
It is obvious that with HTML5 the future of web technologies was revolutionized. Due to its enhancements and huge functional improvements, this version of markup language can now be applied in more than just web development. From games to web apps and sites that support offline browsing, integrating HTML5 into your next project is important for its success. If you are a developer, most likely, you have already experienced the benefits of the latest markup language revision. However, even regular users can get an improved experience from visiting HTML5 websites. Here are some of the features that are useful to both developers and users:
Improved code & semantics;
Better designed forms;
Rich media elements support (audio & video);
Geolocation;
Client-side database.
These and other advantages make content and web pages easily accessible to users on various platforms and devices. Due to the cleaner code, it is easier for developers to create and modify websites of any complexity. Furthermore, with HTML5 the dependency on third-party plugins and scripts can be reduced. In return, it speeds up your website. As more features are available with HTML5, developers finally can create web projects of unprecedented scale and detail. What's more important is that you don't have to rely on unstable scripts for your website to run smoothly.
What Features & Advantages HTML5 Offers
Above we described a few basic features of HTML5 and the additional support it provides. Now, let's take a close look at why this technology is so important for web developers. Alongside the abovementioned additions, there is more to HTML5 as the basis of a modern website. First of all, with an updated markup language, you get improved header and footer tags. They were updated to contain more related elements, such as a logo, copyright, and contact information. Moreover, the newest version of HTML supports the implementation of vector graphics. Being scalable and fully editable through the code, this feature directly influenced the EOL of Flash technology.
Other than that, HTML5 provides better navigation for your website. This is possible thanks to the <nav> tag that defines navigational elements. Placeholders were also added with the fifth version of this markup language. They act as hints for website visitors to provide the necessary information. Also, if you want to show the progress of a certain task happening on your website, progress tags can surely help you. Additionally, JavaScript can be combined with this tag to offer even better functionality. But what's more important is the accessibility of this technology. With it, modern websites can be accessible to all people, including those with disabilities (i.e. color blind). This alone makes HTML5 the future of the web.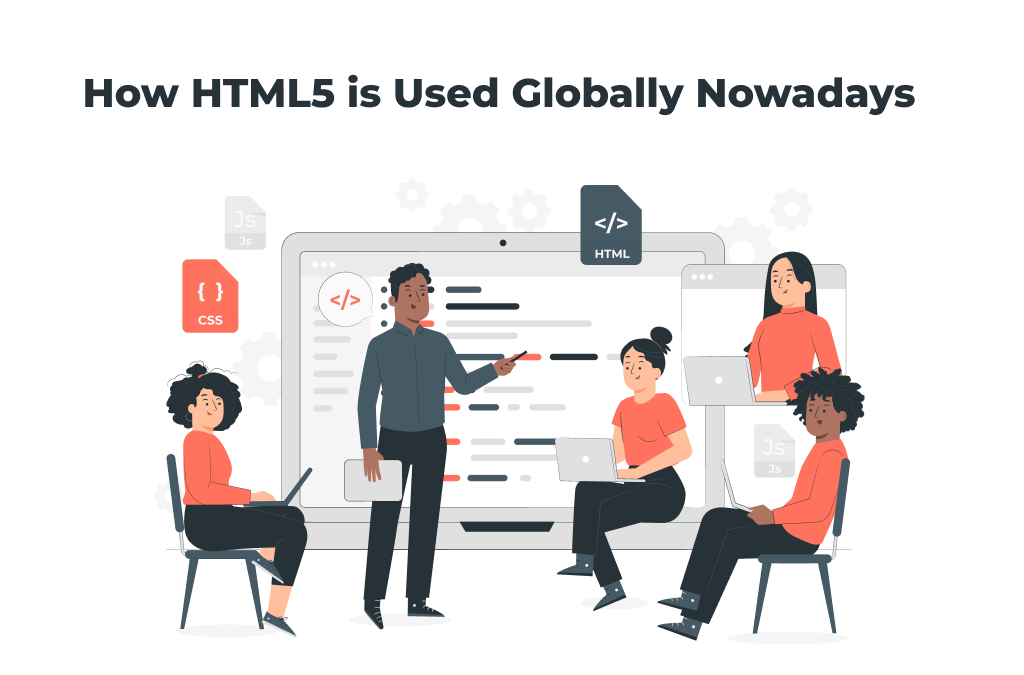 How HTML5 is Used Globally Nowadays
Since its global introduction in 2014, HTML5 became an important part of the Internet. Today almost all websites are based on it. This is especially true for the online presence of international enterprises and entertainment businesses. For example, all projects and web apps of Google use HTML5. Also, such websites like Twitch, Netflix, and Amazon run on this markup language. A modern website has to combine multiple innovative technologies to strive and succeed. This includes a variety of frameworks, plugins, and scripts. However, with HTML5 developers don't have to use a load of these plugins. This is possible due to the core integration of basic & necessary features we described above. They also make HTML5 the future of the Internet.
But how exactly do websites use HTML5? This is a complex question, as every developer sees different opportunities in this technology. Cleaner code and better semantics, as mentioned above, is a huge step forward for the whole industry. And with new frameworks and scripts regularly created and updated, developers have access to more great features. Also, they don't require excessive coding and can often be quickly integrated. A great example of a framework that extends the functionality of HTML5 is Bootstrap 5. It is used on most websites to provide responsiveness and simplify customization. HTML websites developed by our team also use this framework. We'll take a closer look at such templates below.
Modern HTML5 Themes and Templates
As we've already learned, HTML5 gives developers lots of opportunities. But how can regular users benefit from it? One of the most obvious ways is to use HTML5 website templates. They are ready-made and pre-designed solutions, tailored for various purposes. The web design solutions provided by Zemez are based on the latest version of HTML. Also, they use technologies that are well-tested and reliable. For example, every website template we develop includes the integrated Bootstrap 5 framework. It helps to make a website or landing page easily customizable and mobile-friendly.
With various templates being advertised, it may be hard to find the right one. We have prepared a list of HTML5 solutions created by our team that will help you create a modern website. Regardless of what your business or organization works with, it's worth taking a look at our solutions. While below we only listed 3 of the latest HTML5 website templates, there are more available as a part of the Zemez portfolio. Moreover, all the templates and website themes include detailed documentation and professional support for our customers. These solutions perfectly display why we consider HTML5 the future of the web.
Gamega – eSports and Cyber Gaming HTML Template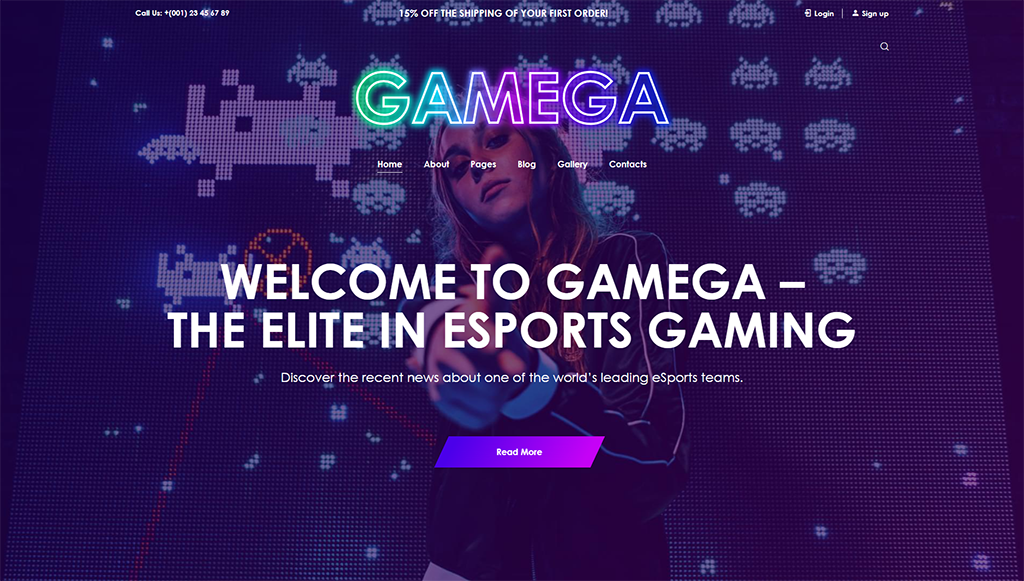 Being one of our freshly designed templates, Gamega is a perfect solution for gaming organizations. The flexibility of Bootstrap and the reliability of HTML5 add a lot to this solution. This cyber gaming template provides everything necessary for your website. From colorful design to detailed layout, you get a lot with Gamega. Its multiple pre-designed sections can help any cyber gaming organization. This template was developed with gamers and streamers in mind so that you could easily reach your target audience. Furthermore, its numerous pages are perfectly suited for describing your organization. Here are some HTML5 pages of this template worth mentioning:
About Us;
Blog;
Our Team;
Gallery;
Contacts.
Aside from these advantages, there is a lot more our eSports and cyber gaming HTML template can offer. For example, it provides incredible customization possibilities. With an extensive set of UI elements and sections, Gamega can be modified however you like. Whether you need a dedicated website for a streamer or a cyber sports team, this HTML5 website template is just what you need. Also, with such features as sliders, forms, and galleries, you can easily make your website look stunning and feature-rich. And of course, you'll get all the major functionality that makes HTML5 the future of the web.
Town Chapel – Native Church HTML5 Template for Nonprofit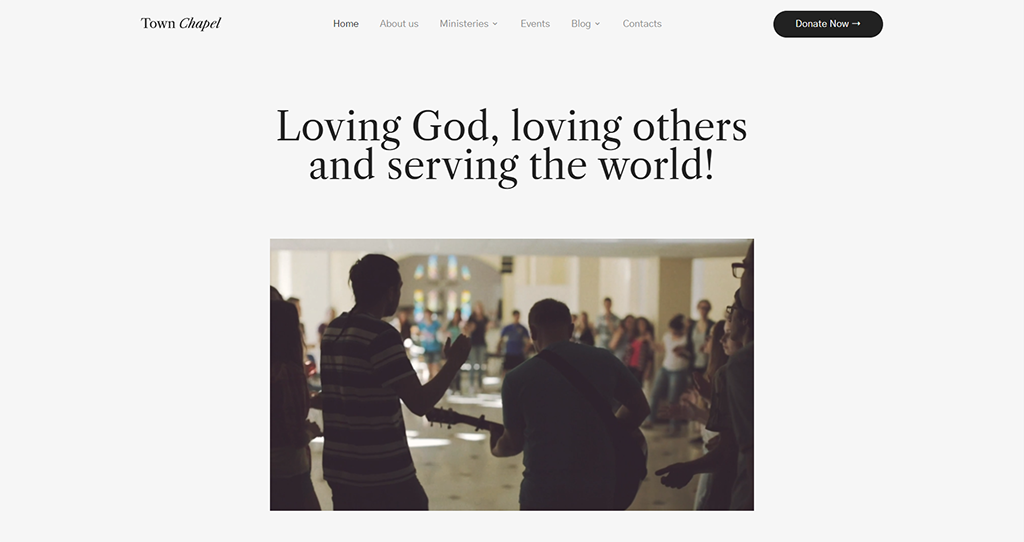 The Town Chapel is a recommended solution when you need a responsive church website. It also is suitable for charitable and religious organizations. This native church HTML5 template can help you establish the online presence you need. With its clean and spacious structure, it will be easy to build a website that your visitors will appreciate. From its content to its features, the Town Chapel HTML template can provide your website with everything required to attract more visitors to your church or charity.
Alongside these benefits, the solution we offer also provides a wide range of functional advantages. Just like any other modern template, it supports audio and video integration. These features show why people consider HTML5 the future of the web industry. This is useful if you plan to post sermons on your site. Also, you can describe your church's ministries and post news about upcoming events. A well-designed website template is a great way to start promoting your organization. It can help to establish your online reputation positively. Also, a website built with this solution will easily attract new parishioners and donations.
Holity – HTML5 Donate Website Template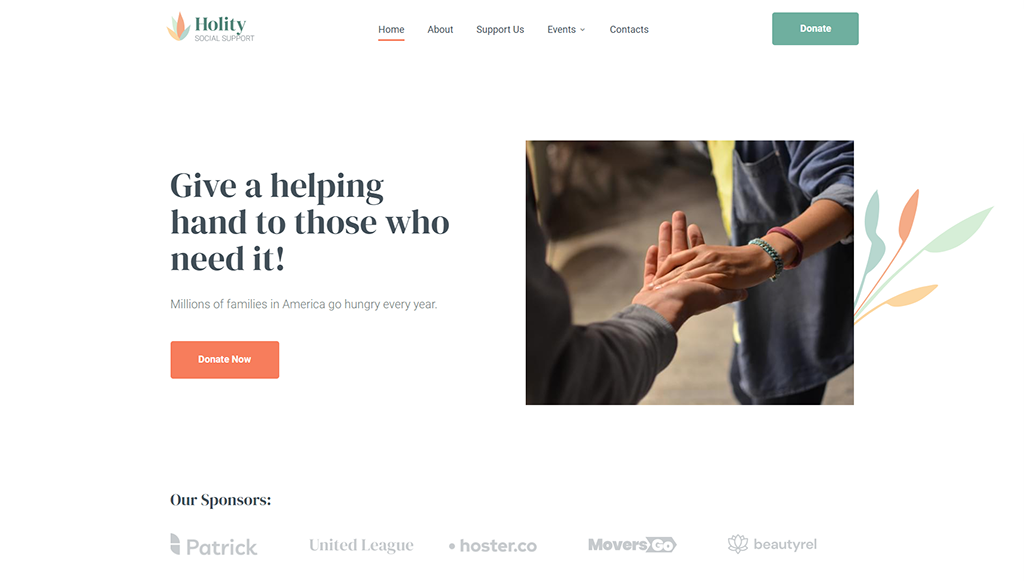 The last template we'd like to tell you about is Holity. This is an HTML5 donate website template, which is a great choice for charities. You may want to build an event webpage or establish a long-term website. Whatever you need, this solution can help you. It meets all the needs of modern charitable organizations. From describing your organization's story to listing campaigns, Holity has it all. It offers a variety of pre-designed sections and blocks. With these benefits, our HTML5 template provides a wide range of features. They make HTML5 the future of the web. Both website owners and developers will find this template useful. For example, it offers a great selection of ready-made pages:
About;
Support Us;
Events;
Contacts;
Donate.
This template is also a great fit for non-commercial organizations. Its detailed layout allows for managing all types of content. Besides, it includes a varied set of UI elements. Alongside the Bootstrap framework, they can be used for effective customization. With sliders and CSS3 animations, Holity is a great basis for a modern HTML5 website. Moreover, it includes informative content sections. They can be easily edited to create a website that meets your needs.
HTML5 as The Future of The Web: Conclusion
We hope this guide to the latest version of HTML helped you understand why we consider HTML5 the future of the web. The provided selection of templates can also be useful for your current online projects. However, if you wish to know more about web technologies, we invite you to our website. It contains lots of great solutions suitable for any website you may be working on.
To know more about web design and online marketing, feel free to visit our blog. There we post regular news and tips for developers and website owners. From reviews of our solutions to SEO recommendations, there's always something interesting to read. But if you prefer to get news from social networks, we recommend following our pages on Facebook and Instagram. Zemez is a perfect place to be informed about the world of the web. Even if you are just getting started, our publications will be of great assistance.