Nowadays, everyone can use WordPress CMS and add page builder plugins like Elementor, which will help to create a website in the shortest possible time without coding.
While allowing to edit page templates in the free version, Elementor Pro provides even more cool features, like extra widgets and an ability to edit theme part templates, like headers and footers, use popups, etc.
Even if you're a skilled developer, sometimes you don't have time to create headers and footers from scratch, and that's where theme parts come in handy.
With Elementor Pro kits, you get a full set of 5 pages, dedicated to a specific topic, along with the header, footer, popup templates, and even a 404-page template.
The uniqueness of Elementor Pro is that it allows you not only to create static pages but also to create a dynamic blog based on an archive page, and build single post page templates.
It's amazing how easy you can cope with creating a website regardless of which theme you're using, having only Elementor Pro and a pre-designed kit at your disposal.
Zemez team has thought of creating such time-saving kits, that's why we have released 5 unique template sets for Elementor Pro.
Explore the Vast Variety of Elementor Pro Kits
Contestra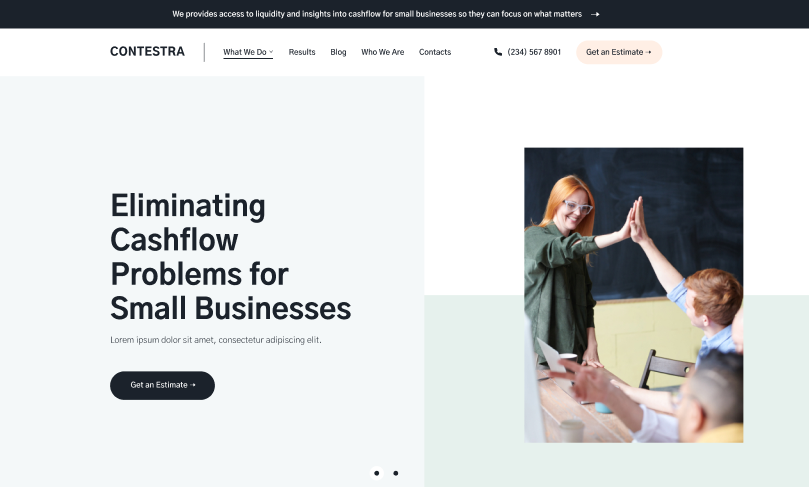 Contestra offers a stylish, clean, and minimalistic presentation that will subtly impress the most demanding audience and keep your site uncluttered and focused on the main points. Contestra is user-friendly enough and uses specially designed pages that provide a complete visual design without programming. This business template for Elementor Pro includes various templates.
You can create and manage powerful popups for your site. You also get fonts that work together naturally, whether within a project or just for inspiration. The header and footer of the document, you can use it to footnotes storage, headers, and other information.
By choosing a pointer and animation for the menu, you can create more than 50 different effects for your frosts and active menu items. Each blockquote can be customized to contain the content of the quote, the author's name, and the "Click to Tweet" button.
Softwaron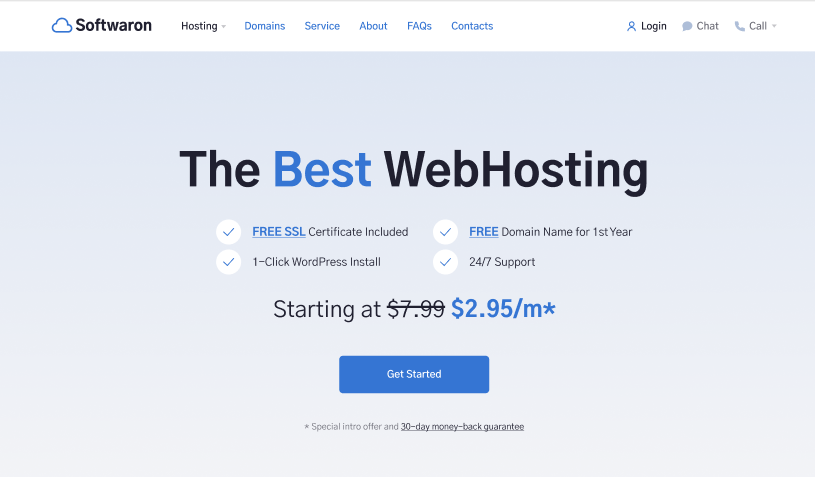 Meet a fully-fledged Elementor Pro kit to build a complete website. Softwaron is an Elementor hosting template made for easy website building with ready-made pages all in place. It will help you quickly run every single part of your website.
This Elementor Pro kit is built to catch one's eye with animation effects on hover. It's also good for showcasing services and pricing plans. Clean minimalistic design serves the purpose of highlighting every important message you want to deliver via your popup or page.
We offer you the opportunity to edit the section and change it to a circle, square, or any other shape. Instead of loading heavy pictures with effects and masks, this method is more useful for page loading speed.
You can use Element Hover, a feature that allows you to easily and visually add free WordPress hover effects to your site.
Advance Accordion for Elementor It has 12+ tabs styles & possible 500+ variations. Support any kind of Elementor templates, possible to create unlimited multi-nesting with various styles. You can choose any color from the color palate&lot of customization options.
Andrew Smith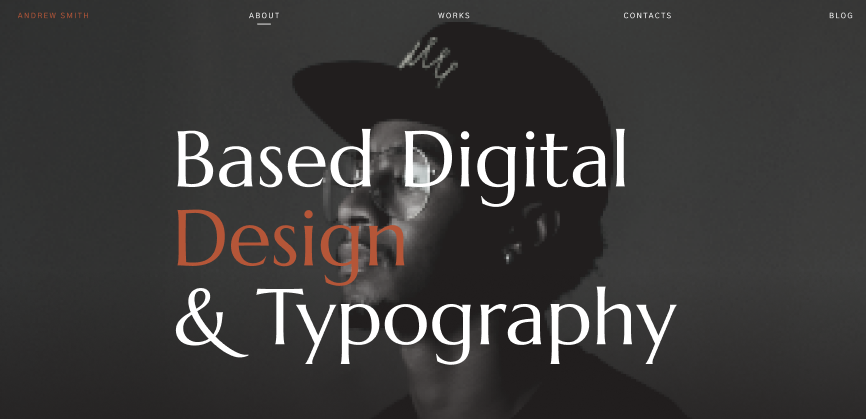 If you have chosen Andrew Smith kit for Elementor Pro, the possibilities of customization are endless now, and you don't need any additional plugins other than Elementor Pro, for expanding the functionality. Andrew Smith Elementor portfolio template will be a great assistant to run the website for photographers.
Each of the single templates can be used with Elementor's Theme Builder and dynamic content, so the same design can be instantly applied to multiple projects with one click.
Befitting an illustration project, this template grants the maximum available space to the visual material. The description text sits neatly.
With this update, you get robust control over typography and spacing for all your Elementor-powered layouts. Setting styles on a global scope, allows you to escape micro design, and embrace macro-control of your Design Systems essential variables. Typography, spacing, and much more.
Dentilic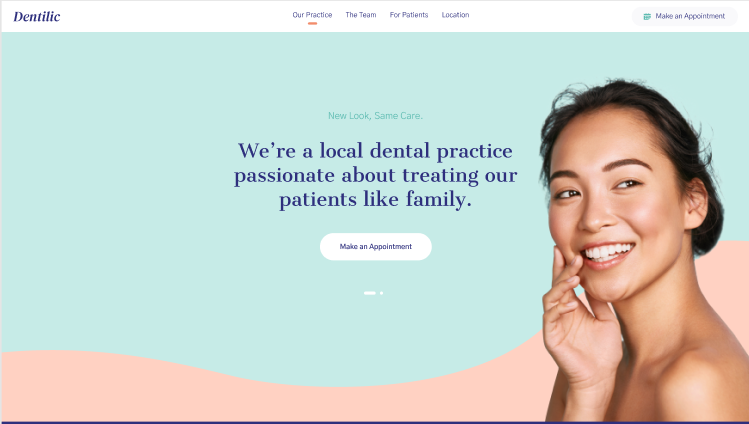 After installing this Elementor medical template kit, you will obtain access to a collection of pages that are designed based on Pro widgets. And, while you may wonder how to use them, check the pre-designed pages and sections of Dentilic. That's how you get incredible functionality for your future WordPress site. Experience a new level in customization of the pages.
You can do a horizontal, vertical, or just drop-down list. Using the table of contents, you can make your articles on the blog page truly readable with the right SEO. It really works, especially in the medical field. Just use the price list, fill it with the contents, and customize according to your requirements. An effective way to increase sales and increase conversions to add a countdown. Choose your style and special layout, decide which skin you need – block or built-in.
Smile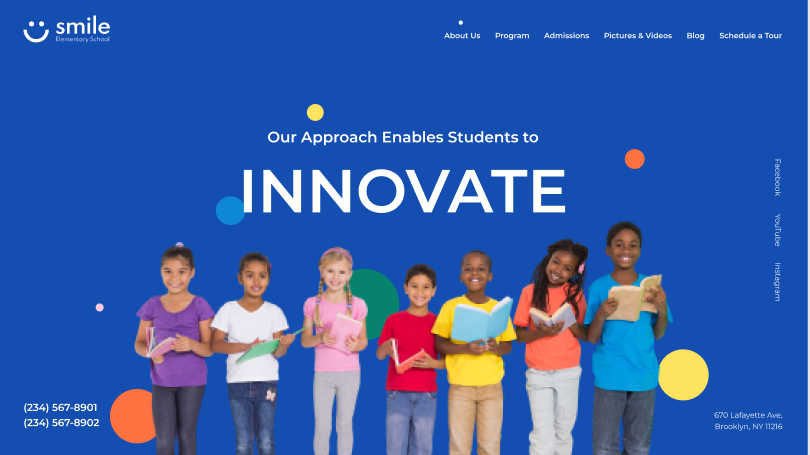 Meet the Elementor education template called Smile, which has eye-catching pages and vivid designs for building an extra functional website. What is special about this kit? Everything is as simple as ABC! It is based on the Elementor PRO, which means you don't need any additional plugins to use its really forceful pages. This is the main reason we have made a kit like this.
Just imagine that you have only one tool at your service that can do everything you want.
Use an additional plugin to create pop-ups on the page, just forget about it. Just create any footer you want immediately after your outstanding plan. Use completely new modules for publishing, such as the author's field, publication comments, publication navigation, and others. More and more font options for pages. Customize your design to your needs.
How to Import and Use the Elementor Pro Kits?
How to create a website using WordPress and Elementor template kits? We will explain how to go through the whole process step by step.
Elementor Template Kits are topical template kits to help you create an entire site with a set of pages and theme part templates. It is flexible enough so that you can adapt them to your needs. Combined with Elementor Pro, these template kits help you get started quickly with every part of your site. They include:
Main pages such as Homepage, etc. – up to 5 items;
Heading;
Footer;
Popup;
Blog archive;
Single post template;
404 page.
Importing an Elementor Template into Your Website
Now you will learn how to use template kits as a basis for important parts of your site. In order to import the Elementor template to your website, follow these steps:
Unzip the package you've received in an email and downloaded to your hard drive, which contains the templates kit.
From the WordPress dashboard, choose Templates > Saved Templates.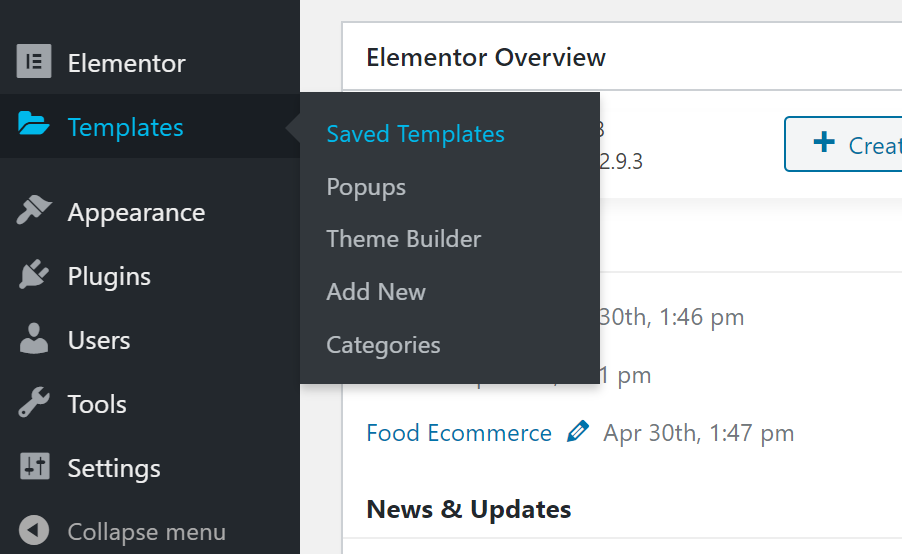 Select the Import Templates button at the top of the page, upload the .json file and click Import Now.

After you import your template, you can now use it as your page.
Now, to add a header template or a footer, you need to navigate to Theme parts.
Templates > Theme Builder >Add New;

Select a template type (headers);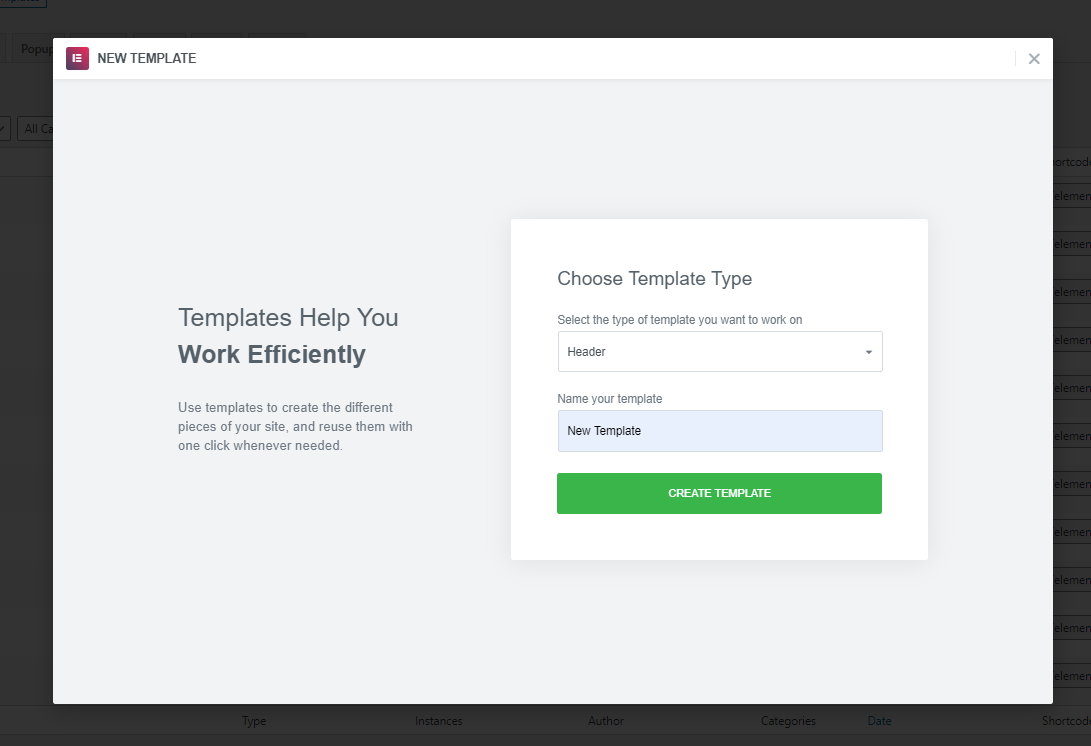 Select from the template library and paste;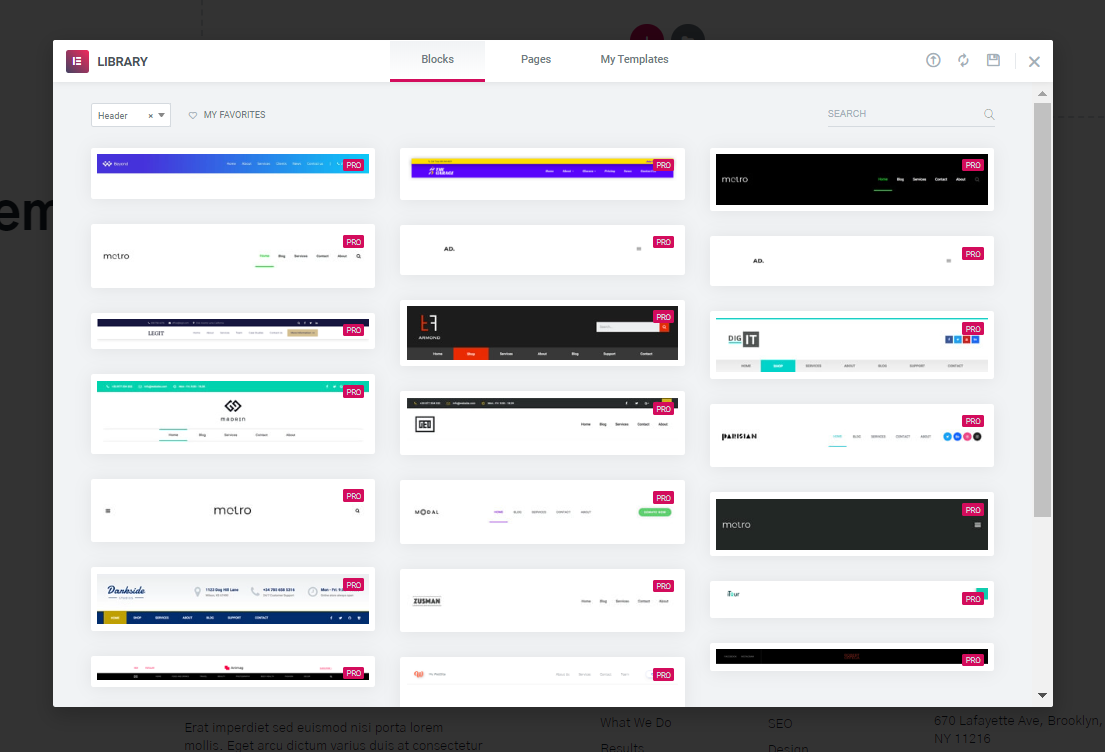 Select headers to preview when editing;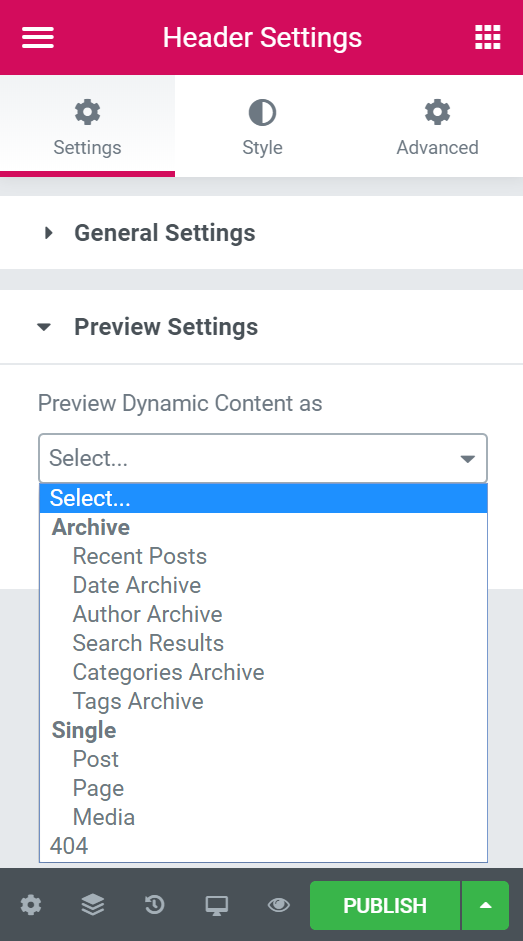 Edit all the necessary elements, then publish and set the display conditions.
That's all! You told you about the incredible 5 topics that use Elementor's template kits. And you know how to set up template kits, you are ready to edit the content on the pages to include all your own information.