What one looks for when searching for a perfect construction multipurpose WordPress theme? As solid as a rock, well-equipped with all innovative plugins, built with a top-notch page editor, and easy to use and work with.

Everything mentioned above one can tell about the BuildWall construction multipurpose WordPress theme. It possesses everything one might need when creating a website dedicated to different construction topics.
The construction multipurpose WordPress theme is surely what you're looking for! A bunch of attractive templates all gathered in one place! The theme includes eleven unique skins for various construction topics. Each topic, whether it's an architect template or an eco-house construction. It helps you create a multifunctional and solid construction basis for your business.
It has 18 different skins for various construction services and matters, each with a unique design and spiced up with sliders, animated boxes, and mega menus. You can also find in its arsenal 50 custom pages with magnificent design and clean typography.
18 Classy Skins in Construction Multipurpose WordPress Theme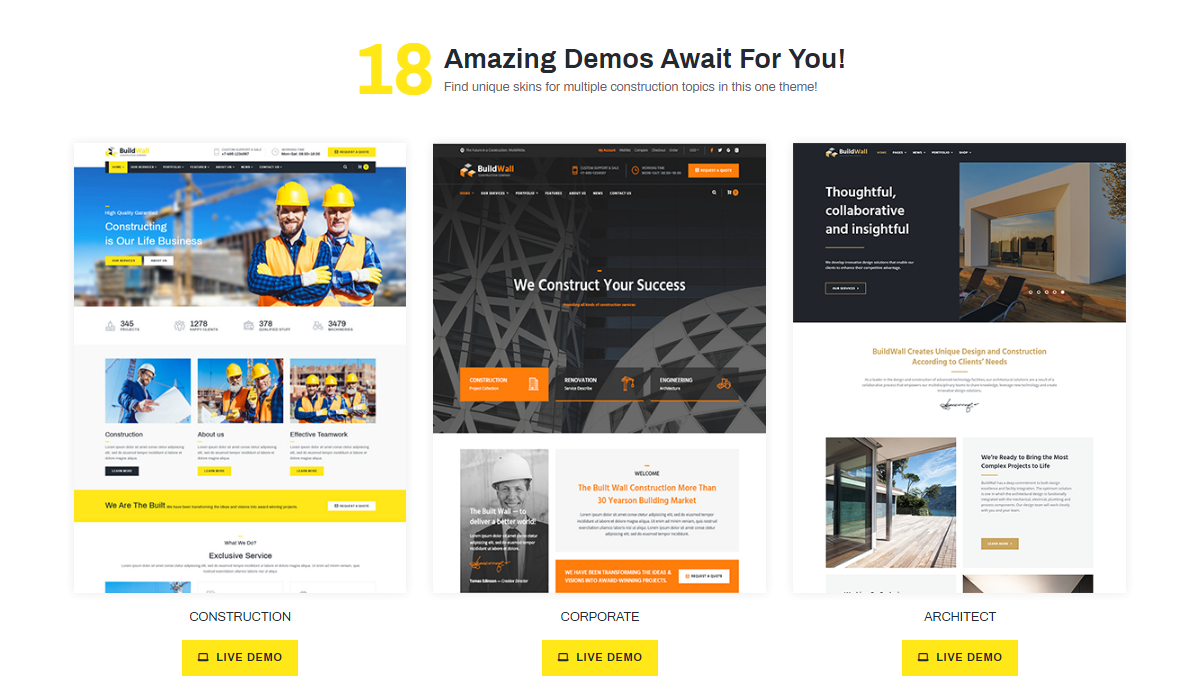 BuildWall is multipurpose in the most traditional meaning. It is a template that won't leave you indifferent if you're interested in creating a website on one of the multiple construction topics. It possesses 18 fully-fledged skins, and there are still more skins to come in the future updates.
Let's take a closer look at the most popular BuildWall templates!
Construction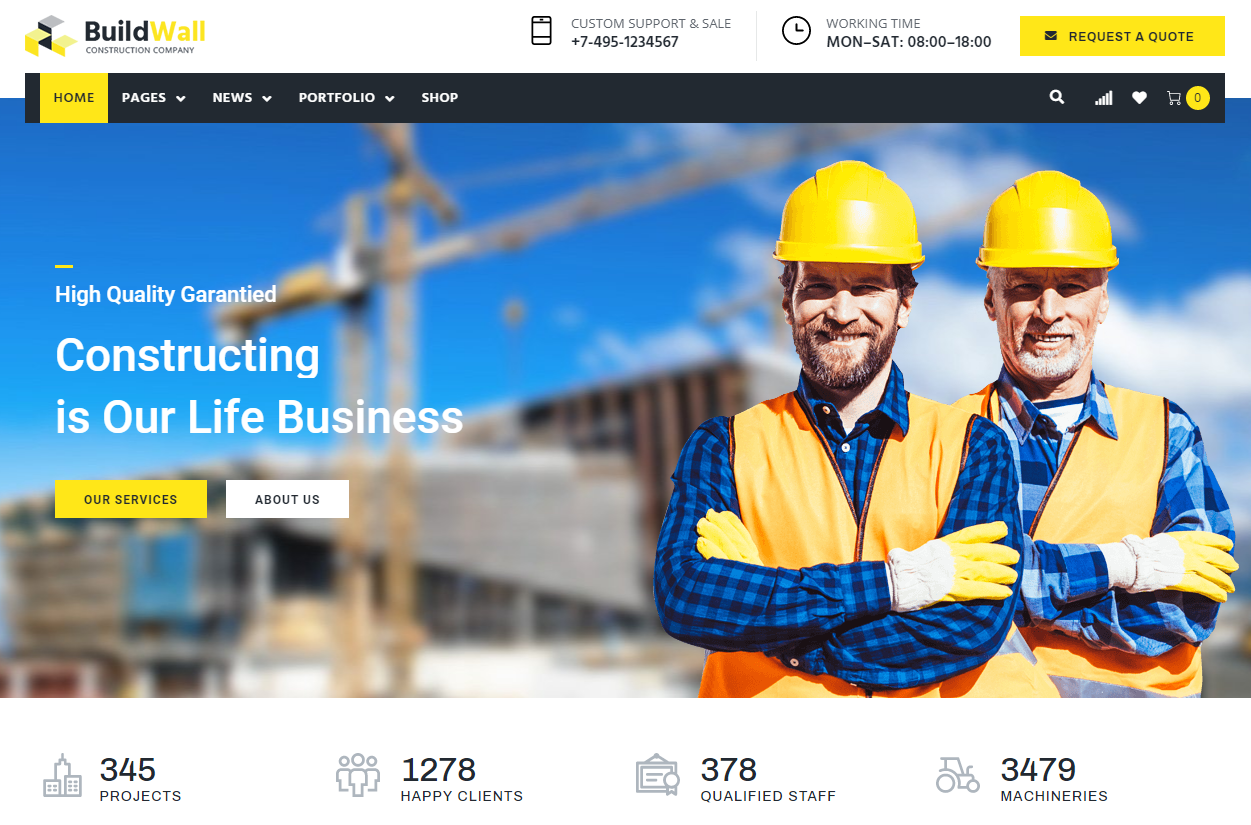 Construction is the main skin of the construction multipurpose WordPress theme, which has everything one might need when creating a construction company website offering services and showcasing the most important projects and pricing plans. Also, enjoy the stylish design combined with top-notch functionality while working with it!
Road Construction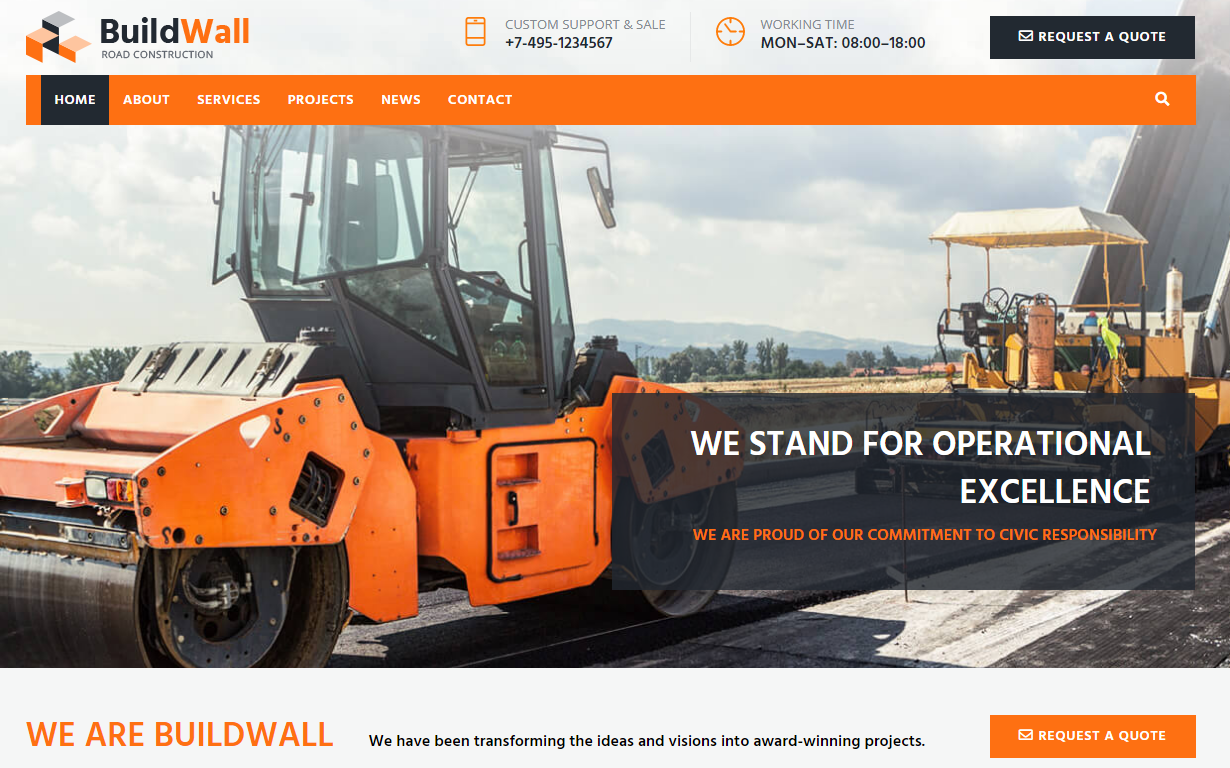 Enjoyable layouts with neatly looking projects and testimonials are wrapped all together in this outstanding Road Construction skin, cut specifically for the companies which are involved in road construction, maintenance, and renovation.
Architect Template for Construction Multipurpose WordPress Theme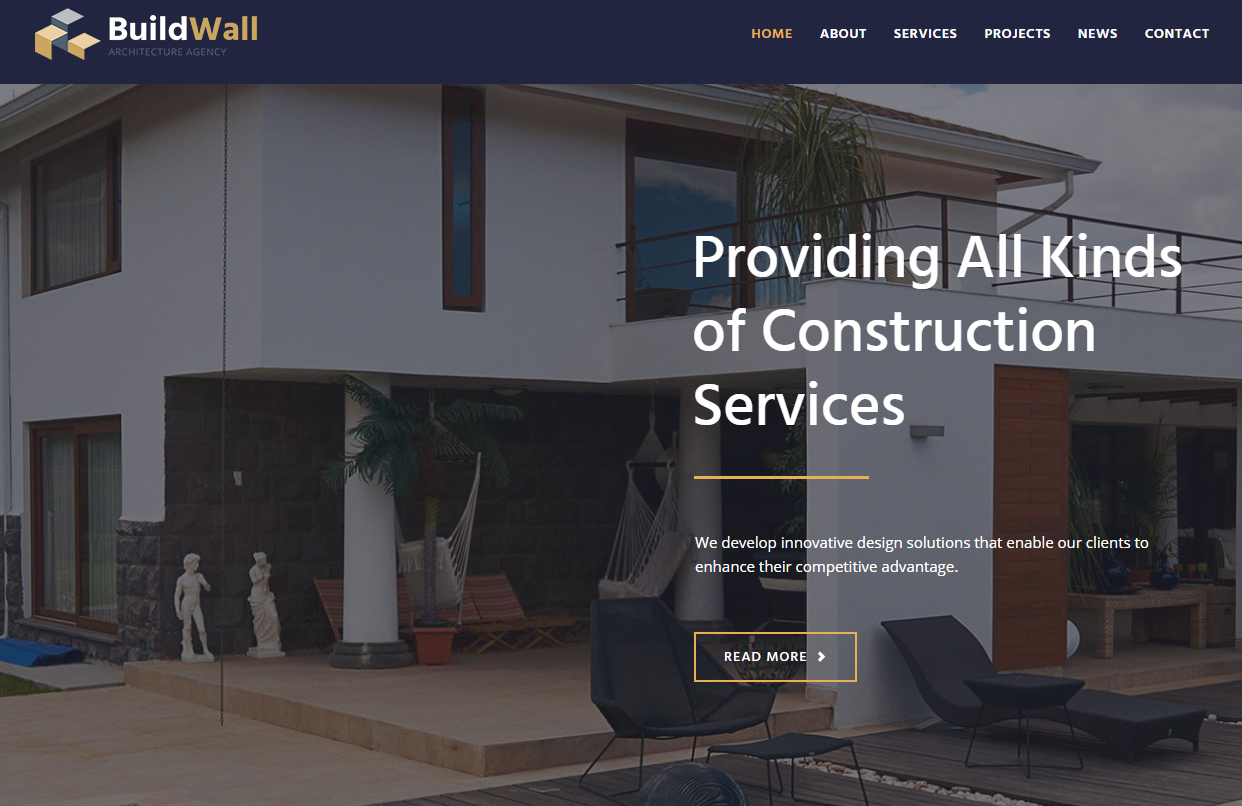 Whenever you're facing the task of creating a website and promoting your architecture business all over the web, Architect skin will aid you at every turn, making it easy to show your portfolio in the form of attractive sliders, carousels, display the specific services and represent the team members.
Business skin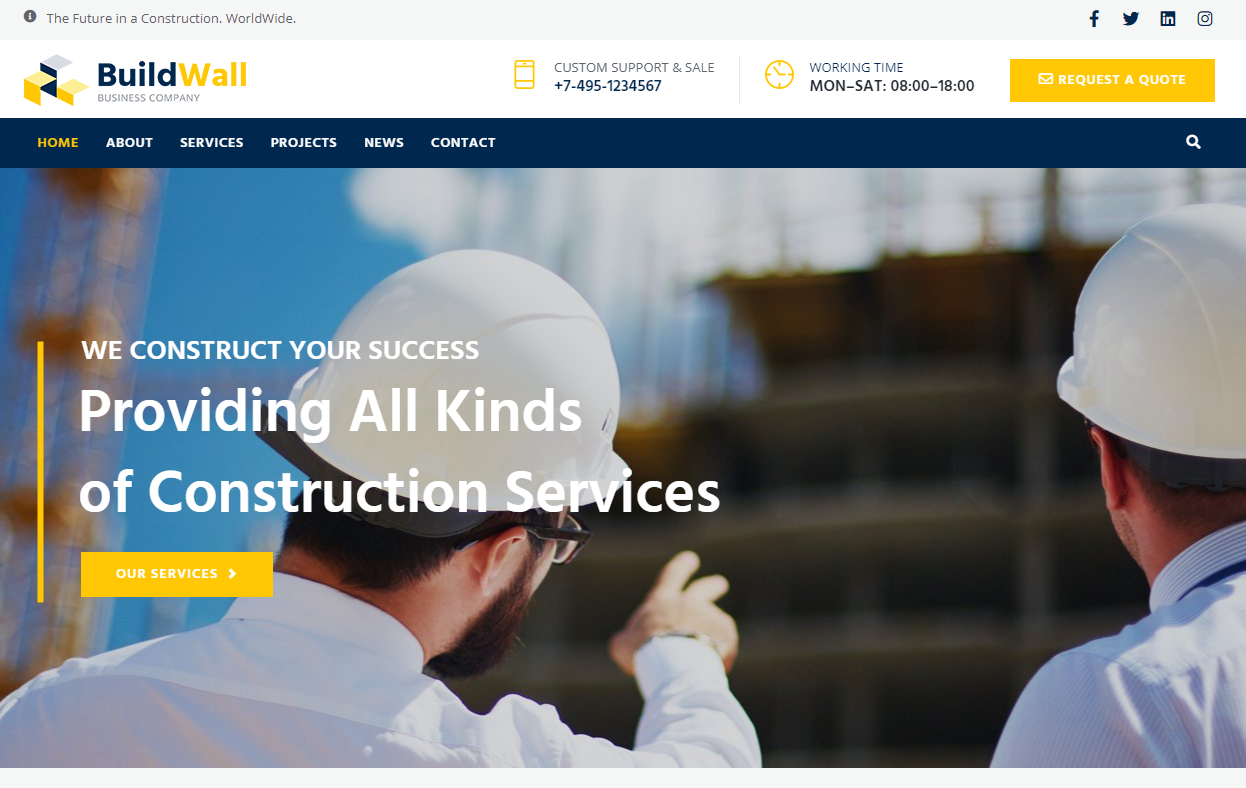 Are you currently involved in constructing your success and want to create a construction business website? If this is the case, you might find useful Business skin, which contains everything you might think of when launching a website dedicated to these matters!
Construction Multipurpose WordPress Theme – Corporate template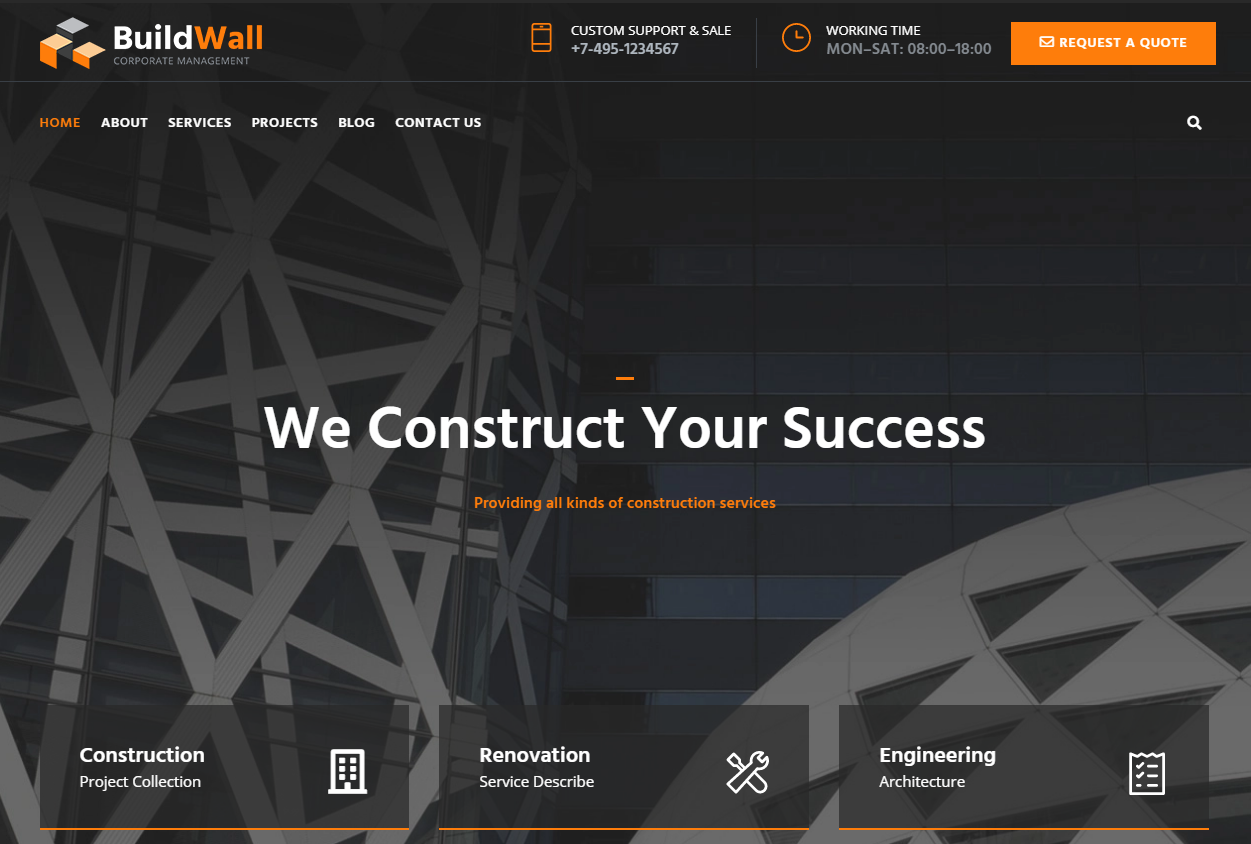 Represent your company in the best light, capture your prospects' attention and become more trustworthy with a fully-fledged Corporate skin.  This skin rocks when it comes to displaying projects, testimonials, and team members in the most classy and delicious forms.
House Lifting & Moving skin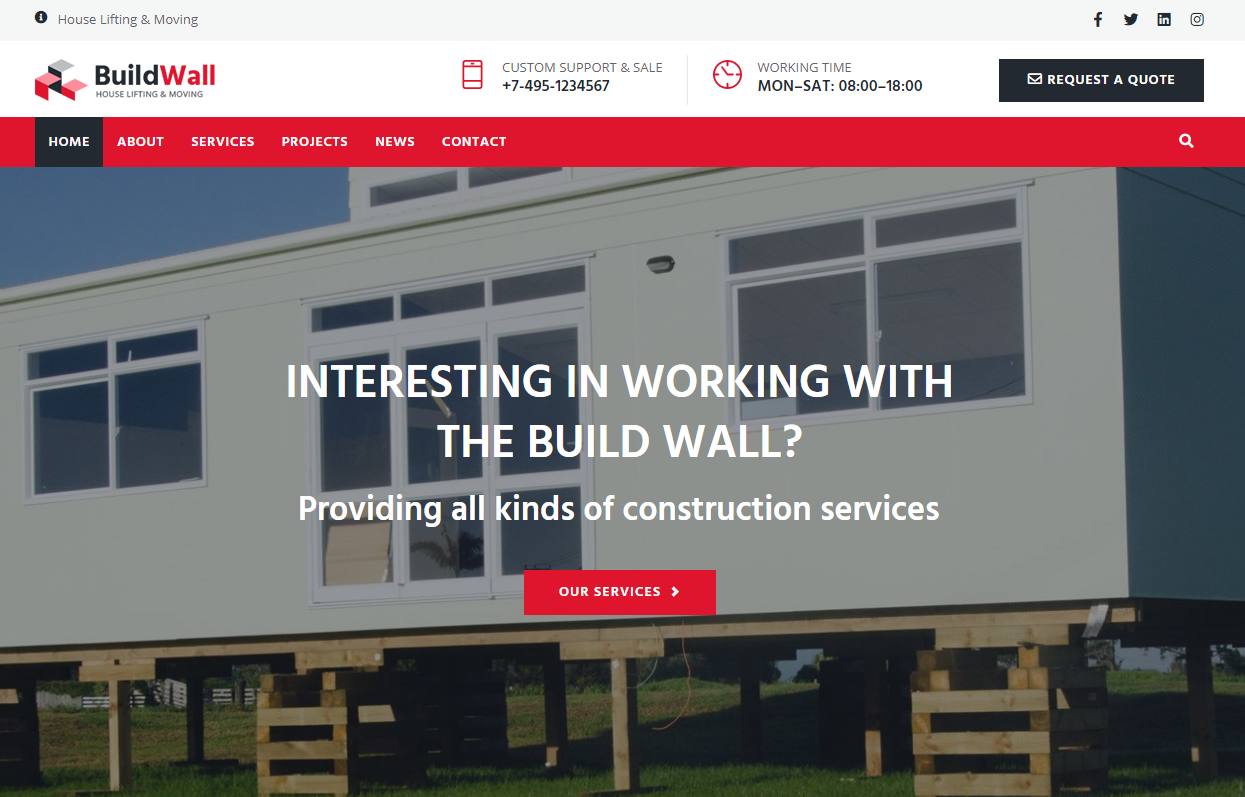 House Lifting & Moving is a truly vibrant skin, rich in style and abundant in content blocks. It allows representing the most valuable benefits of your house moving services engaging prospects to contact you and make the important decisions in a matter of minutes.
Interior Design Skin in Construction Multipurpose WordPress Theme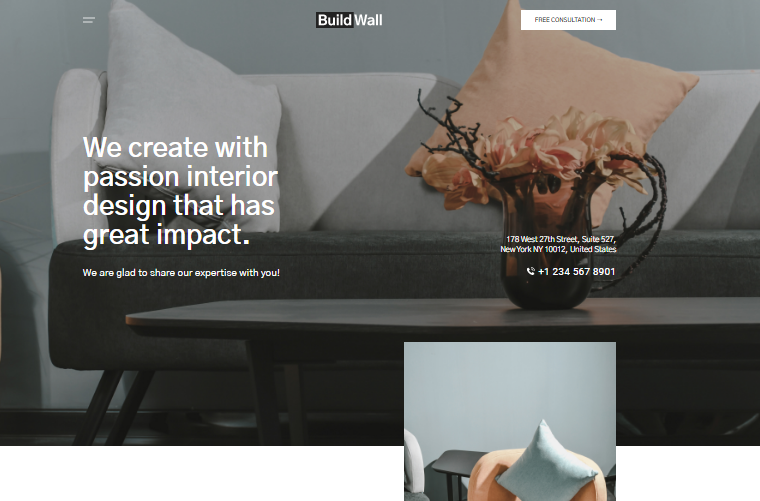 In case you are interested in interior design and your business is related to this sphere, the GoodLiving template is a perfect solution. There you will find enough sections for representing your projects in different ways and loads of widgets from the Elementor plugin. Use the dynamic testimonials, extensive Blog page, also multiple elements that help you to showcase the potential of your company. Explore the power of construction multipurpose WordPress theme with the interior design template. Believe it, it's worth this! 
Furniture Skin for C
onstruction Multipurpose WordPress Theme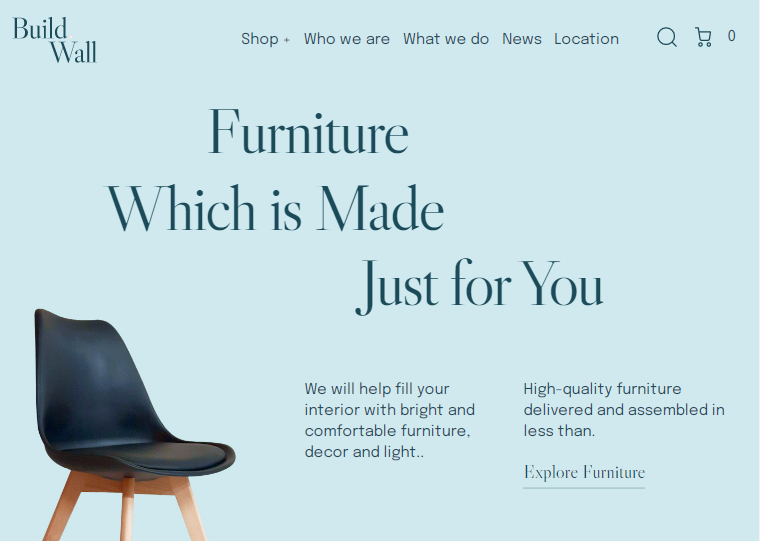 Meet a newbie in our Buildwall construction multipurpose WordPress theme collection for selling furniture. This template is built on the Elementor page builder and WooCommerce plugin to let you sell the products in the simplest way. Your online store will contain a Megamenu with various options to display the latest banners with discounts or best sellers. Also, get the product page and single product page to showcase the whole set of items you have and provide each of them with the peculiar description and images.
Cheer up the customers with the convenient shopping cart and so desired wishlist to remember the favorites. Draw your attention to the colors of the design of the Furniture skin. Light blue and white are the perfect assistants to keep the clients on the website. So, if you need to create an online store to sell furniture without any effort, try the Buildwall theme with the Furniture template inside.
Keep It Simple with Elementor
Designed with the help of the Elementor plugin and a collection of robust add-ons, BuildWall is easy to edit and customize. All the blocks and sections are clear and adaptable. You are able to change different designs for nearly every page. Create your content without a line of code and customize styles in no time! Simply drag the content and drop it on your page.
And what is the best about BuildWall, is that it comes with a huge set of addons for Elementor live page builder. Extensions such as JetElements and JetMenu, both of which you get for free when buying BuildWall.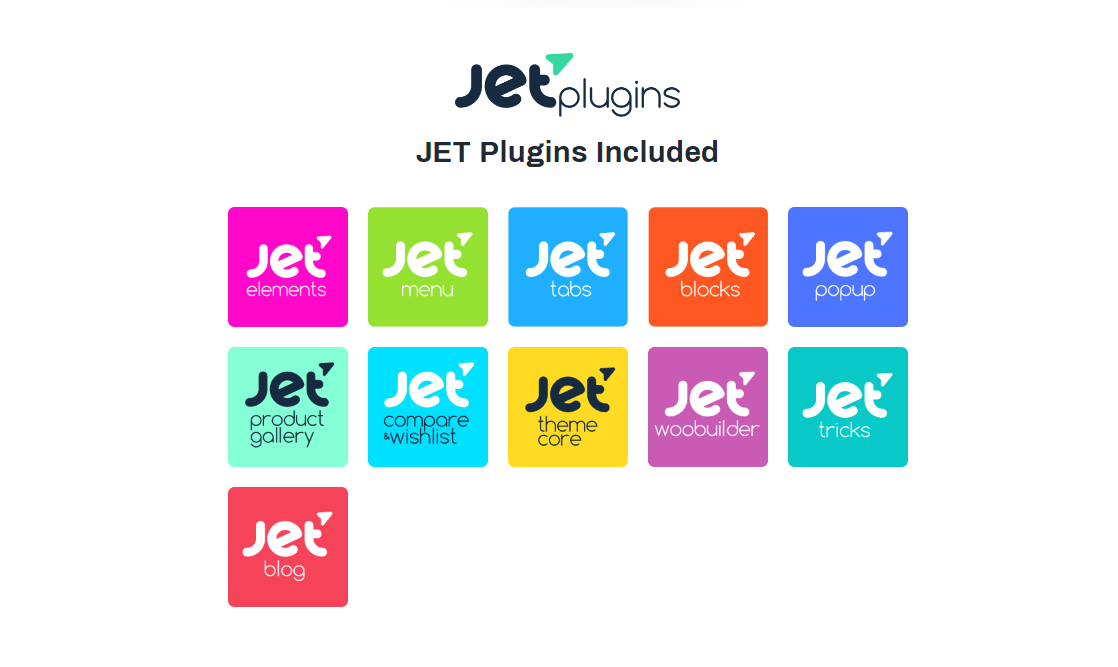 JetElements will become invaluable in creating image layouts, post carousels and sliders, brands, and animated boxes. These are only several widgets from the huge list of approximately 30 unique modules that would be within your reach.
JetMenu is another huge asset, allowing you to create mega menus in a simple drag-n-drop way using Elementor and JetElements widgets.
To cut a long story short, the theme gives you a smooth site-building process. The installation carries out in a matter of clicks. What is more, the theme can be used mot only for the promotion of your services. Use it as an online store as well! With the WooCommerce plugin on board, you are able to sell various kinds of building equipment and uniform. Sell cost-effective and wisely with built-in e-store options!
Stylish Headers and Footers with Construction Multipurpose WordPress Theme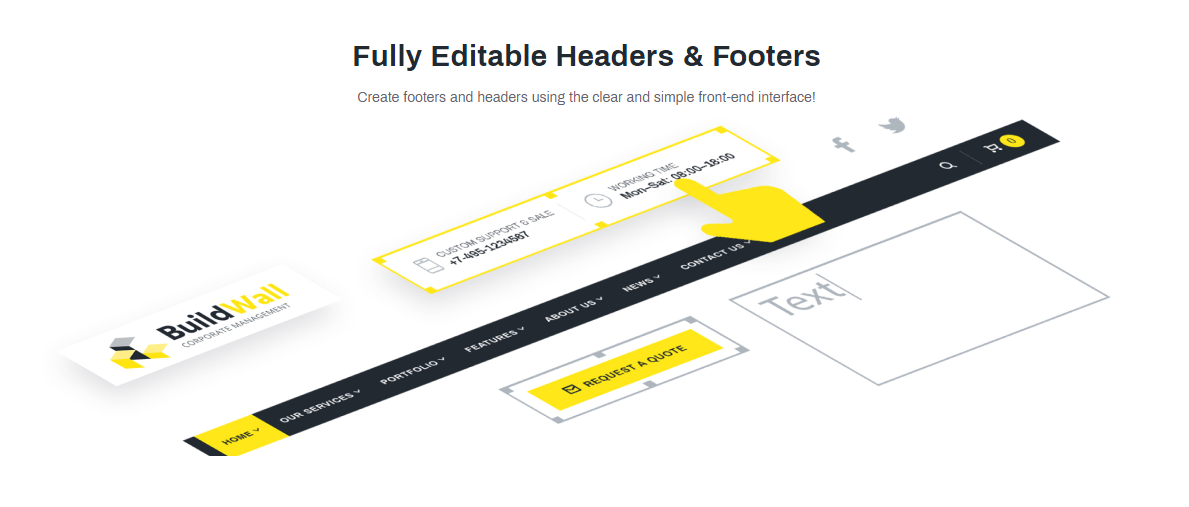 What makes one site different from the other, what makes its appearance unique and recognizable? Of course, there are many things, but one of the most important ones is the website's headers and footers. With BuildWall you get 7 totally flawless headers and 3 amazing footers that will make your webpage's appearance really stylish.
BuildWall is one of the most impressive multipurpose construction themes, created specifically to cover all topics related to the field of construction and building. It can be the perfect choice for everyone who wants to create an attractive and stylish website loaded with functionality. With multiple skins and Elementor live page builder on board, it will be really easy to work with and make the process of turning it up to your needs as easy as 1-2-3!