Pets and their care are a special topic, that will always be popular. Of course, you can't do without a website. We will devote today's review to various best pet templates for eCommerce. All the topics that we will present below are somehow related to pets. They are made with such warmth and love that they can attract the attention of even those who consider themselves absolutely indifferent to animals.
Templates will be useful to you if:
1. You want to sell animal goods.
2. You train dogs and want to expand your business.
3. Your business is somehow connected with animals (treatment, animal care, etc.).
These best pet templates for eCommerce are created by the best specialists so that in the future you can simply set the topic, change the data. For example, install only real photos, write real phones and real addresses. It is very important for us that the creation of animal sites for you is a good start to the business.
A variety of high-quality, professionally executed by designers and web studios of ready-made templates, allows you to satisfy any request, even the most demanding client. Because such layouts are fully ready to work with any CMS and meet all requirements as much as possible. The cost of such a site depends only on its functionality. However, regardless of the cost, all the provided templates are made high-quality and reliable.
So, if you have been thinking about creating your site for a long time or wanted to update your old resource, stop putting it off! Creating a wildlife site will help other people find information about you and your company, so start now!
The Best Modern Templates for the Website About Animals
Pet shops remain a highly profitable business, as they are in high demand among animal owners. Cats and dogs become real friends for us and are equated with family members. Each responsible owner takes care of the well-being of his pet, monitors his condition, and seeks to please. To solve such problems, the best pet templates for eCommerce offer an extensive range of products for a variety of animals. As a rule, in animal stores, the following are available: feed, treats, and vitamins recommended by veterinarians, as well as fillers, toys, cages, claws, accessories, and other goods.
According to statistics, most consumers order goods for pets online. Online stores significantly simplify the process of selecting and ordering the right goods for customers. So, the user can get acquainted with the presented assortment and prices, compare offers, read the detailed product description, find out the manufacturer and find recommendations from other customers.
The best pet templates for eCommerce are interesting not only to the owners of pets but also to everyone who plans to make a new friend. If your business is built on wholesale or retail sales of animal products, then a page in the online space will be the easiest way for you to increase sales. We propose to consider several options for colorful creative topics, with the help of which you can create a great site for your business. By applying any of these topics, you can quickly and easily make your own multi-page site or landing.
All topics presented in the overview are convenient and understandable templates. And then we will tell you what opportunities await you here.
LuckyDogs – Pet Care Shop Shopify Theme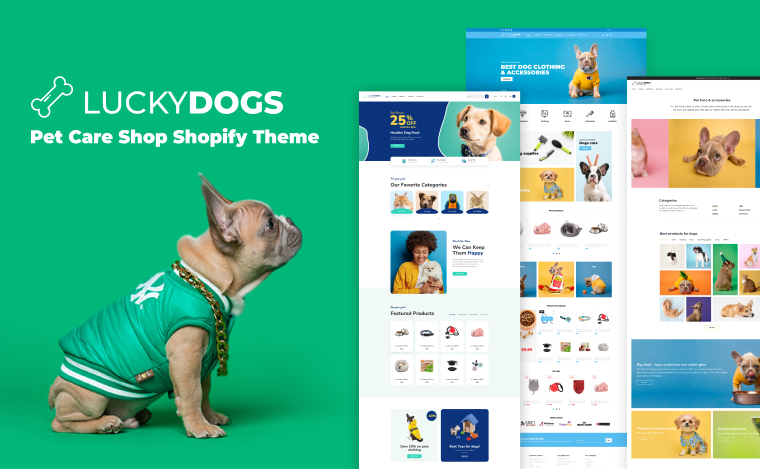 Great modern theme Shopify, which is combined with all modern browsers. Thanks to the best pet template for eCommerce LuckyDogs, you will easily create any website for the advance of pet-shop or services for animals.
The distinctive features of this theme are attractive design, original thematic content, and flexible customization. The template is optimized for display on mobile devices, tablets, laptops, computers.
You will easily choose the appropriate version, and you will also be able to customize the template to your liking: change the color scheme, add photos, a catalog of goods, payment forms, and other useful information.
With the help of the product catalog, you can draw the attention of buyers to various categories of goods: from premium to economy class. If you want to add individual features, fill your template with photos, talk about the benefits of your store, work history, and profitable offers.
The best pet templates for eCommerce are distinguished by their versatility. This means that you can set it up to sell completely different items.
Advantages of the template for the pet store site: thematic graphics, pleasant interface, easy navigation, correctly displayed on all devices, functionality.
At your request, on the pages of your website, you can talk about the bonus program for animal owners and profitable offers of the month. You can also offer customers convenient shipping when ordering items through your website or invite them to your store. Here you can set up integration with social networks, automate all the processes that occur in your store and successfully work on its development. To learn more, click the button and go to the store.
Puffles – Pet Shop HTML5 Template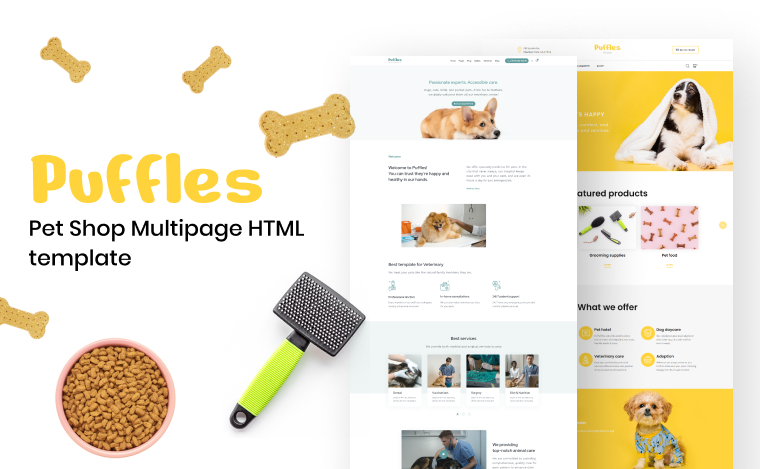 Puffles is a fully responsive best pet template for eCommerce for a pet store or veterinary clinic. It is also suitable for zoo hotels. Using this theme, you can easily demonstrate pets that are looking for their owners and happy customers who have sheltered them. It is also possible to demonstrate its services, customer reviews, and advice of veterinary specialists using special pages and demo layouts. Puffles will allow you to create a universal site dedicated to helping animals.
Thanks to the Bootstrap 4 framework, setting up a template has become even easier. Now you can not only quickly create a site, but also run it in the shortest time.
This special topic already takes into account all the needs for the online store. After all, the most important thing is, that you must work comfortably! It features an excellent design and a complete set of carefully thought-out internal subpages. The theme is also optimized for working with devices of any type, so the site with this theme will look great on displays of any resolutions. You will be pleasantly surprised by the thoughtfulness of the theme design, as well as its flexible features that will meet your expectations when creating a pet store site. A beautiful and convenient site template allows visitors to easily navigate and quickly find the right products in your pet store. And for the site of clinics where you can provide a booking function that will help your clinic become a more professional institution and save a lot of time when interacting with customers.
When working with the topic, you also receive professional technical support, complete documentation for installation and launch, as well as initial SEO optimization for better promotion of the site.
Roxxe – Responsive Multipurpose Shopify Theme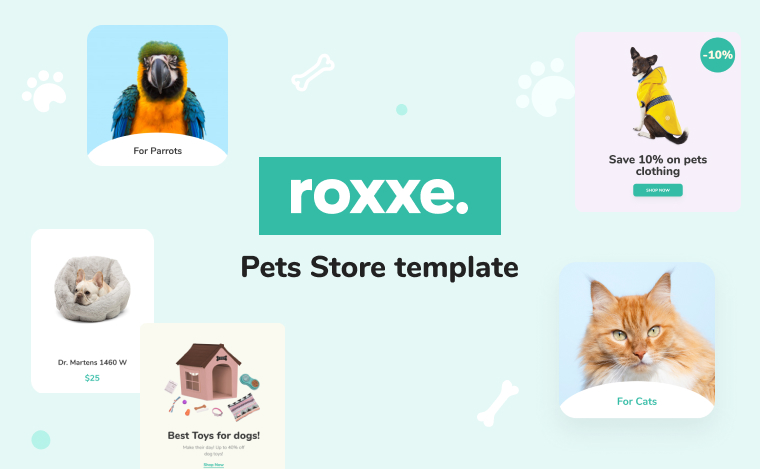 A multipurpose theme, that will be a great choice not only for the pet store but also for any other business. You will find many solutions that will satisfy even the most demanding entrepreneurs. Shopify offers perfect solutions – best pet templates for eCommerce. In addition to merging with your corporate identity, your online store will have a number of important features that will make your website stand out and delight your visitors. The theme has the following features: modern, easy to adjust; compatible with all browsers, responsive design and optimized for SEO; offers customer support, quality code, and excellent feedback; a built-in customization bar that lets you change the template to your liking.
With a quality Shopify theme, you start your online store with a great design for eCommerce. All you have to do, is set up a little, add your branding, describe your products and start optimizing online sales.
The diverse choice of layout options, appearance, and features of Roxxe, win her all kinds of praise. All users confirm excellent customer service, which is especially important for customers when choosing a topic.
This is a multi-purpose responsive theme for eCommerce, suitable for online stores of any type. Its special mega menu comes with an advanced filtering module, which allows your customers to sort products by size, color, or price.
This Shopify theme also includes Shopify Visual Builder, built-in customizations, great usability, and many other features. Here you will find the integrated buttons of popular social networks. Be always in touch with your customers!
In general, if you are looking for a universal theme, you may not look further. Roxxe has a full set of functions. This is a great starting point for any e-commerce website you plan to launch.
Pet Shop Responsive Shopify Theme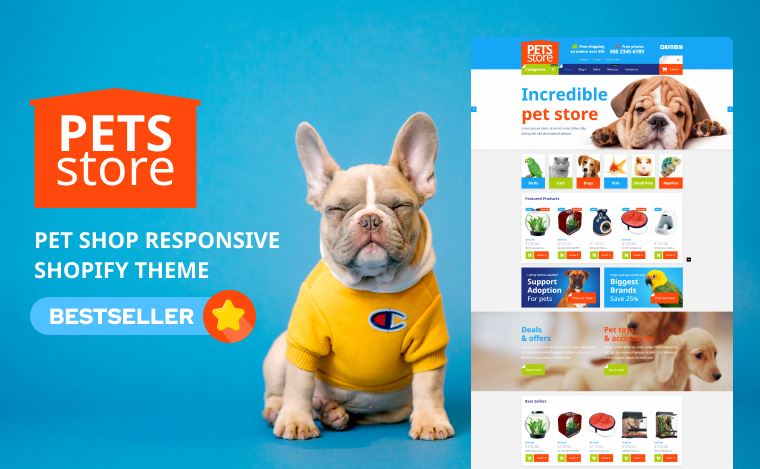 A responsive and convenient best pet template for eCommerce. With this template, you can easily sell any pet products on the site with a cool and stylish design. It is very easy to configure, which is responsible for the ability to import a demo site, a shortcode manager, and an option-rich control panel. It features customizable widgets, a variety of Google fonts, and an unlimited color palette with three banner collections to attract attention.
To make your site look even more beautiful, you can organize a beautiful photo and video gallery. There are ready-made page layouts so that you can present your project, talk about the company and your products.
Your customers can enjoy a comparison feature, a request form for each item, and a beautiful layout to pay for the items. You can add any tabs to the item page, and when you select, you can switch between grid/list mode. There are pop-ups for promotion and contact forms for quick communication. Your customers can add and share products on social networks.
The theme code is written using HTML/CSS technologies. It has sidebars with widgets and a blog block with comments. The template has excellent SEO optimization, which means confident indexing and reaching the top for you will not be an impossible task. Easily translated into any language and works perfectly with mobile devices. This is an excellent solution for your pet shop, so do not even doubt it!
This template is gaining popularity, it has excellent ratings and reviews, and there is also premium support from developers. A good option for a successful online store with a modern design.
KarDone – Pets Store Shopify Theme
This is another creative best pet template for eCommerce of Shopify to create a pet store or a company website that provides services for animals. This topic will definitely appeal to those who do not want to spend a lot of time launching the site and prefer to do everything on their own. Here you will easily understand the installation and theme setup, and start your store in the shortest time possible.
Using this topic, you get:
Social network integration;
Cross-browser compatibility;
Google Maps and Fonts;
WPML-ready;
Shopify visual builder;
Diverse pre-designed sections;
Product wishlist, grids, and listings, and more.
Fast and performance optimization;
Working with the topic involves full technical support and the possibility of making changes in real-time. Manage the contents of your store, work with goods and prices, accept and process orders, flexibly configure SEO site, payment systems, shipping methods.
Marketing modules: Merchandise of the day, Shop now, buy in 1 click, related items, Old and new price will help sell more and faster. Add a runaway timer to the site, motivate buyers to buy, and increase sales. Psychology works smoothly!
Shopify supports many payment systems. This is extremely convenient because you can absolutely freely work with all customers. Use all the functionality of the theme to create a completely modern site, convenient for you and your customers!
Happy Pup – Pet Shop Store Shopify Theme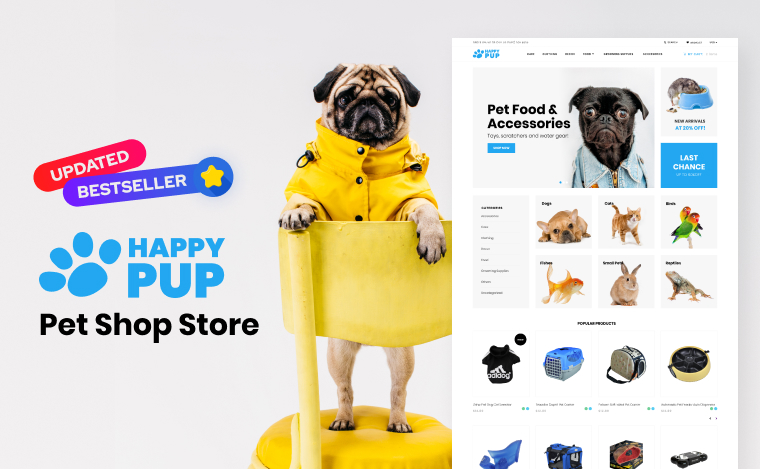 Pay attention to the theme Happy Pup if you want to quickly launch your online store. It is suitable for both direct and wholesale sales, as well as for dropshipping. Here you will find all the necessary functionality, as well as all the advantages of Shopify, including technical support, high adaptability, simple configuration, and a convenient administrative panel.
Like any other Shopify store, the Happy Puppy theme will support a variety of languages and world currencies. All in-store item buttons support AJAX so that your customers don't have to go between pages again. According to the same principle, search by category of goods and basket works. You can compare items and view them quickly. When the cursor hovers over a photo with an item, it will approach. You can use special icons for different types of items.
This theme is the best pet template for eCommerce in every sense. It is responsive, has an excellent rating, and high popularity. And if you remember the price and compare them with the one that other pet store templates have, then this is just the perfect solution!
Loading the theme Happy Pup, you will easily work with orders, delivery. There is also a function for restoring abandoned baskets. This means that your visitors who have not finished checkout will receive a reminder inviting them to visit the store again. In general, this topic provides everything that can help you make quick and effective sales. Attracted visitors will be able to easily understand your catalog, use the search function and quickly buy. Here you can add a feedback section and other plugins that will improve conversion in your store. Choose the best solution created by professional developers with many years of experience.
Multifly Responsive Pets Shop Shopify Theme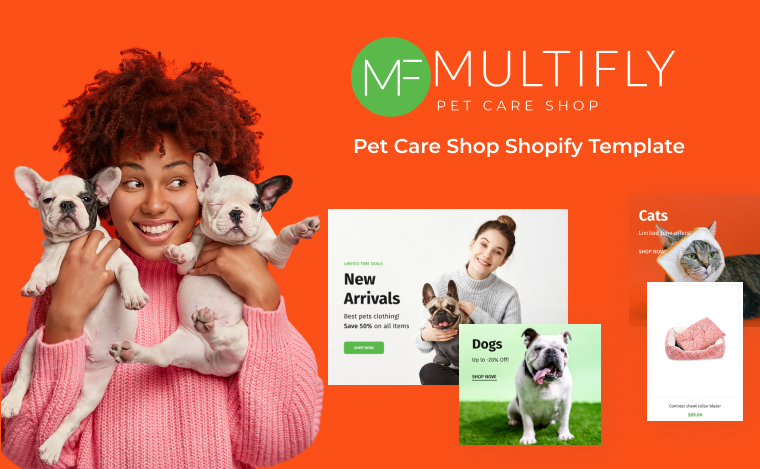 A topic, that even a newcomer can easily deal with! Create your store today along with the multi-purpose theme Shopify. A simple and easy-to-understand template for an online pet store with customizable color schemes. Beautiful animation, a minimum of extra graphics, and convenient navigation will be very pleasant to your visitors. Pet template for eCommerce is easy to adapt to any topic: from clothes and shoes to equipment and mobile phones. This topic is also great for big business. Use tags and categories to find profiles easily and quickly. Among the design, customization components are excellent galleries, hat design options, and the ability to customize fonts and colors. There is a blog section that will further improve search optimization.
In the theme, you will find a convenient administrative panel, powerful functionality for filling and working with the site. Here you can create a page to view the services you provide in addition to selling pet products. The store provides product catalog pages and pages for each item. You can organize a newsletter on the site and add a contact form. This is a cool option that other pet store templates will not compare with!
This template will be an ideal investment in the development of your current or future online store. It has all the necessary tools and modules to quickly create an online store with all the premium features. A wide variety of layouts and pages will satisfy the requirements of any creator of the site.
Conclusions
One way to quickly launch your site is to create it from a special template. The best pet templates for eCommerce are already fully adaptive, flexible and convenient to work with. With the pet store templates we've reviewed, you really just run your resource, at no extra cost. This is the easiest opportunity to create a stylish site and start promoting your business. All topics feature unmatched graphics, neat design, tools for business development, e-commerce, and online publishing.
At the same time, modern best pet templates for eCommerce necessarily have an adaptability function, which allows them to not lose their efficiency when viewing on the screens of tablets and mobile phones.
Pay enough attention to the correct content of your site and work with customers – you will be surprised how much your sales will grow!