A car is something special for everyone. After all, some people use a car to make money. Others live in a car while traveling around the world. For others, it's just a means of transport. But I am sure that every car owner takes care of his or her vehicle. In addition, car repairs are a complicated process that most people are inexperienced in. That's why they often turn to professionals for help. Therefore, the car repair business is profitable. Like any other kind of business, it has to be online. Fortunately, there are quality and professional car repair eCommerce themes.
In this article, we will look at 8 best car repair eCommerce themes, from the professional Ukrainian team Zemez. This is where you can learn the basic details of the best themes for your business. And by doing so you will be able to take your business to the next level in no time!
Why is it Worth Having a Website for Car Repair Business?
Many experienced business people know that the internet is the best way to improve business and earn money. A quality and multi-functional website are essential to a successful and profitable business. After all, a powerful, modern, and attractive website can give a car repair business an edge in the digital age. All the more so for a specific niche, there are special car repair eCommerce themes that simplify the process of creating a website.
There are several main reasons for having your own website. For example:
Attracting new customers. Thanks to the website, customers can quickly find your car repair company at any time.
Indicator of professionalism. Statistically, 80% of users judge service firms by the existence of a website. Moreover, clients will be able to read reviews of your work.
Presentation of services. With photos and descriptions, you can instantly make potential customers aware of your repair services. In this way, the website will help to show the benefits of your service more clearly.
Constant communication. The website is available to reflect the contact information of the service: phone number, address, and email. This greatly simplifies the way to communicate with potential customers.
Minimal investment. After all, it's a simple way to succeed that doesn't require constant investment.
Your website should be as professional as your company. But if you want quick results, the car repair eCommerce themes that you will learn about in this list will help.
TurboJet – Shopify Spare Parts Store Theme from Zemez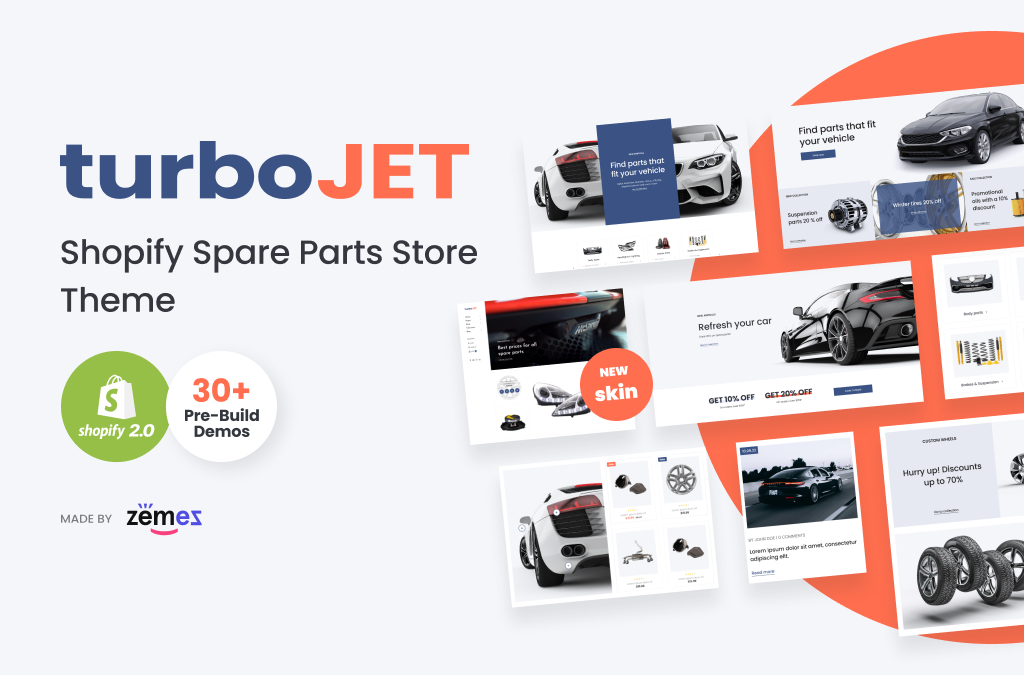 Starts the list of car repair eCommerce themes – TurboJet. This is a clean, minimalist Shopify theme for automotive businesses. This Shopify parts shop theme is designed with all the features of eCommerce in mind.
TurboJet has a large number of special advantages. What's more, this theme has a perfect structure that is thoughtfully designed down to the smallest detail. The experts of the Zemez team have tried and created a perfect template, which is characterised by such features:
unique and remarkable design;
intuitive interface;
number of pages and sections;
high download speeds and much more.
Given all the benefits with this car repair eCommerce themes, you get full control over your website. You also get the ability to add an unlimited number of pages, sections, or products. And the loading speed of the pages is always high.
TurboJet would be a good option for a ready-made template for a car repair business!
Motore – Shopify Car Dealer Theme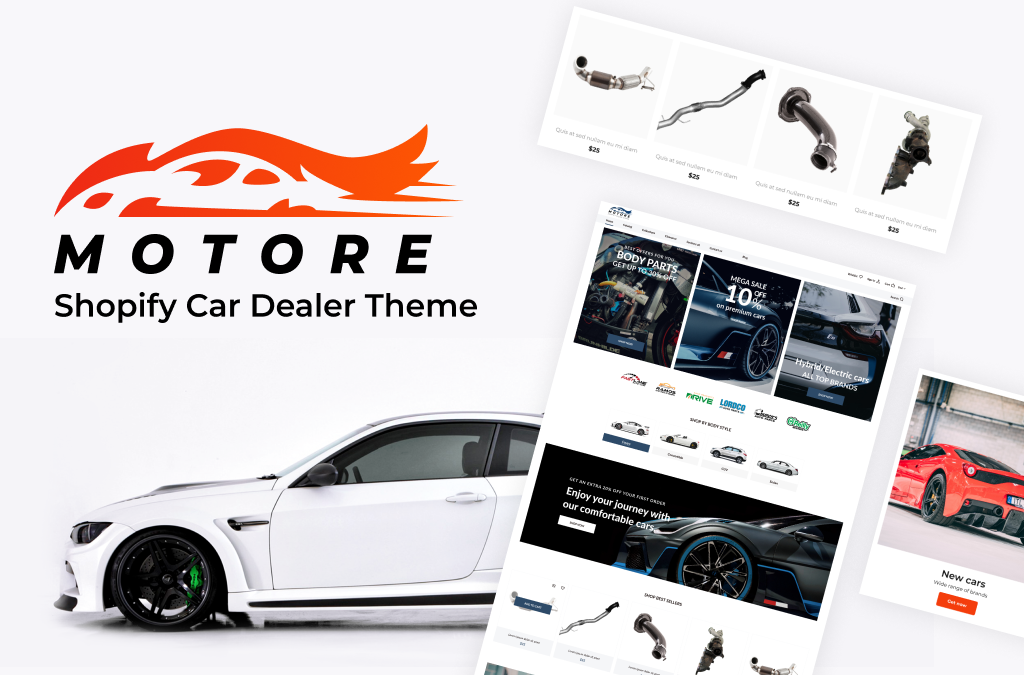 The next theme on the list of car repair eCommerce themes is the high-technology Shopify theme- Motore. This theme is created specifically for:
online shop selling car parts and other car accessories;
car dealership;
website for car repair services and so on.
Motore Shopify theme is equipped with multi-functional features that include many useful options. Among them are modern Shopify smart features such as:
mega menu with structured product categories;
newsletter subscription form;
blog with the possibility to create informative blog posts;
shopping cart;
Ajax Search which makes the site easier to navigate;
recommended products section that increases traffic to your shop;
review section, etc.
Moreover, you don't need to have special coding skills to create a professional website. After all, the professional experts at the Zemez team have taken care of everything. That's why they created a Motore Shopify theme with a simple and intuitive interface.
Autoworld – Spare Parts Responsive PrestaShop Theme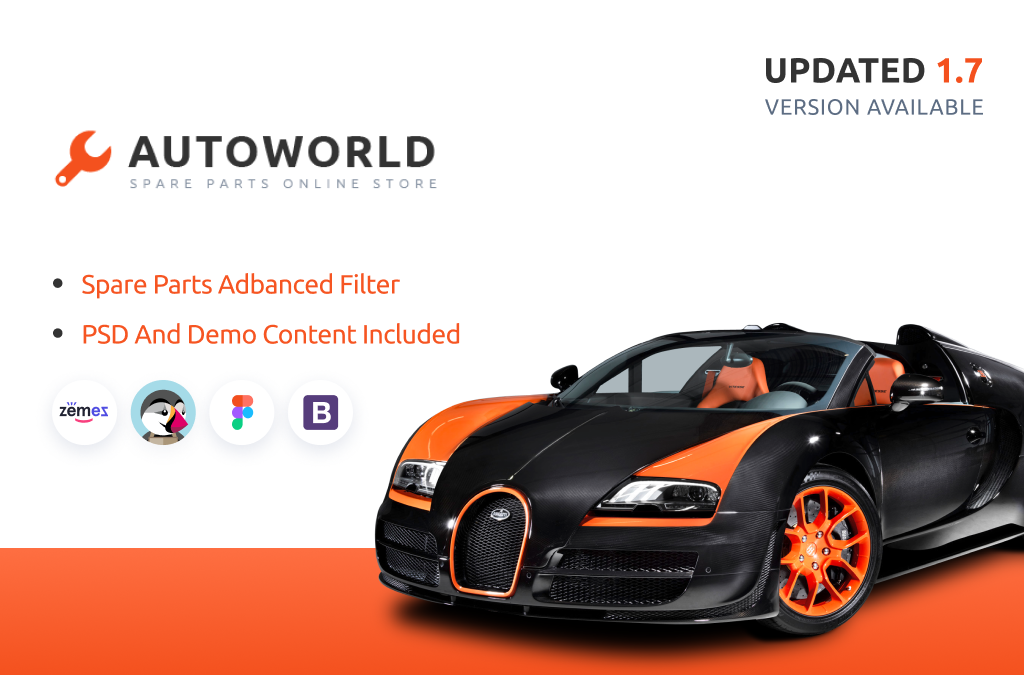 Continues the list of car repair eCommerce themes – Autoworld PrestaShop 1.7. This template has a flexible and adaptive design. Thereby, it is designed for shops for spare parts, electronics, tools, or any other automotive goods.
This professional PrestaShop 1.7 theme has several advantageous functionalities. And the main feature of the Autoworld theme is the presence of exclusive modules. For example:
Mega Menu. You will be able to create and customise the main menu according to your preferences.
Wishlist. Give your customers the opportunity to mark a product they like and not lose it. Moreover, your customer will be able to share their wish list on their Facebook account.
Sales module. The plugin allows you to create and display sales and discounts on the desired product with a countdown timer.
Blog.Built-in blog with the ability to create informative posts.
Quick Products Viewing option. This feature allows you to deploy a poster with a single click.
Each of the modules in this car repair eCommerce themes – Autoworld is easy to install and configure. You'll also get special documentation where you'll find all the information you need on how to install, disable or manage each module. As well as many other useful instructions.
The Autoworld PrestaShop 1.7 theme is fully adaptive and will work well on all device screen resolutions. With this theme, you can take your business to the next level!
Auto Parts Shopify Theme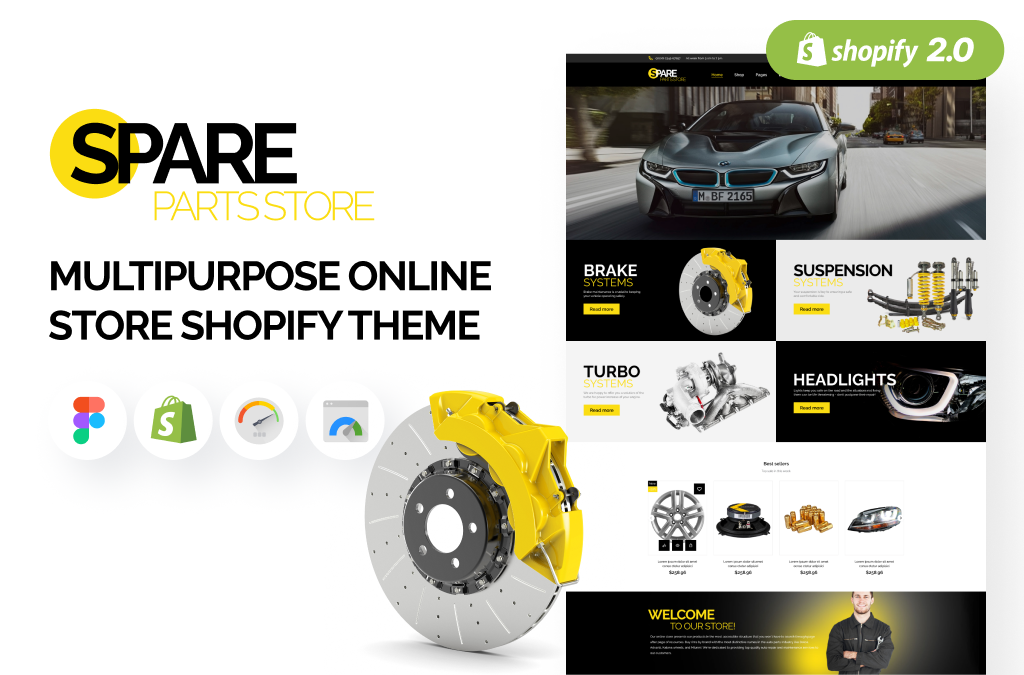 Auto Parts Shopify Theme is also among the best car repair eCommerce themes. It is a fast and modern theme. Moreover, it contains a complete set of tools. Thanks to this, you will be able to create a full-fledged website to promote your car-related business on your own.
The theme development looks great. Besides, Auto Parts Shopify theme is equipped with all the necessary plugins. All settings are made in visual editor mode. Furthermore, even a beginner will quickly understand all the features of this theme.
And then, the Auto Parts Shopify theme has such benefits:
simple and straightforward interface;
possibility of choosing the type of site;
use of ready-made layout;
easy configuration of the modules of your site;
publication of any information;
placing a catalog of products;
payment system connection.
This theme is for those who need a quality website for their business. It is ideal for experienced website developers and beginners alike. After all, the developers have through and created a system whereby the process of creating a website is easy and straightforward for users.
Apparelix Car Tuning Shop Shopify Theme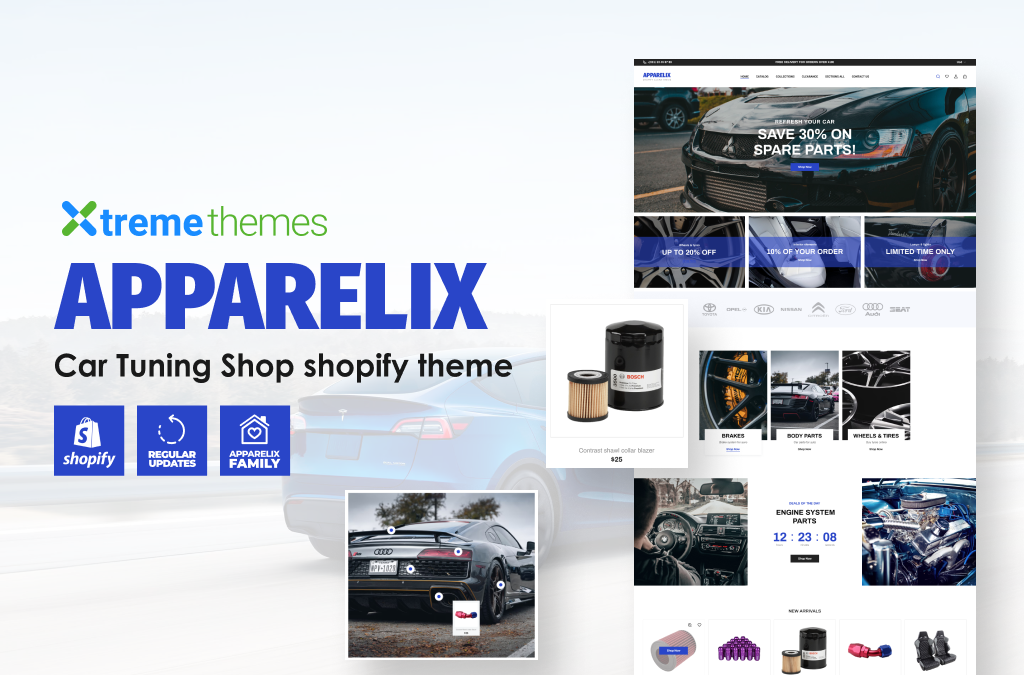 Complements the set of the best car repair eCommerce themes- Apparelix Car Tuning Shop Shopify Theme. This is a modern theme for car dealers, sellers, agents, and car companies. It arrives with unlimited color schemes for flexibility. In turn, it allows you to create a website that will be the best among your competitors.
And also, what sets Apparelix apart is its modern design and simple customisation. Whatever your business, you'll find what you need in this automotive theme. What's more, you can easily adapt it to the needs of your business and use it an unlimited number of times.
Of course, the functionality of this theme is a great advantage over other themes. After all, this car repair eCommerce themes Apparelix is created based on the latest updates of Shopify 2.0.
With Apparelix functionality, you can have a powerful online shop with very little time spent. Rest assured that you and your customers will be amazed by the beauty and functionality of the website. And you can check it out now!
Auto Spare Parts Responsive Shopify Theme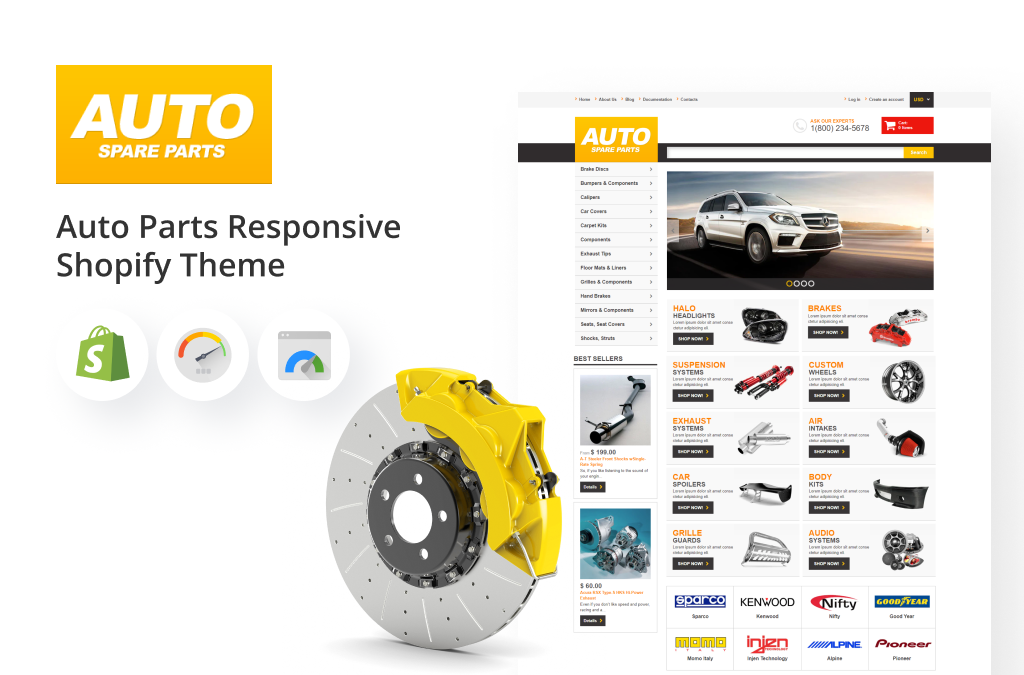 Auto Spare Parts is a Shopify theme that belongs to the list of car repair eCommerce themes on certain merits.
Firstly, this template is adaptive. Moreover, its flawless performance on various devices is the envy of many high-end themes. Secondly, it is equipped with the best features that provide a lot of features in operation. Thirdly, it has a unique design which is the highlight of Auto Spare Parts Responsive Shopify Theme. The modern design is designed in austere colors. It will showcase your services in the best way and will definitely attract the interest of men.
Moreover, simple code and well-done documentation will help you customize this Shopify theme exactly the way you want. I advise you to experience all the benefits of Auto Spare Parts Responsive Shopify theme today!
Car Tuning eCommerce Template Shopify Theme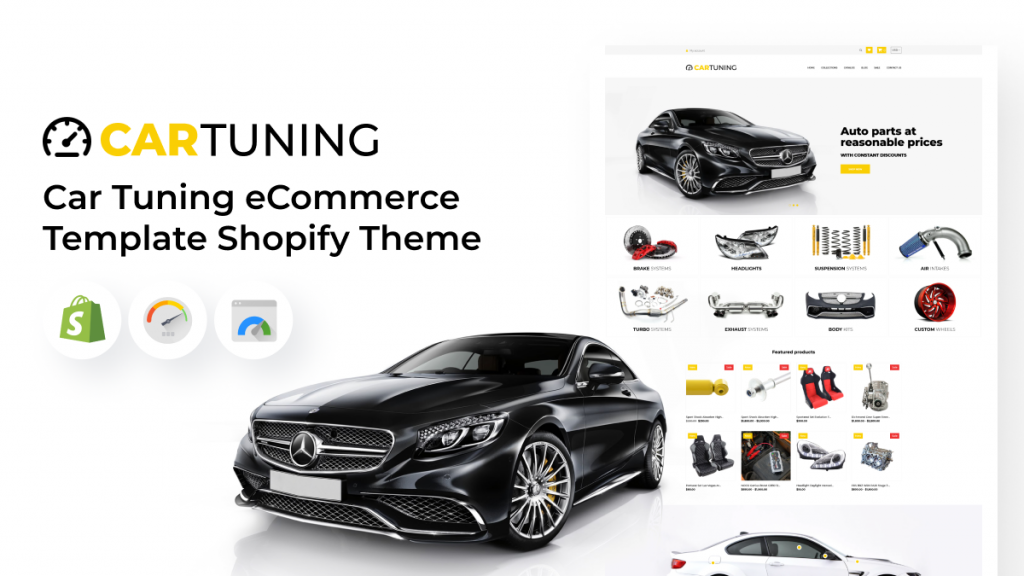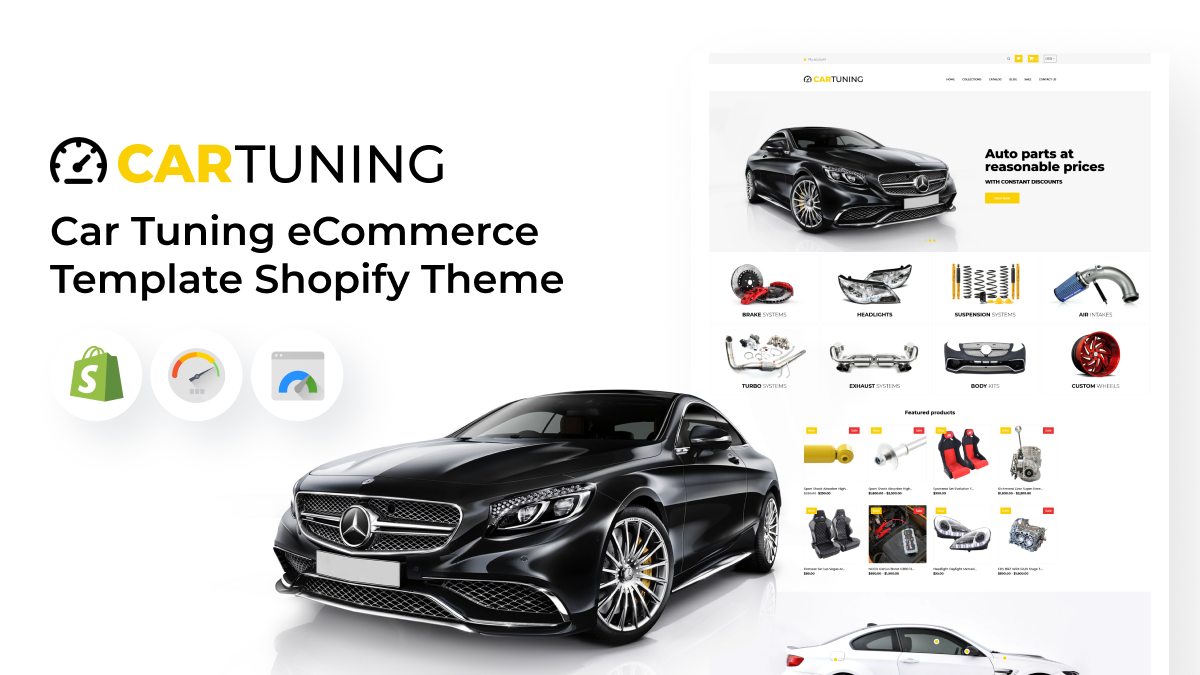 Completing the list of worthy car repair eCommerce themes is Car Tuning. This theme is the perfect web solution for online shops selling car parts and all kinds of car accessories. It is created based on the Shopify platform. Therefore, it is easy to manage and customize. Thanks to the user-friendly administration panel and well-designed structure.
Moreover, Car Tuning is the best example of integrating an online shop and a blog. After all, having a blog can increase the conversion rate. This will be able to attract more customers. When shopping, potential customers will be able to quickly find the auto parts they need thanks to the user-friendly navigation. And also see what's new in the automotive sector.
Adaptability, SEO friendliness, multi-functionality, and much more are the main and important features of Car Tuning . It is with these features that this theme will bring success to your business.
Motoronix – Car Parts Elementor WooCommerce Theme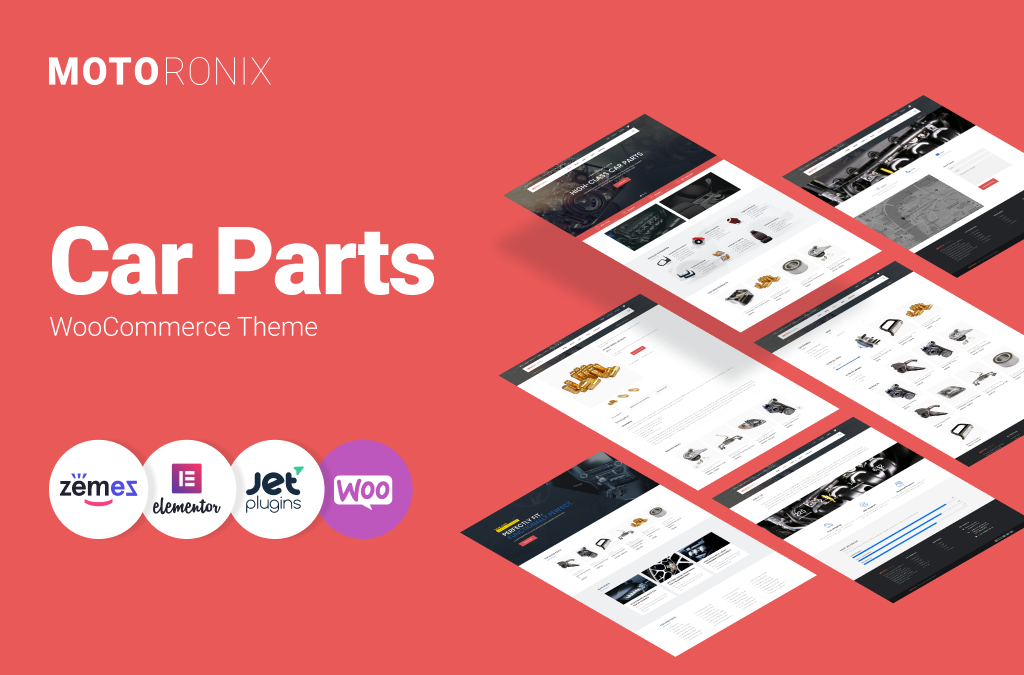 Rounding out this list of car repair eCommerce themes is the unique Motoronix theme. This theme is designed with all the features and specifics of the automotive business niche in mind.
Motoronix is supplied with:
variety of different plug-ins;
highly functional elements;
the easy-to-use WooCommerce package.
You'll also be able to edit and customise your theme in real-time. What's more, this theme is based on the best Elementor page builder. The creation of a website is made with the help of ready-made elements, which you choose by simply dragging and dropping and setting the necessary settings through a convenient admin panel. No code and programming! Thanks to this designer businessmen who do not have special knowledge, can independently create a website according to their preferences.
Best Car Repair eCommerce Themes: Conclusion
All the best car repair eCommerce themes that have been presented in this article are available. Each theme is unique and good in its way. Now it remains for you to make the final choice. And proceed to create a professional and quality website. It is also worth noting that experts who have developed each theme, provide support. If you have any questions or difficulties, you can always contact the support service and everything will be resolved.
I also recommend to visit our blog . After all, there are many interesting articles to help you create a successful business!