What's up, everyone? For sure, you must know our friendly Zemez team as an author on TemplateMonster.com. So, let's talk a little about our author achievements & badges there. Plus, the info below will be useful for those who are going to sell web products on the famous marketplace.

Keep on reading!
What Are TemplateMonster Author Achievements & Badges?
From the year 2002, when people heard about TemplateMonster firstly, the company went through varied changes. Currently, it's one of the largest and most trusted places on the Web for buying and selling digital products and services. Above all, they like WordPress and grow their marketplace with a passion for eCommerce.


And, this is the truth we can stand for, as Zemez itself comes to be the biggest provider of WordPress and versatile eCommerce solutions on TemplateMonster.com. Or, maybe not the biggest? Hmm, in any way, we are glad of our results there, which are proved by special author achievements & badges.
What are TemplateMonster author achievements & badges? Foremost, they are attributes of certified providers of the market. To clarify, they are also rewards that show authors create and develop their products successfully. Moreover, such prizes help the audience to find winning solutions for their purpose quicker just by choosing one of the top themes, for example.

Yet, below, you can find more details about TemplateMonster author achievements & badges. Enjoy!
TemplateMonster Author Achievements
Well, every author of the TemplateMonster digital marketplace can gain the next Achievements:

Godzilla
The Godzilla Achievements are divided into 2 types. The first one is called Godzilla Templates and is awarded to authors who have released their first 100 web themes. And, the next one is Godzilla Graphics for those authors who have released their first 500 graphical products.
Radioman
The Radioman Achievement is given to TemplateMonster contributors who have joined the affiliate program. Also, they should participate in promotions and have at least 1 affiliate sale. Usually, affiliate authors are oftener rewarded as they use free marketing tools.

Best Friend
If you as an author want to gain the Best Friend Achievement, just add at least one of your digital items to MonsterONE. This action will help to raise your profile by making it distinguished among competitors.

Octopus
On the TemplateMonster marketplace, there are 8 the most popular product categories to make the search easier for users. So, if you have the Octopus Achievement, it proves that your themes, templates, or graphics are available in all the categories.

Penman
For TemplateMonster, It's very important to provide every selling item or service with unique descriptions. However, authors can create them themselves. The main requirement is 1000 symbols size. So, write 15 unique descriptions and get the Penman Achievement.

Tech Guy
The Tech Guy Achievement is for those authors who have provided 50 feedbacks in their support requests. So, just be friendly to your clients and take care of them by helping to choose a product or to customize one they've already bought.

Celebrity
While contributing with TemplateMonster, there is a possibility to get an interview on their blog. It will be promoted on socials in addition. As a result, every author, who has got such an article, will also get the Celebrity Achievement for their profile.

Link Builder
Feel free to share links to your portfolio on TemplateMonster, make reposts of separate items, or more. All this will be awarded the Link Builder Achievement. Plus, such promotion will help more people to find out about your products and ways to get them.

Shakespeare
Do you write engaging articles from time to time? Then, request their publishment in the TempateMonster blog! As soon as your post gets the place on the blog, you will receive the Shakespeare Achievement. Still, before you start writing, get a consultation.

Pretty One
Once you get 10000+ views on your product, you will gain the Pretty One Achievement. This award also means that your web product will take place in a relevant digest of the best items of a month.

Traffic Maker
The Traffic Maker Achievement means that you have got a section for your products on the TemplateMonster Pinterest board.

Philanthrope
If you add free web products to TemplateMonster, you will gain the Philanthrope Achievement.

Energizer
Launch at least one sponsored promotion following the recommendations of the marketplace team. After, you will receive the Energizer Achievement.
In essence, having received new Achievements, authors get extra promotions for their products.
TemplateMonster Author Badges
To motivate contributors to upload more products, TemplateMonster has created Author Badges. Still, these elements are more than a kind of motivation. In other words, Badges are also necessary for customers loyalty. They help visitors determine what products deserve their trust and expand on authors' popularity.
"The TemplateMonster badge is a status element aimed to increase clients' trust and authors' sales."

TemplateMonster
So, from the TemplateMonster marketplace authors can gain the following Badges:


Zemez Author Achievements & Badges Overview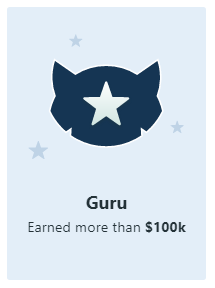 On TemplateMonster, Zemez is presented as a Guru author. This status is highly appreciated by us and pushes us to move forward. And, this is reasonable, as there are many talented web providers on the marketplace.
So, we hope that you and lots of other users have no doubts that Zemez always aims for the best quality and support of our products.
Stay with us on TemplateMonster.com and enjoy our:
WordPress themes;
eCommerce solutions;
HTML templates and more.
To sum up, here is also to your attention our imposing variety of Author Achievements.

Godzilla
Radioman

Best Friend

Octopus

Penman

Tech Guy

Celebrity

Shakespeare

Pretty One

Philanthrope
Now, you know everything about Zemez author achievements & badges on TemplateMonster. Thank you for your time!