If you're using Shopify to run your eCommerce business, chances are you've heard of Shopify Partners and Experts and wondered, "Who are Shopify Partners? Do I need one? I thought the only reason I chose Shopify is because it's so easy to use!"

This is true.
Of course, Shopify makes setup incredibly easy. It has a straightforward control panel for adding products, customizing your site's design, and more. If you're migrating from another platform to Shopify, Shopify also has a great import option.
Once you've set up your store, Shopify also makes it easy to add additional products, including titles, descriptions, prices, and other useful fields. No matter what you're explicitly trying to do, Shopify has helpful tutorials all over the place, making it incredibly easy to use.
So why do Shopify Partners & Experts exist?
No matter how easy it is to use an eCommerce platform, eCommerce itself is not easy. Sometimes you need the help of an expert to make your business more successful.

Maybe you just need help marketing your products. Perhaps you are trying to migrate a complex store from another platform to Shopify. Maybe you would like professional photos of your products. You can make some difficult changes to the theme. You may need to create your own application.
Regardless of the details, if you're hitting a wall in your Shopify store, Shopify Partners could be the perfect solution.
Today we will talk about what Shopify partners and experts are, and what it takes to become one. And most importantly, how to decide if it's right for your business.
Shopify Experts and Shopify Partners: What's the difference?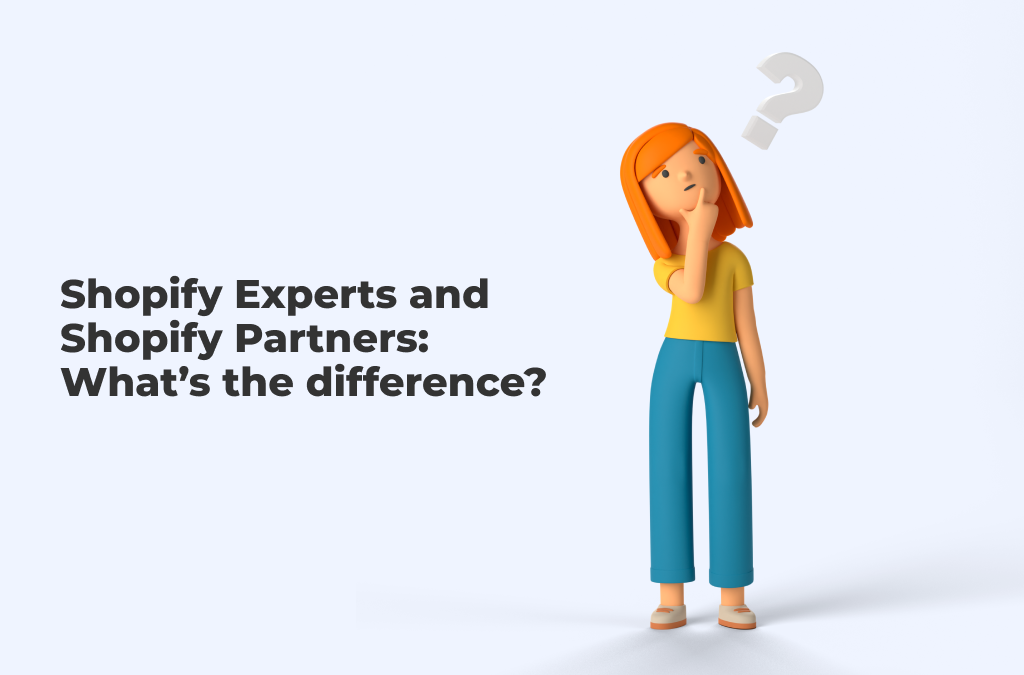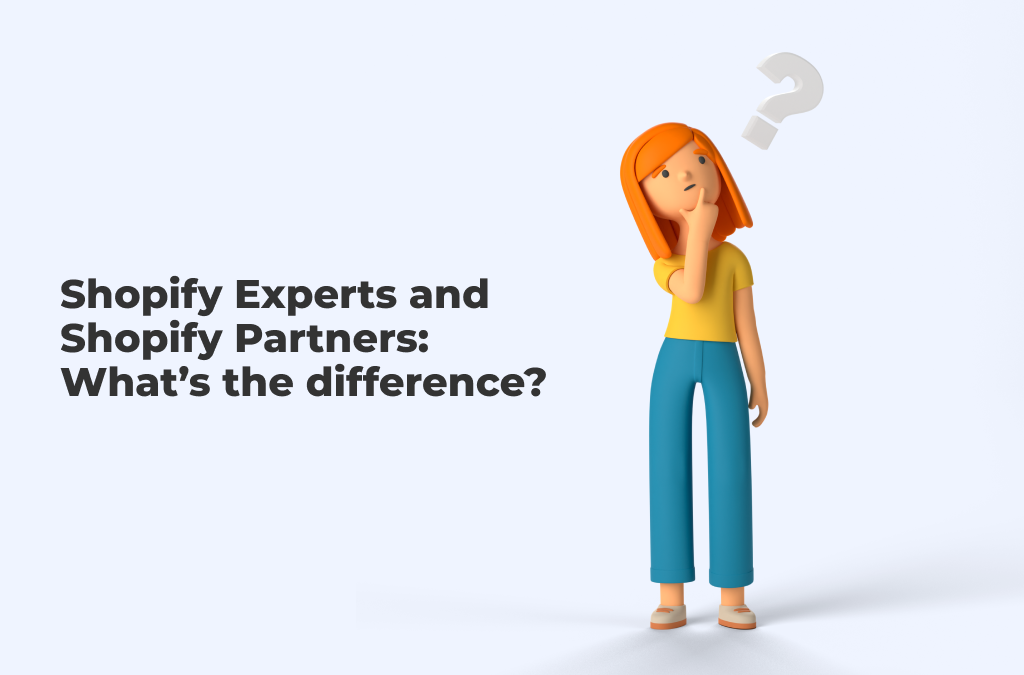 Simply put, a Shopify affiliate is someone who has signed some kind of contract with Shopify. At the most basic level, Shopify affiliates can make money by referring new customers to Shopify.
Shopify Experts, on the other hand, have a history of success with Shopify. In fact, to become an Expert, you must provide at least five Shopify stores. These should be the stores that helped you succeed.
These experts fall into one of the five categories of Shopify experts. Rankings are based on their area of expertise and customer experience.
Configuration Experts
Constructors
Developers
Sellers
Photographers.
Shopify Experts and Shopify Partners are two different programs. They are provided by Shopify in partnership with professionals and agencies working with this platform. Here are the main differences between these programs:
Shopify Experts:
Shopify Experts is a community of independent professionals and freelancers. All of them have experience in various areas related to the Shopify platform.
Such specialists offer their services as consultants and developers. They can create, customize and optimize Shopify online stores.
Business owners can choose a specific Shopify expert to work on their projects and receive personalized assistance.
They are independent of Shopify and work directly with customers to set their prices and terms of cooperation.
Shopify Partners:
Shopify Partners is a program designed for agencies, developers, and companies that provide eCommerce services.
They can access the tools and resources provided by Shopify to help them grow and develop their businesses.
Shopify partners can earn from affiliate commissions, referral programs. Additionally, they sell other services to their customers on the Shopify platform.
Shopify Partners have a direct relationship with Shopify. Therefore they may receive support and resources from the company. This also includes training, marketing materials and technical support.
In both cases, both Shopify Experts and Shopify Partners offer services and assistance to business owners running on the Shopify platform. Both types of specialists have knowledge and experience with the Shopify platform. Of course, they help store owners achieve their goals based on it.
What makes a Shopify Expert valuable and essential?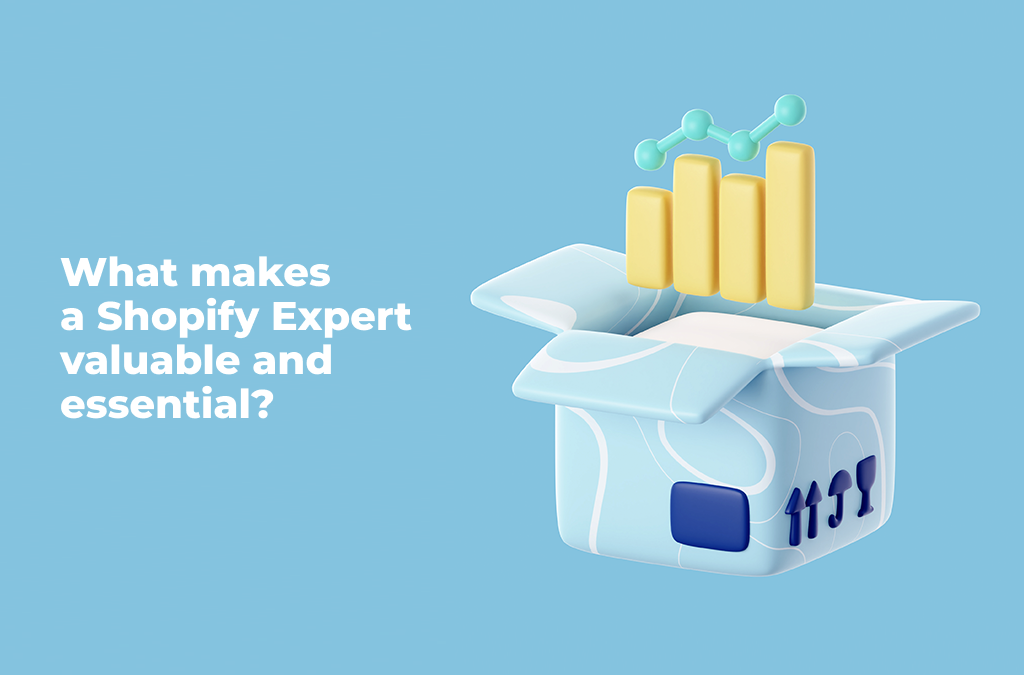 Shopify Experts have in-depth knowledge and experience with the Shopify platform. They understand its capabilities, functionality, and settings. This allows them to efficiently create and customize online stores on this platform. Through their expertise, they are able to make the most of Shopify's capabilities to improve user experience and achieve business goals. Shopify Experts can offer customized solutions and advice. If you work with a good expert, you can be sure that they will be tailored to the specific needs and business model of each client. These professionals work closely with business owners. It is necessary to understand their requirements, goals, and business processes. The next step is to offer the most suitable solutions that will help optimize the online store and increase sales.
Creating and optimizing an online store can be a complex and time-consuming process. Shopify Experts have the necessary skills and experience to handle these challenges effectively. They can significantly reduce the time it takes to launch and develop an online store, as well as provide quality results. This is especially important for new entrepreneurs or companies that don't have enough experience or resources to get started with the Shopify platform on their own.
In addition to building an online store, Shopify Experts can provide additional services and advice. For example, marketing strategies, SEO optimization, setting up payment systems, integration with other platforms, and much more. This allows business owners to get all the necessary services and expertise in one place. So you can greatly simplify the process of developing and managing an online store.
So the value of Shopify Experts is that they help business owners get the most out of the Shopify platform. Experts provide their specialized experience, personalized solutions, and effective collaboration in the process of developing and optimizing your online stores.
Who are Shopify Partners and what makes them significant?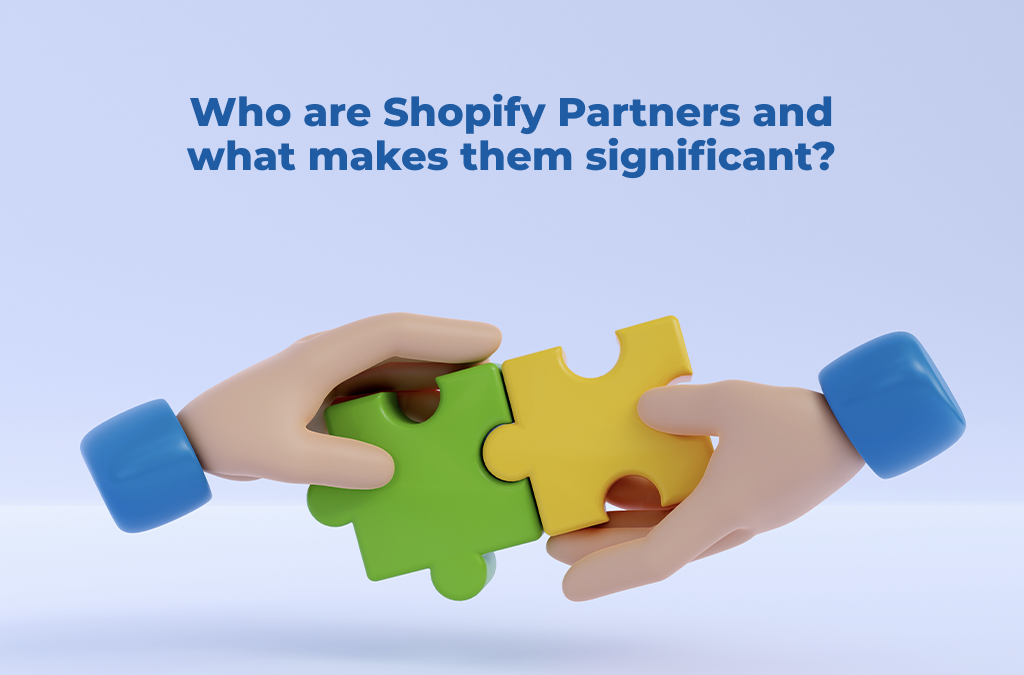 On the other hand, Shopify Partners is in a completely different direction. However, it is also of great importance for eCommerce stores.
Being a Shopify Partner empowers developers, agencies, and companies to create and grow their own eCommerce businesses. They may offer services for the development and customization of online stores on the Shopify platform. This may include consulting services, marketing strategies, and other services related to eCommerce.
The services you will receive from Shopify Partners are of high quality. This is because Shopify Partners have access to a variety of resources and tools. Shopify specifically provides these features to help them grow their business. This includes tutorials, documentation, marketing materials, developer tools, and APIs for integrating with other systems. The technical support is also top-notch. Shopify Partners receive support from the Shopify team, including technical assistance and advice. They can get answers to their questions, and help with troubleshooting. Additionally – tips for setting up and optimizing online stores on the Shopify platform.
Shopify Partners can earn affiliate commissions. They can also earn rewards through referral programs and the sale of additional services on the Shopify platform. Affiliates can earn commissions for every new client they refer to the platform. Additionally – for other services and products that they offer to their customers.
Participation in the Shopify Partners program is beneficial. This gives you the opportunity to connect with other partners and members of the Shopify community. Partners can share experiences and knowledge. They can also collaborate to improve their business and provide better services.
All in all, Shopify Partners are essential to growing your eCommerce business on the Shopify platform. They get access to resources and tools, affiliate commissions, technical support, and advice. They can also create networks and collaborations with other members of the Shopify community.
How to Become a Shopify Expert?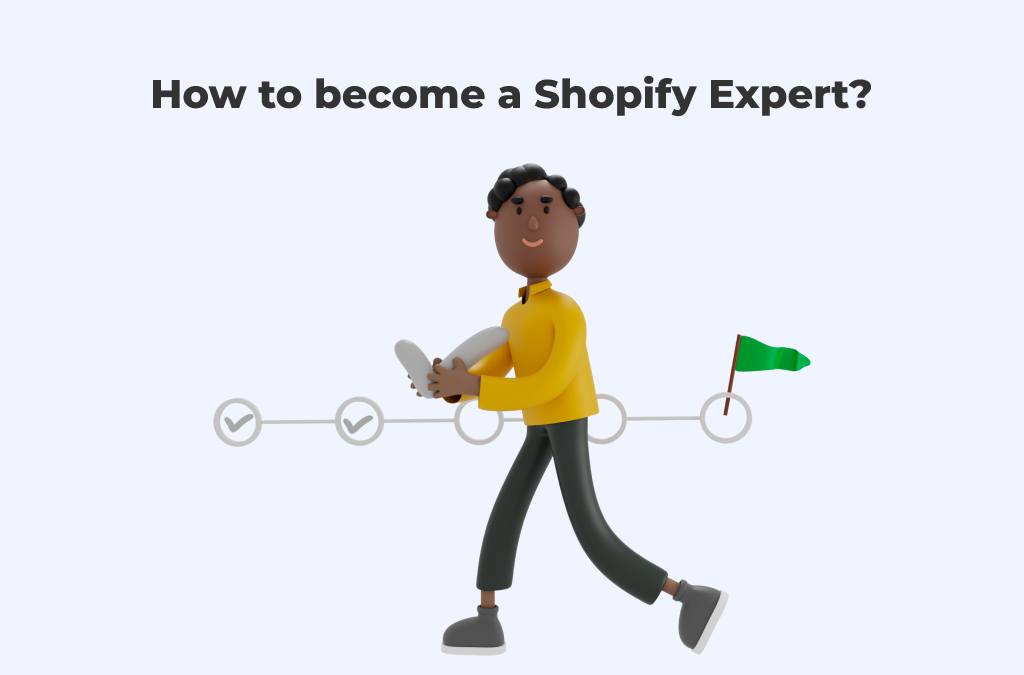 To join Shopify Experts, you need to meet some requirements. First, experience with the platform is required. You must have a customer history and an invitation from Shopify to go to market. If there is no such invitation, you can contact Shopify yourself to gain access. Let's see in detail how it works.
Conditions that Shopify Expert must meet:
Having a Shopify Partners Account. It's free for anyone who wants to join.
More than 5 client stores on Shopify: This is required to prove that you have successfully sold your services to clients and you have experience with Shopify. You can build stores or apps to participate in the Shopify Experts program.
Experience in this field. At a minimum, you need to have experience in development, design, writing, marketing, product development, and more.
Portfolio. It's not required, but it helps showcase your Shopify skills and generate leads. Include links, images, project details, and possibly some links.
The Significance of Engaging a Shopify Expert for Your Online Store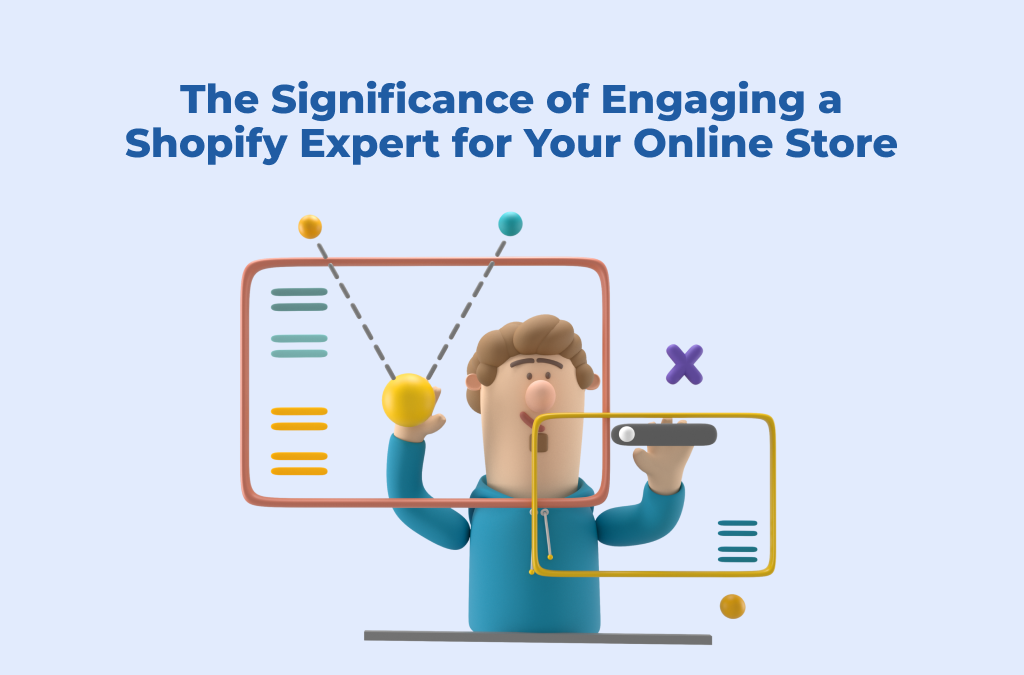 Hiring a Shopify expert can bring significant benefits to your online store. You could be convinced of this after you got acquainted with the functional features of such Expert Advisors. Of course, you can do all the tasks yourself. But according to the experience of many entrepreneurs, it is much easier to entrust complex tasks to professionals. So you will not only facilitate your work but also be sure of an excellent result.
Shopify experts have a deep understanding of the platform and its best practices. They can offer valuable tips and tricks related to setting up and optimizing your store. Their knowledge of design, functionality, marketing, and optimization will enable you to create an efficient and successful online store. What else can they do? Experts can help you create a unique and attractive store design. It will match your brand and the needs of your target audience. They can design a custom theme that reflects your uniqueness and provides the best user experience.
Shopify experts can set up and integrate various tools and services in your store. For example, it can be payment gateways, inventory management systems, delivery systems, and other applications. This will help you automate processes and improve the efficiency of your business. Of course, for a store to be successful, it needs to be promoted. And here, too, experts can take over the work. They can help you develop a marketing strategy, and set up advertising campaigns. They can also optimize your site for search engines and increase your store's online visibility.
In general, it should be understood that it is really convenient. Hiring a Shopify expert will help you optimize and improve your online store. This can significantly increase its competitiveness and efficiency.
Conclusions. Shopify Partners & Shopify Experts
Shopify is one of the easiest trading platforms to set up and use. But like Shopify, running an online store takes a lot of time and knowledge. If you missed any of these, Shopify Partners and Experts can be a great choice. You can always make your store even better. Stay with us and follow the trends of eCommerce.
Our team specializes in commercial marketing in eCommerce. If you need help expanding your Shopify store, please let us know here or in the comments. We will be happy to help!
Have you used Shopify partners or experts before? How was your experience? Any recommendations that you would add to this article? Leave your opinion in the comments!