Today, the Internet and social networks are present in the life of every person. According to recent research, a person spends more than 5 hours on the Internet. The total audience is already more than 4 billion people. Such information suggests that the most effective tools for promoting a business are the Internet and your own website. You can create a high-converting website by yourself using the key SEO rules.

After reading this article, you will get the key information on how to create a website from scratch. But the main thing is how to turn it into a continuous generation of customers and profits in a business client or your own project. How to use the ground key SEO rules and adapt them for your site.
Many people believe that the foundation of a good website is a quality design and a user-friendly interface. But it is not. Another main component is basic website optimization. Proper SEO at the stage of creating a site greatly simplifies and speeds up its further promotion. Therefore, if you consider search results as one of the main sources of traffic for a future resource, we recommend that you take care of the right SEO at the very beginning of working on the site. Only by following key SEO rules, you can create a good site. The key SEO rules relate both to the methodology for creating the actual structure and design of the site and filling it with content.
Why Do You Need Site Optimization at the Development Stage?
If at the time of launch the site complies with the key SEO rules, it receives the following benefits:
1. The time spent at the 0 positions is reduced. This means that positions and targeted traffic from searches will begin to grow much faster.

2. Save time on internal optimization. If you order SEO services after the launch of the site, you do not need to spend time on basic optimization.
3. Saving money. If the site was optimized during its development, you will need a much smaller SEO budget and as a result, you will lower the web development cost.
4. Accelerated payback. The rapid growth of positions will allow you to profit from Internet resources much faster. This will accelerate the return on investment for development and promotion.
5. Search engine algorithms are constantly evolving and using new data to evaluate the quality of a site and its content. Therefore, the scope of responsibility here is no longer limited to technical improvements and the compilation of semantic data.
Modern SEO is primarily about increasing the attractiveness and usefulness of the site for its target visitors. Optimizers improve the structure and content of the site. This has a positive effect on behavioral factors and page conversions.
The Best Way to Build an SEO-Friendly Website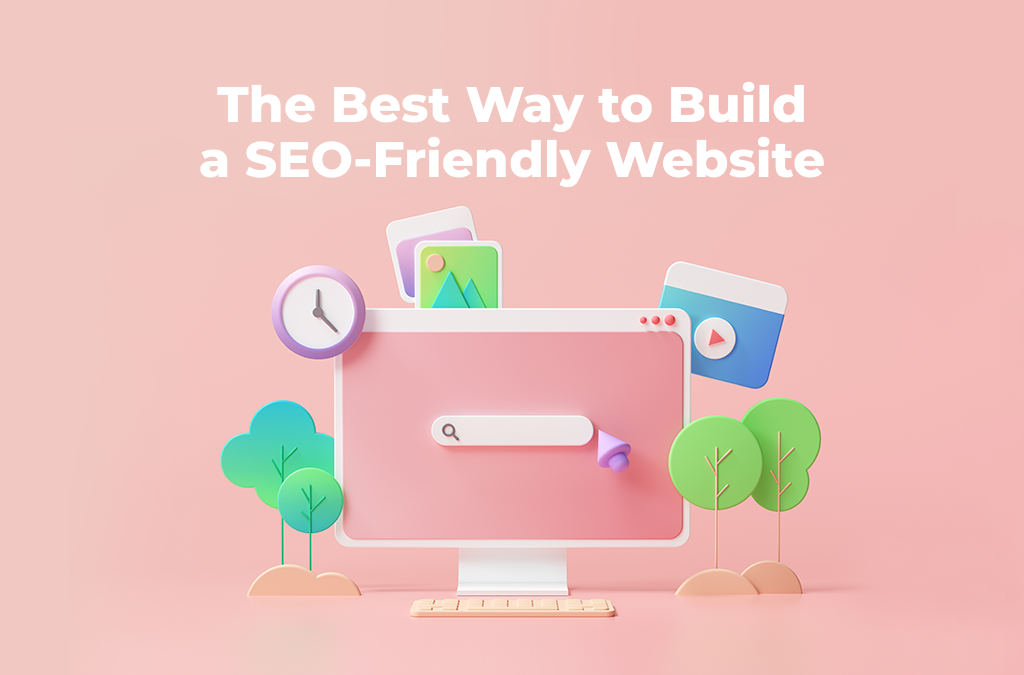 Any website can be compared to a well-designed store. Imagine that you have entered a huge shopping mall. There are dozens of shops around you. Whatever you decide to buy – the choice is huge. Which store will you go to? The one with a bright showcase, but it's not immediately clear what exactly they sell there. The goods are poorly sorted and you can't tell where everything is. Or in another, not at all conspicuous, but in which it is intuitively easy to navigate.
Or maybe the one where you are immediately surrounded by several consultants, behind whom you can't even really see the assortment?
Star question. Which of these stores will be more profitable for a mall owner who is interested in traffic and customer satisfaction?
So, the basic rules for creating a good site:
A good site is filled with high-quality and constantly updated content. Photos, texts and other materials published on the site must be of high quality, useful, and relevant for people who will visit your Internet resource. You can't skimp on content, because it determines how loyal your audience will be. Naturally, the number of visitors also directly depends on this.
Web design is the first thing a person sees when he visits a particular site. When developing web design, you need to consider not only fashion and innovation but also the interests of your audience. You need to understand that each audience perceives design in its own way, this must be taken into account.
The navigation system should be simple and understandable to the average user. The menu and navigation in general should help in the minimum amount of time to find the materials he needs. You can lose a large number of users if you make a complex navigation system.
Dynamism plays a very serious role in the quality of the site. We are talking about the need to add new content, update the functionality, and so on.
Moderation in advertising is also an important aspect that you should pay attention to if you want to make a promising site.
To all of the above, you can only add: the rules for creating a site are simple: more quality content, less advertising. A large amount of advertising interferes with users, this must be clearly understood. It is clear that advertising materials help site owners earn. But we must not forget that advertising should be moderate, it should not be too much.
In addition, advertising materials must be correctly placed on the pages of the site.
Here are the basic key SEO rules for creating a site that can help you achieve great heights in monetization.
How to prevent SEO errors?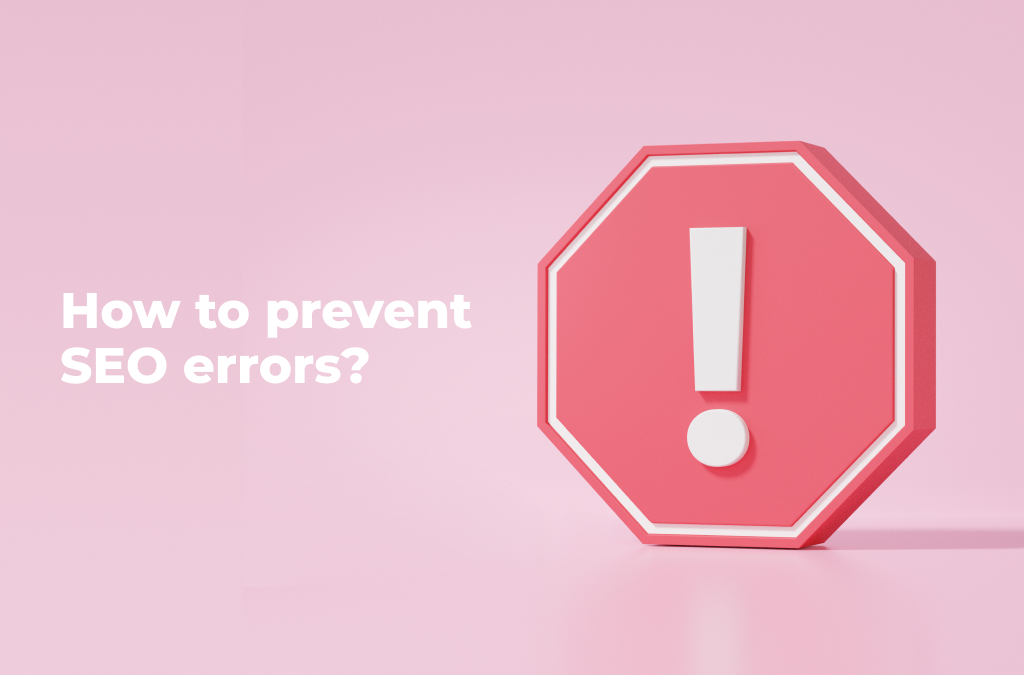 When creating a website for their business, most entrepreneurs leave work on it in the hands of such specialists:
designers — development of appearance and usability;
developers – layout of pages and connection of the necessary functionality;
project managers – calculation, compliance with the budget, and deadlines for working on the project.
As a result, the client receives a convenient and visually pleasing website. However, for search engines, the pages and functionality of this resource may turn out to be much less attractive and understandable than for the business owner and users. The result – other things being equal, the position of the project in the issue is worse than that of competitors.
It takes longer and more expensive to implement key SEO rules on an already finished project, we wrote about it at the very beginning. SEO in the development phase is a strategic move. Carefully designed optimization for search engines allows you to prevent errors that will negatively affect further promotion and take into account search demand. This will help to increase the reach of the audience at the start of the resource, which means getting the desired payback and profit in a shorter time.
The most common mistakes are immediately evident and critically affect the quality of the site. Users immediately leave it and you lose potential customers. We offer you a list of the most common errors, regardless of the type of site. We advise you to check your resource for their availability and make the appropriate changes.
Does website design affect SEO?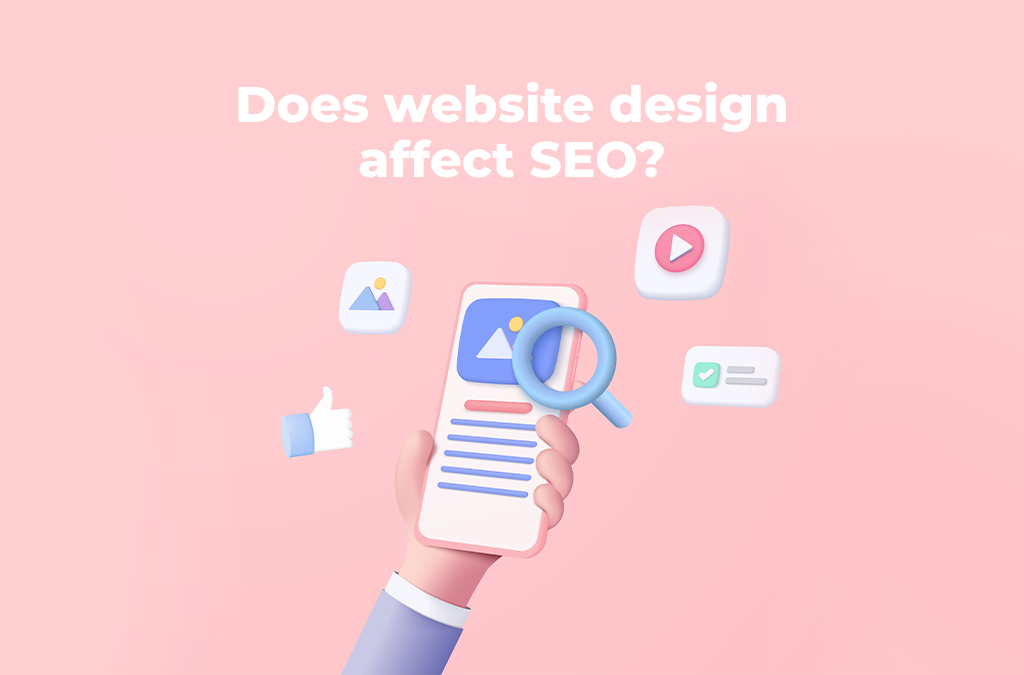 Perhaps you are sure that SEO is the basis for website promotion. But it is not so. There are hundreds and even thousands of sites that are at the top for a number of keywords. However, they have low conversion rates. Why is that? In one word: design. Website design significantly affects its promotion and conversion in general. In general, we recommend considering the design from two positions: the usability of the site and its appearance.
UX Design – user experience. Its essence is not how the site looks, but how convenient it is for perception. UX Design is responsible for the layout of menus, buttons, banners, and other page elements. In addition, UX is a kind of user journey from point A to point B. The site, thanks to a well-developed UX design, literally leads a person by the hand to the target action – ordering a product or service.
UI Design – user interface. These are directly graphic details: the appearance of buttons and icons, animations, fonts, and so on. Everything that the user sees in front of him on the screen. The key goal of UI design is the aesthetic appearance of the site and compliance with the corporate identity. With its help, accents are created on targeted actions (Buy/Call buttons), and emotional response and user confidence in the company are evoked.
Want to know the top web design trends for 2022? This is really interesting, we recommend that you familiarize yourself with this topic in detail.
How Do Search Engines See Website Design?
Yes, in fact, search engines do not see the design of your site and do not evaluate how convenient and beautiful it is. But they take into account the following factors when ranking:
behavioral;
reference;
domain;
text;
technical;
commercial.
But these factors are already in many ways directly related to design. For example, the site does not have an adaptive web design, and it is inconvenient to use it from a smartphone – the number of bounces is growing, and with them, the site's positions are falling. Or another example: is due to an ill-conceived interface or poor design, a person gets confused about the menu and product categories. The client cannot understand how to buy goods on credit or pay for the order directly on the site. The same applies to the weak appearance of the site: if a user enters an online store with an old design, the level of trust drops sharply and the user simply leaves without taking any action. Search engines take into account behavioral, technical, and commercial factors, and positions are falling again.
Evaluate the Finished Site
Perhaps these errors will seem insignificant to you. You may simply not guess about them, but they have an effect on page indexing, promotion, traffic, and conversions.
The site is not user-friendly. Poor usability is bad. Everything should be convenient – structure, navigation, readable texts, and a simple form for ordering services.
The site is filled with non-unique and useless content. Texts should be unique, interesting, informative, and useful. In addition to the quality of texts, their structure is also important – the use of headings, subheadings, lists, and images. Each page should be optimized for its keywords.
"Heavy" images. Long loading of site pages negatively affects both behavioral factors and the correctness of its indexing.
Wrong structure and navigation. A structure that is too long makes it difficult for the visitor to find the product they are looking for. Behavioral factors will be bad, similar sections will appear and the search engine will not be able to understand the priority of pages.
Inability to filter products. Even now, many online stores do not have filters for sorting products by such characteristics: as size, type, price, brand, etc. Such pages are used to promote products.
Product cards are not optimized. The search engine pays attention to all the content on the page. Detailed content allows you to raise the site to high positions in search results.
Technical errors. Technical errors also include viruses, incorrect redirects, errors in the code, failures in the availability of the site, incorrect determination of the site region, and too many pages with the 404 code.
Duplicates of goods in price aggregators. Purchasing links on exchanges. Because of the "gray" methods of promotion, you can fall under the filters of search engines and completely disappear from the search results.
Roxxe – Responsive Multipurpose Shopify Theme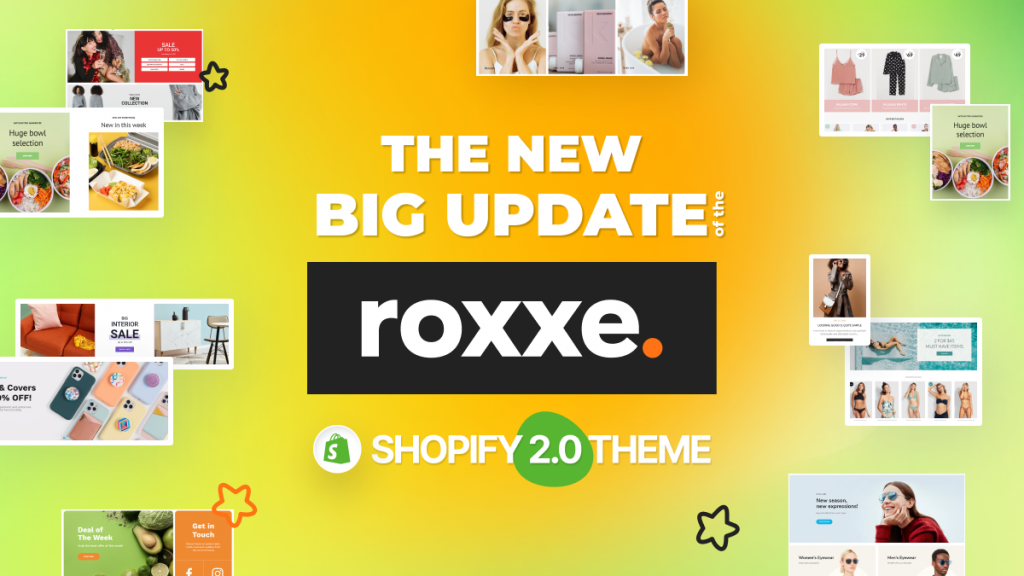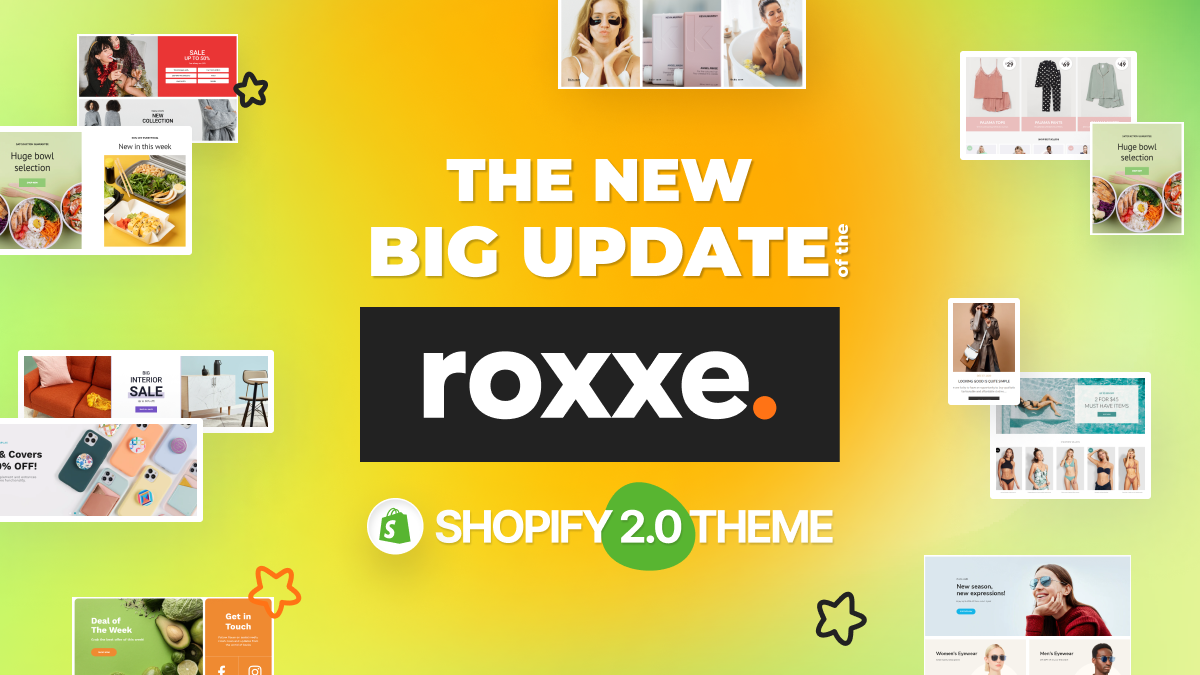 This a vivid example of how you can easily and quickly launch your site based on a ready-made template. This is a responsive modern theme that has already received a lot of positive reviews. Whatever you're selling, perhaps Roxxe is the only theme that fits any store.
You can create a powerful online store that will provide your customers with a hassle-free and convenient shopping experience. Modern design, minimalist style, and a range of special demos – Roxxe is designed for many different online stores. Display your products in style and make it easy for your customers to find, select and purchase.
Roxxe is not just a ready-made theme for an online store. This is really a multi-purpose universal template, which presents a lot of skins, and designs for every taste. Both beginners and professionals can use this theme without limitation. Everyone will find here something for themselves.
We already talked about the main advantages of Shopify as an eCommerce platform. In addition to solid reliability and high speed, Shopify supports a large number of features that are indispensable for e-commerce. In particular, you can create landing pages in Shopify. The developers make all Shopify templates 100% SEO optimized. All this applies to Roxy, it is also created taking into account all the key SEO rules. You get all the benefits of working with Shopify that you can only dream of. More best themes for online stores can be found here.
Conclusions
Creating a site should always begin with the analysis and development of the structure. Use key SEO rules so you don't miss these important points. Illogical relationships between folders, complex, incorrect or incomprehensible navigation without breadcrumbs, as well as duplication of pages under different URLs will create one huge fat minus in usability for the user and promotion for search engines. And then everything is according to the scheme: the user will not use the site if it is inconvenient or incomprehensible to him, and search engines will reduce the position of pages in the results if they do not understand which of the pages is better to rank.
Sometimes it may seem to you: the more creative, the better. This is also a big misconception. Only a high-quality, harmonious design will inspire the trust of visitors, form the right impression of the company and become a motivator for purchases.
An online store or other online resource is a technically complex project that requires a very, very detailed study of each criterion. Everything on the site in one way or another affects the consumer experience, usability, promotion, and sales. There can be hundreds of mistakes made when creating an online store, we have considered only the most common ones. Be sure to analyze your site for errors and fix them. Do not trust the work on the site to specialists of whom you are not sure. Use ready-made themes to reduce the number of errors when creating a site and launch it in the shortest possible time.