What is Crocoblock?
Crocoblock is a subscription service and a top Elementor add-ons provider. It grants you full control over your content. For many website owners that use Elementor, one of the most popular & free website builders for WordPress, Crocoblock is a true time-saver. Aside from the tools bundled with Elementor, our project provides a wide set of plugins. They can revolutionize and transform any website building process. Besides, this became possible not just to the world's most popular CMS but also to Envato, a platform that offers incredible possibilities to WordPress plugin creators.

Our service offers a variety of plugins created by our talented team. Thanks to it, Crocoblock became a source of creative tools for every WordPress user. All of this became possible due to our great start on Envato Marketplace. Also, it gave us the possibility to reach out to people who were searching for easy-to-use WordPress tools. Today, Crocoblock can help you get started with an online project of any complexity. All of it became possible to a wonderful community of users and a great team of developers.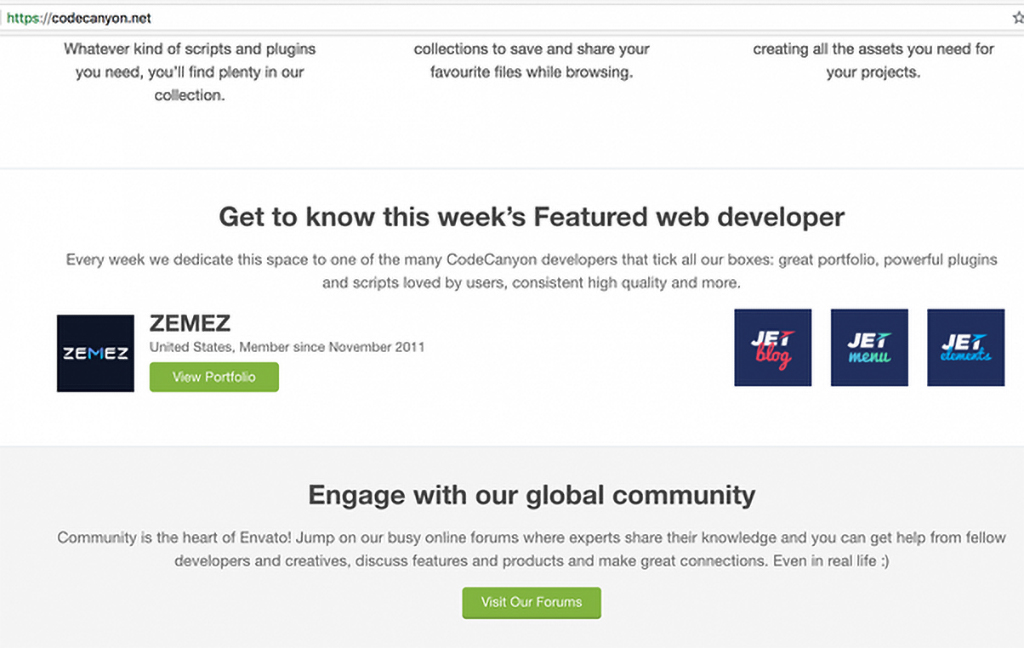 History of Crocoblock and Its Start on Envato
Crocoblock became a standalone company after becoming a top-seller on Envato Marketplace. Everything started with releasing JetPlugins under the Zemez author. Shortly after our first released plugin, we have received tons of positive feedback. Also, our clients valued the tools we provided. That's why we decided to expand from plugins development to Crocoblock subscription.
Initially designed to cover our development needs, JetPlugins proved to be highly popular among our clients. When our team decided to try out selling the plugins on Envato Marketplace, our sales rose unpredictably. It was our first step towards becoming a top Elementor add-ons provider. We've reached 60 sales just 24 hours after release and got the Envato badge "Weekly Top Seller". Moreover, in 2018 our team received a featured web developer spot with 3 JetPlugins on board. They included:

How Envato Influenced the Products & Strategies of the Top Elementor Add-Ons Provider
The success our team experienced when we started selling our plugins on Envato was a life-changing experience. It paved the road for creating new & useful solutions for various WordPress users and developers. Today, we design, develop, sell and support a wide range of tools for WordPress. Furthermore, these solutions vary in purpose but they guarantee a perfect user experience. Both developers and website users value our offers. Moreover, with flexible pricing options, Crocoblock's products are a great and affordable choice for any website owner and/or developer.

All this variety became possible thanks to our great start with Envato. It provided us with the platform to sell and promote our products for WordPress users. Besides, we received unexpected support from the community when we just started publishing our solutions. Of course, having such a great start online is valuable for any developer or web designer. This allowed us to test our solutions and get proper feedback from customers. Also, discovering what our clients want from the interaction with WordPress plugins was a very informative experience. It helped us shape Crocoblock as the future top Elementor add-ons provider.
Top 3 Crocoblock Products on Envato
The three abovementioned plugins we initially sold on the Envato Marketplace were the foundation of Crocoblock. As a result, these solutions have influenced the future of our project. One of our first solutions, JetBlog, was designed to provide better control over your content. It brings one of WordPress's main purposes to a whole new level. This plugin has received awesome support from the Envato community due to the simplicity and effectiveness of JetBlog.
Another important plugin for us and our clients is JetMenu. It helps in creating user-friendly navigation for any WordPress website. This is especially useful for online stores and eCommerce-oriented websites. Also, this plugin allows our users to freely experiment with diverse content in menus, including:
Multimedia;
Blogs;
Contacts;
Stores;
Elementor templates;
Various dynamic content etc.
It can be used in a variety of ways on different sites. The included templates & animations have made this solution one of our most popular ones.

One of the highly multipurpose plugins we provided on Envato is JetElements. Up to this day, it is considered a must-have option delivered by a top Elementor add-ons provider.  It comes with a variety of pre-developed sections, blocks, and animations. This plugin allows our users to create any custom-styled content with Elementor. Due to its wide variety of features, JetElements received lots of support from Envato. Today, this solution and dozens of other plugins can be found on the Crocoblock website.
The Role of Envato in the Establishment of Top Elementor Add-Ons Provider
Envato marketplace played a huge role in Crocoblock's path to success. Selling our first plugins and other solutions here provided us with a great start. It also allowed us to receive support from the friendly community of this marketplace. Moreover, when we were selling our solutions under the Zemez author, we gained a lot of invaluable feedback. Our experience on Envato proved to be very fruitful for our future projects.
Being one of the most popular marketplaces in the web design industry, Envato is a great place to start. Even for small web developers or freelancers, it provides a simple way to get any creative solution to a wide audience. In addition, our personal experience of selling products here is great proof of this fact. We appreciate our cooperation with Envato as it helped us get started with our projects. Therefore, if you are struggling to find users interested in your templates, themes, or plugins for WordPress, Envato Market is a perfect place to start.