Why do you need a digital marketing strategy? And how to build an advertising campaign to avoid losses? How important is a good digital marketing strategy for an online business? Let's deal with everything in order. In essence, digital marketing today promotes and popularizes a product. But it is important not just to talk about the product, it is necessary to find an audience that will be interested in this product. Let's take a look at the digital marketing strategies fall 2023. You can read more about business strategies here.
Any marketing campaign begins with defining business goals and building a strategy to achieve them. It is through the right promotion of a digital marketing campaign that you will be able to:

Make your site more popular
Attract new customers from different traffic channels
Create and increase the base of potential customers
Expand business
Increase profits and brand popularity
It is important to understand the ultimate goal of a digital marketing strategy. A well-formulated work plan motivates employees and reduces the financial cost of an advertising campaign.
2022-2023 brought change and innovation. We have witnessed a dramatic change in the way people consume their media. This means that companies have had to completely change their digital strategy on the spot to accommodate these unforeseen changes. To be prepared and put together a successful digital strategy for your business, check out 5 digital marketing strategies fall 2023.
Classic or Digital Marketing: What to Choose?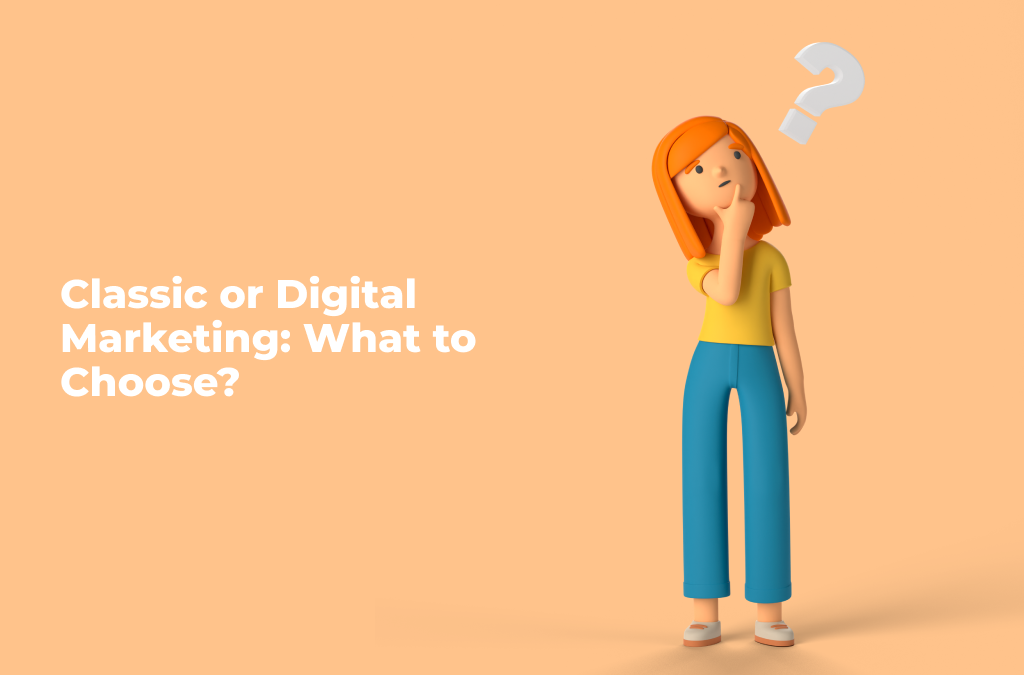 If you are wondering what marketing tactics will best promote your business, you can find the answer here. By traditional marketing, we mean traditional marketing tactics. It includes several different channels: billboards, radio ads, television, and print media. In other words, this is offline marketing.
While most companies have completely transitioned to a digital marketing-only service, some industry giants are still effectively leveraging every promotional channel available to them, maintaining a healthy balance. This is true especially if their target audience is the elderly, who still rely on radio and television as their main source of information.

Marketing has always been about connecting with the right people at the right time and at the right price. Today, these meetings are more likely to take place online than offline, leading to a shift in marketing focus to digital realms. While traditional marketing methods are one-way communication, with digital channels, marketers have been able to establish a two-way communication channel with their audience. To make digital marketing really effective, you need to know what your audience likes and where your audience lives. This direct interaction and feedback may be the key to why digital marketing has overtaken traditional channels.
How to Develop a Digital Marketing Strategy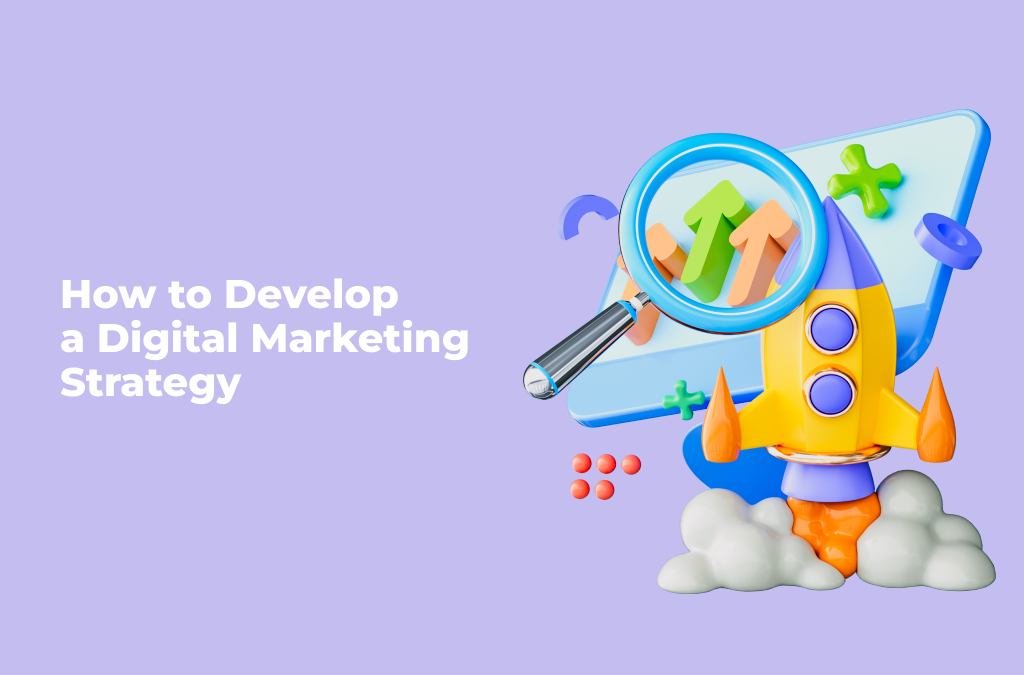 Set a goal. You must clearly understand what final result you want to get, what needs to be done for this, and what budget you will need.
Find out your target audience. How well you know the habits and needs of your customers depends on the success of an advertising campaign and the correct use of the budget.
Describe the portrait of your client. Facebook Audience Insights and Google Analytics are excellent tools for this.
Understanding audience web habits improve sales. Of course, not all areas need it. For example, if we are talking about an online store, you can neglect SEO or Google Ads at the start.
Determine effective marketing channels. Answer these questions. Think about how you will promote your product. Where is the best place to buy it? And what sites do your target audience visit most often? Additionally, you can explore other traffic channels – TikTok or Instagram.
Most importantly, direct your efforts in the right direction. Constantly analyze the effectiveness of your actions and remember the ultimate goal.
Digital Marketing Strategies to Help Increase Your Sales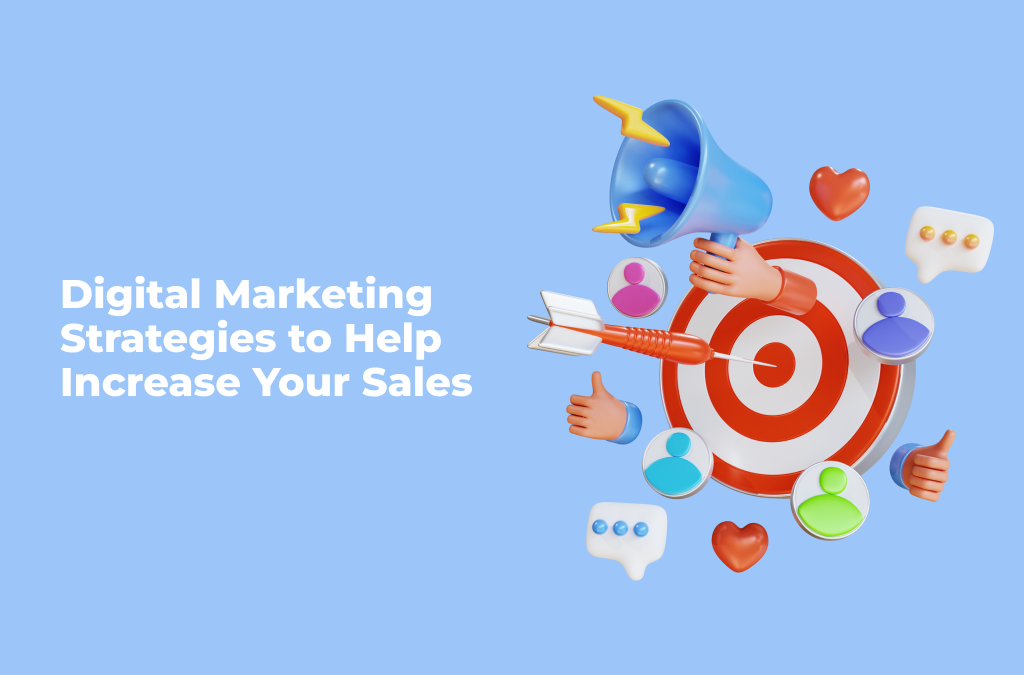 Let's look at different digital marketing strategies fall 2023. Check out each of them in detail. This will make it easier for you to identify the benefits and choose the best strategy for you. Top 6 Trends for Digital Transformation in 2023 will let you see even more opportunities for your business.
Build a strong social media presence
Today, social networks have more than 4.4 billion active users. Therefore, it makes perfect sense to consider social media as the best and most inexpensive way to promote your business. To get started, you need to know which social networks your ideal customers spend most of their time on. Instagram, Twitter, Facebook, or Snapchat – view and analyze them.
Share informative content that is of value to your target audience on specific social media channels. Consider investing in a social media management tool to track your key metrics like engagement and page visits.
Over 54% of people use social media to research a store before buying.
Posting valuable social media content and paid advertising can help you expand your reach. This is where you can engage constructively with your target audience and increase your chances of getting more customers.
Video Content
Video is a very powerful tool for influencing the audience. Types of videos that are used to achieve goals in digital marketing:
Educational. Demonstrate to the consumer how your product can be used to benefit. Create a mini-course or a small blog with tips.
Interview. An expert recommendation is a powerful argument for a person thinking about purchasing your product.
Reviews. The buyer gets the impression that a real person is talking to him. Due to this, there is a credit of trust in you as a seller.
Video from events: seminars, meetings, meetings, parties. Create the illusion of presence in the audience.
Demo. These videos are needed in order for the buyer to get to know the product better.
Calls to action are one of the most effective marketing strategies for video content. While most sites only place calls to act on the home page, it's a good idea to use them on blogs, videos, and visual content in general as well.
You should explain to customers how they can interact with your brand. For example, tell them about your website or how they can follow you on social media for more information.
Create your blog
Blogging is one of the most effective digital marketing strategies for generating leads for your business. Of course, blogging requires the right strategies and the right management to build authority. It takes time and also too much effort to create an identity in the online world. This strategy involves building a website where you regularly post informative and educational content. It should definitely be related to your specific industry or your products.
You can also create blog posts that offer solutions to your customer's problems.
You can also use your blog to write content that will help your target audience learn more about your specific products and services. This is where you can also use tricks to help them make an informed buying decision.
Google analyzes blog content not only to find relevant ads to use your blog but also to position your blog in search engine results. Google may determine the density of individual keywords and link your site to motorcycle repair sites, and may also include your blog along with other motorcycle repair sites or blogs in search results. This can drive traffic to your site.
Providing valuable content to your audience consistently and regularly can help you build trust and establish credibility in your industry. Share your blog posts on social media platforms to reach a wider audience and grow your customer base.
Maximize Search Engine Optimization
Search engine optimization is another proven digital marketing strategy that can increase your visibility on search engines, making it easier for customers to find your business online.
At the heart of a detailed analysis of your web pages should be:
Studying the use of keywords.
Understanding how a service or category of goods meets the requirements of the target audience.
Correction of all SEO errors that prevent Google from indexing the site.
Create a backlink strategy.
Skillfully conducted SEO optimization helps to attract high-quality traffic to the site.
Make a list of keywords that your target audience uses when searching for services and products in your industry. Then, include those keywords in your blog titles, in your post content, and on your websites.
This will help you rank high on search engine results pages whenever people search the web for a term related to your niche. Effective search engine optimization helps increase brand awareness and increase credibility and trust, helping you build audience trust and reach more customers.
Consider using local SEO tactics to promote your business to local audiences and turn them into buyers.
Use email marketing
Although it is one of the oldest forms of online marketing, email marketing remains an effective marketing strategy for getting more customers to your business. This is especially true if your emails contain interesting and valuable content for your target audience, rather than just promoting your services and products.
Effective email marketing includes a catchy and compelling subject line that grabs the attention of your subscribers, encouraging them to read your emails and stay engaged with your brand.
You can use email marketing to send out emails that introduce your business to potential customers. In addition to introducing your business, you can use welcome emails to provide more information about how your products can help your target audience.
Another effective way to use email marketing to reach more customers is to send promotional emails with time-limited offers such as gifts, discounts, or free shipping.
You can also use email marketing to inform potential customers and existing customers about new product arrivals, holiday deals, and giveaways, which are great ways to increase your conversion rate.
In 2022, surveys have shown that email marketing remains relevant for generating leads. And today, email remains an effective promotion channel. SMBs believe that among communication channels, email marketing will provide the highest return on investment during the economic downturn in 2023.
Conclusions
Digital digital marketing strategies fall 2023 are undoubtedly one of the most reliable ways to increase your sales and improve your bottom line. Implementing the above digital marketing techniques can allow you to reach as many potential customers as possible faster and cheaper.
Be sure to analyze your analytics so you know where to adjust your strategy and succeed with your marketing campaigns.
Developing a digital marketing strategy is really important. The right strategy will help you better value your product and understand your customers. The better you understand your audience, the better your sales become.
The strategy should be designed specifically for your target margin categories in the store. Using someone else's promotion plan is ineffective. This is fraught with a senseless waste of time and resources. Want to implement your strategy quickly? The speed of the project implementation directly depends on the work of each person in the team. The team must act like a well-oiled machine.