The trade-in medicinal plants is a fairly profitable occupation in which it is quite possible to build a business. In the same way, medicines are one of the most demanded product groups. The traditions of treatment with herbs, decoctions, and infusions constantly remain relevant, and today they are becoming even more popular. And, if you want to build a business selling medicinal supplements, vitamins, or sports nutrition, this is without a doubt a good solution.
You can easily create a website with a marijuana store Shopify theme. Setting up the theme will not take you much time, and the work will bring you pleasure. Never worked on website development? Now, this is not a problem. The theme of marijuana is thought out to the smallest detail and contains ready-made pages and sections. Comfortable work is provided for you, and your site will definitely make an unforgettable impression on visitors.
It is convenient for customers to buy medicines and other drugs online – more often such stores offer lower prices and convenient delivery terms. In this case, both sides win: you get regular customers and good profits, and your customers get excellent service and high-quality products. Why do we recommend paying attention to ready-made Shopify themes? They are delightful and functional, you probably paid attention to this if you have already met them. We often write about Best Conversion-friendly Shopify Themes, so you can evaluate all their features for yourself.
Benefits of a site for promoting medicines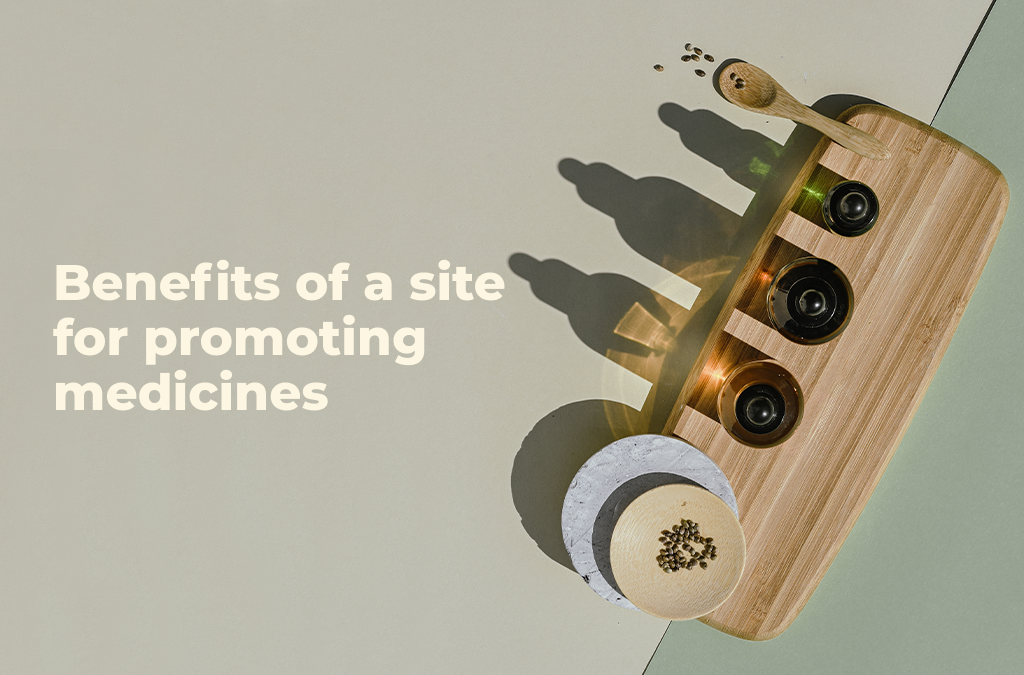 A full and brighter presentation of the drug for the target audience. Your site can be fully stylized and customized to present a pharmaceutical product in a unique design.
You can fully reveal the benefits of your product to an interested audience. You can also submit information in a form that is understandable to a certain group of its direct consumers: doctors of a certain specialty, managers of pharmacy chains and private clinics, and end users. To understand what goals you want to achieve, it is enough to analyze your product and your target audience. In this case, the site will exactly meet your needs, and working with visitors will be more efficient.
Centralized receipt and processing of feedback from consumers of a particular product is another reason to create a website for your products. Questions and feedback from the feedback form, chat with a consultant, and other tools for receiving requests from site visitors are valuable sources of information for a marketer who is engaged in positioning products in the market.
The ability to organize direct online sales on the site, manage stock balances, shipments, and even promotions. A lot of tools will greatly facilitate the process of online sales.
Focusing on your company's benefits. This is a great opportunity to stand out from the competition and express yourself. You can capture the attention of visitors and interact with them.
The website of a medical product for a pharmaceutical company is also a kind of insurance against reputational risks and a PR crisis. Also, don't forget that people most often search for information about medicines and other drugs literally on the go, so your presence on the Internet is an important component of a successful business.
What must be on a drug site?
First of all, it is important to highlight that such a site should have a clear and convenient structure. The classic structure is ideal here: describing the offer, identifying the benefits, closing objections, providing interactive opportunities for feedback from the seller, and placing an order. The theme of marijuana will seem simple and convenient to you. Please evaluate all its advantages so that you can work comfortably. Most often, such a site hosts:
Description of the indications for use and the mechanism of action of the drug components adapted for a non-medical and pharmaceutical user;
Detailed photos of the product and its packaging;
Point of sale data, such as maps of pharmacies or stores;
An order form or a button for making a purchase in 1 click, with a description of the terms of delivery and return of goods;
Comparison of goods;
Blog with news and useful articles;
Contacts for feedback and advice.
It is also necessary to publish a warning about the dangers of self-medication on the site, advise buying the drug only on the recommendation of a doctor and follow the dosage.
Shopify Medical Marijuana Store Template with a Bootstrap Design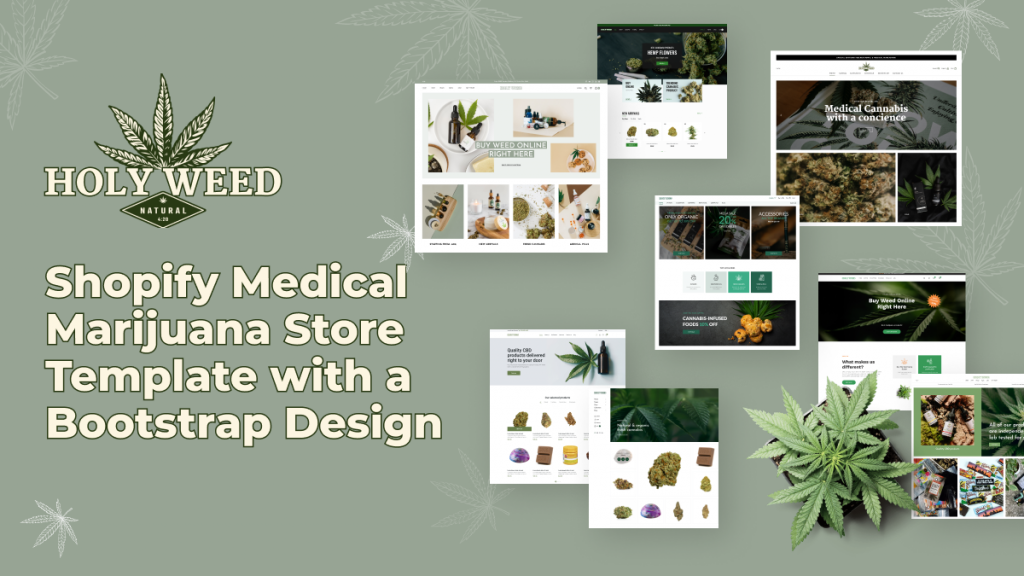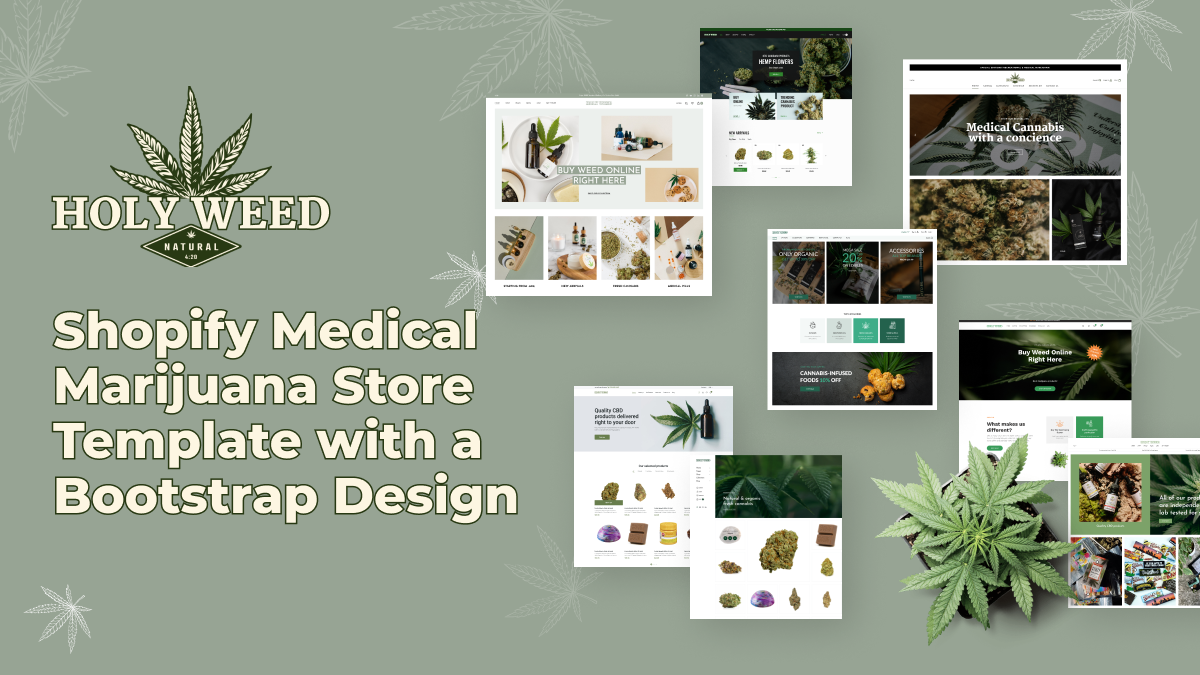 Meet Holy Weed – a brilliant marijuana store Shopify theme created exclusively to sell all sorts of medicines and related products. It comes with a handy editor and is perfect for an online store. Build any awesome store-related website with this amazing theme. It is cross-browser compatible and implemented with bootstrap, making it really easy to use. It comes with a powerful admin interface.
The marijuana store Shopify theme is mobile-friendly and easily fits into the screen of any device. In addition, it is SEO friendly and will take care of the site's ranking in search engines. You can import the demo content using the one-click import option. You can also add social media pages using widgets. It is fully responsive and perfect for all devices, be it desktop, mobile, or tabs. It comes with clean, secure, and optimized code. Also, the theme loads faster as the pages are optimized for speed. You will love that this theme has all the useful features you would expect from any Shopify store. In addition, you get an absolutely perfect design with modern visuals. But in fact, the popularity of this template starts with documentation and excellent customer service.
Marijuana store Shopify theme features for your business
Marijuana store Shopify theme gives unlimited possibilities to your store. You will appreciate them, especially if you have no programming skills and have never created a website before. Believe me, you have not yet seen a more convenient and simple template. Features of the theme you will appreciate:
Modern, lightweight, and easily customizable;
Compatible with all browsers, responsive design, and optimized for SEO;
Offer customer support, quality code, and great reviews;
Built-in settings panel that will allow you to change the template to your liking.
With a Holy Weed in hand, you will launch your online store with a great eCommerce design. All you have to do is set up a little, add your corporate identity, and description of your products, and start optimizing online sales.
Conclusions
If you are looking for a truly versatile template, then the marijuana store Shopify theme is perfect for you. You can adapt this theme to any type of e-commerce site. It also includes many widgets, built-in user preferences, a gorgeous book view, and many more features. It should be noted that Holly View allows you to endlessly expand the functionality of the site and has the functions of social "share" buttons. This template is retina ready, fully responsive, and optimized for mobile devices to make your site look stunning and run smoothly on all modern devices – giving your users an amazing shopping experience. This theme is really the perfect combination of all the tools you need for online sales. Without a doubt, it will satisfy anyone who wants to fully control their store.