Hey! If you are reading this post right now, you are surely interested in such a spicy topic for your business. Medical cannabis is really popular in a great number of countries and can be a perfect medicine that helps people to live a calm life. There are loads of entrepreneurs who run these companies and desperately try to find a suitable website or a template for it. As you could notice, Zemez made a medical marijuana and cannabis WordPress theme called Medijuana.

Explore each detail of Medijuana with us, have a look at the live demo, and make sure this theme fits you, your business, and your philosophy. In a beginning, we should say that the design of the Medijuana is cutting-edge, and can keep plenty of users in front of the screens just because of the pretty look. And it's great, isn't it? Green, black, orange – all these colors are contrast and extremely vivid, so no one will resist.
Next, this WordPress theme is outstanding on the surface, however, you haven't seen it from the inside yet. Built on the base of easy-to-use editors applying only clear and the simplest technologies of page building, Medijuana breaks all the records. We can state with certainty this template is worthwhile and will grab your attention for a long time.
So, it's enough to study Medijuana with the compliments. Let's start going deeper and find out more about the performance, powerful plugins, diversity of page layouts, and compatibility with different types of screens.
Empowered By Elementor and WooCommerce Plugins
To learn more about what is under the hood, we have created this block and are ready to tell you all the details and peculiarities of medical marijuana and cannabis WordPress theme. So just like the name, the Medijuana comes with two powerful plugins. The first one is Elementor builder, which is a true helper in page building, and the second one is the WooCommerce plugin, which gives possibilities to create an online store in a few simple steps.

So let's explore each of these plugins closer:
Elementor page editor. This plugin allows your WordPress theme to be rich in various pages full of widgets and elements that the customers demand. Elementor has the drag and drop technology that lets you change the elements places in the way you need without any extra movements. The number of these elements is really diverse – about 100 different positions. Also, there is a possibility to customize the pages in live mode and check the changes immediately.
WooCommerce plugin. Then, look at the WooCommerce plugin, which is made for online shops building, that won't differ from the real ones. The store built on the base of this plugin will get all the options and functions of the offline shop. With WooCommerce you can create a product page and single product page, outstanding filters for simple searching, wishlist, and shopping cart.
So, as we can see, these plugins create all the conditions for a convenient and modern website building with all the options of a real shop.
Medical Marijuana and Cannabis WordPress Theme With Wide Range of Add-ons
After purchasing the medical marijuana and cannabis WordPress theme you will definitely get a collection of add-ons for the Elementor builder. A full list of them you can easily check in the documentation for the Medijuana. Also, there you will find a detailed description of each extra plugin. Now, we will look at the possibilities you can get using these addons on the website.
On each website page, it should be a header and footer. The extra add-ons provide you with the opportunity to customize them in the most preferable way and fill them with the various widgets. It's possible to display the social media icons with a direct link to your company profiles. Believe, the users appreciate such an option.
Each online store needs a Blog. It's easy to create in a grid, you just should write posts, and publish them there. Customers can leave comments and keep in touch with the post author. In addition, there can be FAQ blocks that can be made without any effort.
The plugins create all the odds for a "no-line of code" editing because the system of settings is highly clear and understandable. So, don't care about the level of your knowledge in coding.
Create a Mega menu with Medijuana medical marijuana and cannabis WordPress theme. What's it? This is a non-standard menu on the website which is bigger a few times than an ordinary one. Showcase an unlimited number of categories that existed on the website, add the widgets with products on sale, with an advertisement, or any other widgets inside. It will become marvelous website navigation.
Extra Medical Marijuana Pages on Board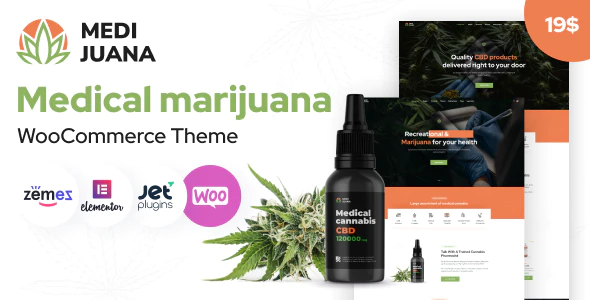 When it comes to build a website and promote the business of a large online store, there is a need for a diversity of pages on board. It allows you to present the shop from every angle and provide the clients with every service they need. 
Therefore, to save time – your and your clients, you must create functional navigation and enough pages to make customers be sure they will find the answers to each their question. Here is the list of some pages in the Medijuana WooCommerce theme:
Home page
About us
What we do
News
Licenses
Payment and delivery
404 Error
Also, you should be aware, every page is ready-made. It means the layouts can be used as they are on your website, or you can edit a bit for your requirements. It will be enough to fill it with the necessary content.
Responsive Design of Medical Marijuana and Cannabis WordPress Theme
If you build the website on the basis of the Medijuana WordPress theme, you get a chance to give the customers unlimited access to any device. That's because of an adaptive design. Enjoy free use of any type of screen with a wonderfully performed website. Make assure, the pages will look the same as on the desktop without any bugs. Additionally, Medijuana is SEO optimized and it turns simple to get to top results in Google.