Magento 2.1.x. How to Add New Blog Category
Here you can find the instructions on how to add a new blog category.
Add New Category
1. Navigate to the TEMPLATEMONSTER section in the left sidebar.
2. Find Blog and click Categories. Here you will see the list of categories.
3. To create a new category, you need to click the Add New Category button at the top.

You will see several sections:
1. General [Category Information]
In this section, you need to specify main information of category.

Let's review the available options:

Category Name — enter the category name.
URL

Key

— input URL in lowercase (e.g. url_key, urlkey not UrlKey or Url-key).
Sort Order — enter the sorting number.
Store View — specify the Store View the new blog category will be available for.
Status — you can  show or hide the category.
2. SEO [Meta Data]
In this section, you need to specify the additional information. The SEO Title, Keywords and Description ensure the visibility of your website and its content on search engine results pages.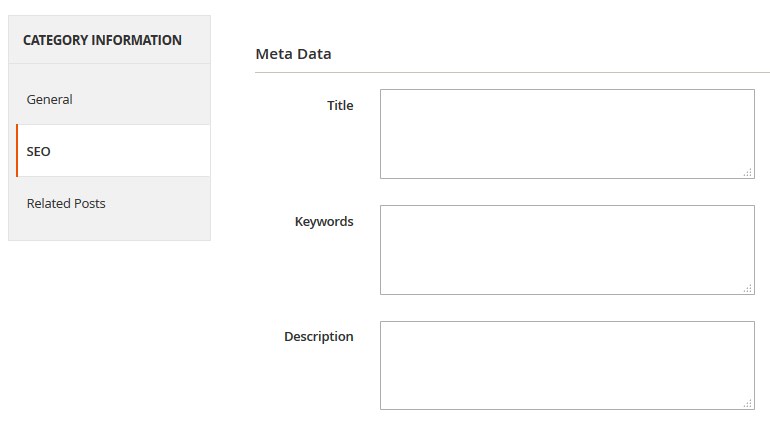 Let's review the available options:
Title — enter the category title. [1]

Keywords — input keywords for this category.
Description — you can add the description for this category. [2]

Search Engine Results Page:
3. Related Posts
In this section, you can add blog posts to the new category.
In order to add some posts to display within the new category, do the following:
Choose Any from the Status dropdown.
Press the Search button.
Check posts you want to include in the new category.