JetMenu is a unique plugin, a not-ordinary mega menu tool, that adds a splash of color to the menu, making it just a bit more stylish. And it is much more powerful,  allowing you to create something completely new and very special. Let's find out, why you should try this plugin out if you want to create a menu.
Easy to use. Rich in content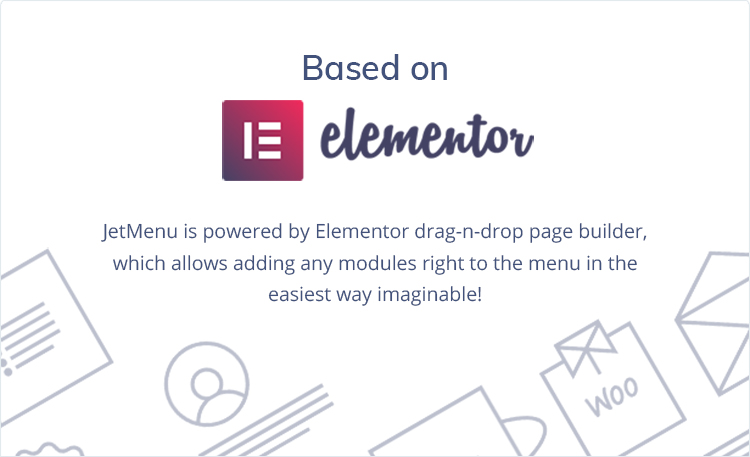 This plugin is based on a completely new approach to creating a menu, which assumes that creating a menu has to become as simple as creating a page using Elementor live page builder! From now on you won't need to use coding to stuff a menu with content or create a mega menu.
With JetMenu everything you'll have to do is drag and drop content modules to the needed areas – and a totally new menu with unique content modules will be complete within several minutes! And what is the most important, is that JetMenu is fully responsive, and it will look good both on the desktop and on mobile devices or tablets!
Perfect sense of style
JetMenu uses Elementor modules to add content to the items in your menu, and also applies the styles provided by Elementor modules to style up your mega menu. With loads of options for creating content and magnificent styles, creating menus becomes a fascinating task, and it is simple enough for anybody regardless of his experience in creating content.
The plugin offers profound style customization options, including a great variety of text and background settings. It allows creating separate styles for the menu items on hover and when active.
You'll be surprised by the true abundance of settings. And, if they are still not enough for you, you can as well use Elementor module styles, add icons and badges to menu items. With JetMenu you'll have a total control over your menu appearance and layout. And there is no doubt that you'll make your menu attractive and engaging with all kinds of content imaginable! You can see for yourself the example of how JetMenu can boost up the looks of your common menu on JetMenu live demo. Feel fre to visit!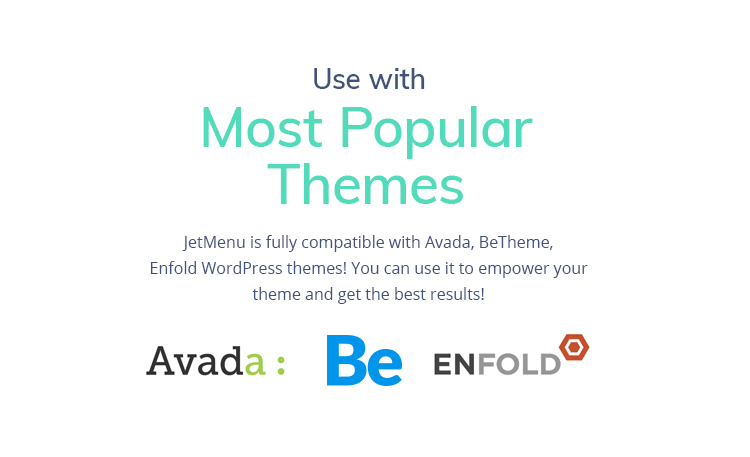 Compatible with Most Popular WordPress Themes
Another great thing about JetMenu, which makes this plugin totally adorable, is that it is fully compatible with the most popular WordPress themes, such as Avada, BeTheme, Enfold, and other free WordPress themes, like OceanWP, Zerif, Hestia, and many others! You won't have any issues caused by incompatibility, and as a result your menu will look good on all devices, as it is responsive to the boot!
Works with JetElements just fine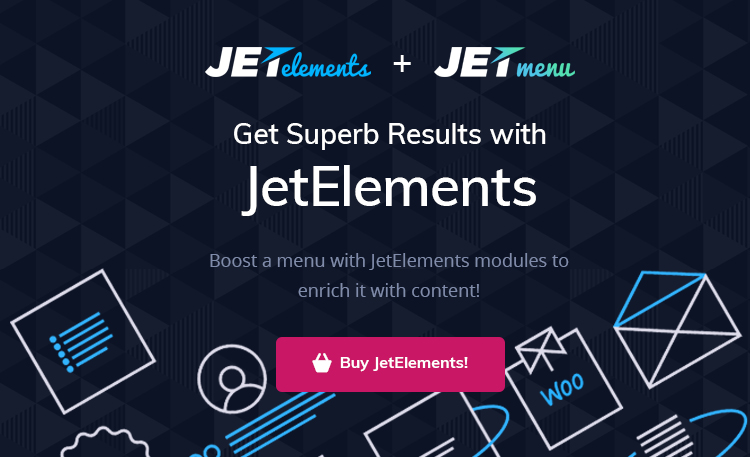 A nice bonus is that JetMenu fully supports JetElements addon, which allows you creating advanced carousels, sliders, image layouts, testimonials and projects blocks. If you have JetElements plugin on board, it will boost JetMenu functionality, and you'll be able to add all these astonishing content modules directly to the menu! With JetElements you'll be able to bring JetMenu functionality to the whole new level!