How's it going by you? Today, we have breaking news for the WordPress community. They are important for tech-savvy users and those who make the first steps in website building. Yet, to start, say please, can you imagine a theme that's both handy, available, and compatible with the top WordPress plugins? Well, it's absolutely real and already on its way to you! So, you must remember the Gutenix free WordPress theme from our partners.

Their team has worked a lot on its enhancements and made it closer to you. What does it mean? For more users' comfort, Gutenix is on in subscription. Plus, it's adjusted for the hassle-free work with Elementor, Gutenberg, and Brizy builders.
Our mission in this post is to provide you with details about a 50% discount, free options, and more. Things are about to get really exciting, keep on reading!
What Is Gutenix Gutenix WordPress theme?
In the modern world, there is nothing more effective for a quick start than promoting your business on the Web. Try the next offer and check on your own all the benefits.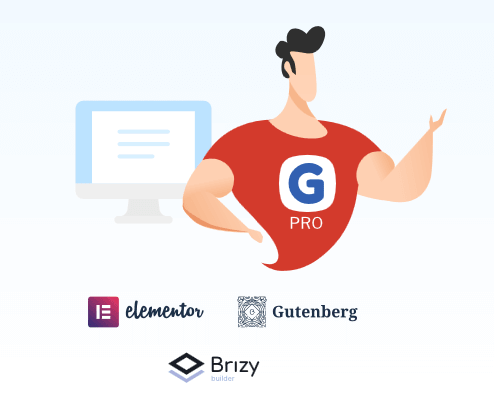 Gutenix is known as one of the best free WordPress themes for any builder. It's developed to be helpful for every modern person. Someone can adjust it to create a reliable business website, and for another one this product is a tool for numbers of digital projects. That's why in a case you look for a free responsive WP theme, you'll get it without doubts. Not enough? There are also paid versions for extended use. If you are a developer you may be interested in it. For sure, you'll also value the potential of Gutenix and the flexible price.

More about the packages will tell a bit later. Still, for example, a premium annual subscription is available with the 50% discount! For the very first customers, the cost will be only $49! Hurry up!
As for the Gutenix WordPress theme itself, it's a perfect match for the best builders. It's suitable for Elementor, Gutenberg, and Brizy builders. And this is for free! There is also an opportunity to create different projects at the same time.
Find out what Gutenix has to offer for each of the mentioned page builders:
for Elementor – a kit of 12 colorful and catchy templates. They are fully customizable and will help you promote your business on the Internet.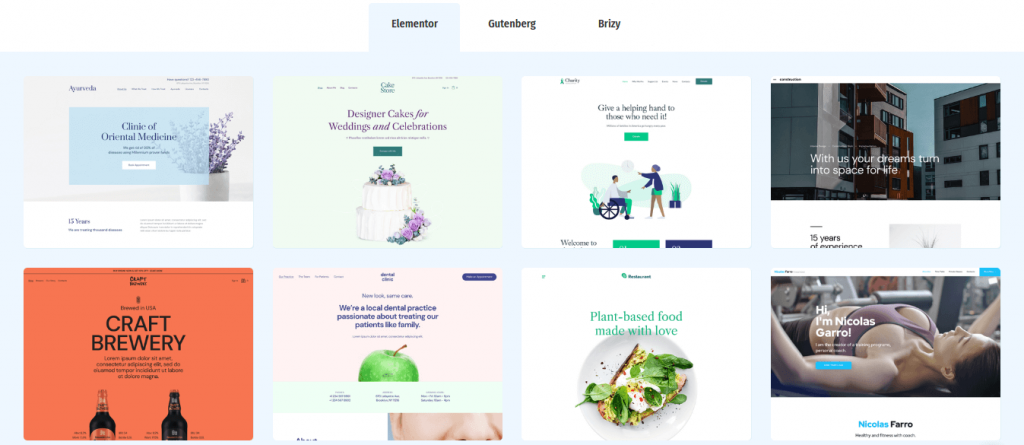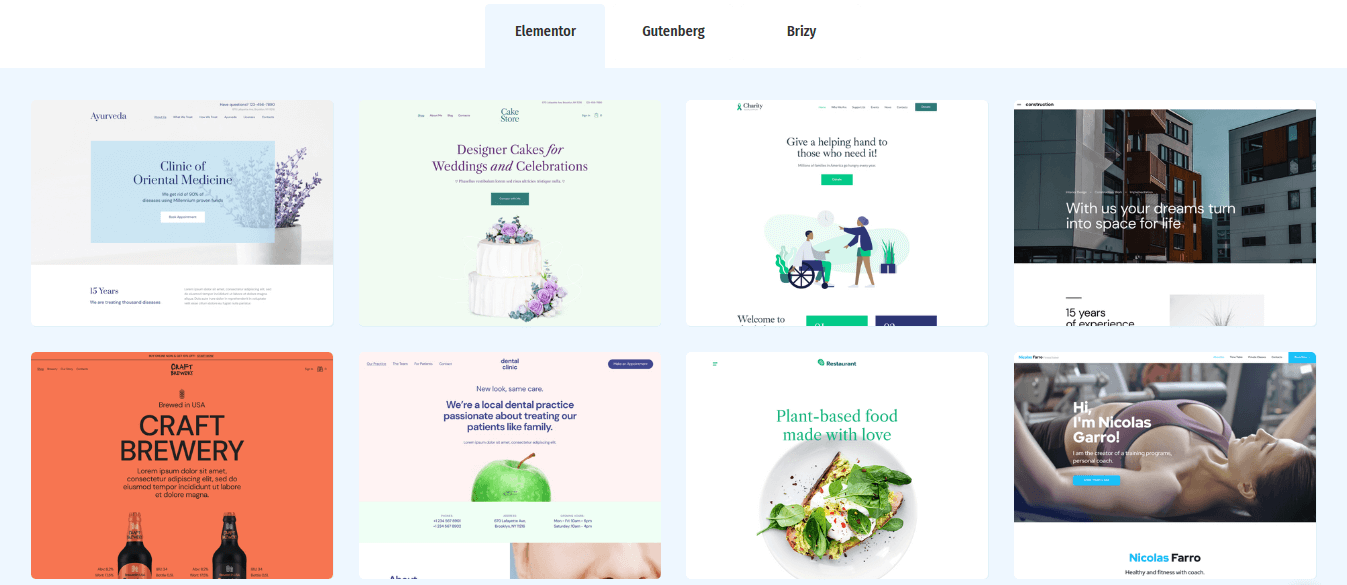 for Gutenberg – 9 multifunctional theme templates will make you stand out among the competitors. In addition, especially for the Gutenberg editor, the subscription includes the ZeGuten addon and advanced theme settings.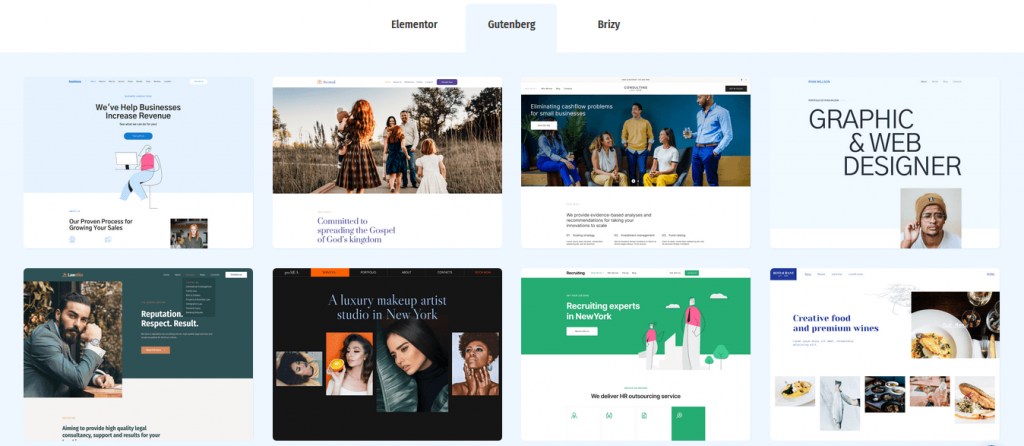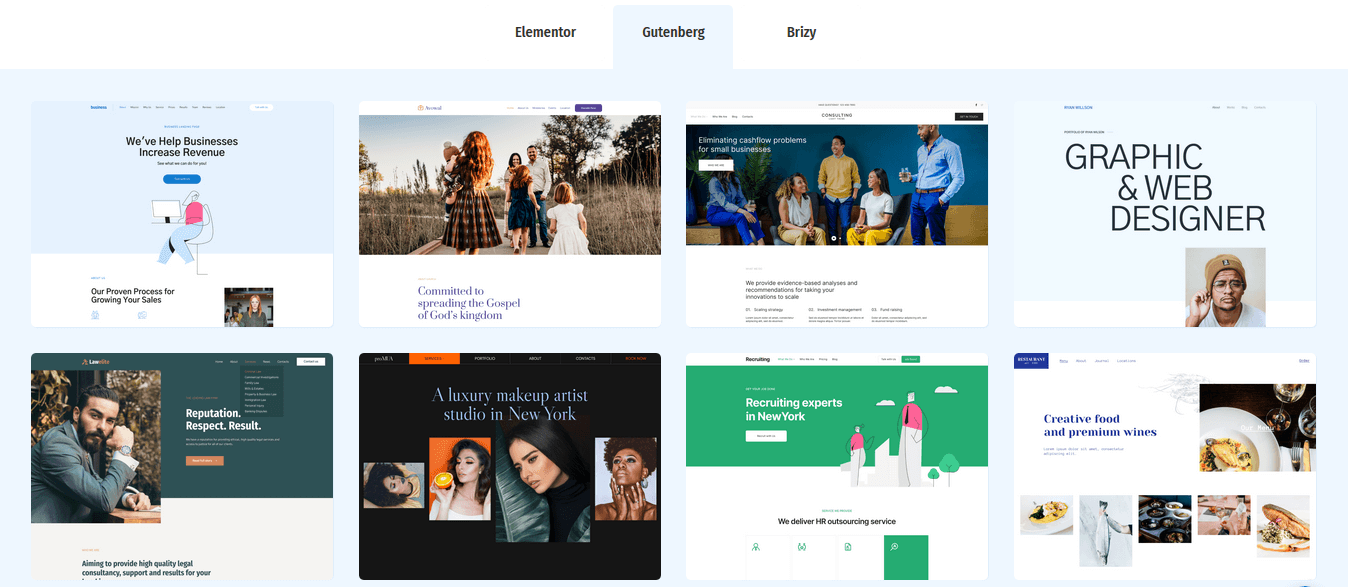 for Brizy – as well, there are 10 polished templates for Brizy users. They all go with expanded theme features.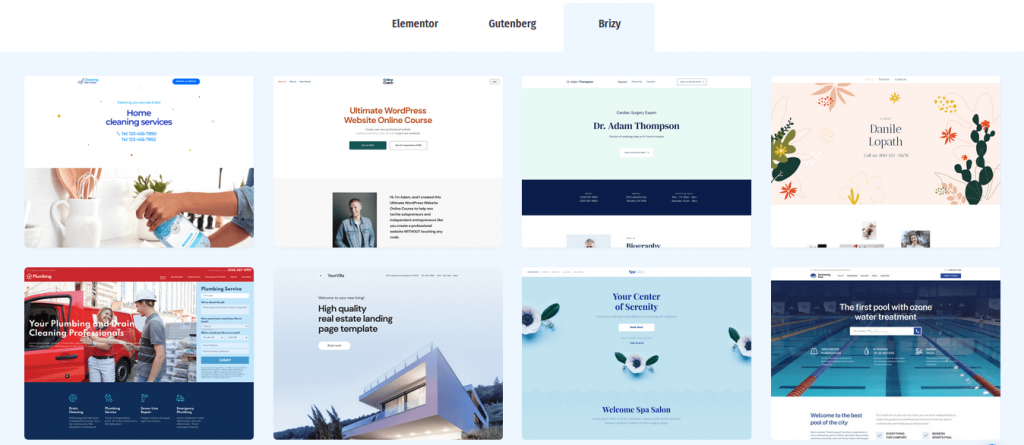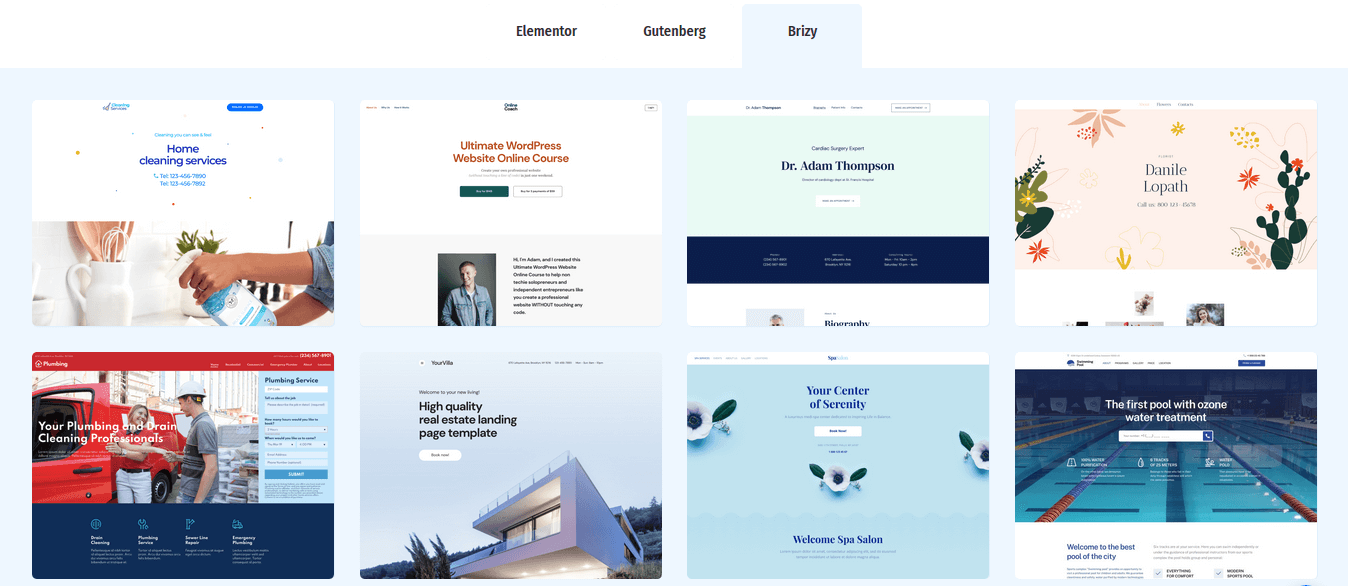 Harness the Forces of Gutenix WordPress Theme
It's reasonable to underline once more that Gutenix is not only powerful but also handy. There is no need to plunge into long codes working with it. If you don't know a lot about Elementor, Gutenberg, and Brizy builders, keep calm. They are just what rookies must like. Of course, tech-savvy users who have experienced these plugins already plan super-cool projects with the theme. Do you?
The Gutenix developers have cared to guarantee the smooth installation through the Wizard. So, the theme is ​​a must for a quick start. Many built-in tools and features, accurate SEO prove it. You can even set a logo in the form of an icon, customize a page layout, and much more. Also, easily add extra add-ons, like Contact Form 7, to expand the capabilities of your builder.
With the Gutenix WordPress theme, you get the up-to-date responsive design for your future website. It will perform perfectly on any device with any type of screen. Don't wait too long and subscribe to Gutenix to seize the numbers of styled templates (Archive, Single Post, and Page templates). Using them you can customize a website of any complexity. Blog or corporate sites are in a few clicks from you. And a simple WooCommerce integration and a package with many design features enable you to launch a multifunctional online store. As a bonus, you'll get mock-ups for product pages and far more.
Sharing more about the Gutenix design it's necessary to say about diverse options and pre-made layouts. Based on a pricing plan, they enable you to enhance the overall site coherent look, its headers, and footers differently. Furthermore, it's you who can decide what type of menu is the best for your project.
How to Subscribe to the Gutenix WordPress theme?
Gutenix's subscription is for beginners and advanced WordPress users. It's presented in 3 pricing plans to meet the expectations of everyone. So, let's explore them!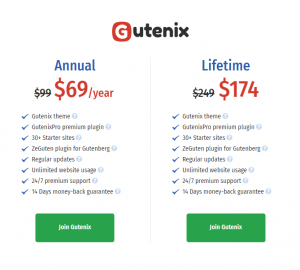 You may wonder what's the main reason for it or if it's worthy to try. First of all, of course, it's worthwhile and corresponds to all the mentioned above benefits. It's your chance to discover the Gutenix Free WordPress theme and try your own skills. The Gutenix team also hopes that you'll like to share your mind on it. As it helps to improve the product letting it always stay newfangled.
What can you get in Free Subscription?
the free version of Gutenix;
6 free templates for various builders (Gutenberg, Brizy, Elementor);
unlimited use of your future website.
Hurry up to benefit from the 50% hot discount for first subscribers! Now, the Annual Subscription is available for $69 only. 
See, what it's in:
the Gutenix free version;
the GutenixPro plugin for more functionality;
the ZeGuten plugin powered with premium blocks for the Gutenberg editor.
30+ templates for different builders;
6 new templates will be added monthly!
Plus, you'll be backed with professional support for the whole year. There's also the possibility to use Gutenix on any number of sites thanks to the GPL 3.0 license.
If you want unlimited access to Gutenix updates and new products, choose Lifetime Subscription. Pre-order it with the 50% discount for $174! This exclusive offer is only for the first clients.
The subscription is provided with:
the Gutenix free version;
the GutenixPro plugin for more functionality;
the ZeGuten plugin powered with premium blocks for the Gutenberg editor.
30+ templates for different builders;
6 new templates will be added monthly!
Still, all these and even more are available lifetimes. Just imagine how it's useful to build websites backed with lifetime support! It's absolutely real with the Gutenix WordPress theme!
Conclusion
We hope that this article was useful for you and Gutenix will bright the process of website building completely. It's a brand-new approach that guarantees the work with Elementor, Gutenberg, and Brizy builders. They are the best of the kind and boast of a great loyal audience. More than this, Gutenix is safe, effective, and time-sparing. Which subscription plan to use is up to you of course. Start with the free or go for a paid one with the 50% discount.
Make your choice and stay tuned!