The Power of Partnerships in eCommerce
eCommerce partnerships benefits play a decisive role in establishing long-lasting connections between various online stores and businesses. Properly built partnerships can help you create a strong business strategy to succeed both online and offline. Online businesses can often benefit from sharing their goals and efforts regardless of their size and activities. This is especially useful when designing and launching collaborative marketing campaigns. However, many companies may often create, develop, and sell a whole series of products to attract a larger group of potential customers.

As you may have guessed, in today's post, we will talk about the various benefits that eCommerce partnerships provide. We'll also discuss what such partnerships imply and how you can develop and support them. Besides, we'll talk about the diverse roles and functions that online business connections perform. Finally, in this publication, you'll find extensive information about 4 important ways of creating long-lasting eCommerce partnerships. But before talking about its benefits, it's necessary to know what such a partnership can offer you. That's why we need to talk about the role of cooperation in eCommerce.
Why Partnerships in eCommerce Matter
Collaborative efforts in business have a wide range of purposes. They do not just help you advertise your products and gain new customers. They also increase the trustworthiness of your brand and positively influence your image. Moreover, it can be useful for any future interactions with this or any other eCommerce brand. This is possible due to the display of your business in a positive light when partnering with top-ranked online stores and platforms. Besides, a well-built collaboration can boost your brand image and improve your reputation in no time. For many online stores, this is more than enough to consider partnering. When considering eCommerce partnerships benefits, it's important to think about scaling your business. Building a successful partnership can help you expand your business to new audiences and increase your customer base, ultimately leading to growth and scalability.
However, these are just a few of the eCommerce partnerships benefits that you can use. The reason for such collaboration also lies in marketing and promotion. Smaller online stores can get more out of partnering with each other when they need to market their products to a varied target audience. Also, some companies often benefit from sharing their resources for online marketing. Achieving set goals when advertising a new product, for example, is easier when partnering rather than doing it on your own. This is especially true when a partnership results in a cooperative launch of a product series. Some companies may even provide special offers to regular clients of both partnering stores.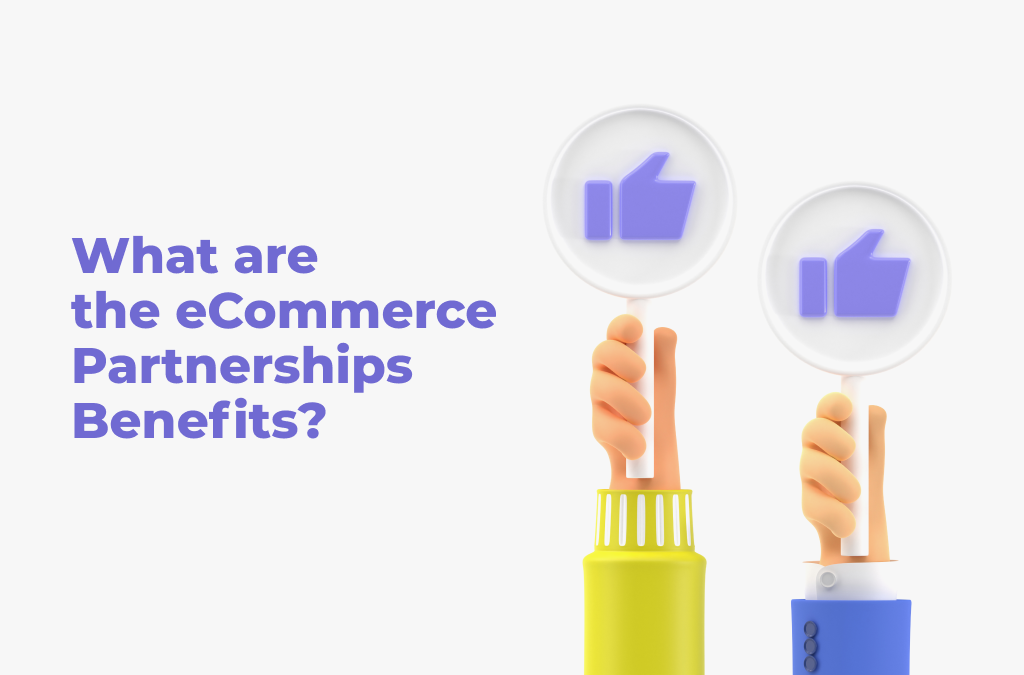 What are the eCommerce Partnerships Benefits?
The abovementioned eCommerce partnerships benefits may seem quite obvious. Now that we know a little more about eCommerce partnering, let's explore the additional advantages that such connections offer. When partnering in eCommerce, many stores gain extra exposure and traffic from channels and platforms inaccessible to them before. This also helps them to increase customer trust as well as improve their brand's reputation. A well-planned partnership is advantageous to both consumers and businesses. It also helps you to increase your customer base and retain your current clients. Here are some other benefits that many eCommerce businesses consider useful:

Sharing marketing experience;
Extending your customer reach;
Increasing conversion rates;
Using technology to track partnership performance;
Reach new audiences and more.
These and some other benefits can be a great goal for a new partnership. However, these collaborations include more than just joint marketing efforts of online stores. As an independent eCommerce business, you can also try partnering with influencers, bloggers, media platforms, and other resources. This will not only help you build long-lasting and useful connections. Such collaboration may allow you to indirectly influence your potential customers. Thus, you'll attract more buyers to your store and gain proper coverage of your brand. Extending your partnership outside of online commerce will provide even more opportunities for the future of your business.
Reaching Target Audiences Using New Channels
With all possible opportunities and eCommerce partnerships benefits, it may be hard to decide where to start. That's why we'll describe 4 major advantages of eCommerce collaborations. As we mentioned above, it provides you with access to a diverse selection of channels that help you reach a new audience. This helps a lot if you want to market your product to a larger number of potential customers. For that reason, many online stores sell their products on various marketplaces. From Etsy to Walmart, different platforms offer varied target audiences. Partnering with one or several such marketplaces will help you save on marketing while increasing conversion in an instant.
However, if you want to partner with an online platform similar to yours, creating a co-marketing strategy is important. This involves collaborative efforts from both sides. It allows you and your eCommerce partner to expand their brand awareness. Improving the engagement of respective audiences can also be simplified this way. Without a doubt, such an approach helps small online stores just as it helps bigger ones. No wonder any e-commerce business tries to take advantage of such a growth opportunity. This may also include sharing your social channels as well as e-mail marketing. With such an abundance of marketing possibilities available these days, it is necessary to plan your marketing activities. This is especially true for online stores working in collaboration.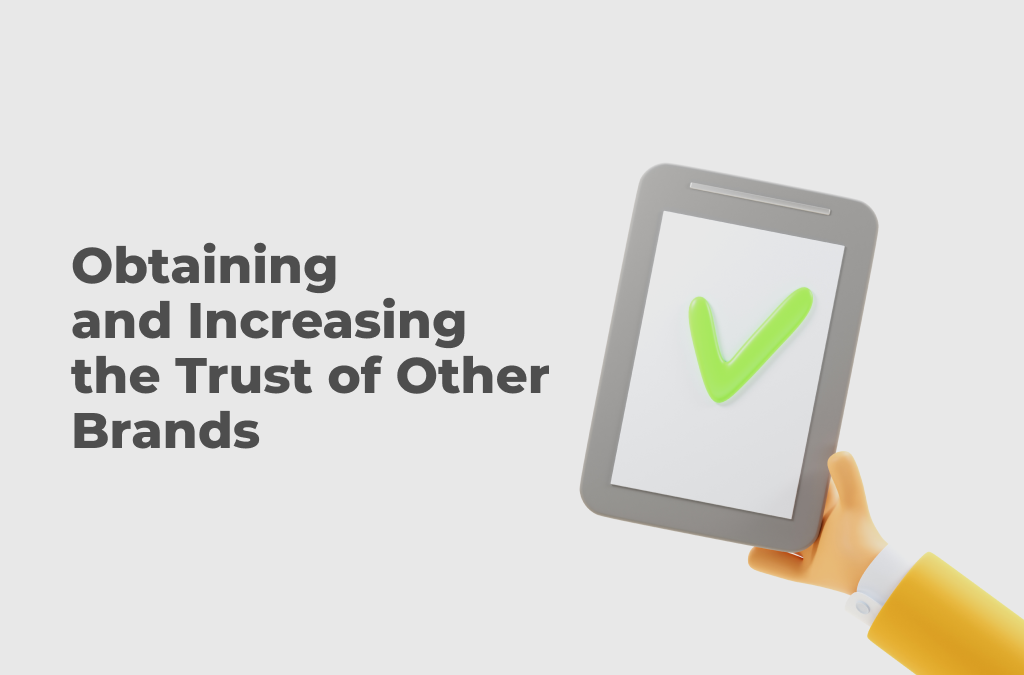 Obtaining and Increasing the Trust of Other Brands
Any modern store has a brand and an image associated with it. Both partnering businesses need to earn the trust of their customers. It represents one of many eCommerce partnerships benefits and helps you to save a lot of time and money on PR & SMM. Earning the trust of your current and potential clients takes a lot more than relevant content and regular posts on social networks. Result-oriented partnerships also include special offers that provide benefits to both your and your partner's customers. For example, your store may establish a trustworthy connection with a shipping service provider. This collaboration can be supported by exclusive deals when ordering and delivering goods from a chosen store. It also helps with the cross-promotion of both brands.
It is important to partner with brands that connect with your store. This means promoting products that complement what you offer. If you are beginning your eCommerce journey, engaging with brands is also important. It will help you earn the desired boost for your store. The products you provide will also get a lot from brand interaction. Certain industry giants like the well-known Amazon may provide opportunities for smaller brands. For example, you may list and sell your products online. This is useful when you need to get recognition for your services provided online. In return, many marketplaces may ask to advertise their selected products on your website.
Exchanged Marketing Experience in eCommerce Partnering
Joint promotion of two brands' products is just one of the eCommerce partnerships benefits. Shared advertising efforts and experience need to be result-oriented. When two brands work on a marketing campaign, coordinating their work is of utmost importance. It helps to properly plan every step of launching single products. Preparing product collections by two brands also needs to be done in cooperation. It concerns various spheres, from e-mail marketing to social media content. Such an approach allows the division of marketing stages between the teams. Diversifying marketing tasks is necessary when you need to quickly achieve a set goal. Exchanging marketing experience also helps to:
Control joint marketing;
Enable content sharing;
Set up cross-promotions;
Provide co-sponsorship;
Offer regular giveaways and gifts via joint contests.
The collaborative marketing experience isn't limited by the abovementioned activities. Some eCommerce companies also combine their customer service departments. This helps them to provide a top-notch level of support to all their clients. In return, you'll get more regular and loyal clients who appreciate your level of service. It will prove useful in not only supporting your partnership. Strengthening your interactions with customers will also be positively affected. In the long term, your store will be associated with the partner brand and vice versa. It improves your reputation and gives you more long-lasting business partnerships.
Applying Technology as One of eCommerce Partnerships' Benefits
Different companies rely on diverse marketing technologies. It defines another one of the eCommerce partnerships benefits. Reliable technologies can make a great difference for any online store. And if we talk about partnering, it is often important to combine several technological solutions. This is especially true for marketing activities. Modern eCommerce business heavily relies on CMS and SaaS platforms. A successful partnership can only exist when two companies benefit from using the right technologies. Thus, you need to make sure that both sides are getting all the necessary tools.
Sometimes it may be necessary to find a compromise between using two varied solutions. They can be connected with SEO, sales management, or social media. Whatever it is, both partners need to efficiently control different stages of online marketing. Having a platform that satisfies the needs of both sides is essential. Such a solution should also be well-integrated into all core processes. It will help you manage the activities of your and your partner's eCommerce business. Needless to say, it optimizes various processes within two partnering businesses. Moreover, combining the technologies of two eCommerce companies can identify unwanted weaknesses in them.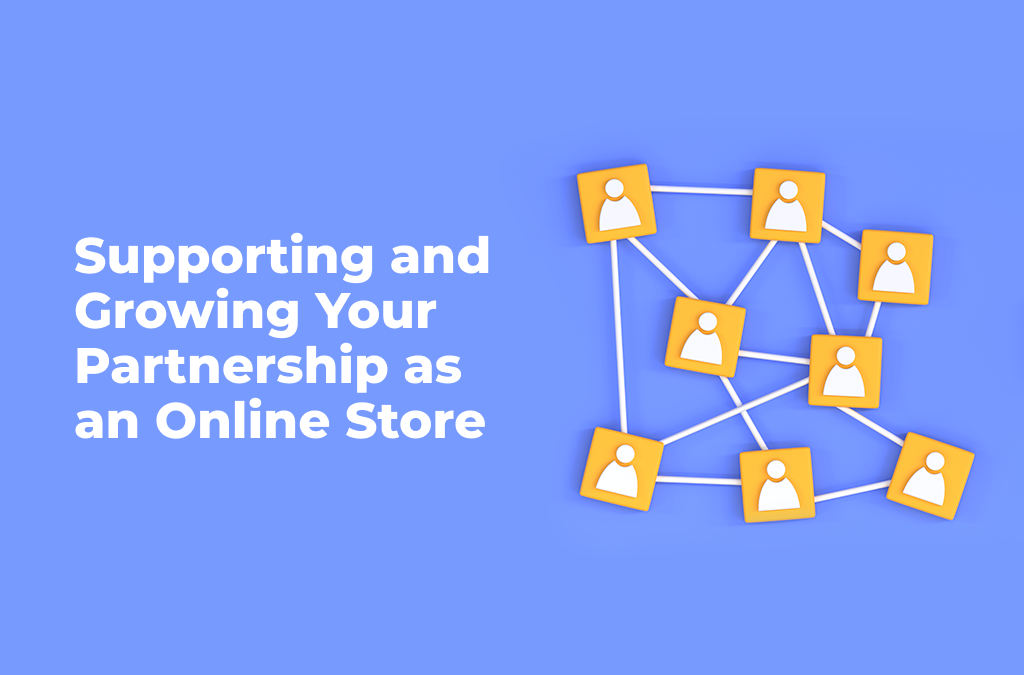 Supporting and Growing Your Partnership as an Online Store
eCommerce partnerships benefits can positively influence your online store. However, constant work on your collaboration's strong sides is necessary at all times. For example, some stores may handle social interaction with customers better than others. That's why it's important to understand what each eCommerce partner does best. Concentrating on the top skills allows you to do your part of cooperation. Also, such commitment provides better results than doing these tasks on your own.
The strongest partnerships are built with both the business and clients in mind. Well-designed business connections help your brand to build a bigger customer base. Still, you need to remember that the primary task of any partnership is to increase the benefits for both companies. Proper cooperation requires the support of vital eCommerce processes from both partners. The thought-out integration of technologies, solutions, and teams is the right way to do it.
eCommerce Partnerships Benefits: Conclusion
We hope this guide has helped you discover new eCommerce partnerships benefits. Collaborating with the right companies at the right time always provides further growth. Using this opportunity is important for both small and well-established online stores. Many partnering stores complement each other to advance their businesses. And using fitting marketing techniques when cooperating can help you advance your sales strategies even more.
If you want to receive the latest articles with online marketing tips and tricks, feel free to visit our blog. There you'll find more great publications about email marketing and Black Friday sales ideas. We also invite you to check out our portfolio with an awesome selection of quality themes and templates for various platforms. On our website, you'll also find a wide range of additional services and freebies to power up your web development. For those of you who prefer getting news via social networks, don't hesitate to follow and like us on Facebook and Instagram. With Zemez, you'll always stay updated with the latest in web design.